1969–present




Munich, Germany (1969)



http://www.embryo.de




Brain, Schneeball, Materiali Sonori, Garden of Delight, Ohr, United Artists




Amon Düül 2, Can, Guru Guru, Dissidenten, Franz Ferdinand




Edgar Hofmann (soprano and alto saxophone, flute, clarinet, dilruba, shanai, violin, perc.) Lothar Meid (bass) Roberto Détrée (cello) Ralph ("Butze") Fischer (drums, percussion) Hansi Fischer (saxophone, flute, percussion, vocals) Jimmy Jackson (organ, mellotron, piano) Hermann Breuer (el-piano, organ, trombone) Roman Bunka (guitar, bass, saz, oud, veena, sitar, clavinet, ring modulator, perc., vocals) Geoff Goodman (guitar) Dave King (bass, flute, marimba, vocals) Sigi Schwab (guitars, veena) Jörg Evers (el-bass) Uve Müllrich (bass, guitar, oud, bağlama, rubab, perc, vocals) Maria Archer (percussion, vocals) Klaus Götzner (percussion) Dieter Miekautsch (keyboards, percussion) Michael Wehmeyer (keyboards, percussion) Friedemann Josch (flute) Christoph Karrer (guitar, oud) Freddy Setz (drums) Gerald Hartwig Luciano (bass, percussion, vocals) Ramesh Shotam (thavil, percussion) Paramashivam Pilai (thavil) Ulrich Bassenge (double bass) Yulyus Golombeck (guitar) Chuck Henderson (soprano saxophone, perc.) Chris Lachotta (bass) Lothar Stahl (drums, marimba) Karsten Hochapfel (cello, oud, guitar) Max Weissenfeldt (percussion, marimba) Masaru Nishimoto (flute, Taisho koto) Guest musicians Mal Waldron (piano, el-piano) Charlie Mariano (alto and soprano sax., nadaswaram, flute) Holger Trülzsch (bongos) Peter Michael Hamel (flute) Salah Ragab (drums, percussion, piano) El Houssaine Kili (guimbri) Marque Löwenthal (piano) Larry Porter (piano, keyboards) Allan Praskin (saxophone) Roland Schaeffer (nagasuram) Monty Waters (alto saxophone) Abdul Wahab (percussion) Marty Cook (tabla) Jamal Mohmand (harmonium, vocals) Albert Kuvezin (throat singing, guitar) Xizhi Nie (hulusi, erhu) Norbert Dömling (bass) Jurji Parfenov (trumpet, cornet, horn) Dirk Engelhardt (tenor saxophone)




Christian Burchard, Roman Bunka, Charlie Mariano




Progressive rock, Krautrock, Jazz fusion, World music




Embryo's Reise, Rocksession, Steig Aus, EmbryoNNCK, We Keep On
Embryo is a musical collective from Munich which has been active since 1969, although its story started in the mid-1950s in Hof where Christian Burchard and Dieter Serfas met for the first time at the age of 10. It was one of the most important German jazz-rock bands during the 1970s and has also been described as "the most eclectic of the Krautrock bands."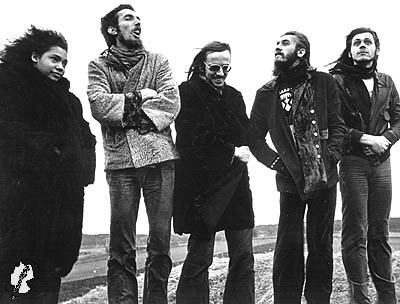 In 1969 the band was founded by multi instrumentalist Christian Burchard (drums, vibraphone, santur, keyboard) and Edgar Hoffmann (saxophone, flutes). To date more than 400 musicians have played with the collective, some, such as Charlie Mariano, Trilok Gurtu, Ramesh Shotham, Marty Cook, Yuri Parfenov, Allan Praskin, X.Nie, Nick McCarthy, Monty Waters and Mal Waldron, have played on multiple occasions. Longtime members are Edgar Hoffmann (sax,violin), Dieter Serfas (drums), Roman Bunka (guitar, oud), Uve Müllrich (bass), Michael Wehmeyer (keyboard), Chris Karrer (guitar, oud, violin, sax), Lothar Stahl (marimba, drums), and Jens Polheide (bass, flute).
With Ton Steine Scherben a. o. founder of the first German independent label Schneeball in 1976.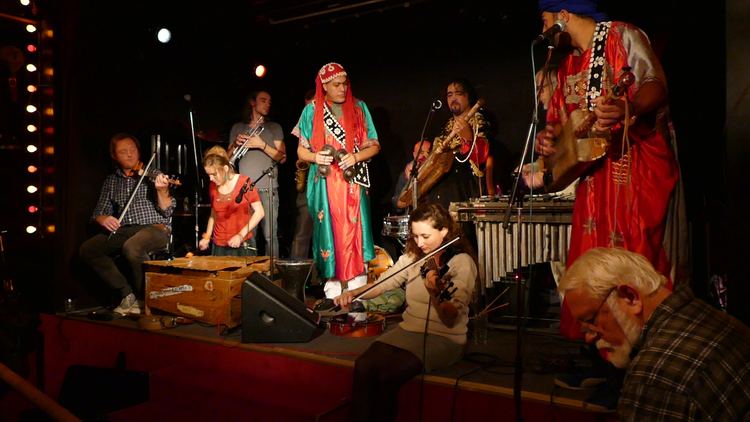 In 1979 the band started a nine-month tour to India by bus, which was documented by the movie "Vagabunden Karawane". Embryo developed from jazzy Krautrock to a world music band, which is able to merge different styles and trends. Many of their albums originated during collective journeys on 4 continents. The band played many festivals around the globe: in India (Mumbai Jazz 1979), England (Reading 1973), Nigeria (Port Harcourt Jazz 1987), Japan (Wakayama 1991) to name a few. In July 2008, Embryo was awarded the German World Music Award RUTH 2008 at the TFF Rudolstadt Festival.
In 1981, Müllrich and Wehmeyer left Embryo to form "Embryo's Dissidenten" who soon became Dissidenten.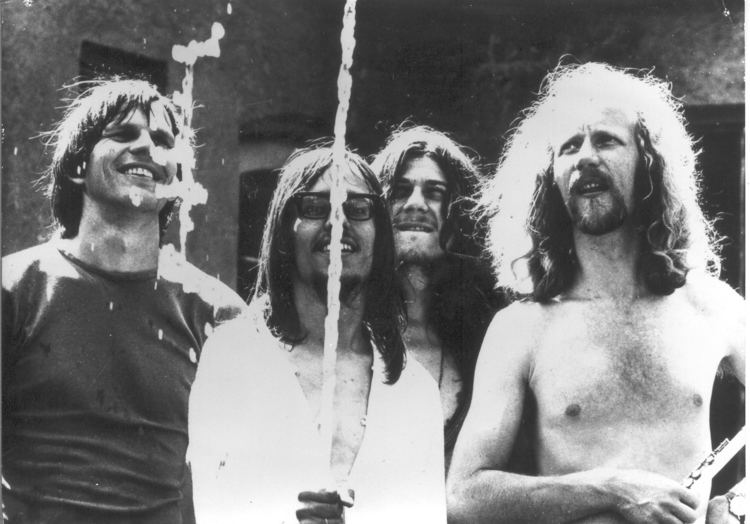 1970: Opal (Ohr)
1971: Embryo's Rache (United Artists)
1972: Father Son and Holy Ghosts (United Artists)
1972: Steig aus (Brain, a.k.a. This Is Embryo), featuring Mal Waldron
1973: Rocksession (Brain), featuring Mal Waldron
1973: We Keep On (BASF), featuring Charlie Mariano
1975: Surfin (Buk), featuring Charlie Mariano
1976: Bad Heads and Bad Cats (April), featuring Charlie Mariano
1977: Live (April), featuring Charlie Mariano
1977: Apo Calypso (April), featuring Trilok Gurtu and Shobha Gurtu on one track
1979: Embryo's Reise (Schneeball/Indigo)
1980: Embryo / Karnataka College of Percussion / Charlie Mariano - Life (Schneeball)
1980: Anthology (Materiali Sonori, compilation reissued on CD as Every Day Is Okay in 1992)
1982: La blama sparozzi / Zwischenzonen (Schneeball)
1984: Zack Glück (Materiali Sonori)
1985: Embryo & Yoruba Dun Dun Orchestra Feat. Muraina Oyelami (Schneeball)
1985: Africa (Materiali Sonori)
1989: Turn Peace (Schneeball), featuring Mal Waldron
1994: Ibn Battuta (Schneeball/Indigo), featuring Marty Cook on one track
1996: Ni Hau (Schneeball/Indigo), featuring Xizhi Nie
1998: Live in Berlin (Schneeball)
1999: Istanbul–Casablanca Tour 1998 (Schneeball/Indigo), featuring Alan Praskin
1999: Invisible Documents (Disconforme)
2000: One Night in Barcelona (Recorded at the Joan Miró Foundation) (Disconforme), featuring Yuri Parfenov
2001: Live 2000, Vol. 1 (Schneeball)
2001: Live 2001, Vol. 2 (Schneeball)
2003: Bremen 1971 (Garden of Delights)
2003: Hallo Mik (Schneeball/Indigo, live recordings)
2006: Embryonnck with the No-Neck Blues Band (Schneeball/Staubgold/Sound@One)
2006: News (Ultimate)
2007: Live im Wendland (Schneeball), anti-nuclear solidarity concert 2005 in Gorleben
2007: For Eva (), 1967 recording featuring Mal Waldron
2008: Freedom in Music (), featuring X. Nie
2008: Live at Burg Herzberg Festival 2007 (Trip in Time)
2008: Wiesbaden 1972 (Garden of Delights)
2010: Embryo 40 (Trikont/Indigo, compilation)
2011: Memory Lane, Vols. 1-3 (Download only), featuring Mal Waldron
People From Out the SpaceOpal · 1970
Radio Marrakesch1973
Straße nach AsienEmbryo's Reise · 1979

Embryo (band) Wikipedia