In 2006, Embraer began studies on a military tactical transport design of a similar size to the Lockheed C-130 Hercules. In April 2007, Embraer reported it was studying a medium-size airlifter, with the company designation "C-390". The transport aircraft is to incorporate many of the technological solutions from the Embraer E-Jets series and feature a rear ramp for loading and unloading a wide range of cargo. The unit price was estimated to be around US$50 million in 2007, while similar models, such as the C-130J cost up to $62 million.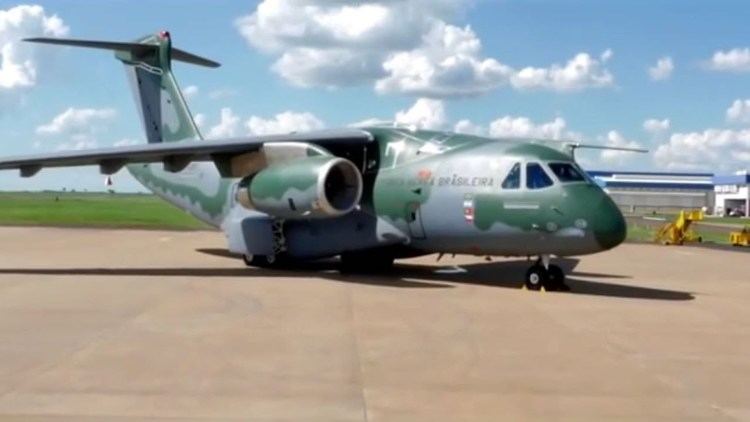 The former president of Embraer Defence and Security, Luiz Carlos Aguiar, said that according to their estimates, some 695 military transport aircraft in the world will need to be replaced during the next decade, and that there is a large potential market for this kind of aircraft. Powerplant options have been studied in the 75.6 to 98 kN (17,000 to 22,000 lbf) thrust range, including engines such as the Pratt & Whitney PW6000 and Rolls-Royce BR715.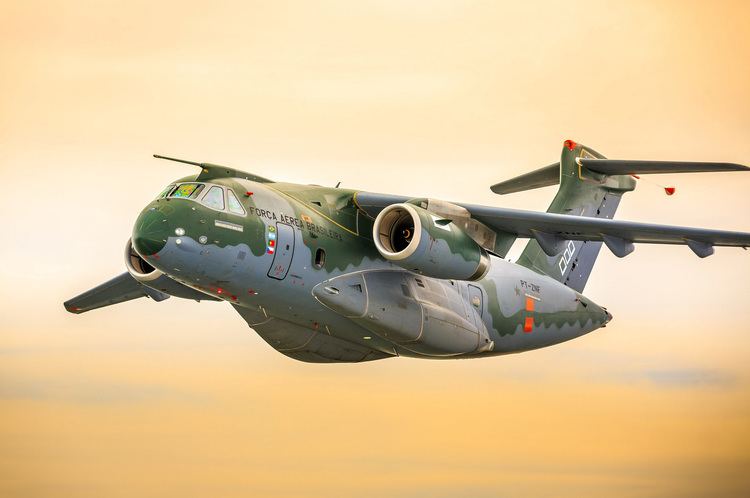 In March 2008, the Brazilian Government planned to invest about R$60 million (or US$33 M) in initial development of the aircraft and the Brazilian Air Force was simultaneously finalizing the purchase contract to probably buy 22 to 30 aircraft in the first order, while Embraer is negotiating with possible partners. In May 2008, the Brazilian Congress released 800 million Reais (US$440 M) to be invested in the project and development of the aircraft. The media also claimed that this aircraft is not only going to be used by the Brazilian Air Force, but also for Brazilian Army and Brazilian Navy, with un-confirmed sales to other government agencies.
Embraer intended to use components from the Embraer E-190 to allow for a quick development, but the Brazilian Air Force (paying the bill) demanded performance at least equal to the C-130. Before 2009, Embraer decided to develop the KC-390 from scratch, having nothing in common with the E-190. In Embraer's view, the jet engine is sufficiently resilient to dust ingestion, whereas propeller tips close to the ground are susceptible to damage. Embraer also chose the V2500 engines for efficiency in ordinary conditions rather than performance in unusual conditions.
On 14 April 2009, Embraer was awarded with a $1.5 billion contract to develop and build 2 prototypes. In March 2010, Embraer drew up a development schedule, with the first prototype aircraft scheduled to be delivered in late 2014.
In July 2010, during the Farnborough Airshow, the Brazilian Air Force announced it will order 28 KC-390s and Embraer announced an increase in the cargo capacity to 21 t (21 long tons; 23 short tons). During the 2011 Paris Air Show, Embraer announced plans to launch a stretched version of the KC-390 focused on the civil cargo market in 2018, with 200–250 predicted orders over a 10-year period. Two plugs will be added fore and aft of the centre fuselage section increasing internal capacity, but also providing for a side cargo door.
In August 2010, Argentine Defence Minister Nilda Garré announced that Argentina will participate in the construction of the C-390. On 24 August 2010 the defence ministers of Chile and Brazil signed an agreement for Chile's ENAER company to join the KC-390 industry team. Colombia also signed an agreement to join the KC-390 programme. On 10 September 2010 Portugal defense minister signed an intentions letter in order to join the programme. On 14 December 2011, Embraer announced that Brazil and Portugal have signed an agreement for defense partnership contract for EEA to support engineering for the KC-390's components that will be built by Embraer's subsidiary OGMA.
In June 2012, Boeing and Embraer agreed to a co-operation deal and to share technical knowledge, in order to speed development of the aircraft; exchanging technical and market information, and possibly teaming up for commercial opportunities, as part of a broader agreement that Boeing and Embraer signed in April of the same year.
Major subcontracted assemblies include the rear fuselage section (Aero Vodochody), avionics (Rockwell Collins), fly-by-wire primary flight control system (BAE Systems), landing gear (ELEB), and the cargo handling and aerial delivery system (Rockwell Collins). IAE is supplying the V2500-E5 turbofan, in the first military application of this engine family. Fábrica Argentina de Aviones supplies the tail cone, cargo door and landing gear doors.
At the 2016 Farnborough Airshow, Embraer and Boeing signed an agreement to jointly market and support the KC-390, one of three contenders for Canada's fixed-wing search and rescue (FWSAR) program
Two prototypes were planned by the program. The first prototype (PT-ZNF) rolled out from the Embraer subsidiary plant, Embraer Defense and Security, at Gavião Peixoto, São Paulo on 21 October 2014, and flew for the first time on 3 February 2015.
In July 2015 the company announced a two-year delay in the flight test program, citing the devaluation of the Brazilian currency and government spending cuts. However, a second test flight took place at Gavião Peixoto on 26 October 2015. By February 2016, the first prototype had logged more than 100 hours of flight. With the resumption of flight-testing, the manufacturer expected to certify the aircraft in 2017 and begin deliveries in 2018. The eight months between test flights were used to conduct ground vibration tests to validate aeroelastic models, as well as avionics, mission, landing gear and electric and hydraulic flight control system testing. Embraer has reported good availability for testing, sometimes doing two flights per day. The aircraft was tested to the limits of speed, Mach number and altitude, as well as all slats, flaps and landing gear positions.
The second prototype (PT-ZNJ) was finished in March 2016 and made the first flight on 28 April 2016.
It was reported in 2007 that the Brazilian postal service Correios was interested in buying at least 5 and eventually 20 to 25 of the aircraft, in lieu of using commercial freight service for mail transport. On 19 May 2011, it was stated that Correioslog will buy around 15 aircraft for civil use.
In September 2008, the Portuguese Air Force chief-of-staff, being interviewed for the Portuguese aviation newspaper Take Off, revealed a service interest in the airplane as a possible C-130 fleet replacement, although this interest was outlined as the PoAF being closely monitoring the C-390 development, with a possible order in the future. In February 2010, a further notice reported that Embraer proposed to the Portuguese Ministry of Defense the acquisition of KC-390s to supplant the ageing C-130s of the Portuguese Air Force. In December 2011 it was announced that the Portuguese government will sign an 87 million euro contract with Embraer for part of the production of the KC-390.
On 7 September 2009, it was announced that France was interested in buying 10 KC-390s as part of negotiations for Brazil to buy the Dassault Rafale.
On 2 October 2009, Sweden declared its intention to evaluate the KC-390 transport aircraft for long term tactical air transport needs connected to its F-X2 offer on JAS 39 Gripen.
In July 2010, the Brazilian Air Force announced its intent to buy 28 aircraft.
In August 2010, it was announced that the Chilean Air Force plans to order six KC-390s.
It was reported in September 2010 that Colombia intends to order 12 KC-390s. Later that month, it was also reported that Czech Air Force might acquire two KC-390s. In August 2013, the Colombian Air Force announced that it would acquire a fleet of KC-390s to replace its Lockheed C-130 Hercules fleet.
In October 2010, Embraer announced the future acquisition of six KC-390s by the Argentine Air Force. It was reported that Brazil and the UAE were negotiating an agreement for military cooperation, which would involve sales of the KC-390 in late October.
On 14 February 2012, Brazilian Defence Minister announced that Peru is interested in potentially acquiring an undisclosed number of KC-390s.
In April 2013, six countries had commitments for 60 KC-390s: Argentina (6), Brazil (28), Chile (6), Colombia (12), the Czech Republic (2), and Portugal (6).
In June 2013, Embraer and Boeing signed an agreement to market the KC-390 in limited international venues, building on the June 2012 MoU. Boeing will be the lead for KC-390 sales, sustainment and training opportunities in the US, UK, and selected Middle East markets.
In January 2016, the KC-390 was named by Public Works and Government Services Canada (PWGSC) as one of three contenders for a new fixed-wing search and rescue (FWSAR) aircraft for the Royal Canadian Air Force, to replace the elderly CC-115 (DHC-5A) and CC-130 Hercules, along with the Alenia Aermacchi C-27J and the Airbus Defence & Space C-295W. The evaluation process including aircraft testing will take "about six months" and a contract award is expected in "late 2016 or early 2017". On 8 December 2016, Canada announced that they would buy 16 Airbus C-295 built in Spain.
In June 2016, Portugal announced its intention to buy six KC-390 aircraft.
In November 2016, Embraer responded to a Request For Information (RFI) for replacing the Royal New Zealand Air Force's five C-130 Hercules by offering five KC-390s. Embraer CEO Jack Schneider stated the company was in advanced talks on offering the KC-390 to New Zealand. A decision is expected in mid 2017.
The Brazilian Air Force ordered 28 KC-390, in addition to the two prototypes.
Including Brazilian order, a total of sixty units were ordered for Chile, Portugal, Czech Republic, Argentina and Colombia. Portugal, Czech Republic and Argentina are Brazilian partners in program.
Data from Embraer, Flightglobal, and Aviation Week
General characteristics
Crew: 2
Capacity:
80 passengers or
64 airborne troops or
6 pallets (68" X 108") or
74 litter patients with 2 medical personnel or
2-3 Humvee and Agrale Marruá or an Astros II MLRS or a LAV III and VBTP-MR Guarani
Cargo compartment:
Length 17.75 m X width 3.45 m X height 2.9 m
Payload: 26 tonnes (59,500 lb)
Length: 33.43 m (109 ft, 8 in)
Wingspan: 33.94 m (111 ft,4 in)
Height: 11.43 m (37 ft 6 in)
Loaded weight: 74.0 tonnes (163,142 lb)
Max. takeoff weight: 81.0 tonnes (178,574 lb)
Powerplant: 2 × IAE V2500-E5 turbofan, 139.4 kN (31,330 lbf) each
Performance
Maximum speed: Mach 0.8 (470 knots, 850 km/h, 541 mph)
Range: 2,730 nmi (with 14 ton payload)

Range with full payload (distributed): 1,520 nmi (23 tonne payload)
Range with full payload (concentrated): 1,140 nmi (26 tonne payload)
Ferry range: 3,310 nmi (wing fuel), 4,600 nmi (fuselage tanks)
Service ceiling: 36,000 ft (10,973 m)