Full name

Elsabeth Black




Height

1.55 m




Country represented

Canada




Name

Ellie Black




Education

Dalhousie University




Role

Gymnast







Born

September 8, 1995 (age 20) Halifax, Nova Scotia (

1995-09-08

)


Discipline

Women's artistic gymnastics




Level

Senior International Elite




Club

Halifax Alta Gymnastics




Head coach(es)

Keiji Yamanaka, David Kikuchi




Similar People

Madison Desch, Victoria Moors, Isabela Onyshko, Brittany Rogers, Kyla Ross




Years on national team

2011-presant



Ellie black floor final 2015 canadian gymnastics championships
Elsabeth "Ellie" Black (born 8 September 1995) is a Canadian artistic gymnast who represented her country at the 2012 and 2016 Summer Olympics. She is the 2014 Commonwealth Games beam champion and the 2015 Pan American Games all-around, beam, and floor champion. At the 2016 Rio Olympic Games, Black finished 5th in the individual all-around.
Contents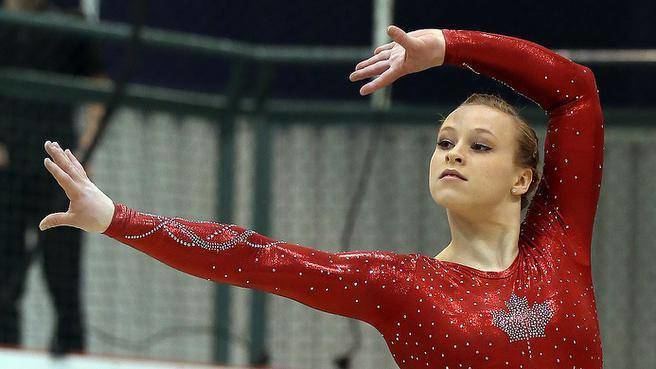 Ellie black beam final 2015 canadian gymnastics championships
2009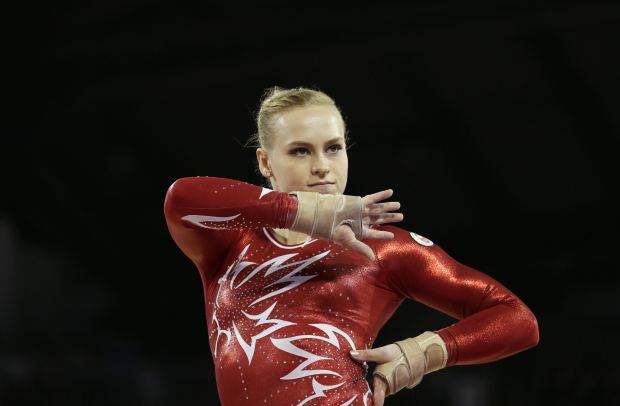 In December, Black competed at Elite Canada in Oakville, Ontario. She placed tenth in the all around competition with a score of 49.35 and third on vault with a score of 12.925.
2010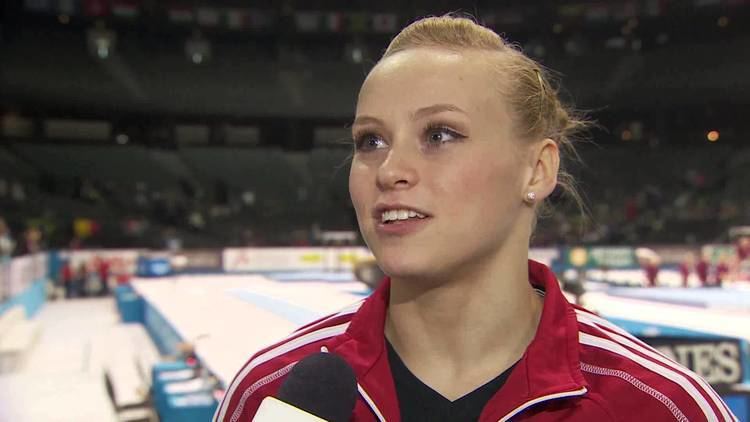 In May, Black competed at the Canadian Championships in Kamloops, Canada. She placed fourteenth in the all around final with a score of 50.300. In event finals, she placed third on vault scoring 13.950 and first on balance beam scoring 14.500.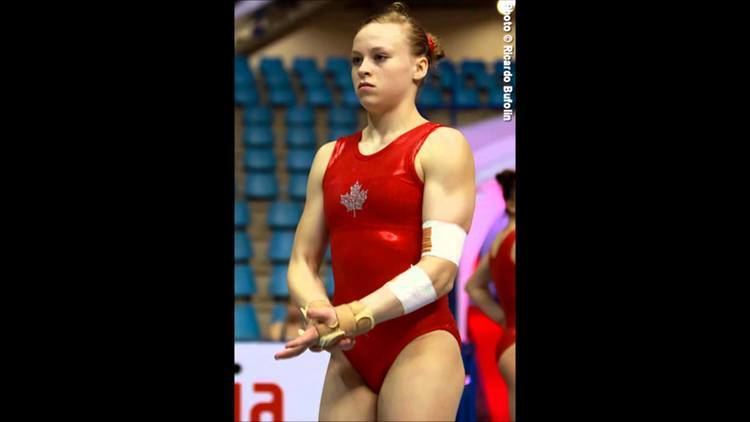 In December, Black competed at Elite Canada in Gatineau, Canada. She placed fourteenth in the all around with a score of 48.950, second on vault with a score of 13.600, fourth on balance beam with a score of 12.950, and eighth on floor with a score of 12.450.
2012
In February, Black competed at Elite Canada in Mississauga, Canada. She placed ninth in the all around with a score of 52.350. In event finals, Black placed first on vault scoring 14.750, third on balance beam scoring 13.550, and seventh on floor scoring 12.600.
In April, Black participated in the 2nd Artistic Gymnastics Meeting in San Bernardo, Brazil with gymnasts from Brazil, Canada, and South Korea. She won both the vault and balance beam finals with scores of 13.988 and 14.600.
Later in April, Black competed at the Artistic Gymnastics World Cup in Osijek, Croatia. She won gold in the vault and floor finals scoring 14.575 and 13.725 respectively.
In May, Black competed at the Canadian Championships in Regina, Canada. She placed third all around in qualifications but dropped to seventh in the all around final with a score of 53.600. In event finals, Black placed first on vault scoring 14.475, seventh on balance beam scoring 12.800, and third on floor scoring 13.950. Before the competition she told International Gymnast Magazine, "I think I have a lot to offer the Canadian team, especially on vault, which has always been my strongest event. I have also worked to increase my difficulty and execution on beam and floor. My plan is to continue all the aspects of my training that have brought me success this far. The positive results from recent competitions are a strong motivator to keep working hard and improve further. I also intend to use what I have learned at the international meets that I've attended to help me. Hopefully this will prepare me to have a strong performance at Nationals, which is an important competition for the team selection."
At the end of June, Black was one of the twelve gymnasts chosen to compete at the Final Olympic Selection meet in Gatineau, Canada. On the first day of competition she placed sixth in the all around with a score of 52.050. Based on her performances here and at the Canadian Championships she was selected to the five member Olympic team.
2012 London Olympics
In July, Black competed at the 2012 Summer Olympics in London, United Kingdom. She helped the Canadian team qualify to the team finals and individually she qualified to the vault final with a score of 14.366. After qualifications, Black said, "It was a fantastic experience and I had so much fun." She later added, "This is my life's dream. Everybody here supports you and you support them, we all have each other's back. We had a couple mistakes but most of the competition was great." In the team final, she contributed scores of 15.233 on vault, 14.266 on balance beam, and 14.208 on floor toward the Canadian team's fifth-place finish. In the vault final, Black injured her left ankle on her first vault and was unable to complete her second vault meaning that she placed eighth with a score of 0.000. Her coach, David Kikuchi, "She's disappointed that she wasn't able to do better. But what I'll tell her, and what she'll realize in the upcoming hours and days and weeks and months is: This Olympics was so amazing for her and our team."
After the Olympics, Black stated that she will continue competing. She said, "I am very motivated to continue and build on the path I started in 2012. My first priority is to recover from injuries. This will be the focus for the next three months or so. My goal is to develop my gymnastics to the full potential, and hopefully to make more contributions on behalf of Nova Scotia and Canada."
2013
At the 2013 Summer Universiade, Black finished fourth in the all-around with a score of 55.000. In the event finals she finished fourth on vault, third on beam, and tied for second on floor.
At the 2013 World Artistic Gymnastics Championships, Black finished thirteenth in all-around and eighth on floor exercise.
2014
At the 2014 Commonwealth Games, Black finished fourth with her team, and fourth in the all-around. In the event finals, Black won a gold on beam, silver on vault, bronze on floor, and she finished fourth on bars.
Also in 2014, she competed at the 2014 World Artistic Gymnastics Championships in Nanning, China. Her team placed 12th in qualifications, failing to qualify to the team final. Individually, Black qualified to the Balance Beam and all around finals. In the all around she placed 9th, the highest ever placement in a World or Olympic all-around final by a Canadian, besting compatriot Victoria Moors' 10th-place finish from the year before; Black nearly placed in the top 8, finishing only 0.001 points behind 8th-place finisher Jessica López of Venezuela. In the balance beam final, Black placed seventh after a fall while Simone Biles of the United States went on to take the gold medal ahead of Bai Yawen of China and Aliya Mustafina of Russia.
In November 2014, Black traveled to Notts Gymnastics Academy to train with Becky Downie and the rest of their elite program.
2015
In January 2015, Black competed at the Elite Canada competition, winning the beam title, which was her only event. Black competed at the 2015 AT&T American Cup in Arlington, TX on March 7, 2015 and placed 5th with an all-around score of 56.132. In May, 2015, Black won her third consecutive National All Around title with a score of 57.950.
In September 2015, Gymnastics Canada named Black to their World Championships team. She and 6 of her teammates will represent Canada at the 2015 World Artistic Gymnastics Championships from October 23 to November 1.
2015 Pan Am Games, Toronto
In July, Black competed at the 2015 Pan American Games which were hosted in Toronto, Canada. The Canadian team won a silver medal, and Black qualified 5th to the All Around final as well as qualifying to the vault, beam and floor finals. In the All Around Final, Black won the gold medal with a score of 58.150, becoming the first non-American woman to do so since 1983. Black won the bronze medal in the vault final with an average score of 14.087. On July 15, she won two more gold medals at event finals. the first gold of the day was in beam with a score of 15.050, one point ahead of the silver medalist, Megan Skaggs. Teammate Victoria Woo won the bronze medal with a score of 13.650. Black's second gold was on floor, where she scored 14.4.
2016
Ellie Black was chosen to represent Canada at the 2016 Summer Olympics in Rio de Janeiro. The team failed to qualify for the final, however Ellie qualified for the individual all-around where she finished in 5th place with a score of 58.298. This was a historical result as the highest place finish for a Canadian gymnast in the women's All-Around at the Olympic Games.
2017
Black suffered an injury in early 2017, therefore causing her to not compete at the annual Elite Canada competition in February. Her first competition back was the at the Koper Slovenia world cup, where she placed fourth on vault, second on uneven bars, second on balance beam, and second on floor. May 2017 Black won her third national all around title at the 2017 Canadian National Gymnastics Championships. She was later named to the World Championships team.
References
Ellie Black Wikipedia
(Text) CC BY-SA