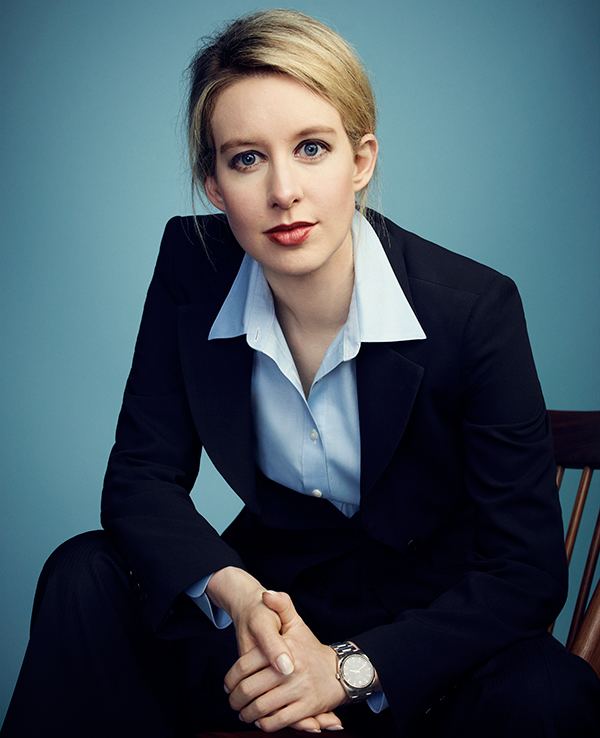 Holmes was born in February 1984 in Washington, D.C. She is the daughter of government service worker Christian Holmes IV and congressional committee staffer Noel Daoust. When she was 9 years old, Holmes and her younger brother Christian Holmes V moved to Houston, Texas due to her family's job relocation. She wrote a letter to her father about the move saying, "What I really want out of life is to discover something new, something that mankind didn't know was possible to do." Holmes studied Mandarin as a child and completed three years of summer language classes at Stanford University before graduating from high school.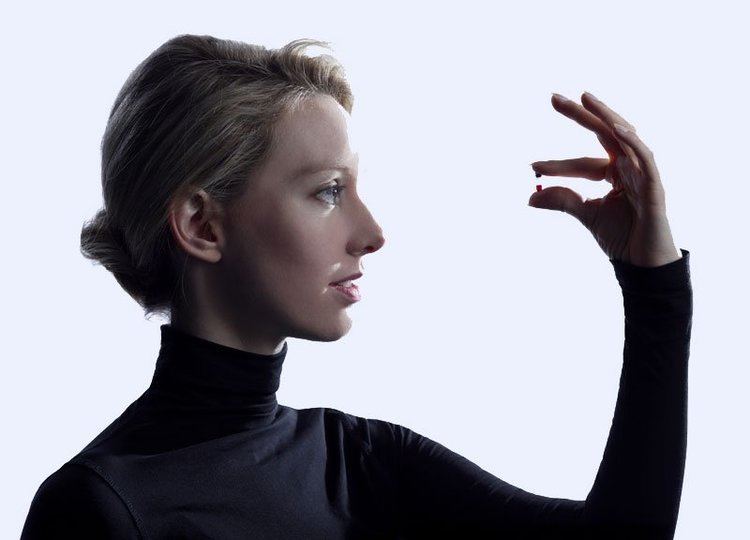 She attended St. John's School in Houston and was recognized for her "tireless optimism and a particularly warm smile." During high school, Holmes was interested in computer programming and started her first business selling C++ compilers to Chinese universities. In 2001, Holmes applied to Stanford University and was named a President's Scholar, which came with a stipend to use on a research project. She studied chemical engineering and used the stipend to work in a lab with Ph.D. candidates and Channing Robertson, dean at the engineering school.
After the end of her freshman year, Holmes worked in a lab at the Genome Institute of Singapore on testing for severe acute respiratory syndrome (SARS) through the collection of blood samples with syringes. She filed her first patent on a wearable drug-delivery patch in 2003. In March 2004, she dropped out of Stanford's School of Engineering and used her tuition money as seed funding for a consumer healthcare technology company.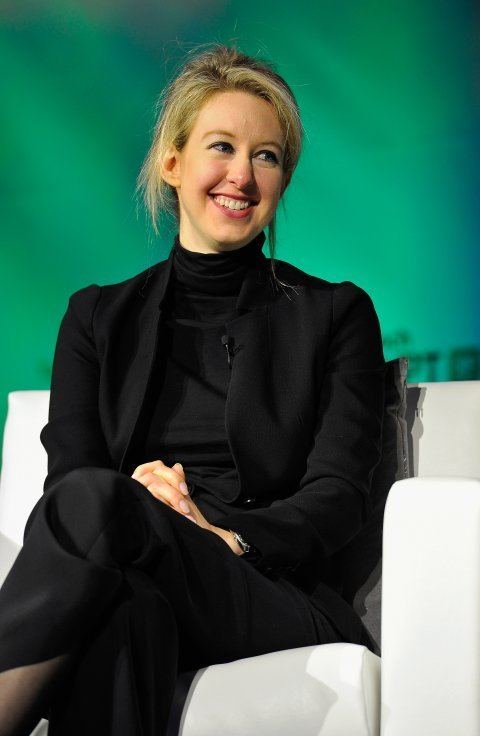 Holmes founded the company in Palo Alto, California as Real-Time Cures to "democratize healthcare." Her goal was to make health information accessible to all people at any time so that risk of disease and health conditions could be detected early on. In April 2004, she incorporated the company as Theranos (an amalgam of "therapy" and "diagnosis") and rented the basement of a group college house. At that time, Holmes hired her first employee and rented lab space. Robertson became the company's first board member and introduced Holmes to venture capitalists.
By December 2004, she had raised $6 million to fund Theranos. The company's first revenue came from contracts Holmes established with pharmaceutical companies to conduct testing and other clinical trials. By the end of 2010, Holmes had more than $92 million in venture capital for Theranos. In July 2011, Holmes was introduced to former Secretary of State George Shultz. After a two hour meeting, he joined the Theranos board of directors. She was recognized for forming "the most illustrious board in U.S. corporate history" over the next three years. Holmes operated Theranos in stealth mode without press releases or a company website until September 2013 when the company announced a partnership with Walgreens to make in-store blood sample collection centers.
Media attention increased in 2014 as she was on the cover of Fortune, Forbes, T: The New York Times Style Magazine and Inc., who considered her "The Next Steve Jobs". Forbes recognized Holmes as the world's youngest self-made female billionaire and ranked her #110 on the Forbes 400 in 2014. Theranos was valued at $9 billion with more than $400 million in venture capital. By the end of 2014, she had 18 U.S. patents and 66 non-U.S. patents in her name.
During 2015, Holmes established agreements with Cleveland Clinic, Capital BlueCross and AmeriHealth Caritas to use Theranos technology.
The Wall Street Journal reported in October 2015 that the Edison blood-testing device by Theranos might provide inaccurate results. Holmes denied the claims and said the company would publish data on the accuracy of its tests.
In January 2016, the Centers for Medicare and Medicaid Services (CMS) sent a warning letter to Theranos after inspecting its Newark, California laboratory. CMS regulators proposed a two-year ban on Holmes from owning or operating a blood lab after the company had not fixed problems within its California lab in March 2016. On The Today Show, Holmes said that she was "devastated we did not catch and fix these issues faster" and that the lab would be rebuilt with help from a new scientific and medical advisory board. In July 2016, the CMS banned Holmes from owning, operating, or directing a blood testing service for a period of two years. (The company has appealed that decision to a U.S. Department of Health and Human Services appeals board.) Shortly thereafter, Walgreens severed its relationship with Theranos and closed its in-store blood collection centers. The FDA also ordered the company to cease using its Edison device.
Other reported ongoing actions include civil and criminal investigations by the U.S. Securities and Exchange Commission and the U.S. Attorney's Office for the Northern District of California, an unspecified FBI investigation, and two class action fraud lawsuits. Holmes is reportedly standing by all of her company's claims and has denied any wrongdoing.
On May 16. 2017, approximately 99% of Theranos shareholders reached an agreement with the company to dismiss all current and potential litigation in exchange for shares of preferred stock. Holmes released a portion of her equity to offset any dilution of stock value to non-participating shareholders.
Holmes partnered with Carlos Slim Helú in June 2015 to improve blood testing in Mexico. In October 2015, she announced #IronSisters to help women in science, technology, engineering and mathematics (STEM) careers. Holmes has advocated for a healthcare system based on preventative medicine and for full transparency in lab pricing to reduce Medicare and Medicaid costs. She helped to draft and pass a law in Arizona to let people obtain and pay for lab tests without requiring insurance or healthcare provider approval.
Following the scrutiny over the Theranos lab controversy, Fortune named Holmes one of the "World's Most Disappointing Leaders" for 2016. Prior to the journalist investigations, criminal investigation, & civil suits, Holmes was ranked in Fortune's "Businessperson of the Year" and "40 Under 40" lists. She was named one of TIME's Most Influential People in the World in 2015. Holmes received the "Under 30 Doers" Award from Forbes and ranked on its 2015 list of the "Most Powerful Women". She was also named "Woman of the Year" by Glamour. Holmes was awarded the 2015 Horatio Alger Award, being the youngest recipient in its history.
Holmes' father, Christian Rasmus Holmes IV, worked in the United States, Africa, and China as part of government agencies such as USAID. Her mother, Noel Anne Daoust, worked as a Congressional committee staffer. Holmes describes her fear of needles as one of her motivations for founding Theranos. Holmes is a descendant of Christian R. Holmes, a surgeon, engineer, inventor, and a decorated World War I veteran, and his wife Betty, a daughter of Charles Louis Fleischmann.
Holmes holds a 50-percent stock ownership in Theranos. Forbes listed her as one of "America's Richest Self-Made Women" in 2015 with a net worth of $4.5 billion. In June 2016, Forbes released an updated valuation of $800 million for Theranos, which would make Holmes's stake essentially worthless, because investors own preferred shares and would be paid before Holmes, who owns common stock. Holmes reportedly owes a $25 million debt to Theranos in connection with her exercising some stock options.
Her preferred daily uniform of a black turtleneck with a puffy black vest is generally assumed to be an imitation of her role model Steve Jobs, but Holmes herself claims it was actually inspired by an outfit worn by Sharon Stone at the 1996 Academy Award ceremony.