13 ambassador thomas melady ambassador elizabeth frawley bagley
Elizabeth Frawley Bagley (born July 13, 1952) is an American attorney specializing in trade and international law, a diplomat, and a major donor to the Democratic Party.
Contents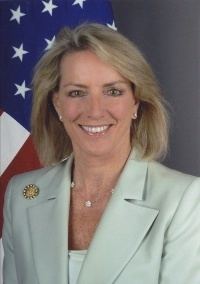 Highlights ambassador elizabeth frawley bagley bsr conference 2009
Early life
Bagley was born the second child of eight children to Judge John D. Frawley and Rosemary Frawley.
Education
In 1974, Bagley graduated cum laude with a B.A. degree in French and Spanish from Regis College in Weston, Massachusetts. She is a 1987 graduate of the Georgetown University Law School, where she obtained a J.D. Degree in International law. She also attended university and law school in France, Spain, and Austria, where she studied international trade law and public international law.
Current positions
Bagley is a member of both Massachusetts and District of Columbia bar associations. She was The American Ireland Fund's Nantucket Celebration honoree in 2009 for her philanthropy towards the Republic of Ireland for more than 30 years. She also serves on the Board of Directors of the National Democratic Institute.
Previous positions
Bagley has served in three presidential administrations as a diplomat.
In the Obama administration, she twice served as the Special Advisor for Secretary's Initiatives. Prior to assuming that post, she was the Special Representative for Global Partnerships in the Office of the Secretary of State.
In the Clinton administration, she was appointed to serve as U.S. Ambassador to Portugal. She served as Senior Advisor under Secretary of State Madeleine Albright, where she established and headed the Office of Media Programming Acquisition for the newly independent Balkan states. She also served as a United States Senate liaison for NATO Enlargement.
As an attorney international law, she was Adjunct Professor of Law at Georgetown University in Washington from 1991 to 1993.
During the Carter administration, she served as Congressional Liaison Officer for the Torrijos–Carter Treaties. Additionally, she was Special Assistant to Sol Linowitz, a top diplomat for President Jimmy Carter, for the Camp David Accords from 1979 to 1980. In the twilight of Carter's presidency, she was the Congressional Liaison to the Conference on Security and Cooperation in Europe from 1980 to 1981.
Awards
In 1997, Bagley was awarded the Grand Cross of Prince Henry the Navigator, the highest civilian honor in Portugal. She received a Legum Doctor (LL.D.) from Regis College in 2003. In 2005, she was the recipient of the Global Democracy Award from the International Women's Democracy Center in March and the Ellis Island Medal of Honor in May.
Political donations and fundraising for the Democratic Party
Bagley is a major political donor and fundraiser who "over the years [has] raised millions of dollars for Democratic candidates." Her late husband, Smith W. Bagley (1935–2010), was an heir to the R. J. Reynolds tobacco fortune and a Finance Chair for the Democratic National Committee, and the Bagleys were regarded as "two of the heaviest financial hitters in the [Democratic] party." Closely associated with the Clintons since Bill Clinton's 1992 presidential campaign, She was a major fundraiser during Hillary Clinton's presidential campaigns in 2008 and 2016. Additionally, she and her husband have contributed over $1,000,000 to the Clinton Foundation. She was also "part of the national finance team for the Obama campaign, having personally raised over $350,000" as of August 2008. Bagley also "raised the maximum $600,000 for President Obama's inauguration events" in 2009. President Obama visited her residence in the Georgetown neighborhood of Washington D.C. in 2011.
Philanthropy
Bagley is a member of the Board of Directors of the International Centre for Missing & Exploited Children (ICMEC), a global nonprofit organization that combats child sexual exploitation, child pornography, and child abduction. She is also a board member for The American Ireland Fund, the National Democratic Institute for International Affairs and the National Park Foundation.
Personal life
On December 17, 1983, she married Smith Bagley, a social activist, Democratic fundraiser, business executive, and the grandson of R.J. Reynolds. He died in January 2010 at age 74. Together, they had two children: Vaughan Elizabeth Bagley and Conor Reynolds Bagley.
She resides in the Georgetown neighborhood of Washington, D.C., at a house at the intersection of 29th and Q Streets. She also owns a house in the Eel Point area of Nantucket.
References
Elizabeth Frawley Bagley Wikipedia
(Text) CC BY-SA