Dominican Republic




Comendador



Elias Pina is one of the 31 provinces of the Dominican Republic. It is located in the western part of the country, on the border with Haiti. Its capital city is Comendador.
It was created on 1942 with the name San Rafael. In 1965, its name was changed to Estrelleta and, finally, in 1972 it got its current name. It was a municipio of the San Juan province before being elevated to the category of province.
The Elias Pina province has the Dajabon and Santiago Rodriguez provinces to the north, the San Juan province to the east, the Independencia province to the south and the Republic of Haiti to the west.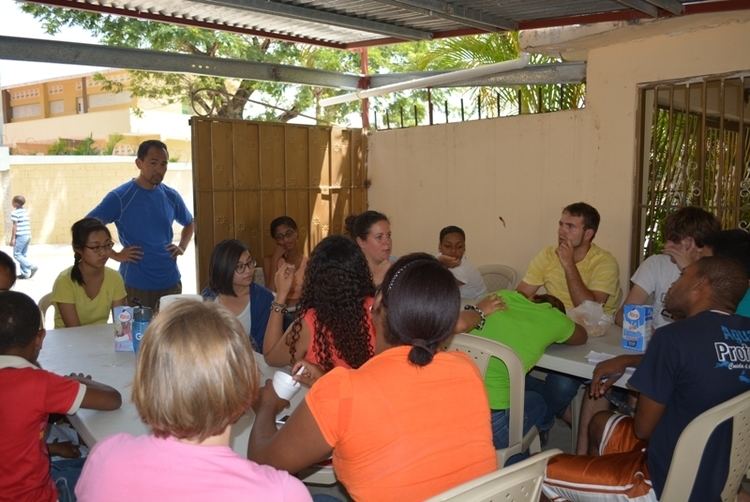 The Cordillera Central ("Central mountain chain") is found in the northern part of the province, and the Sierra de Neiba runs across the southern half. Between those two mountain ranges, there are several valleys formed by the Artibonite River and its tributaries.
As in all border provinces in the Dominican Republic, there is little economic development. The trade with Haiti is important, above all in Comendador. On the mountains, coffee and beans are important products. Potatoes are also produced in the south (Sierra de Neiba).
Elias Pina Province Wikipedia
(,)http://nagasawafamily.org/images/140612%2520elias%2520pina%2520fh%2520intro3.JPG(,)https://kendraoconnor.files.wordpress.com/2011/02/rio-limpio-morning.jpg(,)http://nagasawafamily.org/images/130614%2520fh%2520elias%2520pina%2520am.JPG(,)http://blog.jetblue.com/wp-content/uploads/2013/08/MRDU10.jpg(,)http://mw2.google.com/mw-panoramio/photos/medium/64485321.jpg(,)http://mw2.google.com/mw-panoramio/photos/medium/17304364.jpg(,)http://mw2.google.com/mw-panoramio/photos/medium/1172647.jpg(,)http://mw2.google.com/mw-panoramio/photos/medium/351754.jpg(,)http://3.bp.blogspot.com/-OqgV0bdKtj8/UgW-roz7I-I/AAAAAAAAxKY/8447iSzmSas/s640/Yaritza2.jpg(,)http://upload.wikimedia.org/wikipedia/commons/1/1c/Bandera_de_la_Provincia_de_El%25C3%25ADas_Pi%25C3%25B1a.PNG(,)http://mw2.google.com/mw-panoramio/photos/medium/780722.jpg(,)http://mw2.google.com/mw-panoramio/photos/medium/55366777.jpg
(,)http://maps.maphill.com/dominican-republic/elias-pina/horizont-maps/physical-map/physical-horizont-map-of-elias-pina.jpg(,)http://mw2.google.com/mw-panoramio/photos/medium/2727820.jpg(,)http://mw2.google.com/mw-panoramio/photos/medium/17535673.jpg(,)http://mw2.google.com/mw-panoramio/photos/medium/100123247.jpg(,)http://mw2.google.com/mw-panoramio/photos/medium/17304515.jpg(,)http://mw2.google.com/mw-panoramio/photos/medium/88258342.jpg(,)http://mw2.google.com/mw-panoramio/photos/medium/13713776.jpg(,)http://mw2.google.com/mw-panoramio/photos/medium/24281324.jpg(,)http://mw2.google.com/mw-panoramio/photos/medium/59884.jpg(,)http://mw2.google.com/mw-panoramio/photos/medium/17305268.jpg(,)http://mw2.google.com/mw-panoramio/photos/medium/47046960.jpg
(,)http://media-cdn.tripadvisor.com/media/photo-s/04/43/24/23/las-caritas.jpg(,)http://media-cdn.tripadvisor.com/media/photo-s/04/43/23/ed/las-caritas.jpg(,)http://nagasawafamily.org/images/140612%2520elias%2520pina%2520market3.JPG(,)http://4.bp.blogspot.com/-2p5C_LXej4c/UVmbwYL5QkI/AAAAAAAAARo/mkLegXjNDmU/s1600/elias%2Bpina.png(,)http://mw2.google.com/mw-panoramio/photos/medium/17304428.jpg(,)http://mw2.google.com/mw-panoramio/photos/medium/64485289.jpg(,)http://mw2.google.com/mw-panoramio/photos/medium/39872934.jpg(,)http://mw2.google.com/mw-panoramio/photos/medium/69334509.jpg(,)http://robertdodd.weebly.com/uploads/4/8/0/9/4809849/2821278.jpg%3F517(,)http://robertdodd.weebly.com/uploads/4/8/0/9/4809849/9644007.jpg%3F482(,)http://robertdodd.weebly.com/uploads/4/8/0/9/4809849/7368944.jpg%3F512