Covid-19
1991–present






The Hellacopters When I Was Dead Kung Fu Killers Maggott SS


http://www.electricfrankenstein.com


Mike Mindless Paul Perez Rob Sefcik Drew Banfante Frankie Orlandoni Jim Foster John Caton Joe Martin John Steele Bill Gill Joel Gausten Rene Valentine




Whippany, New Jersey, United States (1990)




Conquers the World!, How to Make a Monster




Sal Canzonieri, Joel Gausten, Dan Canzonieri, Jim Foster, Danny Frankenstein, Mike Lincoln, John Steele




Hard rock, Heavy metal, Garage rock, Punk rock




Victory Records, Man's Ruin Records




Supersuckers, The Hellacopters, The Hookers, Gluecifer, Richard Elerick
Electric Frankenstein is an American band from Whippany, Clifton, and other areas of New Jersey, founded by Sal Canzonieri. Their music is generally considered punk rock, but includes elements of hard rock and heavy metal as well. Because of this, they have sometimes been referred to as AC/DC meets The Dead Boys - high energy punk rock & roll that combines the raw and energetic sounds of Punk Rock and Garage Punk (Dead Boys, Ramones, Damned, Misfits, etc.) with elements of hard rock played by bands like MC5, Stooges, AC/DC, Kiss, Mott the Hoople, Alice Cooper, and so on.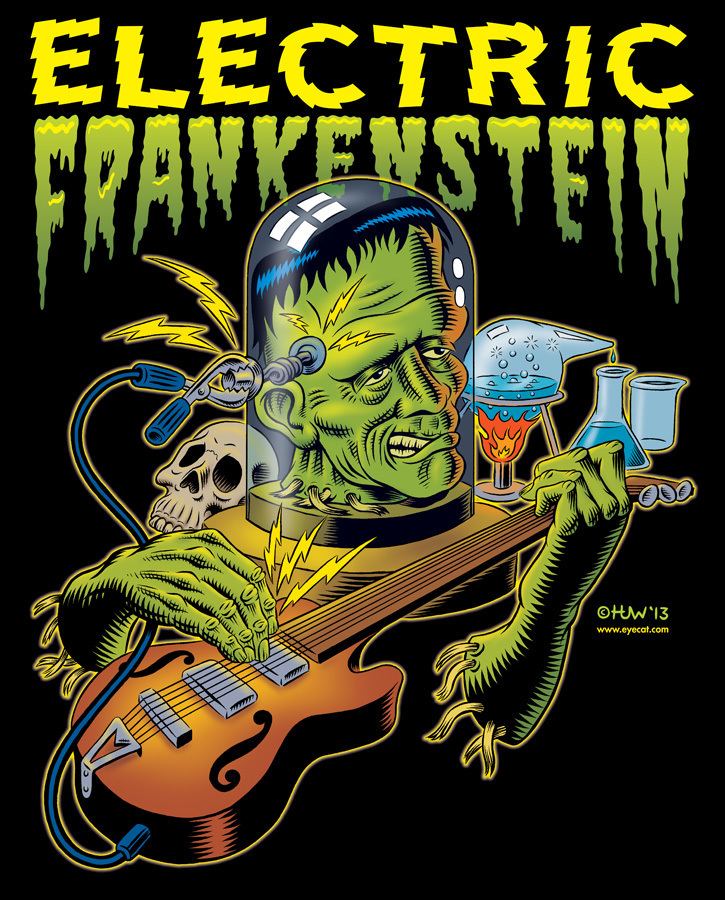 Releasing over 100 records all over the world since 1992, Electric Frankenstein's vinyl singles and albums, CDs, and posters proved to be highly influential, helping to spark a rock revival among the youth of the time throughout the world from the USA to Europe to Scandinavia to Japan, known as the New Rock Revolution. Many new bands soon played the Punk Rock & Roll style that began with Electric Frankenstein's combining of Punk Rock, Hard Rock, and Heavy Metal, greatly influencing such bands as The Hellacopters, Gluecifer, Turbonegro, and many more.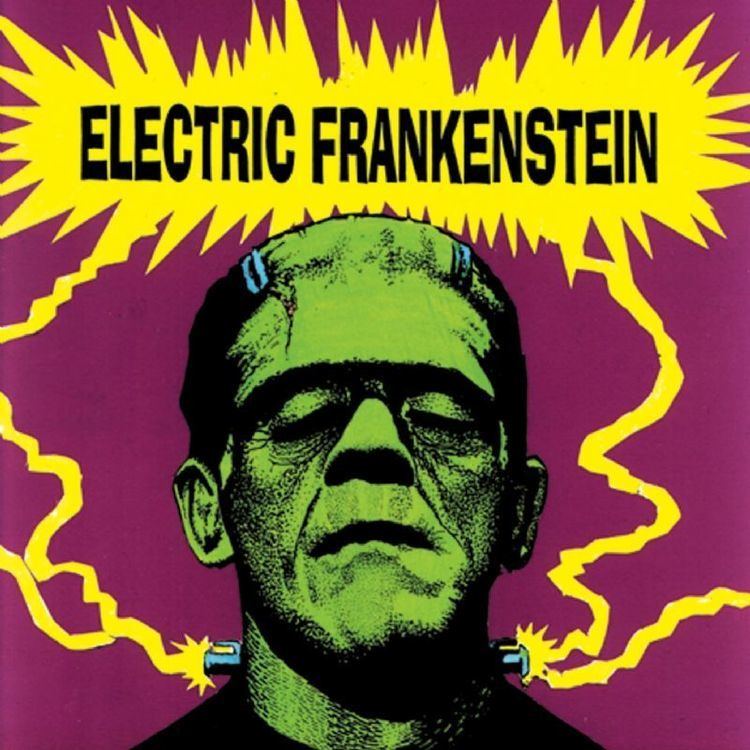 This revival was further aided by guitarist and founder Sal Canzonieri's strong use of the internet early on to promote the band's music. Electric Frankenstein is considered the first band to have had a website, albeit a one pager back in 1991. Also, he strongly promoted all bands of the new Punk Rock & Roll genre in the newly emerging MP3 digital format, on the highly popular music site MP3.com, helping to develop a strong community of bands from many states in the USA and from many countries. Canzonieri later created the critically acclaimed series of compilations called "A Fistful of Rock & Roll", which collected and highlighted all of the best of the new rock bands, collectively known as the New Rock Revolution. There have been 13 volumes of the series so far, published on various record labels (Tee Pee Records, Victory Records, and Steel Cage Records). A second series is forthcoming, known as "A Fistful More of Rock & Roll".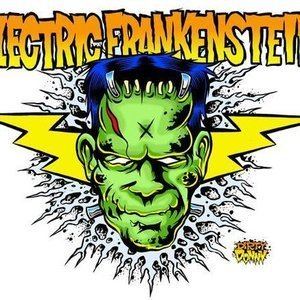 Electric Frankenstein is also the first and only band so far to have a whole art book published of their record covers and concert posters, which was designed by most of the best known illustrative artists around, such as Coop, Kozik, Johnny Ace, Art Chantry, Dirty Donny, Peter Bagge, and many more. The book was titled, "Electric Frankenstein - High Energy Punk Rock & Roll Poster Art" and was published by Dark Horse Comics (2004). The book chronicled every single poster and record cover of their first 10 years. The book "Electric Frankenstein!" is featured in the Rock & Roll Hall of Fame archives. A second book documenting their second decade of artwork has been published "Son of Electric Frankenstein - More High Energy Rock Art" (published by Create Space).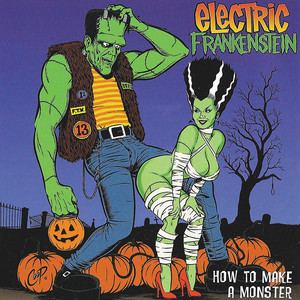 The band was first formed in 1989 out of the ashes of famed NYC space punk band The Thing, and continued to develop their sounds between 1990 and 1991, by brothers Sal and Dan Canzonieri (a.k.a., Danny Frankenstein). With Sal on guitar and Dan on bass, their first line-up was with Frankie Orlandoni on vocals, Jim Foster on lead guitar and John Caton on drums. Within one year, Steve Miller took over as singer/vocalist and eventually also played lead guitar. Miller took time off while recording a side project, and Scott Wilkins of Verbal Abuse & Condemned to Death took over vocals for two years, after which Steve Miller returned on vocals and lead guitar. John Steele and Rob Sefcik took over alternately playing drums during the last 15 years. They developed a strong following in New York City and by 1995, they toured nationally and internationally. After releasing singles on a handful of independent labels, they released their first vinyl EP, The Time Is Now, in 1995 that was released on CD with tracks from 7" singles as their first full-length album. Since then, they have released over 10 albums with almost every album being released on a different label.
The band's music and/or graphic art has been featured in video games, such as Tony Hawk's Underground, TV shows such as Viva La Bam, The X-Files, Nitro Circus, Fantasy Factory, Dawson's Creek, and movies such as Signs, Jackass, and American Psycho 2, among others.
The members of Electric Frankenstein were all previously in well known bands. Original lead guitarist Jim Foster was an original guitarist for Adrenalin OD. Vocalist/Guitarist Steve Miller was guitarist/vocalist in the Gutter Kids and the Crash Street Kids (who were signed to Atlantic Records, but dropped before the album came out). Bassist Dan Canzonieri was in Melvis Kepper, Empire Hideous (with Mike Hideous, short time singer for The Misfits). Dan also played with The Shadow Project and Christian Death, both bands featuring original vocalist Rozz Williams.
Founding member of Electric Frankenstein, Rhythm Guitarist Sal Canzonieri, was in Noise Rock/Post Punk Acid Rock band The Thing, from the mid 1980s into the early 1990s. The Thing were one of the first original founders of the early east coast Stoner Rock scene, along with Monster Magnet, Bench, Hed, The Blood Farmers, and others. The Thing played live shows in NYC at CBGBs and the Continental with White Zombie, Angel Rot, The Blood Farmers, The Unsane, Von Lmo, Royal Trux, Honeymoon Killers, Railroad Jerk, Nice Strong Arm, Cop Shoot Cop, Core, Daisycutter, Bench, and many others. The Thing were known for the totally original sounding music and intense wild live shows in NYC and UK with strobe lights, smoke, nude vampire go-go girls, split-screen films, fireworks, buckets of pigs blood, live worms, horror film sound samples, and more. Their shows later inspired White Zombie, fellow friends, to go into this visual direction for their live shows. The band grew popular in NYC and Europe and toured the UK in 1991, where they recorded a John Peel Session for the BBC, produced by Dale Griffin (drummer from Mott the Hoople), which was released on vinyl by Dutch East India Records - Peel Sessions series. John Peel said this was one of his favorite sessions and one of the very few that he has attended. One of only 2-3 bands that have had their full Peel Session played more than twice on his radio show.
The Thing is mentioned in the Hawkwind bio book 'Space Daze' and also in the book about the John Peel Sessions. When they first formed in the mid 1980s, they were part of the thriving NYC Noise Rock art scene (Live Skull, Unsane, Sonic Youth, White Zombie, Angel Rot, etc.), later morphing into a more progressive acid rock sounding band over the years. The Thing are written about in various rock history books as being one of the very first bands from the 1980s to emerge from the Noise Rock scene to develop the a musical style later known as Stoner Rock. Originally the band called their music "Psychedelic Punk" and later "Acid Core". The Thing were doing a different type of post-punk music, while most bands at the time were still doing either Cro-mags / Agnostic Front styled hardcore punk or Sonic Youth influenced experimental/weird music. The Thing mixed no wave noise, acid rock, metal, 70s rock, psychedelic, progressive rock, and Gothic Rock. In the last decade or so, it has become known as STONER ROCK. A year or two after they started playing live, fellow NJ artists Monster Magnet (and NY bands: Bench, Blood Farmers, Hed, and others) also began playing a similar style of music, which later influenced Kyuss (leading to Fu Manchu and Queens of the Stone Age). Groups such as White Zombie and Tool also later became very popular as they went on to further develop a sound that The Thing had helped develop. Even one of My Bloody Valentine 's guitarists cited The Thing's "texture guitar" as a major influence, after meeting The Thing guitarist, Sal Canzonieri. Their live shows were attended by many well known bands, such as The Pixies (who wrote a song about hearing their music called "The Thing", which they released on the album Complete 'B' Sides), Lemmy from Motorhead, Milk, Th' Faith Healers, Silverfish, and Von Lmo (The Thing guitarist Sal Canzonieri later played with Von Lmo in an updated version of Red Transistor), and others. The Thing opened for Happy Mondays at CBGB and outdrew them. The show featured many special effects that were later used by bands such as White Zombie.
Electric Frankenstein has been featured in many music books, including the following:
All Music Guide to Rock
The Encyclopedia of Hardcore & Punk
The Book of Metal (Comprehensive Encyclopedia of Metal Music)
The A-Z of Doom, Gothic, & Stoner Metal
The Great Metal Discography
The Immense Encyclopedia of Heavy Metal
The band was chosen by the Frankenstein Society to represent the release of the Frankenstein stamp by the United States Postal Service.
Electric Frankenstein's song "It's All Moving Faster" was covered by famous 1970s glitter/glam band Sweet on their 2012 album "New York Connection". Two different versions of their cover are featured on the 2014 reissue of "New York Connection".
Steve Miller (vocals/lead guitar)
Sal Canzonieri (guitar)
Dan Canzonieri(bass)
Mike Lincoln (drums)
Mike Mindless (Ruggerio)from The Skulls(bass)
Jim Foster (guitar) - from Adrenalin O.D.
John Steele (drums)
Rik L Rik (vocals) - from F-Word and Negative Trend
Scott Wilkins (vocals) - from Verbal Abuse, Hollywood Hate
Bill Gill (bass)
Rob Sefcik (drums)
Johnny Yeagher (bass) - from Ironhead, The Candy Snatchers, Thunderlip
Frankie Orlandoni (vocals)
Rene Valentine (drums) - from Joey Ramone's band, The Resistance, Hari Kari, Jim Marcus of Die Warzau, Pigface
Carl Porcaro (guitar)
John Caton (drums)
Joe Martin (drums) from Kill Your Idols
Eric Arce (drums) from Murphy's Law
Ruben (drums)
Joel Gausten (drums) from Pigface
Chris Lynn (bass) from Hudson Falcons
Sean O' Brien (bass)
Drew Benfante (bass)
Joey Rudacil (drums)
Paul Perez (bass) from Black Novas
The Time Is Now (1995)
Conquers the World (1996)
Time is Now (1996)
Sick Songs (US) / Action High (UK) (1997) featuring Scott Wilkins of Verbal Abuse on vocals
Spare Parts (1998) featuring Scott Wilkins of Verbal Abuse on vocals
Rock 'n' Roll Monster (1999) featuring Rik L Rik of F-Word on vocals
How to Make a Monster (1999)
Annie's Grave (US) / Don't Touch Me, I'm Electric (UK) (2000)
The Buzz of 1000 Volts! (2001) - USA
Listen Up, Baby! (2003)
Burn Bright, Burn Fast! (2005)
Dawn of Electric Frankenstein (2001, split album with Crash Street Kids, The Thing and Kathedral)
Dead & Back (2004) - singles and non-lp tracks.
We Will Bury You! (2004) - all covers songs recorded by Electric Frankenstein.
High Voltage Rock & Roll - The Best of Electric Frankenstein! (2011)
The Time Is Now (1995) EP version
Fractured (1997) EP - Scott Wilkins of Verbal Abuse on vocals.
Monster (1998) EP - Rik L Rik of F-Word on vocals.
Sod the Odds! EP (2000)
Super Kool EP (2004)
The Birth of EF! (2009) Pre-EF demos with Frank Orlandoni on vocals.
Tribute to the Ramones & Dead Boys 7" ep (2014). Released by Ghost Highway.
Split 7" with Hellacopters (EUR: Frank Records, 1997, Frank 004)
Split 7" with L.E.S. Stitches (USA: Devil Doll Records) Steve on vocals.
Split 7" with Crispy Nuts (female Japanese Ramones band) (ITALY: Kill Yourself/Rockin Bones Records) Rik L Rik on Vocals.
Split 7" with Gluecifer (EUR: Frank Records 1998, Frank 008)
Listen Up, Baby vinyl LP (1998, split with The Hookers)
Split 7" with Le Shok (2000).
Happy Fuckin Halloween double split 7" with Candysnatchers, B-Movie Rats, Street Walkin Cheetahs (USA: Reptilian Records 2000)
Split 7" with Pushrods (Wood Productions Finland: 2000)
Split 7" with ADZ (Killer Release Records Germany 2000)
Split 7" with Thee STP (Italy: Hangover Records 2000)
Electric Frankenstein Meets Muddy Frankenstein (2000, split with Muddy Frankenstein)
Ace's High (2001, split with Briegel)
Split 7" with The Strap-Ons, The Fux, and Moral Minority (USA: Valient Records 2002)
Splitsville 1 (2002, split LP with the Supersuckers)
Split 7" with The Ghoulies (Sweden: Big BongoRecords 2003)
Electric Frankenstein Meets El Nada (2003, split with El Nada)
Stripped Down, Fueled Up! (2003, split with Jed Whitey, Iron Boss and The Puppies)
Split 7" with IronBoss (Sweden: Bootleg Booze Records 2004)
Split 7" with Dollhouse (2004) France: 442eme RUE Records
Split 7" with Dog's Bollocks (Germany: No Balls Records 2004)
Split 7" with ANTISEEN (USA: TKO Records 2005)
Split 7" Fuck You Up and Get Live with Streetwalkin Cheetahs, Bulemics, Hellside Stranglers, Spitfires, and Candysnatchers (USA: National Dust Records 2005)
Split 7" EF and Friends with Ironhead, Rocket City Riot, and Strap-Ons (Germany: No Ball Records 2005)
Split 7" with Ironhead (USA: Conformist Records 2005)
Split 7" with White Barons (USA: Champagne & Cocaine Records 2006)
Doktor Frankendragster (2005, split with Bad Dog Boogie)
4 Those About to Rock (2007, split with The Chuck Norris Experiment, V8wankers and The Whocares)
Split 7" with Valdez (2007)
Split 7" with V8 Wankers (Germany: Stereodrive Records 2007)
Split 7" with Bordells (Germany: No Balls Records 2007)
Split 7" with Maximum R&R (Canada: Maxrr Records 2009)
Split LP and CD with The Hip Priests (2010)
Split 7" with The Kung Fu Killers (Germany: No Balls Records 2011)
Split 7" with The Bonitos (USA: Little T&A Records 2013)
Split EP with The Cheats (2013)
Split 7" with Chainsaw Hookers (2014). Released by Desert Highways.
Split EP with The Cheats (2014). Released by Screaming Crow Records.
Split 7" with The Dead Vikings (2015) Japan: Bees Knees Records
Live at Camden Underworld (2003)
Legacy of Electricity DVD - 20 Years of Interviews, TV Appearances, and Live (forthcoming)
Electric Frankenstein: High Energy Punk Rock & Roll Poster Art Dark Horse Books (2003)
Electric Frankenstein Issue #1 Comic Book art by Mike Hoffman (2010)
Electric Frankenstein Poster Art Book (2009)
Electric Frankenstein 50 Best Record Covers Art Book (2009)
Son of Electric Frankenstein: MORE High Energy Punk Rock & Roll Poster Art Create Space Books (2014)
It's All Moving FasterI Was a Teenage Shutdown! · 1998
Action HighSick Songs · 1998
Listen Up Baby!Listen Up - Baby! · 2002

Electric Frankenstein Wikipedia