Noble family

Brandon




Role

Countess of Cumberland




Name

Eleanor Countess






Father

Charles Brandon, 1st Duke of Suffolk




Mother

Mary Tudor, Queen of France




Buried

Skipton, Yorkshire, Kingdom of England




Died

September 27, 1547, Brougham Castle, United Kingdom




Spouse

Henry Clifford, 2nd Earl of Cumberland (m. 1537–1547)




Children

Margaret Stanley, Countess of Derby




Parents

Mary Tudor, Queen of France, Charles Brandon, 1st Duke of Suffolk




Siblings

Frances Grey, Duchess of Suffolk




Similar People

Charles Brandon - 1st Duke, Mary Tudor - Queen of, Frances Grey - Duchess, Ferdinando Stanley - 5th Earl o, Lady Mary Grey
Lady Eleanor Brandon (1519 – 27 September 1547) was the third child and second daughter of Charles Brandon, 1st Duke of Suffolk and Princess Mary Tudor, the Dowager Queen consort of France. She was a younger sister of Lady Frances Brandon and an elder sister of Henry Brandon, 1st Earl of Lincoln. She was also a younger paternal half-sister of Lady Anne Brandon and Lady Mary Brandon from her father's second marriage. After her mother's death in 1533, her father remarried to Catherine Willoughby and Eleanor became an elder half-sister of Henry Brandon, 2nd Duke of Suffolk and Charles Brandon, 3rd Duke of Suffolk.
Contents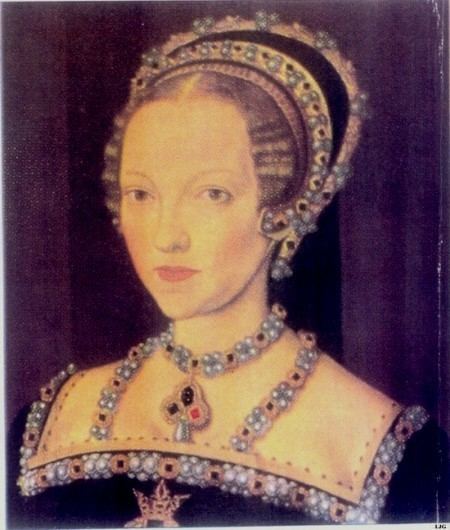 Her paternal grandparents were Sir William Brandon and Elizabeth Bruyn. Her maternal grandparents were Henry VII of England and his queen consort Elizabeth of York. She was thus a niece of Henry VIII.
Countess of Cumberland
Lady Eleanor was a descendant of a member of the Tudor dynasty and therefore her marriage would advance the political ambitions of any given husband. In March 1533, a marriage contract was written up for Lady Eleanor and Henry Clifford, the eldest son and heir of Henry Clifford, 1st Earl of Cumberland by Lady Margaret Percy. However, since her mother died nine months later, she waited to go and live with her young husband and in-laws. In anticipation of Eleanor's arrival, the Earl of Cumberland built two towers and the great gallery within Skipton Castle. Eleanor married Clifford at Brandon house, Bridewell, in 1537; her uncle King Henry VIII was present.
In January 1536, Eleanor was designated the chief mourner for the funeral service of Catherine of Aragon, first Queen consort of Henry VIII, at Peterborough Cathedral.
There is not much known about her later life and she left only one letter:
"Dear heart,
After my most hearty commendations, this shall be to certify you that since your departure from me I have been very sick and at this present my water is very red, whereby I suppose I have the jaundice and the ague both, for I have none abide [no appetite for] meat and I have such pains in my side and towards my back as I had at Brougham, where it began with me first. Wherefore I desire you to help me to a physician and that this bearer my bring him with him, for now in the beginning I trust I may have good remedy, and the longer it is delayed, the worse it will be. Also my sister Powys [Anne Brandon] is come to me and very desirous to see you, which I trust shall be the sooner at this time, and thus Jesus send us both health.

At my lodge at Carlton, the 14th of February.
And, dear heart, I pray you send for Dr Stephens, for he knoweth best my complexion for such causes.
By your assured loving wife, Eleanor Cumberland"
Prospects of succeeding to the throne
The Third Succession Act of 23 March 1544 defined that Eleanor was in line to succeed her maternal uncle Henry VIII. She was eighth-in-line for the throne following:
Edward, Prince of Wales, her first cousin.
The Lady Mary, her first cousin.
The Lady Elizabeth, her first cousin.
Frances Grey, Marchioness of Dorset, her elder sister.
Lady Jane Grey, her eldest niece.
Lady Catherine Grey, her second niece.
Lady Mary Grey, her third niece.
Henry VIII died on 28 January 1547. Prince Edward became King Edward VI. Lady Eleanor was the seventh-in-line for the throne, but she died on 27 September the same year without surviving male issue at Brougham Castle, and was buried at Skipwith. Her place in line was taken by her daughter. Her husband later remarried Anne Dacre, who bore him six more children.
Issue
With Henry Clifford:
Lady Margaret Clifford (1540 - 28 September 1596); she married Henry Stanley, 4th Earl of Derby.
Henry Clifford; died an infant.
Charles Clifford; died an infant.
Portrait
There is a discrepancy as to who the sitter is in the Hans Eworth portrait which is featured. The coat of arms in the top left corner, which may have been added later, are the impaled arms (those of a husband and wife) of Henry Clifford, 2nd Earl of Cumberland, and his wife Lady Eleanor, daughter of Charles Brandon, 1st Duke of Suffolk, and Mary Tudor, Dowager Queen of France. As a result, the painting has been frequently exhibited in the past as a portrait of Lady Eleanor, regardless of the fact that she died in 1547, well before the date of this portrait. It is, however, a rule of heraldry that impaled arms are not used by the children of a marriage, as they would have their own. Hence the later addition and erroneous use of the arms here suggests that the identity of the portrait was already unclear only two or three generations after it was painted, a situation by no means unusual amid the frequent early deaths, multiple marriages, and shifting alliances and fortunes of the most powerful families of the Tudor era. Later the portrait was thought to represent the only child of Eleanor and Henry to survive infancy, Margaret. Unfortunately the inscription on the right which might have provided a check (Margaret would have been aged 25–28 at the time of this portrait) has been truncated; although the Roman numerals of the year can apply only to 1565-8, the age of the sitter cannot be ascertained with any useful accuracy. The National Portrait Gallery has an online sketch of this portrait identified as Lady Eleanor, but the portrait remains in dispute. There is, however, a portrait of Lady Eleanor featured at Skipton Castle. It is reportedly a very poor work of art, but nonetheless interesting.
References
Eleanor Brandon, Countess of Cumberland Wikipedia
(Text) CC BY-SA