El Tiradito is a shrine and popular local spot in the Old Barrio area of downtown Tucson, Arizona. The shrine consists of the crumbling remains of a brick building, with a large metal rack for candles and desert plants now occupying the interior. Large, glass-encased candles, frequently depicting saints of the Roman Catholic Church are lit and left burning at the shrine, both on the stand and along the ledges of the building. Small slips of paper containing prayers or messages of thanks are also often pressed into cracks in the walls or left elsewhere at the shrine, as are other memorial objects. In addition to the faithful who leave these religious objects, El Tiradito is frequented and favored by many Tucsonans, including writers, poets, and other members of the town's artistic community.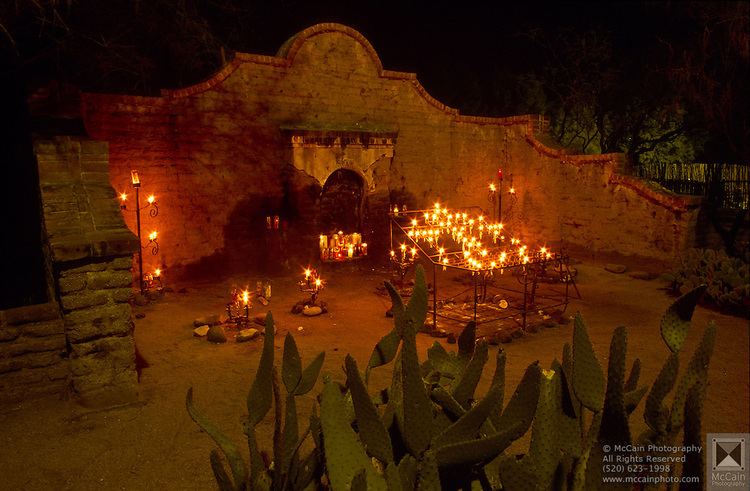 According to the Phoenix New Times publication, El Tiradito is the only Catholic shrine in the United States dedicated to a sinner buried in unconsecrated ground. It is said that the man buried there died fighting for the love of a woman. Visitors to this area light candles for the man, hoping his soul will be freed from purgatory. Some of the nooks and crannies of El Tiradito even house the notes and letters of the heartbroken, prayers asking for healing of the heart.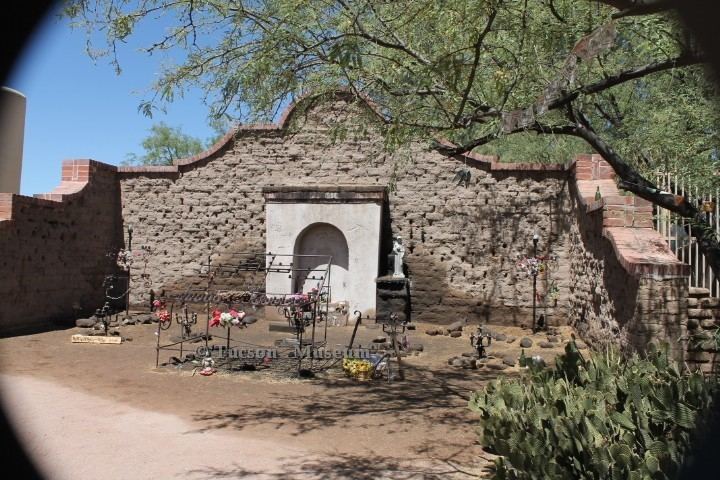 Located on the dirt lot at: 420 South Main Ave, Tucson, Arizona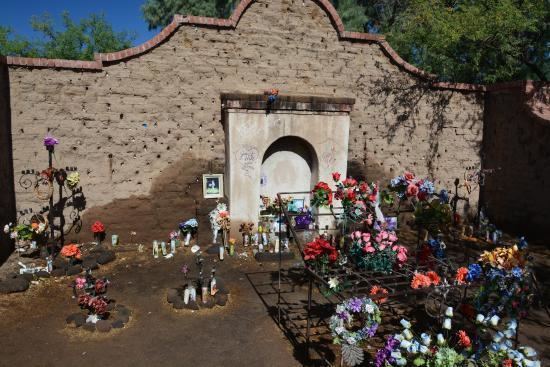 Quietly located in what is left of downtown Tucson's Barrio Viejo, which has often been called the real soul of the city, even though much of its Spanish Colonial architecture was bulldozed down to make way for the City Of Tucson's Convention Center, is a local Tucson shrine dating back to the 1870s to Juan Oliveras, a young recently married eighteen (18) year old Mexican Sheep Ranchers son in law. Juan has been locally considered as a sort of part 'folk hero and part myth' for over 140 years when his death resulted from a very steamy secret local love affair with his Mother In Law who was the wife of a very powerful wealthy sheep rancher in the area.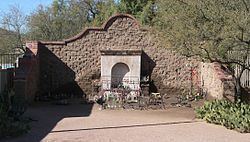 Juan's shrine was also responsible for stopping the governments plans for a freeway that would have destroyed and gone right through what is now left of the Barrio Viejo. Only well loved martyr's could be worthy of such constant homage as the votive candles, prayers and wishes are delivered every night for over 140 years to Oliveras' shrine, called El Tiradito ( the little throwaway or castaway ), by faithful Tucson believers and thousands of others. Juan Oliveras is not a saint, like any of those made by the Catholic Church in Rome. The shrine's little grotto actually owes its existence to Juan Oliveras' steamy secret adulterous love affair with his mother-in-law. "He was a sinner, and a lover" said Annie Laos, 74, who led the fight to have the El Tiradito Shrine placed on the National Register of Historic Places in 1971. "El Tiradito Is A Shrine To A Bad Guy," she said.
But the sins of this 18-year-old ranch hand, who was often seen frequenting down in Tucson during the 1870s while he working up north of the town, were sins of his heart, mind, and his actions with a married woman, who was no less than his own mother-in-law. El Tiradito is a story of the west, a curse, and a love triangle. The young man Juan Oliveras was in love with his mother-in-law. El Tiradito, also known as the Wishing Shrine, is the lovesick burial site of Juan Oliveras. Juan lived and worked on a large sheep ranch north of Tucson with his young wife and father-in-law. Juan had become infatuated with his mother-in-law, who lived in her husband's large main home in Tucson.
One day when Juan went into town to secretly again visit his beautiful mother-in-law, his father-in-law also went into town that same day on business and unsuspectingly surprised Juan and the rancher's wife having sex together in the rancher's own bed. After many strong words and accusations, a violent fight and struggle followed. Juan got free and fled out the front door yelling for help. But his enraged ax-wielding father-in-law soon caught up to the young man and began chopping the young Juan again and again with the sharp axe's blade until the young Juan died in a large pool of his own blood in the dirt street. The blood-spattered father-in-law fled, and, once regaining his thoughts, knew he would hang for the murder if he was caught, so he saddled up his best horse and quickly made his escape in a 60-mile ride down to Sonora Mexico before the Tucson Marshals could arrest him.
The young murderer's wife was so despondent she was found hanging from her balcony that night by a passing freight wagon. The murderer made it to Sonora México, but within days he attempted to return to his Tucson area ranch to herd his animals down to Sonora. Riding his horse on the trail north up to Tucson near Tubac he was attacked by a band of Apache Indian raiders. They scalped him, stabbed him, shot him repeatedly, took his guns, took his horse, took his clothes, and tied him naked to a large saguaro cactus along the Nogales to Tucson wagon trail to die. By morning the southbound stagecoach going from Tucson down to Nogales came upon the gruesome sight of the barely recognizable dead man. His body was cut down off the giant saguaro cactus, wrapped his lifeless body up in a canvass tarp, and lashed it down on the back freight area of the stagecoach, and it continued on its schedule down to Nogales, Sonora, where the body was buried.
Despite pleas to the Tucson Catholic Church officials from some of the barrio's residents, the Catholic Church refused Juan Oliveras burial on church-sanctioned or -owned cemeteries due to the adulterous nature of the young man's sins with the married woman while he himself was also already married to yet another woman. Instead, Juan was buried on the exact spot where his body was thrown by his enraged father-in-law after he had hacked him to death with the axe. That act gave the present site its name, El Tiradito, ('The Little Throwaway'... 'The Castaway.')
Soon, the pressure of Juan's acts (and her father and mothers acts) drove Juan's own young widowed wife to desperation and beyond. Even though she was pregnant with Juan's child, and while then living alone on the resulting mostly abandoned large ranch of her then dead parents north of Tucson, she untied the bucket off the rope going down into the ranch's deep water well. The beautiful widow tied the rope snugly around her neck, climbed onto the large rocks surrounding the well, and jumped down into it, snapping her neck instantly. Neighboring ranchers found her limp body almost a week later when they visited the ranch to ask her if she wanted any help to move into Tucson. Her body was buried right there on the ranch next to a large old mesquite tree that remains to this day.
The 'Curse of The Wishing Shrine' centers predominately on its visitors' motives for their visit, and their own lives. It is said that if one visits with a clear open heart that forgives, they will pass, and they may even get their wish fulfilled. For others, it may just be the beginning of history repeating itself, depending on what they themselves bring to the shrine. Also, it is said that if you light a candle at the shrine and it remains burning all night long without going out by sunrise, your wish may be granted, depending on your motivations.