Tunisia




Kef Governorate




73,706



El Kef (Arabic: ?), also known as Le Kef, is a city in north western Tunisia and the capital of the Kef Governorate.
Situated 175 kilometres (109 mi) to the west of Tunis and some 40 kilometres (25 mi) east of the border between Algeria and Tunisia, El Kef has a population of 45,191 (2004 census). The old town is built on the cliff face of the table-top Jebel Dyr mountain. El Kef was the provisional capital of Tunisia during World War II. It was the command centre of the Front de Libération Nationale during the Algerian War of Independence against the French in the 1950s.
The Sidi Bou Makhlouf Mausoleum entombs the patron saint of the city.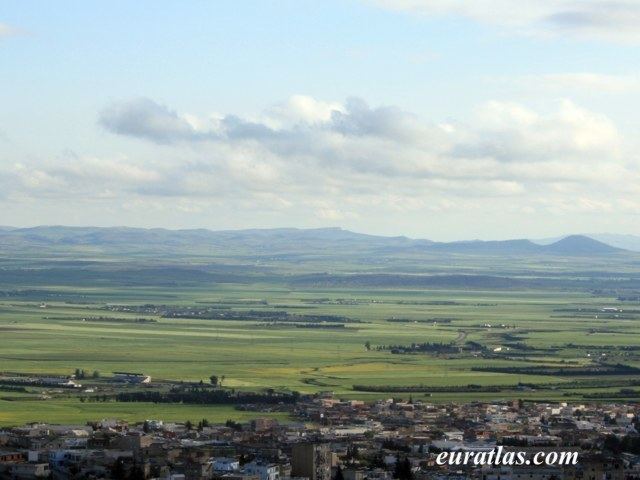 The highest-elevated city of Tunisia, at 780 metres (2,560 ft), its metropolitan area reaches 2,500 hectares (6,200 acres) of which 45 hectares (110 acres) lie within the interior of the old walled Medina quarter.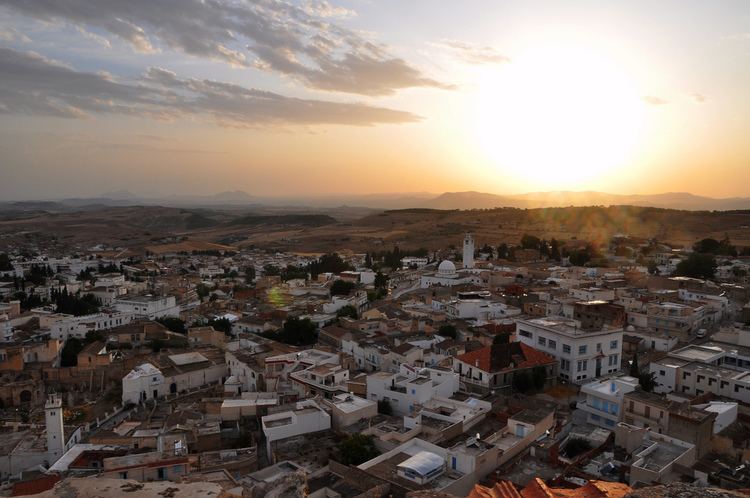 The municipality of El Kef is shared between two national delegates, East Kef and West Kef, which correspond to the two municipal boroughs.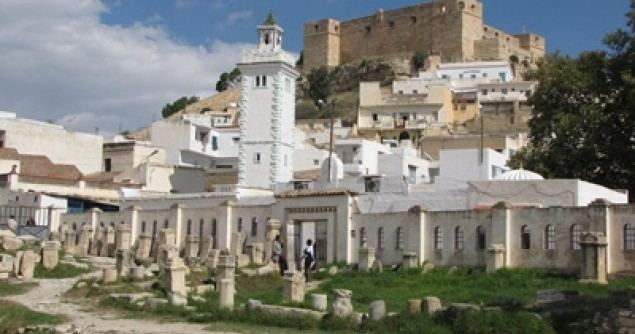 First known by the name of Sicca during the Carthaginian era, then later Sicca Veneria during the rise of Roman domination, the city has carried numerous names throughout its history: Colonia Julia Cirta, Cirta Nova, Sikka Beneria, Shaqbanariya and finally El Kef since the 16th century.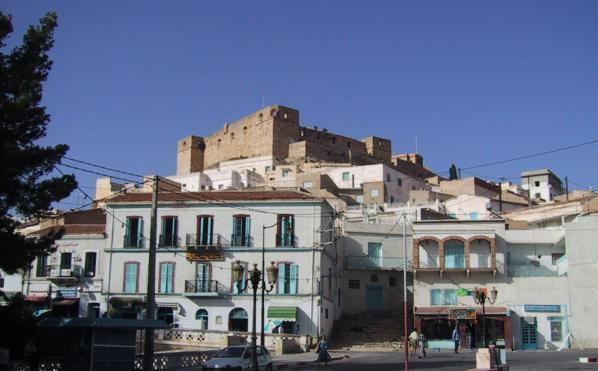 El Kef contains a certain number of Islamic religious edifices, in its role as the center of a Sufic movement. The Sidi Bou Makhlouf Mausoleum holds the tomb of the founder of the Aissawa brotherhood in Tunisia, Sidi Bou Makhlouf. The El Qadriya mosque is also important to Sufism.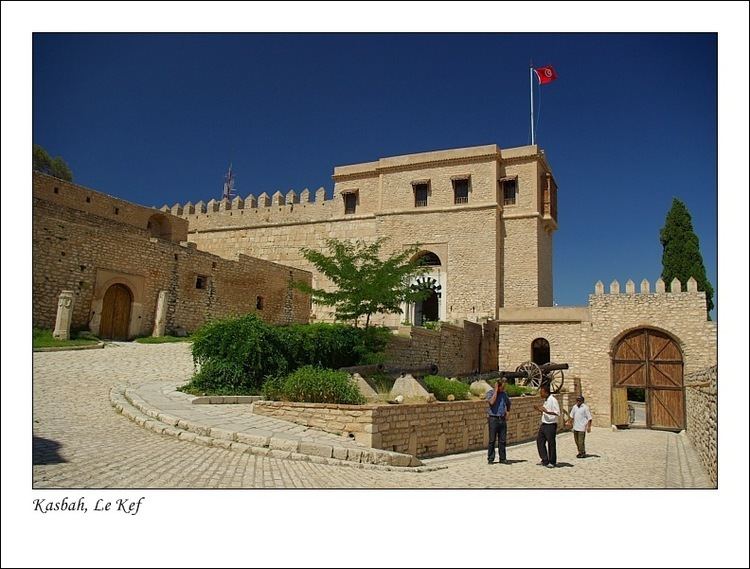 A legacy of the old local Jewish community, the synagogue of the Ghriba is the object of veneration by Jews of the region, who come in pilgrimage each year during the week marked by the festival of Sukkot.
In the city is the mausoleum of Ali Tukie, the father of Al-Husayn I ibn Ali at-Turki, founder of the Husainid dynasty which ruled Tunisia from 1705 to 1957.
The vestiges, well preserved, of a three-naved Roman basilica dating from the beginning of the 5th century named Dar El Kous, dedicated to Saint Peter, have been discovered.
The Festival of Mayou, also known as the Festival of Borzgane, brings the traditional Keffish couscous up to contemporary taste.
The Museum of the Popular Arts and Traditions of El Kef, housed within a museum built in the 18th century, presents collections which retrace the social habits and customs which prevailed before the independence of the country.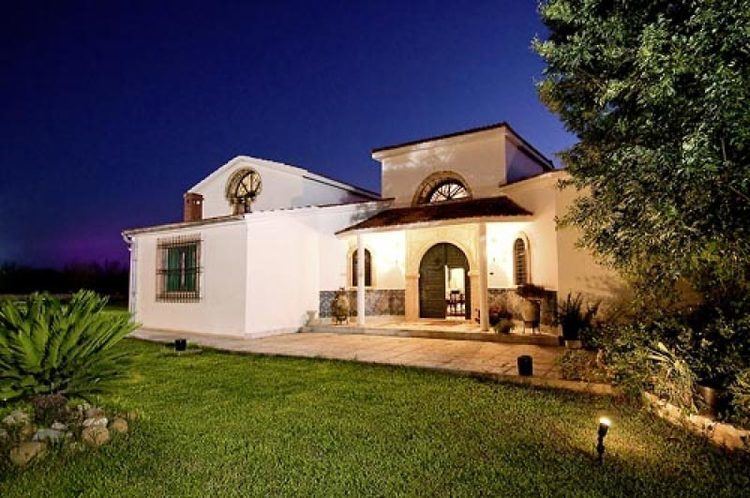 The cuisine of El Kef has two recipes specific to the region. First, a typical regional bread, mjamaa or khobz el aid, is prepared at festival times, covered with an egg and decorated with pastry. Second, borzgane is a type of couscous lightly sweetened by alternating layers of dry fruits, dates, and meat of lamb.
El Kef Wikipedia
(,)http://mideastposts.com/wp-content/uploads/2012/10/el-kef-e1350566987210.jpg(,)https://farm8.staticflickr.com/7326/14181646192_9a8fa1d326_o.jpg(,)http://cdn4.vtourist.com/6/6983518-Hotel_Sicca_Veneria-El_Kef.jpg(,)https://icfadumbartonoaks.files.wordpress.com/2013/11/msbz001-slidebox-271_bf_s_2002_4462.jpg%3Fw%3D610%26h%3D414(,)http://upload.wikimedia.org/wikipedia/commons/4/4a/El_Kef_Kasbah.jpg(,)http://cdn1.vtourist.com/19/6580312-Kasbah_entrance_El_Kef.jpg%3Fversion%3D2
(,)http://www.euratlas.net/photos/europe/tunisia/le_kef_landscape.jpg(,)https://c2.staticflickr.com/4/3493/3840535284_1cfbd94d71_b.jpg(,)https://c2.staticflickr.com/4/3738/9687761516_11e3b4272d_b.jpg(,)http://cache1.asset-cache.net/gc/463955639-view-of-el-kef-tunisia-c1890-illustration-gettyimages.jpg%3Fv%3D1%26c%3DIWSAsset%26k%3D2%26d%3DGkZZ8bf5zL1ZiijUmxa7QUg%252FlZIKDCaua6Lc0U2nceUMCCwSbwIy8n54mue5rQb8(,)https://photos.travelblog.org/Photos/171259/557094/f/5743885-Kasbah-_El_Kef-0.jpg(,)http://mw2.google.com/mw-panoramio/photos/medium/13417782.jpg(,)https://farm3.staticflickr.com/2680/4144059680_81a99ec4cb.jpg(,)http://www.worldaffairsjournal.org/sites/default/files/Atlas%2520Mountains%2520Tunisia.JPG(,)https://c2.staticflickr.com/4/3168/2564735426_73b91649fb.jpg(,)http://mw2.google.com/mw-panoramio/photos/medium/79727758.jpg(,)https://farm8.staticflickr.com/7375/14181315552_8ff16cda84.jpg(,)http://us.123rf.com/450wm/marzolino/marzolino1208/marzolino120800296/14986505-old-view-of-sicca-veneria-ancient-roman-city-at-el-kef-tunisia-created-by-allom-and-challis-publishe.jpg
(,)http://www.tourintunisia.com/wp-content/uploads/2014/01/Dar-Chenoufi-In-EL-kef.jpg(,)http://photos1.blogger.com/blogger/5080/2175/1600/Tunisia%2520041.jpg(,)http://www.actus.tn/wp-content/uploads/2013/01/BOUMAKHLOUF211.jpg(,)http://www.jihadwatch.org/wp-content/uploads/2014/01/ElKef.jpg(,)http://www.nachoua.com/Tabarka-2009/Tabarka-2009_1175.JPG(,)http://www.tunisie-monamour.com/wp-content/uploads/2013/05/El-Kef3.jpg(,)http://www.tourintunisia.com/wp-content/uploads/2014/01/dar-chennoufi-al-kaf-tunisia.jpg(,)http://imalbum.aufeminin.com/album/D20080229/398928_8YRYJFG4TNQJ3PEFWSHC6KYNQ8ZTUB_imgp3546_H145502_L.jpg(,)http://tunisie.co/uploads/images/content/kef-210411-1.jpg(,)http://tunisie.co/uploads/images/content/kef-200711-3a.jpg
(,)http://romeartlover.tripod.com/Sicca08.jpg(,)http://opentravel.com/img/TravelGuide/el-kef-tunisia-960_4.jpg(,)http://cdn4.vtourist.com/19/4154552-Man_with_the_key_El_Kef.jpg(,)http://i1.trekearth.com/photos/41063/imgp4113a1.jpg(,)http://i.ytimg.com/vi/1q8-uj0Fxpo/maxresdefault.jpg(,)http://i.ytimg.com/vi/w4-weavdElI/maxresdefault.jpg(,)http://i.ytimg.com/vi/zJE0rT7VPS0/maxresdefault.jpg(,)http://i.ytimg.com/vi/UCc_eafGelw/maxresdefault.jpg
(,)http://looklex.com/tunisia/photos/kef01.jpg(,)http://i1.trekearth.com/photos/41063/imgp4117a2.jpg(,)http://www.tunisia-live.net/wp-content/uploads/2011/09/el-kef.jpg(,)http://i1.trekearth.com/photos/41063/imgp4143a1.jpg(,)http://www.tunisie.co/uploads/images/content/kef-saisons-300414-1.jpg
(,)https://fbexternal-a.akamaihd.net/safe_image.php%3Fd%3DAQA8ybH32fluSssN%26w%3D720%26h%3D960%26url%3Dhttp%253A%252F%252Fupload.wikimedia.org%252Fwikipedia%252Fcommons%252Fthumb%252F7%252F75%252FRoman_mill_at_Chemtou.jpg%252F720px-Roman_mill_at_Chemtou.jpg(,)http://media-cdn.tripadvisor.com/media/photo-s/01/56/83/57/al-kaf.jpg(,)http://content.clickbooq.com/595/photos/e9bd7f8ca8.jpg(,)http://www.rptranslate.com/images/Country_Spotlight/Tunisia/El-Kef600.jpg(,)http://media-cdn.tripadvisor.com/media/photo-s/01/3f/94/92/el-kef.jpg(,)http://cdn3.vtourist.com/19/4154587-Fairly_raucous_drinking_spot_El_Kef.jpg(,)https://farm9.staticflickr.com/8590/15890322342_622ec244e8.jpg(,)https://farm9.staticflickr.com/8646/15890374952_6e20ebb3f5.jpg