Covid-19
Ek Hi Raasta (Hindi: एक ही रास्ता, Only One Way) is a 1993 Bollywood action film about a terrorist with aspirations to rule India. Directed by Deepak Bahry, the film is a remake of the Ek Hi Raasta (1977) which starred Rekha. Films under the title were also released first in 1939 and then in 1956. The film stars Ajay Devgan, Raveena Tandon, Raza Murad and Saeed Jaffrey.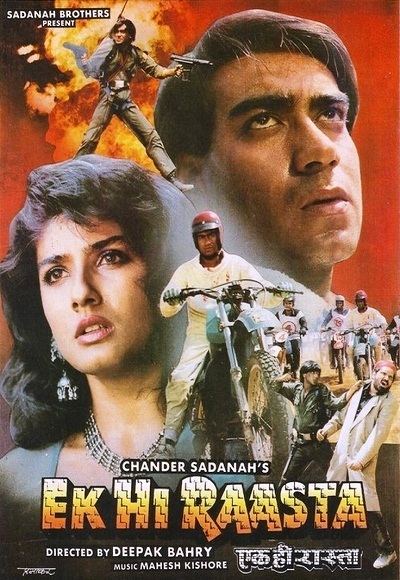 It's a Bollywood action film released in 1993 and directed by Deepak Bahry.
It's a remake of the 1977 film 'Ek Hi Raasta' (1977).
The film's duration is 145 min.
Pyar gazab ki cheez hai hd ek hi raasta songs ajay devgan raveena tandon 90s hindi hits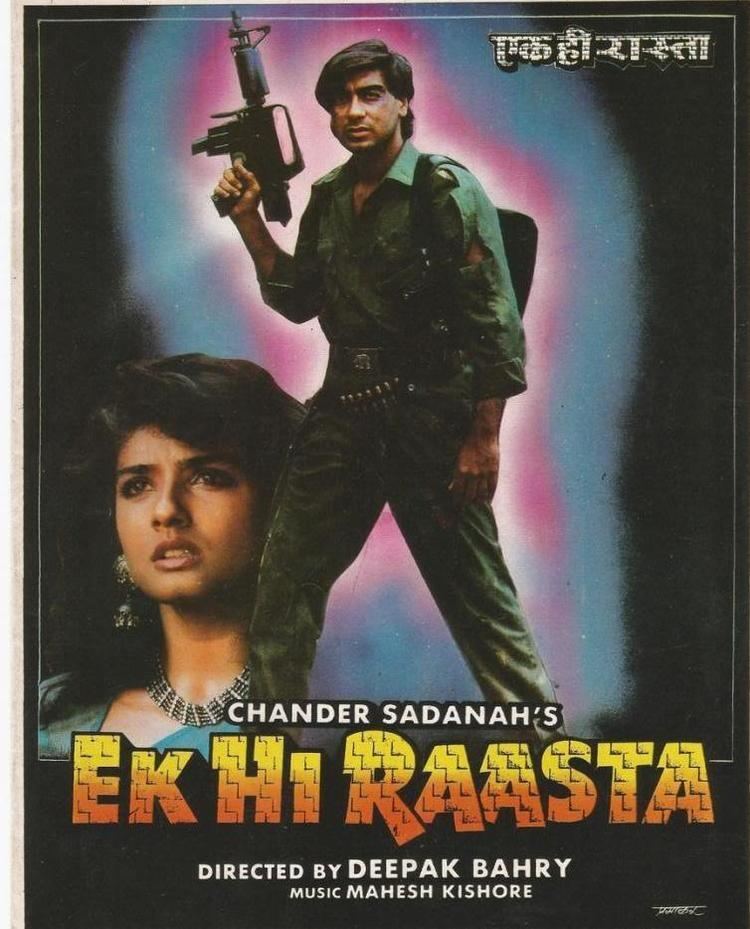 Kubla (Raza Murad) is a terrorist and would like to rule over India. To do this, he needs vital information about the Indian armed forces, and he recruits an Indian army officer, Vikram (Mohnish Bahl). To get this information, Vikram kills another soldier and ensures that Karan Singh (Ajay Devgan), yet another army man, gets the blame. This goes according to plan, and Karan Singh is on the run. Then Kubla and Vikram abduct Col. Choudry (Saeed Jaffrey) and his daughter, Priya (Raveena Tandon). They give Bhagat (Kulbhushan Kharbanda) Singh two-and-a-half hours to locate the information or else the Colonel will be killed, and Priya (Raveena Tandon) raped. (Retrieved from IMDb)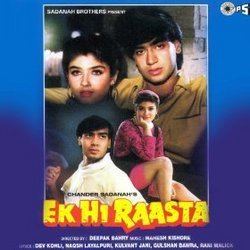 Ajay Devgan as Karan Singh
Raveena Tandon as Priya Choudhry
Raza Murad as Kubla
Saeed Jaffrey as Colonel Choudhry
Deven Verma as Mehra
Kulbhushan Kharbanda as Bhagat Singh
Mohnish Bahl as Vikram Singh
Sharat Saxena as Army officer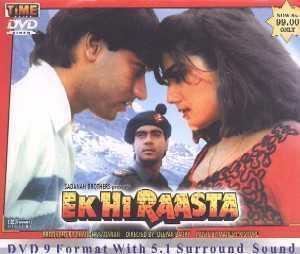 Ek Hi Raasta (1993 film) Wikipedia
(Text) CC BY-SA
Ek Hi Raasta (1993 film) IMDb
Ek Hi Raasta (1993 film) themoviedb.org