Name

Edvard Radzinsky





Role

Playwright







Spouse

Tatiana Doronina (m. 1966–1970), Alla Geraskina (m. 1955–1964), Elena Denisova


Parents

Sofia Radzinskaya, Stanislav Radzinsky




Books

Stalin: The First In‑depth, The Last Tsar: The Life and, Alexander II: The Last Great Tsar, The Rasputin file, Rasputin




Similar People

Tatiana Doronina, Grigori Rasputin, Elena Denisova, Nicholas II of Russia, Alexander II of Russia
Edvard Radzinsky Interview about Remains Found
Edvard Stanislavovich Radzinsky (Russian: Э́двард Станисла́вович Радзи́нский) (born September 23, 1936) is a Russian playwright, television personality, screenwriter, and the author of more than forty popular history books.
Contents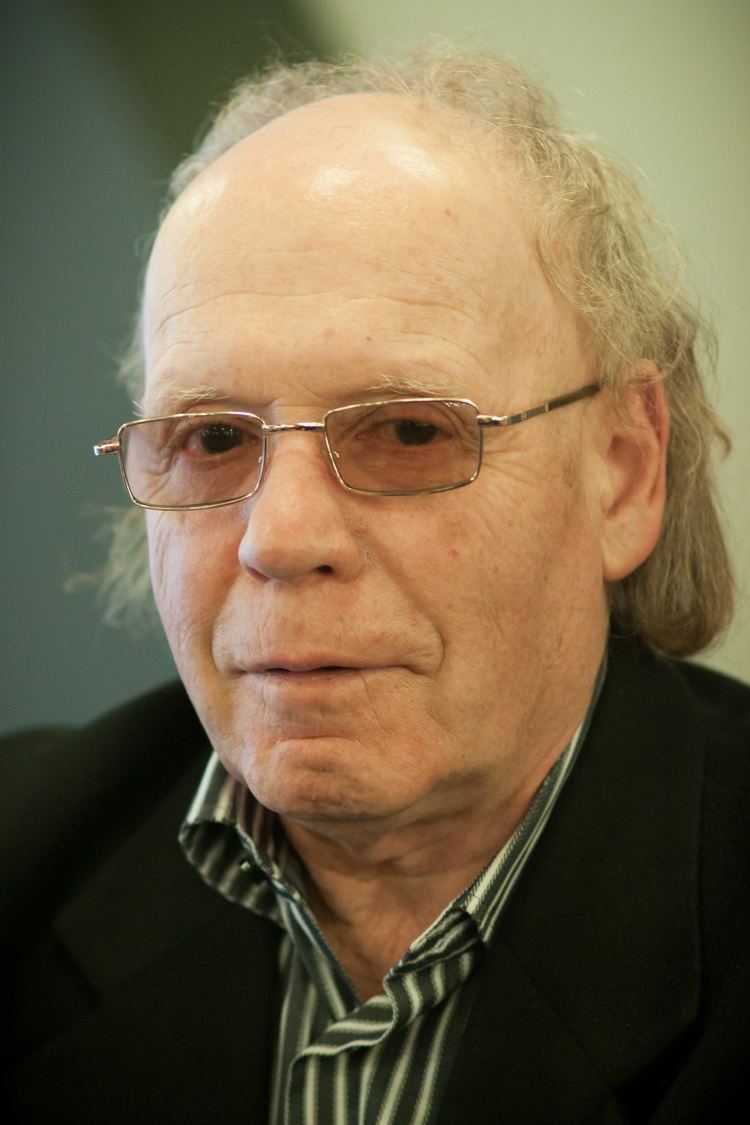 Edvard radzinsky interview to vladimir pozner 2009
Biography
Edvard Stanislavovich Radzinsky was born in Moscow, Russia on September 23, 1936 to playwright Stanislav Radzinsky and his wife Sofia. He studied in the Moscow Archive Institute and is a trained historian. Edvard married actress Alla Geraskina, herself the daughter of the popular Soviet playwright and writer Lia Geraskina, in 1955. Their son, Oleg was born in 1958. Edvard Radzinsky divorced Alla in 1964. He later married Tatiana Doronina, one of the leading Soviet actresses of the 60s-70s. They divorced later. He is currently married to the actress Elena Denisova.
Career
Radzinsky is an author of more than forty popular non-fiction books on historical subjects. Since the 1990s, he has written the series Mysteries of History. The books translated to English include his biographies of Tsars Nicholas II and Alexander II, Rasputin, and Joseph Stalin. His book Stalin: The First In-depth Biography Based on Explosive New Documents from Russia's Secret Archives discusses a number of well known controversies about Joseph Stalin, including the existence of a fuller text of Lenin's Testament, the alleged involvement of Stalin as an agent of the Tsarist secret police, and the role of Stalin in the death of his wife and the murder of Sergey Kirov. According to Radzinsky, Stalin was poisoned by order of Lavrentiy Beria. His book includes an interview with a former bodyguard of Stalin, who stated that on the night of Stalin's death, the bodyguards were relieved of duty by an NKVD officer named Khrustalev. This same officer was briefly mentioned in Memories, the memoir of Stalin's daughter Svetlana Alliluyeva. Radzinsky also supported the hypothesis by Viktor Suvorov that Stalin had prepared a preemptive strike against Nazi Germany for 1941.
Road accident in 2011
In July 10, 2011 in Moscow Oblast on the highway from Anosino to Pavlovskaya Sloboda, while he was driving a Volvo XC90, Radzinsky drove the car into a oncoming traffic and crashed into Nissan X-Trail. A 24-year-old girl, Maria Kulikova, a passenger in the second car, was killed in the accident. According to his wife, he suffered a heart attack afterward. At the hospital, his condition is said to have started to worsen, but he later left the hospital. During the investigation Radzinsky admitted his guilt.
Two months after the accident, on September 10, Radzinsky presented reading of his new play, "Several meetings with Mr. Mozart" in Tchaikovsky Hall, which lasted for three hours.
At the same time, according to Kirill Choporov (fiance of Maria Kulikova who died in accident), "the investigation was delayed because Radzinsky refused to come in for questioning to the police".
The investigator told relatives of the deceased that the writer claimed that he could not come to the interview because of poor health.
Six months later, all charges were dropped against Radzinsky.
At the same time, the driver of the Nissan, Kirill Choporov, was accused of committing the accident. Parents filed an appeal to the court.
Further investigation proved the guilt of Radzinsky, but in 2014, the case was closed under an amnesty. In April 2, 2015, a court ordered Radzinsky to pay two million rubles as compensation for moral damages in to Valdimir Kulikov, the father of the deceased.
English
Stalin: The First In-depth Biography Based on Explosive New Documents from Russia's Secret Archives, Anchor, (1997) ISBN 0-385-47954-9
The Last Tsar : The Life and Death of Nicholas II, 1993, Anchor, ISBN 0-385-46962-4, (2005) ISBN 0-7432-7332-X
Alexander II: The Last Great Tsar (2005) ISBN 0-7432-7332-X
Tsar : The Lost World of Nicholas and Alexandra ISBN 0-316-55788-9
The Rasputin File (2001, Anchor, USA) ISBN 0-385-48910-2
Rasputin: The Last Word (2001, Allen & Unwin, Australia) ISBN 1-86508-529-4
Russian
«Ипатьевская ночь» © AST, 2007 г.
«На Руси от ума одно горе» © AST, 2006 г.
«Начало театрального романа»: Сборник пьес © Издательство «ВАГРИУС», 2004 г.
Собрание сочинений (в восьми томах) © Издательство «ВАГРИУС», 1998—2003 г.
«Загадки жизни и смерти». Подарочное издание © Издательство «ВАГРИУС»,2003 г.
«Княжна Тараканова» © Издательство «ВАГРИУС», 2003 г.
«Загадки истории». Подарочное издание © Издательство «ВАГРИУС», 2002 г.
Napoleon: life after death «Наполеон: жизнь после смерти» © Издательство «ВАГРИУС», 2002 г.
«Игры писателей» © Издательство «ВАГРИУС», 2001 г.
«Загадки любви» © Издательство «ВАГРИУС», 1999, 2000 гг.
«Загадки истории» © Издательство «ВАГРИУС», 1999, 2000 гг.
«Кровь и призраки русской смуты» © Издательство «ВАГРИУС», 1998, 2000 гг.
«Гибель галантного века» © Издательство «ВАГРИУС», 1999 г.
«…и сделалась кровь» © Издательство «ВАГРИУС», 1998 г.
«Властители дум» © Издательство «ВАГРИУС», 1999 г.
«Театр» © Издательство «Искусство», 1986 г.
Conversations with Socrates «Беседы с Сократом» © Издательство «Советский писатель», 1982 г.
Selected articles
The Other Russian Revolution, Wall Street Journal
References
Edvard Radzinsky Wikipedia
(Text) CC BY-SA