Philippines




easternsamar.gov.ph


4,660.47 km2


Eastern Visayas




Borongan




June 19, 1965




LDP



Eastern Samar (Filipino:Silangang Samar) is a province of the Philippines located in the Eastern Visayas region. Its capital is the city of Borongan. Eastern Samar occupies the eastern portion of the island of Samar. Bordering the province to the north is the province of Northern Samar and to the west is Western Samar and to the east is the vast Pacific Ocean. Off the coast of Leyte Gulf, the province faces the province of Leyte.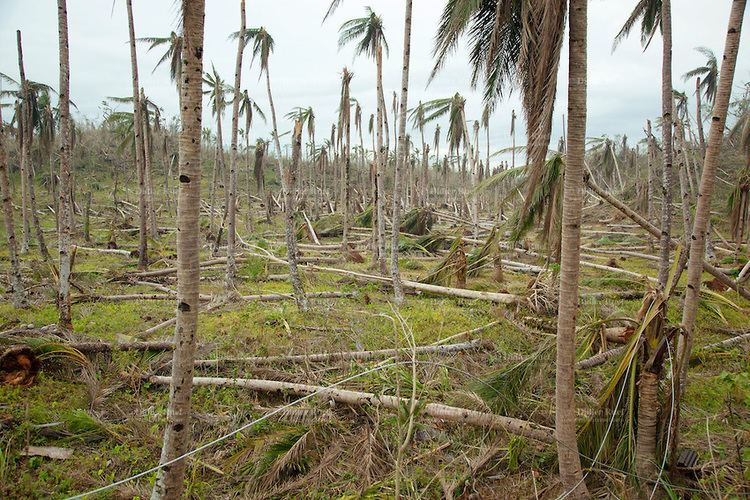 The province occupies a total land area of 466,047 hectares (1,151,630 acres).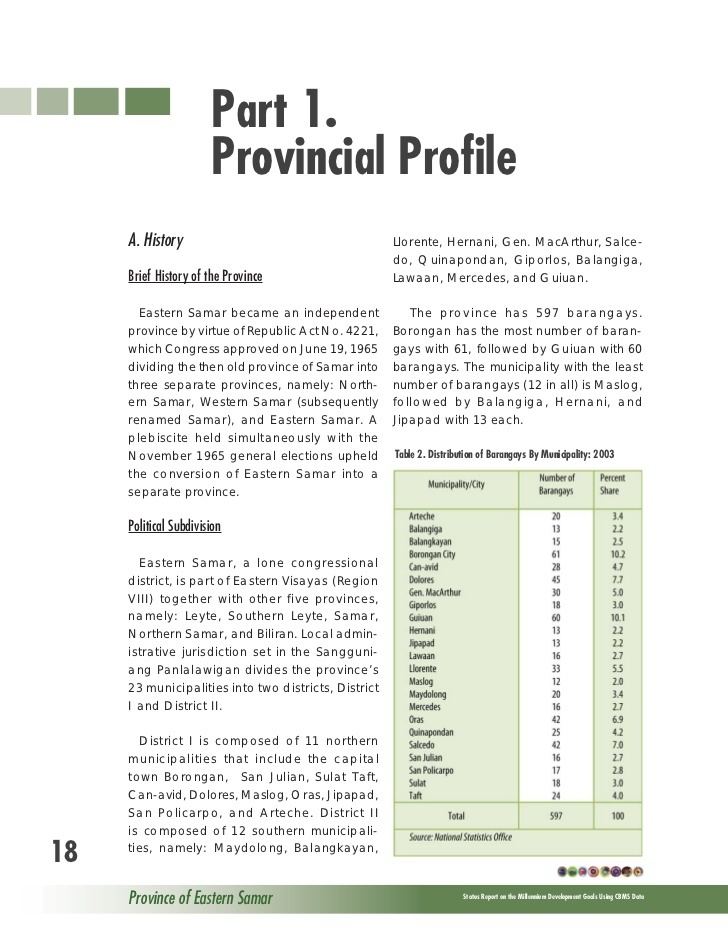 The province of Eastern Samar was created from Samar by virtue of Republic Act No. 4221 on June 19, 1965. Congressmen Eladio T. Balite (1st Dist. Samar), Fernando R. Veloso (2nd Dist. Samar), and Felipe J. Abrigo (3rd Dist. Samar), authored Republic Act 4221 which was approved by Congress in 1963. The law, ratified in a plebiscite on June 19, 1965, divided Samar into three, namely, Northern Samar, Eastern Samar and (Western) Samar. The first to be fully established was Northern Samar that is why the School Samar Institute of Technology was named the University of "Eastern" Philippines.
Commercial activities in the province are centered on the provincial capital of Borongan City while tourism activities are centered in Guiuan town where Calicoan Island and the historical Homonhon Island are located. Generally, the provinces major economic resource is fishery and agriculture which include production of copra, corn, rice, sugar, and vegetables. Tourism potential is untapped on the northern part of the province.
Eastern Samar Wikipedia
(,)http://image.slidesharecdn.com/easternsamar-100908200840-phpapp01/95/mdgs-provincial-status-report-2010-philippines-eastern-samar-19-728.jpg%3Fcb%3D1283976584(,)https://www.phlpost.gov.ph/images/web/2012/05/for-stamp-block-of-4-copy-copy.jpg(,)http://www.zamboanga.com/z/images/b/b8/Aerial_of_borongan_city_eastern_samar.jpg(,)http://image.slidesharecdn.com/easternsamar-100908200840-phpapp01/95/mdgs-provincial-status-report-2010-philippines-eastern-samar-37-728.jpg%3Fcb%3D1283976584(,)http://2.bp.blogspot.com/-GbfZW3z1WiM/Tw4PYNahm2I/AAAAAAAAFa8/EwUbCt88nrU/s1600/00.jpg(,)https://fbcdn-sphotos-f-a.akamaihd.net/hphotos-ak-xap1/v/t1.0-9/10805715_602404909865804_7604040512432206867_n.jpg%3Foh%3Da7b77ae79c685e16c8c74cfa64e4df5b%26oe%3D54F8EF9A%26__gda__%3D1426204486_32bb3d9fe25f56ffca58435cab1ca7ea(,)http://image.slidesharecdn.com/easternsamar-100908200840-phpapp01/95/mdgs-provincial-status-report-2010-philippines-eastern-samar-5-728.jpg%3Fcb%3D1283976584(,)http://image.slidesharecdn.com/easternsamar-100908200840-phpapp01/95/mdgs-provincial-status-report-2010-philippines-eastern-samar-59-728.jpg%3Fcb%3D1283976584(,)http://i.ytimg.com/vi/WvXH7xKT02g/maxresdefault.jpg(,)http://static.flickr.com/46/137942083_eeac0bba81.jpg(,)http://www.sinirangan.com/wp-content/uploads/2010/07/Borongan-New-003.jpg
(,)http://cdn.c.photoshelter.com/img-get/I0000Uf6z.EJpO_k/s/850/850/094-Philippines-Eastern-Samar-Guiuan-Aftermath-Typhoon-Haiyan-Destroyed-coconot-trees-Landscape-2013.jpg(,)http://www.xdayv.com/wp-content/uploads/2012/06/XDV0415_062012_sulangan.jpg(,)http://img.static.reliefweb.int/sites/reliefweb.int/files/styles/attachment-large/public/resources-pdf-previews/245631-UNOSAT_A3_DamagedArea_Oras_20141220_Landscape.png%3Fitok%3DHkDJCiP2(,)https://baludnon.files.wordpress.com/2013/10/homonhon.jpg(,)http://cache4.asset-cache.net/gc/451022537-destroyed-palm-trees-line-the-landscape-in-gettyimages.jpg%3Fv%3D1%26c%3DIWSAsset%26k%3D2%26d%3DGkZZ8bf5zL1ZiijUmxa7QcZlSKQoI0fkxKl2ZKYEjszeq6E%252FsZ6O4gV%252BAS%252FBNOPMGOko5E45EinH0Dx3YnPbJg%253D%253D(,)http://cache4.asset-cache.net/gc/451022591-destroyed-palm-trees-line-the-landscape-in-gettyimages.jpg%3Fv%3D1%26c%3DIWSAsset%26k%3D2%26d%3DGkZZ8bf5zL1ZiijUmxa7QVHRZbaJzPg%252F7PxQ%252FaYcuYSX6vR0rqq26OTI2cNn5h6cINTU8MCGOCMasOl6sfUGtQ%253D%253D(,)http://gallery.sunstar.com.ph/Other/Calamity/Typhoon-Yolanda/Balingiga-Eastern-Samar/i-nHq3WxT/1/L/Boy%2520beside%2520highway-L.jpg(,)http://cache3.asset-cache.net/gc/451021537-destroyed-palm-trees-line-the-landscape-in-gettyimages.jpg%3Fv%3D1%26c%3DIWSAsset%26k%3D2%26d%3DGkZZ8bf5zL1ZiijUmxa7QUZNcDkdM7MzjnWRyEBp3yuClAzq0qbtNT%252FyCSWbmq6c(,)http://cache4.asset-cache.net/gc/451022483-destroyed-palm-trees-and-vegetation-line-the-gettyimages.jpg%3Fv%3D1%26c%3DIWSAsset%26k%3D2%26d%3DGkZZ8bf5zL1ZiijUmxa7QdWqUV4HFP0RrmWKHvh0ZJcdck%252BT%252FCk94GMnolCv9NIch3VF7DsMJa%252BbTB6w1nitJw%253D%253D(,)http://nelsonpetilla.com/blog/wp-content/uploads/2009/05/img_1946a-web.jpg(,)http://nelsonpetilla.com/blog/wp-content/uploads/2009/07/img_5036a-web.jpg(,)http://www.waikayphotography.com/humanitarian/haiyan/HY36.jpg(,)http://nelsonpetilla.com/blog/wp-content/uploads/2009/02/mono-falls.jpg(,)http://www.pixoto.com/images-photography/landscapes/sunsets-and-sunrises/guiuan-bay-guiuan-eastern-samar-4588943286730752.jpg(,)http://mw2.google.com/mw-panoramio/photos/medium/186335.jpg(,)http://ceburealestatehomes.com/VILLA%2520MODEL%2520-%25209-22-09.jpg
(,)https://malate.files.wordpress.com/2009/08/dalu-dalo.jpg%3Fw%3D830(,)https://malate.files.wordpress.com/2009/08/ganga1.jpg(,)http://blogs.dallasobserver.com/cityofate/Samar%2520Shawarma%2520Pita%2520.JPG(,)http://farm3.staticflickr.com/2812/12583608154_dbace78d4a_b.jpg(,)http://www.traveling-up.com/wp-content/uploads/2014/12/pancit-cabagan-isabela.jpg(,)http://media-cdn.tripadvisor.com/media/photo-s/02/4e/5e/79/spreads-and-chutneys.jpg(,)http://4.bp.blogspot.com/-mkF2UKwaPKc/TVimfE_NPMI/AAAAAAAAAzo/qMJKkBQ3wVQ/s1600/f.jpg(,)http://www.wheninmanila.com/wp-content/uploads/2012/06/DSC_1646-paradiso-terrestre-via-romana-restaurant-spanish-filipino-fusion-cuisine1.jpg(,)http://www.tasteofbeirut.com/wp-content/uploads/2011/01/Falafel.jpg(,)http://images.gmanews.tv/v3/webpics/v3/2013/09/2013_09_01_20_23_28.jpg(,)http://images.gmanews.tv/v3/webpics/v3/2013/09/2013_09_01_20_24_29.jpg