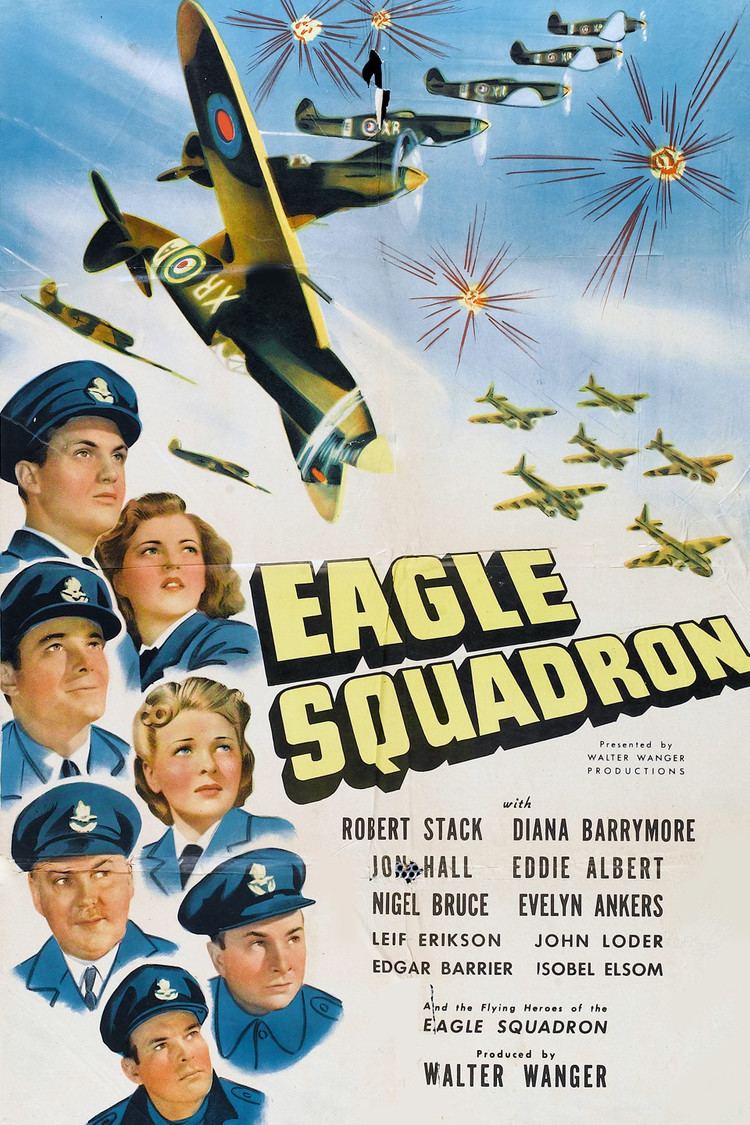 As war breaks out in Europe, young Americans Chuck S. Brewer (Robert Stack), Johnny M. Coe (Leif Erickson) and Wadislaw Borowsky (Edgar Barrier) cross the Atlantic to join the Royal Air Force. Assigned to the Eagle Squadron, made up of other American pilots, they make friends with Squadron Leader Paddy Carson (John Loder), and women flyers Anne Partridge (Diana Barrymore) and Nancy Mitchell (Evelyn Ankers). Chuck is immediately attracted to Nancy, but she already has a boyfriend, Hank Starr (Jon Hall), another pilot in the squadron.
Once they are trained as fighter pilots, on their first mission against a German air force base, Johnny and Chuck are shot down, and Johnny is killed. Chuck parachutes into the sea and is rescued, but back at the base, he learns that two other pilots trying to protect them when both Americans broke formation, were also killed.
At a military dance, Chuck and Anne arrange for a date that turns out to be a picnic with a group of evacuated children, interrupted by a German air raid. Later, Squadron Leader Carson, who also likes Anne, takes her to London, with Chuck following the pair. During the bombing of a hospital, Anne is wounded leading others out of the burning building, but finds her father, Sir James Partridge (Paul Cavanagh), a noted pacifist, who dies in her arms.
Chuck and Wadislaw, along with Carson, take part in a commando raid in France to capture a top-secret new "Leopard" German fighter. The mission ends with Carson and Wadislaw dead, but Chuck takes off and shoots his way out of enemy territory, bringing the stolen fighter aircraft back to England. At an award ceremony, both Chuck and Anne are decorated for their bravery, but the ceremony is cut short by another German air raid. Chuck, who has proposed to Anne, kisses her on the cheek before taking to the air.
The film began as a documentary on real Eagle Squadron pilots, with the cooperation with the British Ministry of Information which provided actual aerial combat footage. Producer Walter Wanger also sent fellow producer Merian C. Cooper and his original director, Harry Watt, to film the squadron in action, beginning in November 1940. Watt and screenwriter Ian Dalrymple came from the British Crown Film Unit.
The film's producers identified six pilots who would serve as the focus of the film. The squadron, however, continued to fight during filming in Britain, and after three weeks, all six were dead. Technical advisor John M. Hill, on leave from the RAF due to a war injury and an actual member of the Eagle squadron, was one of only four pilots of the 17-strong squadron to survive. The six months of pre-production filming were fraught with many problems, including the reluctance of the Eagle Squadron pilots to take part. It ended with Watt and Dalrymple resigning.
Although the original documentary project was not possible, the footage shot by second unit director Ernest Schoedsack would prove to be recycled for a new film. Wanger subsequently relocated the production to Hollywood and had the script rewritten into a fictional story about an American volunteer learning to understand the British cause. Location shooting took place at Universal Studio's backlot outside Los Angeles.
Eagle Squadron begins with the onscreen declaration, "This production was made possible through the cooperation of The British Air Ministry, The British Ministry of Information, The Royal Air Force [and] The Eagle Squadron of the R.A.F." Noted war correspondent and radio commentator Quentin Reynolds who also documented the role of the Eagle squadrons, narrates an extended foreword.
Although real Eagle Squadron pilots disliked its fictionalization of their experiences, Eagle Squadron was a box office hit, earning a profit of $697,607. Variety said it earned $1.8 million in rentals in the US in 1942. Its San Francisco premiere at the Orpheum Theater, raised $200,000 in war bond sales.
Critically, the film did not fare well. Bosley Crowther, in his review in The New York Times, thought the blending of fictional and real-life events as outlandish and dismissed the film as nothing more than a B film. He wrote that Eagle Squadron was "... far from the genuine drama about American fliers with the R. A. F. that it should be, but is rather a highfalutin war adventure film which waxes embarrassingly mawkish about English courage and American spunk."