Dynamite Headdy is a 1994 platform game developed by Treasure and published by Sega. It was originally released for the Sega Genesis, Sega Game Gear, and Sega Master System. The main character, Headdy, can throw his head at enemies to defeat them and use it to pull himself to various areas and move objects. The player can find a wide variety of "heads" which act as power-ups that provide different effects and alter gameplay. The game received positive reception for both its graphics and gameplay, and has been called one of the best platform and action games on the Genesis. Dynamite Headdy has been re-released on the PlayStation 2, Wii, Xbox 360, PlayStation 3, and Microsoft Windows.
Dynamite Headdy is a platform game in which the player controls Headdy, a puppet with a detachable head. Headdy can jump and throw his head in any direction to attack enemies. His head can also be used to grab hooks and pull himself up to other platforms. Headdy's health is represented by a spotlight in the corner of the screen which changes colors. If the player does not pick up restorative items to heal themselves after suffering damage from enemies, they will lose a life.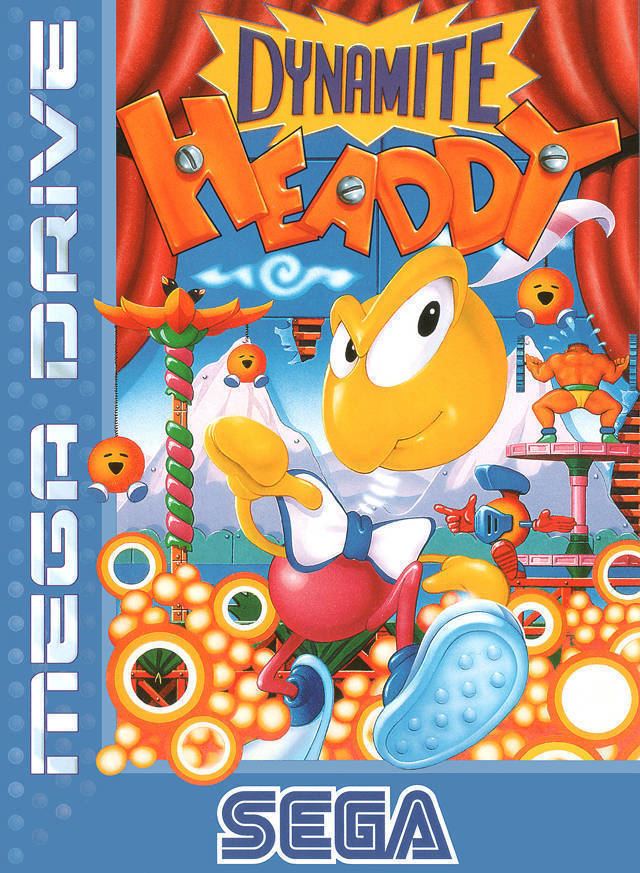 During his adventure, Headdy will find power ups which change the design and function of his head. These power-ups range from increasing damaged, such as spinning fireballs around his head, to invincibility, health-restoring, speed-increasing, etc. Some of these power-ups last for only a short time. Other than heads, the player can also find health restoratives, extra points, and extra lives throughout the levels. By finding the Liberty Head, players can enter a Bonus Stage in which the player must shoot basketballs into the correct hoops.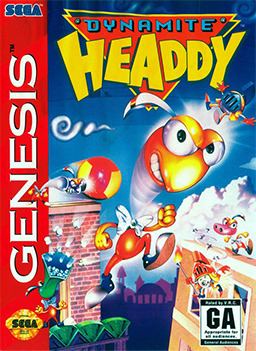 Headdy, the central protagonist of the game, arrives in North Town to find that the evil puppet King Dark Demon is in the midst of attacking the puppet town to select which of the peaceful toys should live and which should be converted into his evil minions. Headdy is captured and rejected by Dark Demon's forces, and is dropped into the dust cargo to be thrown into the incinerator. However, Headdy escapes the clutches of Dark Demon's minions and sets off to defeat the evil king.
However, trouble is afoot. Not only is the puppet world filled with Dark Demon's minions, but to reach the evil overlord's castle, Headdy must defeat Dark Demon's Keymasters who serve as the king's elite guard. To make matters worse, Headdy is followed by Trouble Bruin, a puppet jealous of Headdy's success. Trouble Bruin wants to be the star instead of Headdy, and will stop at nothing to get rid of him.
Dynamite Headdy was originally released for the Sega Genesis and Sega Game Gear. A Sega Master System port was released exclusively in Brazil. The Genesis version was first re-released for the PlayStation 2 on the Sega Ages 2500: Gunstar Heroes Treasure Box compilation in 2006. It saw a digital re-release on the Wii via the Virtual Console in July 2007 and was also included in Sonic's Ultimate Genesis Collection for Xbox 360 and PlayStation 3. Most recently, it was released on Steam on May 2, 2012.
Reviews for Dynamite Headdy were generally positive. Electronic Gaming Monthly deemed it "a top action title for the Genesis", particularly praising the visual effects, and gave it a 7.6 out of 10. In May 1995, Famitsu magazine's Reader Cross Review gave the Mega Drive version of the game an 8 out of 10. GamePro assessed the Game Gear version as not as good as the Genesis/Mega Drive version, since the head powerups aren't as strategically important, leaving the player no reason not to just stick with the original head, and the smaller sprites make the action hard to follow. They nonetheless recommended that players buy both versions of the game. While one of Electronic Gaming Monthly's reviewers agreed that the Game Gear version is a poor substitute for the Genesis/Mega Drive version, the other three praised it for its impressive graphics, enjoyable action gameplay, and numerous secrets. They gave it a 7.5 out of 10.
Nintendo Life gave the Virtual Console release an 8/10, saying that it "isn't just a great game, and one of the best platformers on the Mega Drive, but it also has the distinct advantage of being a new experience to most people, one that's well worth the time and effort." PixelSurgeon called it "Perfect in every way", claiming that it "has more imagination in its opening demo than most developers manage to get into their entire output".