5.6

/

10

1

Votes

Alchetron

Rate This





Final episode date

12 March 1974






Genre

Comedy/Western




Network

Broadcast syndication






Created by

Elroy Schwartz Sherwood Schwartz




Written by

John Fenton Murray Austin Kalish Irma Kalish Larry Rhine Al Schwartz Elroy Schwartz Sherwood Schwartz




Directed by

Jack Arnold Earl Bellamy Bruce Bilson Russ Mayberry Leslie H. Martinson Richard Michaels Oscar Rudolph




Starring

Bob Denver Forrest Tucker Ivor Francis Jeannine Riley Lori Saunders Lynn Wood Bill Cort




Theme music composer

Ross Schwartz Sherwood Schwartz




Program creators

Sherwood Schwartz, Elroy Schwartz




Cast

Bob Denver, Forrest Tucker, Lori Saunders, Jeannine Riley, Ivor Francis
Dusty s trail not so magnificent seven ep 1 bob denver
Dusty's Trail is an American Western/comedy series that aired in syndication from September 1973 to March 1974 starring Bob Denver and Forrest Tucker. The series is a western-themed reworking of Gilligan's Island.
Contents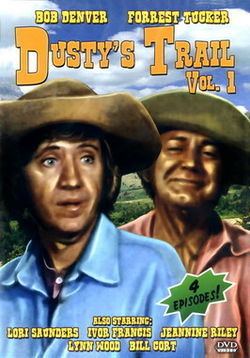 The series, set in the latter 19th century, is about a small, diverse cluster of lost travelers who become separated from their wagon train.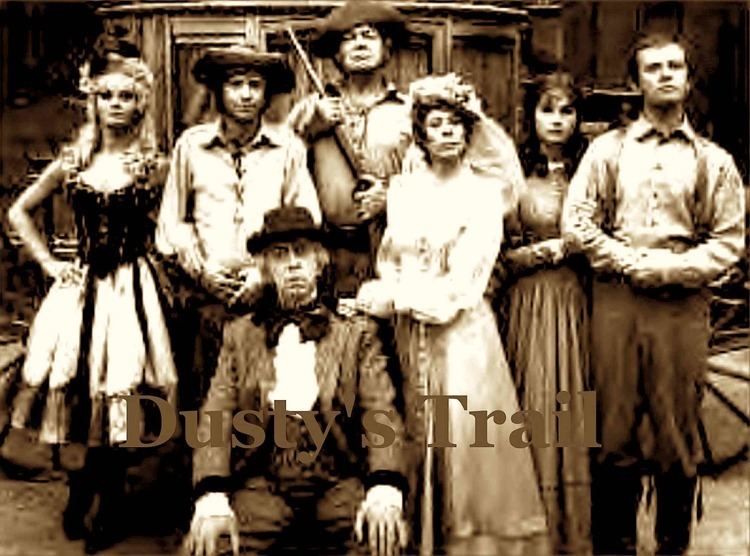 Storyline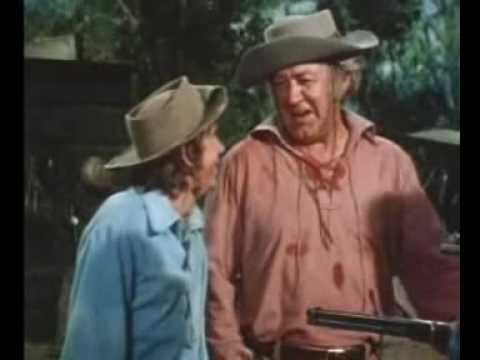 Two coachmen and five passengers of a wagon and stagecoach become separated from their wagon train on the way to California in the early 1870s. The group includes wagonmaster Mr. Callahan and his shotgun lookout Dusty, Mr. and Mrs. Brookhaven (a wealthy Eastern banker and his wife), book-smarts thinker Andy, dance-hall girl Lulu McQueen, and farm girl Betsy. The show follows their adventures while they attempt to return to their wagon train. According to the theme song, "...Dusty's the reason for their plight, thanks to Dusty – nothing's right".
Cast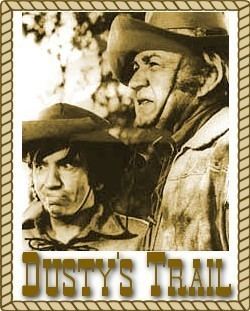 Bob Denver as Dusty
Forrest Tucker as Mr Callahan
Ivor Francis as Carson Brookhaven
Jeannine Riley as Lulu McQueen
Lori Saunders as Betsy McGuire
Lynn Wood as Daphne Brookhaven
Bill Cort as Andy Boone
Theatrical movie: The Wackiest Wagon Train in the West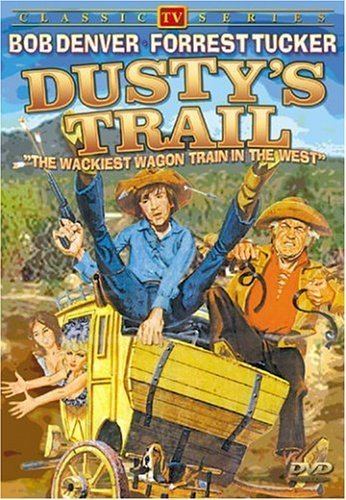 Four episodes of the series were edited together into a theatrical film and released in movie theaters in August 1976. In order, the four episodes are:
"Tomahawk Territory"
"Horse of Another Color"
"There Is Nothing Like a Dame"
"The Not So Magnificent Seven"
Reception and cancellation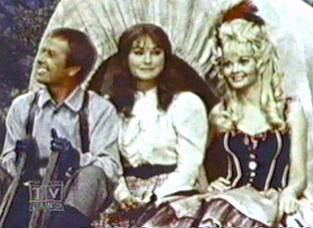 The show was created for Denver by Sherwood Schwartz, who had also created its progenitor, Gilligan's Island. According to U.S. television researchers Tim Brooks and Earle Marsh, the reason for the show's failure was that it was too derivative of Gilligan's Island.
Denver professed on several occasions that Dusty's Trail was his favorite show to perform.
At that time I still had some animus at how CBS threw us in the dumper. Herb Edelman and I'd done The Good Guys- but sour critics said it should have been just called 'Guys'. Gilligan repeats were on the tube more than Cronkite, and its royalties about kaput. I told myself to just enjoy the ride, and if it (Dusty's Trail) hit paydirt, super, if not, then it wasn't in the cards. It was my best year in front of a camera.
During its run in the 1973–1974 season, it was reported Dusty's Trail barely made the top 50 shows, a fairly respectable showing for a first-run syndicated program. It nonetheless was canceled after its lone season, with 26 episodes produced out of an originally planned 30.
DVD release
Several Dusty's Trail episodes, for reasons not entirely clear, were not properly copyrighted; these were among some of the last episodes of a regular TV series (in order of production) to lapse into the public domain, and some of the few to do so that were produced after 1963. Because of this, the show became widely available in reruns and on discount DVDs.
On October 12, 2004, Brentwood Home Video released 17 episodes of the series on Region 1 DVD in the United States.
References
Dusty's Trail Wikipedia
(Text) CC BY-SA