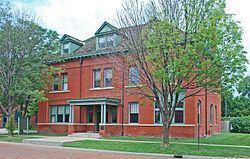 William Durant was born in 1861 in Boston, Massachusetts, the grandson of lumber millionaire and Michigan governor Henry H. Crapo. His parents separated in 1871, and William moved with his mother to Flint, where they lived quite comfortably thanks to William's grandfather. After dropping out of high school just before graduation, Durant worked for a time for the family lumber business as a millhand, then moved into sales. He was a director of one of Flint's leading banks, and began selling cigars, real estate, and patent medicine, before finally deciding on insurance. By the mid-1880s, he ran one of the largest insurance agencies in mid-Michigan.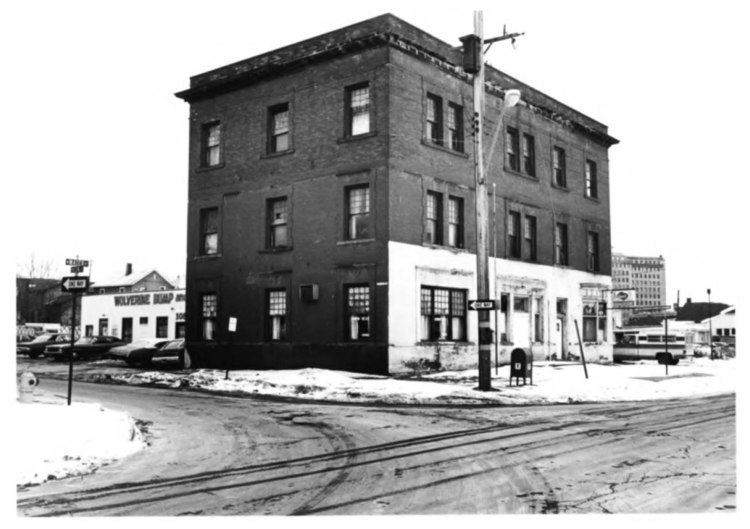 Josiah Dallas Dort (a.k.a. J. Dallas Dort or J.D. Dort) was born in Inkster, Michigan in 1861. His father was a well-to-do country squire and merchant, well connected politically, who died in 1871 when Josiah was ten. Dort left school at age 15, to help his mother in business and to work at a crockery firm. In 1881, he began working at a Flint hardware store, and within a few years opened his own hardware store. Dort is the namesake of Flint area trunkline Dort Highway (a.k.a. M-54).
The origin of the Durant-Dort Carriage Company came in 1886, when William C. Durant rode in a friend's spring-suspension road cart. This cart was built by the Coldwater Road Cart Company of Coldwater, Michigan. Impressed with the smoothness of the ride, Durant obtained the patent and manufacturing rights to the cart for $2000, and with J. Dallas Dort, founded the Flint Road Car Company that same year. Dort, as president, handled manufacturing and administrative details for the firm, while Durant handled sales and promotion. The firm first had their offices located in Durant's insurance agency in downtown Flint. They leased a factory on Water Street, originally used by the Flint Woolen Mills, to produce road carts. The company sold 4000 carts its first year, and quickly grew from there. Under Durant's leadership, the company expanded by acquiring subsidiary companies that produced not only vehicles, but the components for vehicles as well.
In 1895, Flint Road Car changed its name to the Durant-Dort Carriage Company. By 1900, Durant-Dort was the largest producer of horse-drawn vehicles in the United States. In 1906, the company's peak year, it produced 56,000 vehicles. Durant-Dort owned not just the Flint manufacturing works, but also other vehicle assembly plants in Michigan, Georgia, and Canada, as well as timberland, lumber mills, a wheel company, the Flint Axle Works, and the Flint Varnish Works.
The company continued making horse-drawn carriages until 1917, and the factory and office buildings were converted to the manufacture of automobiles by the Dort Motor Company.
By 1900, William Durant was a millionaire from his holdings in the Durant-Dort Carriage Company. In 1904, Durant used his money to assume control of the troubled Buick Motor Company and mobilized the financial and manufacturing resources of Durant-Dort to correct Buick's course. Despite having no manufacturing line and only a handful of extant cars, Durant tallied over 1100 orders at the 1905 New York Automobile Show. Durant pushed the brand, and in four years Buick was the best-selling automobile in America, outstripping earlier leaders Ford Motor Company, Cadillac, and Oldsmobile. With Buick as a base, Durant envisioned creating a large automobile company that would manufacture several makes and control subsidiary component-making companies, much as Durant-Dort had done in the carriage-making world. In 1908, he founded General Motors to do just that. GM soon owned not only Buick, but Cadillac, Oakland Motor Car, and Oldsmobile.
However, Durant had overextended himself making other imprudent acquisitions, and in 1910 General Motors faced a cash shortage. In the aftermath, Durant was forced out of the company by a consortium of bankers. Not to be defeated, Durant backed Louis Chevrolet's eponymous company in 1911; J. Dallas Dort was vice-president and director of the company. In 1913, Dort stepped down as vice-president of Chevrolet, and in 1914 Durant disposed of his ownership in the Durant-Dort Carriage Company. By 1916, Durant had leveraged Chevrolet's sales to regain control of General Motors, and he went on to lead GM until 1920.
In addition to Durant and Dort, other automobile pioneers were associated with the Durant-Dort Carriage Company. R. S. McLaughlin in Canada the McLaughlin Carriage Company started in 1867 and was a multimillion-dollar company that had a Patent on Carriage gear that was used in many start up Carriage Companies. W Durant and Dr. E Campbell were friends with the McLaughlins and the investment of 500,000 shares of McLaughlin Stock for 500,000 shares of Buick stock in 1907 created the Holding Company of General Motors Holding Company in 1908. Dr.E Campbell was Canadian Son-in-Law of W. Durant and school friend of R. S. McLaughlin as director of the new Holding Company and President of the McLaughlin Car Company Limited. R. S. McLaughlin left his directors job in Flint when W Durant did in 1910 only to start The Chevrolet Motor Company of Canada Limited in 1915 and in 2015 is 100 years building Chevrolet in Canada. The Archives contain the names of all the Directors of General Motors and Vice-Presidents from 1918 when it was Incorporated as a Corporation with Chevrolet as Chevrolet stocks had from 1916 held the greatest number of shares. R S McLaughlin sold off his Chevrolet outstanding stocks for this to happen. R.S. McLaughlin never sold off the Canadian Assets to the Corporation also stated in Penn State Archives. Alexander Brownell Cullen Hardy began working at Durant-Dort in 1889. By 1895, he was supervising production of the Diamond, a low-cost road cart. In 1898, J. Dallas Dort took a two-year leave of absence from his position as president of Durant-Dort, and Hardy stepped into his place. After Dort's return in 1900, Hardy took his own leave of absence, and while touring Europe discovered the automobile. On his return, he supposedly told Durant to "get out of the carriage business before the automobile ruins you." Although Durant didn't act at the time, Hardy struck out on his own and established the Flint Automobile Company, Flint's first automotive manufacturer, in 1901. However, the company's Roadster failed to distinguish itself from the popular, lower-priced Oldsmobile, and in 1903 the Flint Automobile Company folded. Hardy returned to Durant-Dort and wound up as vice-president of General Motors until his retirement in 1925.
Charles W. Nash began working at Durant-Dort in 1891 working in the cushion department, but soon worked his way up to foreman, and, by 1898, factory superintendent. Nash was named a director and vice-president of the firm in 1900, a position he held until 1913. In 1910, Nash was hired as general manager of General Motors, and in 1917 founded Nash Motors.
David Dunbar Buick founded Buick Motor Company, with financial help from Benjamin Briscoe. However, by 1904 the firm was in financial trouble, and Durant stepped in, using his own capital and that of Durant-Dort to buy out the company. Buick, already a minority partner in his eponymous company, was left with a single share of the enterprise. However, Durant agreed to keep Buick on as an employee, and Buick remained with the firm until 1906, when Durant bought out his single share for $100,000.
William Durant led General Motors during a period of rapid expansion in the late 1910s. However, his unprofitable acquisitions and sloppy administration led to a second ouster from the company in late 1920. Durant founded Durant Motors weeks later. The firm met with mixed success, but remained viable until 1933. Durant, meanwhile, began speculating in the stock market, and made and lost millions of dollars. In 1936, he declared bankruptcy. Durant opened a supermarket in New Jersey, then a bowling alley in Flint, but suffered a debilitating stroke in 1942, and died five years later.
J. Dallas Dort began his own automotive firm, the Dort Motor Company, in 1915. The company was headquartered in the Durant-Dort Carriage Company office, but expanded its manufacturing beyond the Durant-Dort factories. The company shipped 9000 cars in its first year. However, Dort died unexpectedly in 1923, and the sudden leadership vacuum coupled with intense competition caused the firm to shut its doors in 1924.
In 1895–96, the company built this building near their factories to house offices and, on the second floor, a carriage showroom. A contemporaneous account describes it as "an elegant office in connection with [the] main factory, where a small army of clerks, stenographers and typewriters are engaged in the clerical part of the company's business. The office building was originally built as a two-story Italianate structure with a flat roof. Around 1900, the flat roof was replaced with a hipped roof, and an entrance portico was added, giving the structure a Georgian appearance. In 1906, a fire damaged the roof, and rather than repairing it, the company added an extra story and capped the building with a flat roof; the portico was also removed at the time. The building remained in this configuration until the 1980s.
Durant left the Durant-Dort Carriage Company in 1913, and J. Dallas Dort used the office building and nearby factory for the production of automobiles by his Dort Motor Company. The building was used by Dort until 1924, after which it provided office space for various service organizations such as the Red Cross and the local Chamber of Commerce. In 1947, the Arrowhead Veteran's Club obtained the building for use as its headquarters. The club owned the building until 1977, when the city of Flint purchased the building with the help of an anonymous $55,000 donation. The building was designated a National Historic Landmark in 1978. Using the designation and the deteriorating condition of the building as an impetus, the Genesee County Historical Society undertook the task of restoring the building. Funds were raised, and the building was restored to its early 1900s condition, replacing the hipped roof and portico that had been in place at that time. The restoration was completed by 1986.
GM announced that it would purchase the Durant-Dort office building and nearby Factory One in May 2013. The company will take over responsibility for maintenance from the Flint Historical Foundation; early reports indicated that the office building is to be restored and used as a showcase for company events.
The Durant-Dort Carriage Company Office is a three-story red-brick rectangular structure, measuring 40 feet by 60 feet, on a brick foundation with a full basement. The windows are sixteen-over-one wood-sash windows in a flat-arched surround.
When built, the structure was considered one of the finest office buildings in the country, primarily because of the ornate interior. A number of the original interior original features remain, including first floor wainscoting, much of the woodwork, and some marble flooring.