8.8

/

10

Alchetron

Rate This





Narrated by

Rich Fields




Country of origin

United States




First episode date

11 April 2011




Network

Game Show Network






Created by

Drew Carey




Music by

Bob Derkach




No. of seasons

1




Presented by

Drew Carey






Starring

Drew Carey Ryan Stiles Colin Mochrie Jeff Davis Chip Esten Jonathan Mangum Greg Proops Kathy Kinney Brad Sherwood Heather Anne Campbell Sean Masterson Bob Derkach Wayne Brady




Cast

Drew Carey, Ryan Stiles, Jeff B Davis, Colin Mochrie, Charles Esten
Sound effects garbage man drew carey s improv a ganza
Drew Carey's Improv-A-Ganza is an improvisational comedy television program that aired in the United States on the Game Show Network. The program was hosted by Drew Carey and was produced at the Hollywood Theatre at the MGM Grand in Paradise, Nevada. The show premiered on April 11, 2011 at 8 p.m. Eastern time.
Contents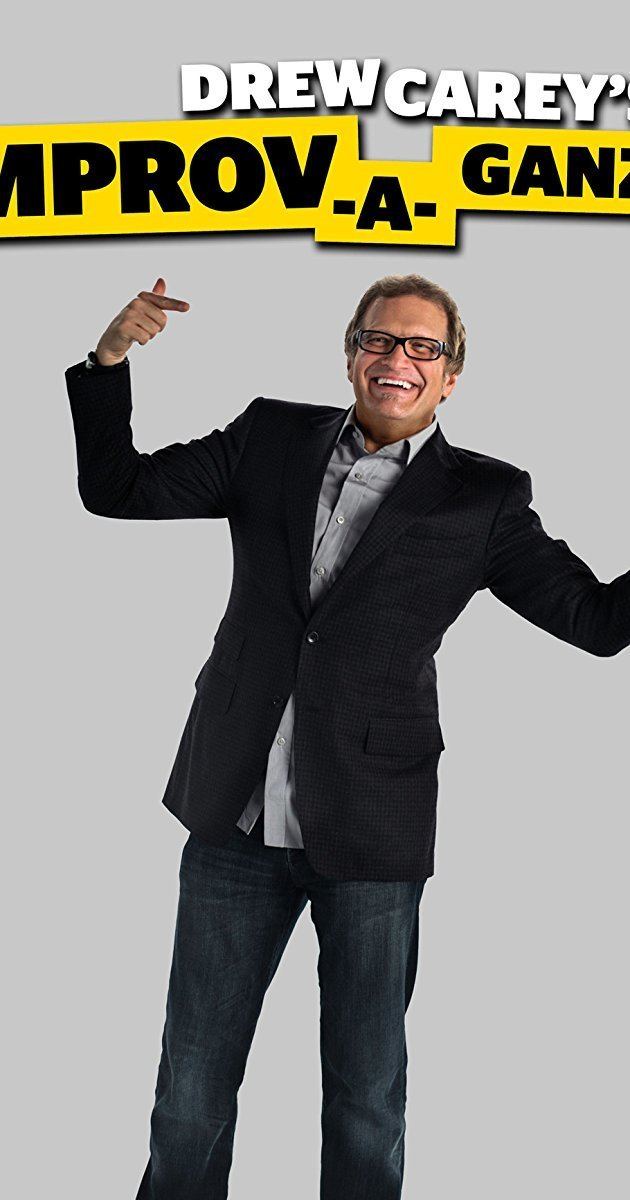 Moving people with drunk audience drew carey s improv a ganza
Performers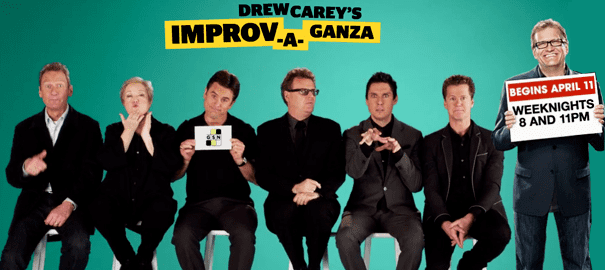 Drew Carey – 40 episodes
Ryan Stiles – 34 episodes
Jeff Davis – 32 episodes
Chip Esten – 32 episodes
Colin Mochrie – 21 episodes
Jonathan Mangum – 20 episodes
Greg Proops – 20 episodes
Kathy Kinney – 19 episodes
Brad Sherwood – 17 episodes
Heather Anne Campbell – 8 episodes
Sean Masterson – 3 episodes
Special guests/performers
Wayne Brady – 5 episodes
Charlie Sheen
Rich Fields
Rachel Reynolds
Manuela Arbeláez
Gwendolyn Osborne
Steve Kamer
Other cast members
Rich Fields (announcer) – 40 episodes
Bob Derkach (musician) – 40 episodes
Premise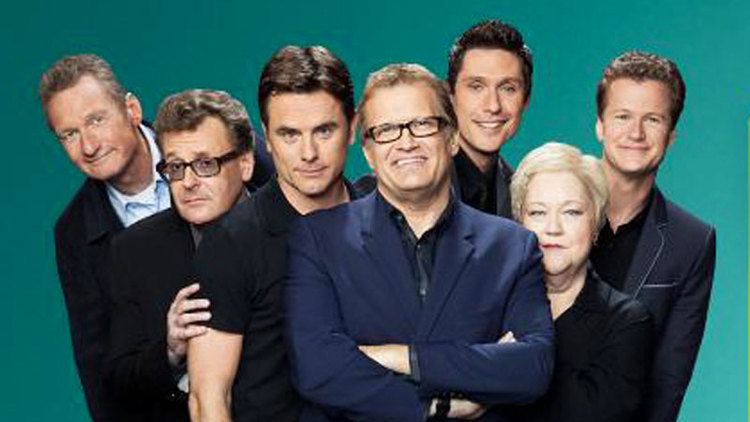 Similar to Whose Line Is It Anyway? and Drew Carey's Green Screen Show, the show features the performers acting in improvisational comedy sketches in front of a live audience using audience suggestions and audience participation. Many of the U.S. Whose Line alumni return for this show. Each episode consists of three or four improv games, each one introduced by a different cast member, with each game taking up an entire segment. Unlike Whose Line, the show is filmed at the MGM Grand Las Vegas in Paradise, Nevada. Instead of Drew Carey hosting and awarding "points", Drew is now a performer and takes part in games, and other performers take turns in "hosting" a game.
Games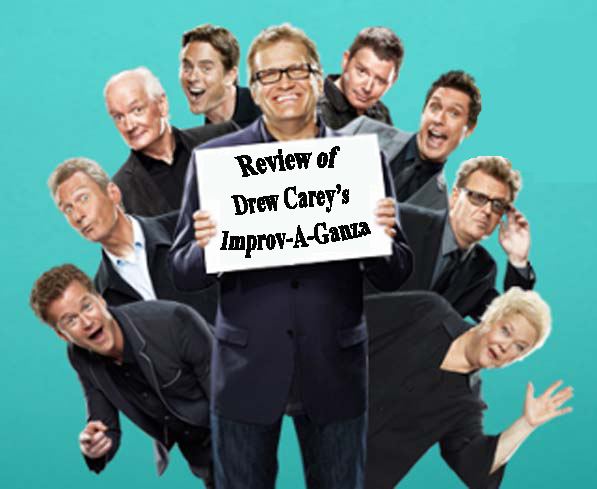 Sound Effects – Two performers start a scene while two audience members provide the sound effects for this scene.
Compilation Album (a.k.a. Greatest Hits) – Two to three performers try to sell a compilation album with songs that have to do with a subject suggested by the audience. Two or three other performers will sing the songs suggested by the other performers, accompanied by Bob Derkach.
Sentences (a.k.a. Whose Line) – Two performers perform a scene, occasionally making use of random sentences that audience members have previously written on slips of paper.
New Choice (a.k.a. Quick Change) – Two performers perform a scene; at any time, a third performer can say "new choice" and the previous line or action must be changed.
Song for a Lady (a.k.a. Duet, Song to an Audience Member) – One to three performers sing a song to an audience member, incorporating details of her life provided through a pre-song interview. This version of the game is significantly longer and more detailed than the Whose Line version.
Moving People/Moving Bodies – Two or three performers start a scene with an audience member selected to move each performer. The performers can talk but cannot move at all unless moved by their audience member.
Options (a.k.a. Film, TV and Theatre Styles) – Two performers start a regular scene, with a third standing by. The third occasionally stops the scene and asks the audience to provide a style of television, literature, music, theater, or film, and then directs one or both of the performers to incorporate that style (possibly in combination with previous suggestions) into the scene. Often ends with a round of "Number of Words", the numbers being provided by the audience.
Freeze Tag – Two performance start in a scene in positions determined by the audience. At any time, anyone else can yell "freeze!", tap one of the performers to switch with them, and then change the scene. A performer has the option to not tag anyone out, and may tag out more than one person, but there are always at least two performers in play. Adapted from a game played on the UK version of "Whose Line Is It Anyway?"
Question This! (a.k.a. Improv Jeopardy!) – One player plays the host and four others play as contestants on a game show patterned after Jeopardy!, where the audience gives the answer, and the performers provides humorous questions, often using puns.
Forward/Reverse – Players act out a scene, where at any time a third performer can say forward (act the scene as normal), reverse (act the scene backwards), swap roles, speed up, slow down, or other options.
Two-Headed Expert – A pair of players (who talk either in unison or saying every other word) acts as an expert on a topic suggested by the audience while another pair (with the opposite restrictions) either is interviewing or learning from the first pair.
Conducted Story/Fairy Tale – After asking for a name of a fairy tale to the audience, a player sits down in front of the other players and points at them spontaneously to create a story made up at that point. The player that is pointed to has to keep telling the story where it is left off. The story can be interrupted any time by the sitting player.
Bob's Call – A revised version of "Show-Stopping Number," this game has two performers start a scene and anytime musician Bob Derkach hears a line that sounds like a title to a song, Bob starts playing the piano and the performer must sing a song based on what they just said.
First Date – A married couple is selected from the audience and is interviewed about their first date and some parts are acted out by the cast. If the fact is acted out correctly, the couple rings a bell; if incorrect, the couple honks a horn.
Mousetraps – Two players act out a scene barefoot and blindfolded on a stage littered with live mousetraps. In addition, they must start each sentence with the next letter of the alphabet.
Kick It! – A revised version of "Scene to Rap", two players act out a scene and must start rapping when a third calls out "Kick it!"; the song continues until the caller says "Word!".
Playbook (a.k.a. Every Other Line, on the UK version of "Whose Line is it Anyway?") – Two players act out a scene with one speaking freely and the other only using lines from an audience-chosen playbook.
Cancellation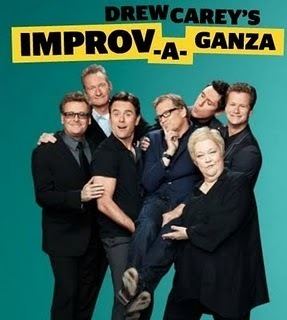 On August 25, 2011, Drew Carey posted on his Twitter account that GSN would not be ordering any more episodes of Improv-A-Ganza, announcing that the show was effectively cancelled. Heather Campbell, one of the cast members, stated "Improv-A-Ganza was attracting a totally different demographic than the other shows on GSN; so while the ratings were good, it was hard to get the advertisers for." From November 16, 2012 to January 4, 2013, reruns of the show aired on GSN. The 2-hour time slot allowed GSN to air the entire 40 episodes in a 10-week stretch. Laff acquired the rights to the show in 2015 and airs the show on Saturday nights.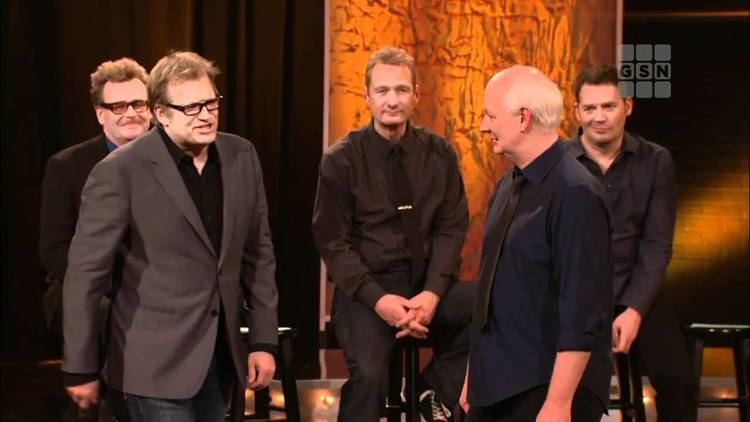 References
Drew Carey's Improv-A-Ganza Wikipedia
(Text) CC BY-SA