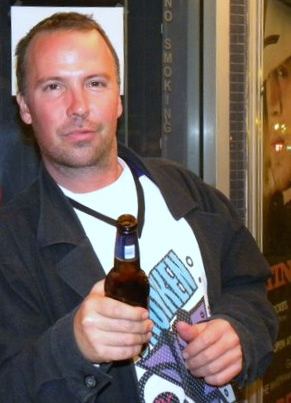 Stanhope began in standup comedy in 1990, and went on to perform at such comedy festivals as Montreal's Just For Laughs, the US Comedy Arts Festival in Aspen, Colorado, the Chicago Comedy Festival, and the Edinburgh Festival Fringe.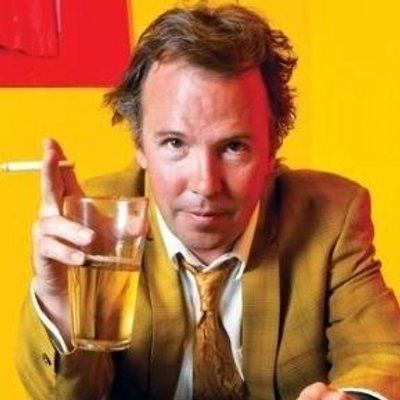 Stanhope had his own prank show on Fox called Invasion of Hidden Cameras in 2002. He also was one of the pranksters on Spy TV. In 2003 and 2004, Stanhope co-hosted the fifth and sixth seasons of The Man Show with Joe Rogan. He hosted his own radio show on SIRIUS Satellite Radio in 2005. That year, Stanhope hosted Girls Gone Wild: America Uncovered.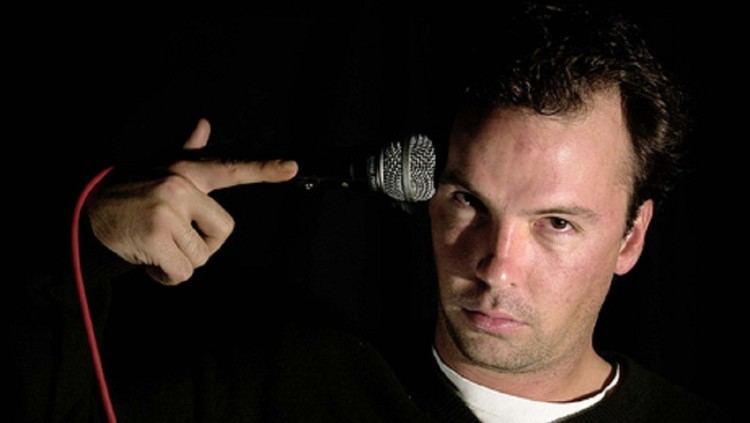 Stanhope established a group of touring comics known as "The Unbookables" featuring such artists as Andy Andrist, James Inman, and Brendon Walsh, among others. The Unbookables' first CD, Morbid Obscenity, also featuring Andrist, Rouse, Lynn Shawcroft, and Banjo Randy, released July 4, 2006, on Stand Up! Records.
He appeared in the film The Aristocrats, telling a caustic joke to a baby. In summer 2006, he was booked to appear on several bills at the Cat Laughs Comedy Festival in Kilkenny, Ireland; the segment in which he said that Irish men commit pedophilia because of the ugliness of Irish women earned a hostile reaction from the crowd, the press, and the festival organizers.
He appeared alongside Rouse at the Festival Fringe in Edinburgh, Scotland on August 2006 to 5-star reviews from the press. On his opening night he took what was believed to be an ecstasy tablet that was handed to him by a member of the audience. During his Edinburgh performance he included a segment that some regarded as anti-Semitic. He responded in his 2007 Showtime special, No Refunds, by elaborating on the incident. He self-published Fun with Pedophiles: The Best of Baiting in October 2006, which includes several instances of his setting up a false Internet instant-messaging persona to offer sex, and then verbally abusing the "baitee" in a chat session that is logged to share with others. He discussed his self-published book and the philosophy behind it on Penn Jillette's radio show on San Diego's 97.1 FreeFM on November 22, 2006.
In 2007, Stanhope made two TV specials–one in the US for Showtime, recorded at The Gotham Comedy Club in New York City on March 12; and one for the UK's Channel 4 Comedy Lab, filmed at the Caves in Edinburgh titled "Doug Stanhope: Go Home". The Showtime special, titled No Refunds, premiered August 3 and was released on DVD August 14. His live show was voted "Best Comedy Performance of the Year" by Time Out New York for both 2006 and 2008.
His live show was placed in the top 5 of the 20 Best Live Shows of 2009 by London's The Guardian newspaper.
Stanhope's seventh album, From Across The Street, was released on November 24, 2009. In 2010, Stanhope aired a series of vignettes during Newswipe with Charlie Brooker in the UK. In 2013 he did the same during "Charlie Brooker's Weekly Wipe". On November 17, 2010, Stanhope signed to rock and metal label Roadrunner Records to launch their new comedy label, Roadrunner Comedy. On May 3, 2011, the album was released: Oslo: Burning The Bridge To Nowhere.
In cooperation with the mayor of Reykjavík and comedian Jón Gnarr, Stanhope scheduled a performance in Iceland's only maximum security prison, Litla-Hraun, for September 25, 2011. Fans who wanted to watch the show would have to commit a crime; for them he invented the 'Stanhope defense'. He appeared on the FX television show Louie as Eddie, a fictional comedian that Louis C.K. knew 20 years earlier when they first started performing, in the season 2 episode entitled "Eddie," first aired on August 11, 2011. He had a supporting role in the 2014 Chris Rock film Top Five, playing a police officer.
On February 16, 2013, Stanhope debuted his eponymous podcast, recorded out of his home in Bisbee, Arizona. In 2014, "the Doug Stanhope Podcast" was hosted by the All Things Comedy network.
Stanhope is an outspoken critic of Dr. Drew Pinsky, saying "if there is a war on drugs, then he's the Joseph Goebbels propaganda minister of lies" because of Pinsky's views on drug addiction and drug abuse, and stated on his standup album Before Turning the Gun on Himself that Pinsky would "step over a dozen dying winos in the street to get to Lindsay Lohan's bedside" because of Pinsky's claim that he is a "celebrity rehab expert". On August 24, his new special, Beer Hall Putsch, was released exclusively to Netflix. The special was made available on CD on September 17, 2013, with a DVD set for November 26, 2013.
On May 5, 2014, Stanhope announced on the Howard Stern Show that he was working with actor Johnny Depp on a show. According to Stanhope, Depp befriended him in Europe and had an unknown project in mind for Stanhope.
Doug appeared on Bar Rescue as Jon Taffer's guest to watch the recon of the Pomona, California bar Friar Tucks in an episode called "Storming the Castle".
In May 2015, Doug announced that he was writing a book about his life with his mother, an occasional subject in his comedy. The book, entitled Digging Up Mother: A Love Story, was released on May 10, 2016. In 2008, Stanhope's 63-year-old mother Bonnie, who suffered from emphysema, killed herself with a heavy cocktail of White Russians and prescription morphine. Stanhope was present at her death.
He shot the special No Place Like Home on November 21, 2015, at the Bisbee Royale in Bisbee, Arizona.
In June 2016, actress Amber Heard sued Stanhope for his "defamatory" claim that she was blackmailing her ex-husband Johnny Depp. The lawsuit was later dropped.
At the Edinburgh Festival Fringe, Stanhope won the Strathmore Press Award in 2002.
Stanhope was the winner of the 1995 San Francisco International Comedy Competition where he edged out Dane Cook in a three-week contest.
Stanhope started a fundraiser for a woman and her family after her home was destroyed by the 2013 Moore tornado on May 20, 2013. When CNN reporter Wolf Blitzer asked the survivor, Rebecca Vitsmun, if she "thanked the Lord" for her survival, Vitsmun replied that she was an atheist. Stanhope was so impressed with Vitsmun's decision to publicly declare her atheism that he created an IndieGogo fundraiser in the name of Atheists United in order to help Vitsmun and her family. Along with Penn Jillette, Ricky Gervais, and other contributors, the campaign raised $125,760 for Vitsmun. Stanhope stated, "If you think it didn't take balls, you've never been to Oklahoma. Saying 'I'm an atheist' in Oklahoma is like screaming jihad at airport security. That took some nuts. I didn't do it because I felt sympathy because she got all her shit destroyed by a tornado. I did it simply to be a prick to her Okie Christian neighbors, hoping they were all eating off their FEMA trucks when someone drove up and presented Rebecca with a giant cardboard check...Charity feels good, even when you're doing it as a big 'Fuck You' to Christians who you've pre-judged, and not because you care about someone losing their shit. Realizing you've actually changed an individual's life. It was pretty goddamned thrilling."
Stanhope is a self-described anarchist. In 2004, he endorsed the Free State Project, and said, "The Free State Project stands out as one of few ideas that could produce tangible change in our lifetime. The vision of Christian gun enthusiasts buying hand-painted targets from pot-smoking artists, laughing together while they give the tax man the finger, is beautiful enough to make the move."
In 2012, Stanhope originally supported Ron Paul for U.S. president, but later endorsed Libertarian Gary Johnson.