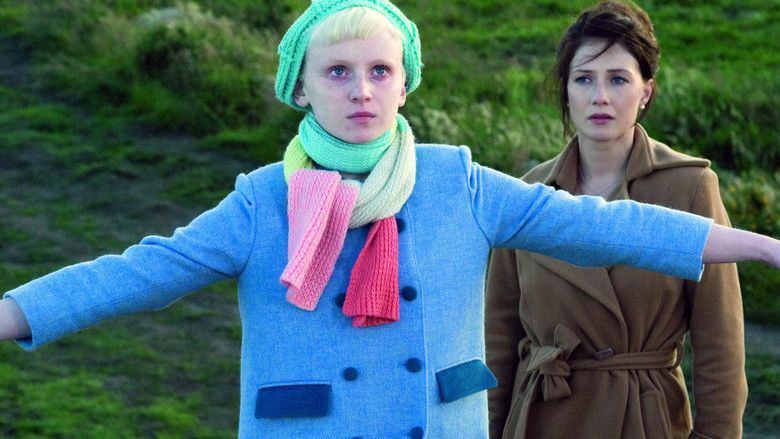 Jane Morton (Carice van Houten), a psychiatrist in mourning after the accidental death of her son, is assigned the case of Dorothy Mills (Jenn Murray), a 15-year-old girl from a small Irish island, accused of attempting to murder a baby while babysitting.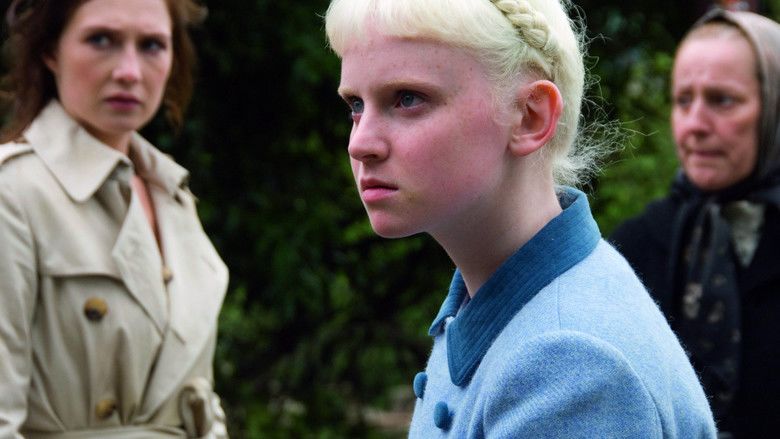 The film starts with Jane at a psychiatric hospital speaking to a gentleman about the case she was given and begins to tell the story of what happened.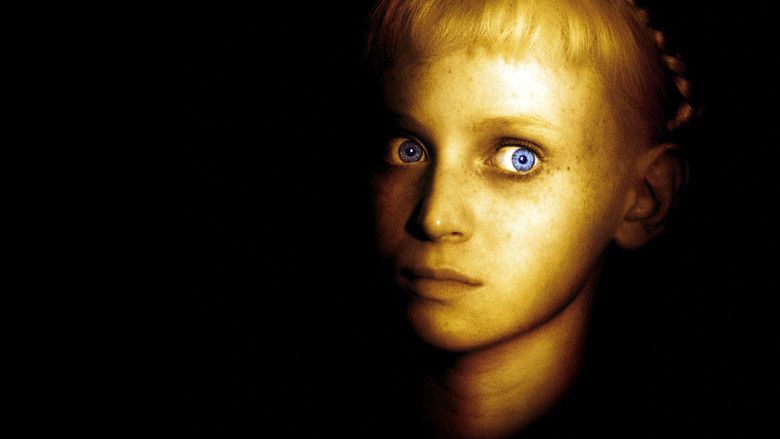 When Jane arrives at the island her car gets run off the road and crashes into the lake. It is caused by two cars that appear to be having a race. While the villagers attempt to drag the lake Sheriff Colin Garrivan (David Wilmot) arrives and speaks to Pastor Ross (Gary Lewis). Jane emerges from the lake and is driven by Colin to an inn where she receives sarcastic remarks by the men of the village. While in her room she hears an electric guitar being played in the room above hers.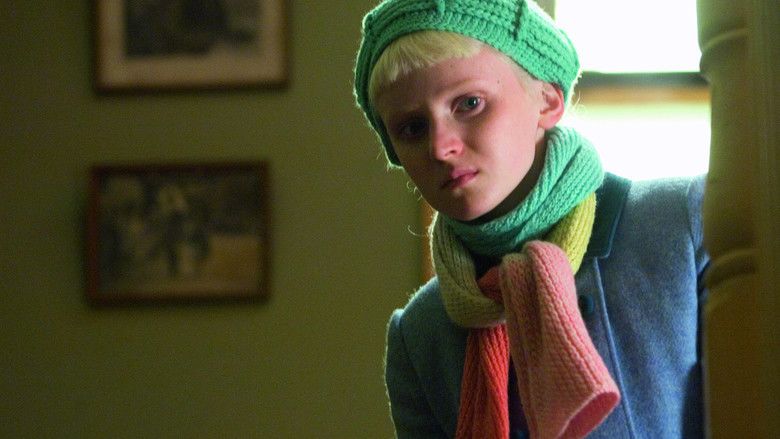 The next morning Jane waits in the dining room and notices an old woman staring at her. She then visits the parents of the baby that was attacked and due to her unbiased view and her concern for the welfare of Dorothy she is driven from the house by the father with the advice to speak to Jake. She then goes to visit Dorothy and her aunt Eileen McMahon (Ger Ryan) who is very protective of her niece. Jane attempts to speak to Dorothy and Dorothy says she wasn't there the night the baby was attacked. All she remembers is falling asleep in her bed and waking up there the next morning. Jane then goes to visit the Pastor who shows her Dorothy's medical file and stresses that Dorothy is a very special child.
The next day Jane visits Eileen and is recounted the story of Dorothy's mother who was a strange woman who found happiness laying out the dead at a funeral home. Jane then goes for a walk with Dorothy and they bond slightly with Dorothy recounting that her mother used to walk with her and they would pretend to fly once they got to the cliffs. At their next meeting Dorothy seems very childlike and refers to herself as Mimi who is 3 years old. She mentions that she comes out to protect Dorothy because Dorothy is always trying to kill herself. Jane takes "Mimi" to a dress shop and buys her a dress as a present and then takes her back to her hotel room and "Mimi" falls asleep. A few minuted later it seems as though Dorothy is having a nightmare and she suddenly wakes up and starts tearing at her clothes while shouting abuse and swearing. She suddenly stops and becomes childlike again and starts asking for her mummy. As Jane tries to comfort her Eileen arrives and takes Dorothy away.
Later in the night Jane arrives back to her hotel room to find Dorothy sitting on her bed in a red wig and punk style clothes smoking a cigarette. Dorothy introduces herself as "Mary"; she is very loud, obnoxious and loves to drink. There is then a snapshot of the three teenagers who were in the car that ran Jane off the road discussing going to a party where everyone bar the three teenagers are wearing masks.
The Fallons wakes up the next morning to find all of their sheep have had their throats slit and Paul angrily goes to find Colin. Jane arrives to speak to their son Jake about Dorothy and is given a frosty welcome by the mother who calls Dorothy a slut. While trying to get to the reason behind the comment Colin and Paul return and Jane is threatened by pushed over by Paul who says she is meddling in their lives.
Jane is approached by the old woman who was staring at her and is told to go to Dorothy. There she witnesses Dorothy being subjected to a ritual and interrupts saying Dorothy is unsafe with the members of the community and she is taking her back to the main land for treatment. Jane takes Dorothy to the police station and talks to her in one of the cells. Dorothy reverts to another character called "Kurt" who warns Jane about "Duncan" who is the boss. Dorothy then starts to get violent and Jane gives her a tranquilizer and takes her home. "Mary" escapes from the house and goes walking on the moors. Jane wakes up to a phone call from "Kurt" saying Dorothy tried to kill herself.
Jane visits Dorothy the next morning and tries to explain that she has multiple personality disorder and that her mind creates characters to protect herself from pain. Suddenly "Duncan" appears and angrily shows her a picture that Dorothy drew of Jane's son David drowning. When Dorothy becomes "David," Jane becomes upset and locks herself in the bathroom. After returning home she sees David outside her window and goes outside to get him, when he isn't there she returns to her room to find him sitting on her bed. She tearfully apologizes to David for being unable to save him and asks for his forgiveness. Waking up the next morning she hears the electric guitar and goes upstairs to see where the noise is coming from. She enters a boys room that is covered in cobwebs and sees the old woman sitting on the bed strumming the guitar. Seeing a picture of a teenage boy and recognizing it as one of the boys who ran her off the road she confronts the old woman about who he is. The old woman says it is her grandson Duncan McClellan who died 10 years ago along with his friends Mary McMahon and Kurt in a car accident.
Feeling like she is going insane Jane visits Colin who she has become quite close to and tells him her suspicions. Colin seems jittery and alludes to a community secret and tells Jane he wants to take her back to the mainland. Jane is adamant about staying and protecting Dorothy and falls asleep on Colin's sofa after she is given sleeping pills by Colin who promises to wake her in the morning. In the middle of the night Colin is woken by the sounds of the teenagers and runs outside to confront them. He then finds that his dog has had his throat slit.
Jane wakes up and leaves Colin a note saying she isn't leaving without Dorothy and she quietly leaves. Arriving at Eileen's house to take Dorothy away Eileen becomes upset and reveals that she wants to keep Dorothy so she can see her daughter Mary again. Eileen then accuses Jane of wanting to keep Dorothy's gift all to herself and calls Jane out about her son. Jane reiterates that she is there to do what is best for Dorothy. While Dorothy is walking up the stairs to Jane's room her nose starts to bleed and she warns Jane that she sees death in her future and warns her she has to leave. Jane calms her down and tries to get Dorothy to remember why she is so scared. Dorothy remembers back to when she was in the morgue with her mother and her mother was cleaning up the three teenagers bodies after their car accident. Her mother then tells Dorothy to kiss all the bodies goodbye and Dorothy is so scared to do it that "Mimi" appears and does it for her. This then allows Dorothy to overcome her fear and let "Mimi" go.
Colin is at home alone and has drunk a lot of beer and seems conflicted over something. there is a buzz at the door and Colin picks up his gun and goes to answer it. Dorothy is there as "Mary", "Duncan" and "Kurt" and they push him around calling him dirty. Colin is so traumatized and guilty that he shoots himself in the head and Dorothy is sprayed with blood.
Jane wakes up to find that Dorothy is gone and she follows all the villagers that are pouring into Colin's house. Jane finds Colin dead and Paul and a few other villagers are ganging up on Dorothy demanding that something be done. Jane defends Dorothy and "Duncan" appears saying that there is a secret that needs to be told. "Duncan" leads then to the side of the lake and recounts what happened on the night of the party.
Mary, Duncan and Kurt were at the party and Mary was being flirtatious and taunting the men for fun yet she pushes them away when they get too personal. After the party when Mary is trying to find Kurt and Duncan she ends up being cornered by four men in masks and dragged into a house and raped. Duncan and Kurt interrupt and Duncan holds one of the men hostage in order to free Mary. Duncan slices the man's throat without killing him and they run out to their car. The three teenagers are followed by the four men and a car race starts. Eventually their car is run off the road into the lake and the three of them are killed. The four men are then unmasked as Paul, Colin, the abused babies father and another villager.
After the truth is revealed the other villagers are disgusted and Eileen screams in grief at Paul. Yet Paul turns to the Pastor and tries to wheedle his way out of it saying that the Pastor's quiet community will be interrupted by police officers and publicity. Jane who is aghast that the Pastor is starting to sway towards Paul's idea and attempts to intervene only to be pushed out of the way in anger by Paul and hits her head on a rock and dies.
The Pastor decides to banish the rapists from the island with their families, level their houses, and all erase any record of their existence from the island. Jane's body is dumped into the lake and the villagers agree to tell the outside world that she left without a word of her destination or plans.
The film ends back in the psychiatric hospital where Jane realises she is dead and in Dorothy's body. The gentleman she is speaking to ends up being the father of David and her husband/lover. After saying her farewells and leaving Dorothy's body Dorothy is seen leaning out the window and looking at the sky with a smile on her face as she takes a deep breath.
The film received several nominations during the 2009 Irish Film and Television Awards. Actress Jenn Murray was nominated for Best Actress in a Lead Role. Ger Ryan was nominated for Best Actress in a Supporting Role in a Film. The film also received nominations for Best Hair & Make-Up and Best Production Design.