Name

Dorothea Jordan





Role

Actress







Born

22 November 1761 (

1761-11-22

)


Died

July 5, 1816, Saint-Cloud, France


Partner

William IV of the United Kingdom (1791–)




Children

George FitzClarence, 1st Earl of Munster




Grandchildren

William FitzClarence, 2nd Earl of Munster


Great grandchildren

Alexander Duff, 1st Duke of Fife, Agnes Duff




Similar People

William IV of the United Ki, George FitzClarence - 1st Earl of, Adelaide of Saxe‑Meiningen, George IV of the United Ki, Charlotte of Mecklenburg‑Strelitz
Dorothea jordan the duchess of drury lane
Dorothea Jordan (22 November 1761 – 5 July 1816) was an Anglo-Irish actress, courtesan, and the mistress and companion of the future King William IV of the United Kingdom, for 20 years while he was Duke of Clarence. Together they had ten illegitimate children, all of whom took the surname FitzClarence.
Contents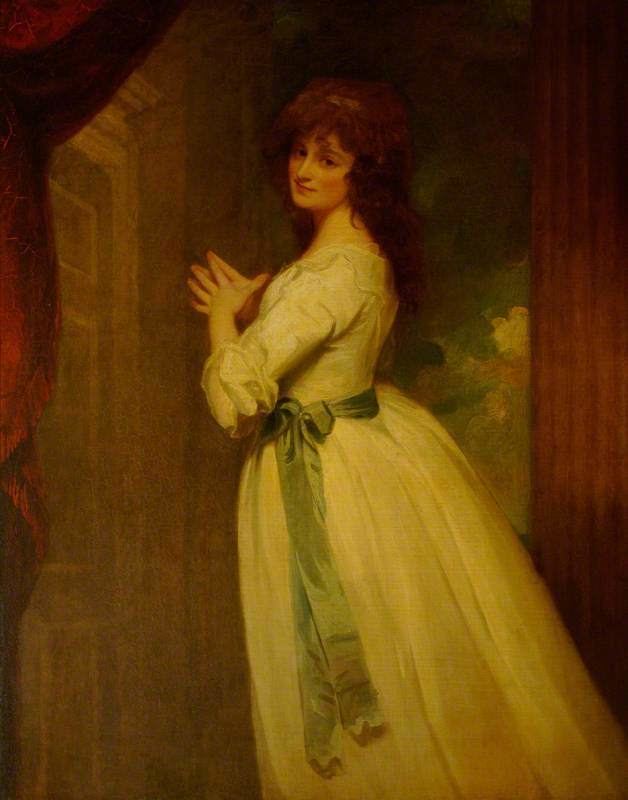 Early life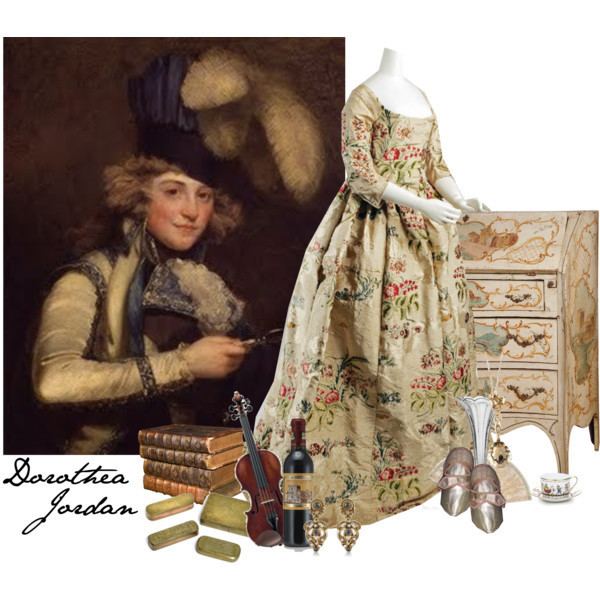 Dorothea (sometimes called Dorothy or Dora) Bland was born near Waterford, Ireland, on 22 November 1761, and was baptised at St Martin in the Fields, Middlesex, on 5 December of that year. She was the third of six children born from Francis Bland (b. 1736 – d. Dover, 2 January 1778) and his mistress, Grace Phillips (b. ca. 1740 – d. Edinburgh, 1789). Her older siblings are George Bland (c. 1758 – Boston, Massachusetts, 1807; actor and singer) and Hester Bland (baptised at St Anne Soho, Middlesex, 2 March 1760 – buried at St David's, as of Trelethin, 8 March 1848), and her younger siblings are Lucy Bland (1763/64 – Trelethin, St David's, 1778, aged 14), Francis Bland (fl. 1813; a captain, unmarried and without issue) and Nathaniel Phillips Bland (born 1766/67 – buried at St David's, Pembrokeshire, 3 June 1830, aged 63).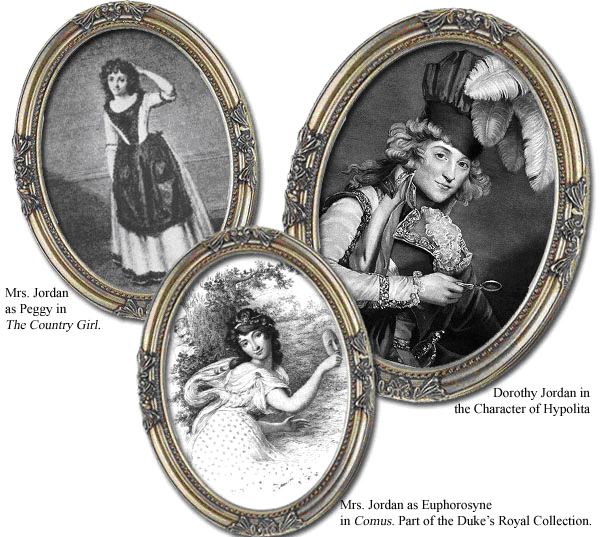 Her paternal grandparents were Nathaniel Bland (Killarney, co. Kerry, 1695/96 – 1760), Vicar General of Ardfert and Aghada, and Judge of the Prerogative Court of Dublin, Ireland, and his second wife Lucy (née Heaton). The reports about Dorothea's maternal ancestry are very sketchy, although it is generally stated that Grace Phillips was probably the daughter of a Welsh clergyman (who lived in the early 1750s in Bristol) but he has not been identified with certainty.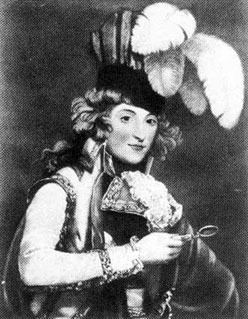 Before April 1774, when she was 13, Dorothea's father, who worked as a stagehand, abandoned the family to marry an Irish actress. However, he continued to support the family by sending them meager sums of money. This situation forced Dorothea to work to help her siblings. Her mother, an actress by profession, saw potential in Dorothea and put her on the stage.
Stage life and early relationships
She became a famous actress of the day and was said to have the most beautiful legs ever seen on the stage. She made her first appearance in 1777, in Dublin, as Phoebe in As You Like It. After acting elsewhere in Ireland she appeared in 1782 at Leeds, and other Yorkshire towns, in a variety of parts, including Lady Teazle in The School for Scandal. It was at this time that she began calling herself Mrs Jordan.
In 1785, she made her first London appearance at Drury Lane as Peggy in A Country Girl. Her engagement at Drury Lane lasted until 1809, and she played a large variety of parts. But gradually it came to be recognized that her special talent lay in comedy, her Lady Teazle, Rosalind (As You Like It) and Imogen (Cymbeline) being specially liked. Audiences also enjoyed her performances in breeches roles such as William in Rosina. During the rebuilding of Drury Lane she played at the Haymarket; she transferred her services in 1811 to Covent Garden. Here, in 1814, she made her last appearance on the London stage, and the following year, at Margate, retired altogether.
She had an affair with her first manager, Richard Daly, the manager of the Theatre Royal, Cork, who was married, and had an illegitimate child with him:
Frances Daly (also called Fanny; born in Dublin in September 1782; she later changed her name to Frances Bettesworth in 1806 and married Thomas Alsop in 1809).
In England, she had a short lived affair with an army lieutenant, Charles Doyne, who proposed marriage. But she turned him down and went to work for the theatre company operated by Tate Wilkinson. It was at this point she adopted the name "Mrs. Jordan" – a reference to her escape across the Irish Sea, likened to the River Jordan. She appeared at Wilkinson's York Circuit theatres, including The Theatre, Leeds, where she complained of uncomfortable working conditions.
Shortly after her affair with Wilkinson was over, she began an affair with George Inchbald, the male lead in the Wilkinson company. According to Claire Tomalin, Dorothea's biographer, Dorothea would have married Inchbald, so greatly was she in love with him, but he never asked. Brokenhearted, she left him in 1786 to begin an affair with Sir Richard Ford, a police magistrate and a lawyer. She moved in with Ford when he promised to marry her. They had three illegitimate children:
Dorothea Maria Ford (born August 1787, married Frederick Edward March in 1809).
A son (who died at birth in October or November 1788).
Lucy Hester Ford (born 1789, married Samuel Hawker—later General and Sir—in 1810).
She left him to begin her affair with the Duke of Clarence, once she realized that Ford was never going to marry her. Jordan's children were placed under the care of her sister Hester, who moved with them to a house in Brompton. By a settlement dated 4 November 1791, Jordan transferred all her savings to Ford and Hester for the maintenance and education of the children; in addition, she allowed them an annual payment and granted Hester an allowance for her services.
Relationship with William IV
Pretty, witty and intelligent, Jordan soon came to the attention of wealthy men. She became the mistress of William, Duke of Clarence, later King William IV, in 1791, living with him at Bushy House, and seemed to have not bothered herself with politics or the political intrigues that often went on behind the scenes in royal courts. Together they had at least ten illegitimate children, all of whom took the surname FitzClarence:
George FitzClarence (29 January 1794 – 20 March 1842), created Earl of Munster in 1831.
Henry Edward FitzClarence (27 March 1795 – September 1817). No issue.
Sophia FitzClarence (August 1796 – 10 April 1837), married Philip Sidney, 1st Baron De L'Isle and Dudley.
Mary FitzClarence (19 December 1798 – 13 July 1864), married General Charles Richard Fox. No issue.
Lieutenant General Lord Frederick FitzClarence GCH (9 December 1799 – 30 October 1854), officer in the British Army
Elizabeth FitzClarence (17 January 1801 – 16 January 1856), married William Hay, 18th Earl of Erroll.
Rear-Admiral Lord Adolphus FitzClarence GCH, ADC, RN (18 February 1802 – 17 May 1856). No issue.
Augusta FitzClarence (17 November 1803 – 8 December 1865) married, firstly, Hon. John Kennedy-Erskine, 5 July 1827, married secondly, Admiral Lord Frederick Gordon-Hallyburton.
Lord Augustus FitzClarence (1 March 1805 – 14 June 1854), rector at Mapledurham in Oxfordshire
Amelia FitzClarence (21 March 1807 – 2 July 1858), married Lucius Bentinck Cary, 10th Viscount Falkland.
Later life
In 1811, when she and the Duke separated, she was given a yearly stipend by him and custody of their daughters while he retained custody of their sons. Part of her stipend included money for the care of the children with a stipulation stating that in order to continue receiving that money, and retain custody, Dorothea must not return to the stage. In 1814, when a son-in-law became heavily in debt, Dorothea returned to the stage to help pay off that debt. Once the Duke received word of this, he removed their remaining daughters from her care, and took back her yearly stipend. To avoid creditors, she fled to France in 1815 and died at Saint-Cloud, near Paris, in poverty just a year later.
Notable descendants
Her notable descendants include:
Her Royal Highness Princess Alexandra, Duchess of Fife, also a granddaughter of Edward VII
Her Highness Princess Maud, Countess of Southesk, also a granddaughter of Edward VII
Violet Jacob Scottish writer (1863–1946)
Brigadier General Charles FitzClarence, recipient of the Victoria Cross (8 May 1865 – 2 November 1914)
Sir Edward Bellingham, 5th Bt. Brig.-Gen., Senator of the Irish Free State (26 January 1879 – 19 May 1956)
Duff Cooper,1st Viscount Norwich British diplomat, Cabinet member and author (22 February 1890 – 1 January 1954)
John Julius Norwich, 2nd Viscount Norwich, historian, author, television presenter (born 15 September 1929)
Sir Rupert Hart-Davis British publisher, literary editor, and man of letters (28 August 1907 – 8 December 1999)
William Sidney, 1st Viscount De L'Isle 15th Governor-General of Australia, the last British Governor-General (23 May 1909 – 5 April 1991)
Fra Andrew Bertie (1929–2008) Prince and Grand Master of the Knights Hospitaller.
Adam Hart-Davis British author, photographer, and broadcaster (born 4 July 1943)
Merlin Hay, 24th Earl of Erroll, a cross-bench member of the House of Lords (born 20 April 1948)
John Crichton-Stuart, 7th Marquess of Bute (b. 1958), a.k.a. Johnny Dumfries, former racing driver.
David Cameron (b. 1966), former Prime Minister of the United Kingdom and former Leader of the Conservative Party.
Catherine McGuinness (b. 1934), former judge of the Supreme Court of Ireland and former member of Seanad Éireann
References
Dorothea Jordan Wikipedia
(Text) CC BY-SA