Top speed

433 km/h




Range

1,111 km




Cruise speed

315 km/h




Manufacturer

Dornier Flugzeugwerke




Wingspan

17 m




Weight

3,739 kg




Engine type

Garrett TPE331





The Dornier Do 228 is a twin-turboprop STOL utility aircraft, manufactured by Dornier GmbH (later DASA Dornier, Fairchild-Dornier) from 1981 until 1998. In 1983, Hindustan Aeronautics (HAL) bought a production licence and manufactured 125 aircraft for the Asian market sphere. Approximately 270 Do 228 were built at Oberpfaffenhofen, Germany and Kanpur, India. In August 2006, 127 Dornier Do 228 aircraft (all variants) remain in airline service.
Contents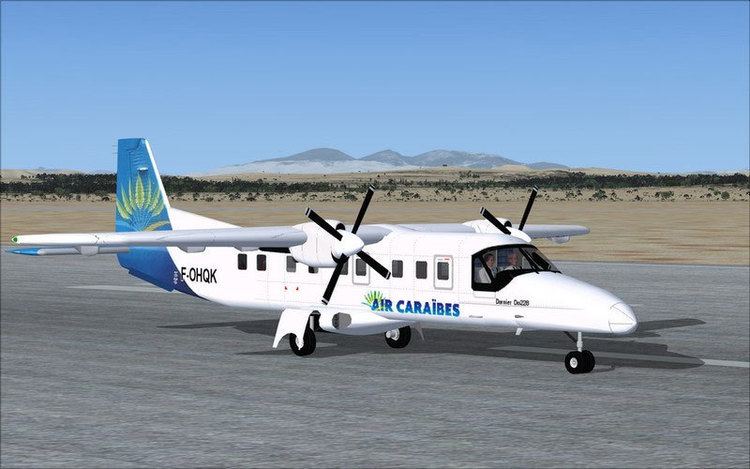 In 2009, RUAG started building a Dornier 228 New Generation in Germany with the fuselage, wings and tail unit manufactured by Hindustan Aeronautics Limited (HAL) in Kanpur (India) and transported to Oberpfaffenhofen near Munich, where RUAG Aviation carries out aircraft final assembly, customized equipment installation, product conformity inspection and aircraft delivery. It is basically the same aircraft with improved technologies and performances, such as a new five blade propeller, glass cockpit and longer range. The first delivery was made in September 2010.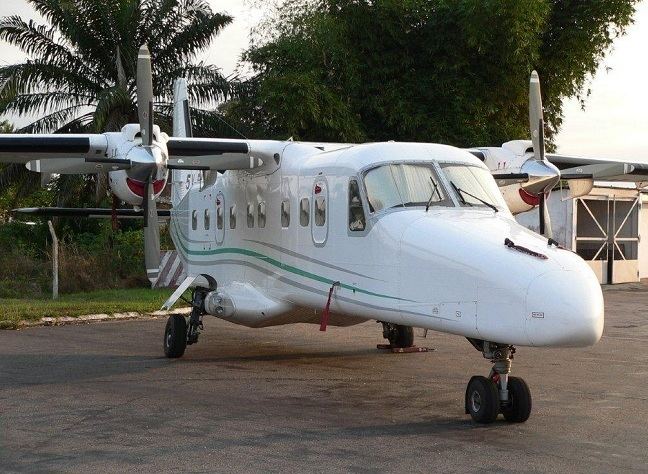 Origins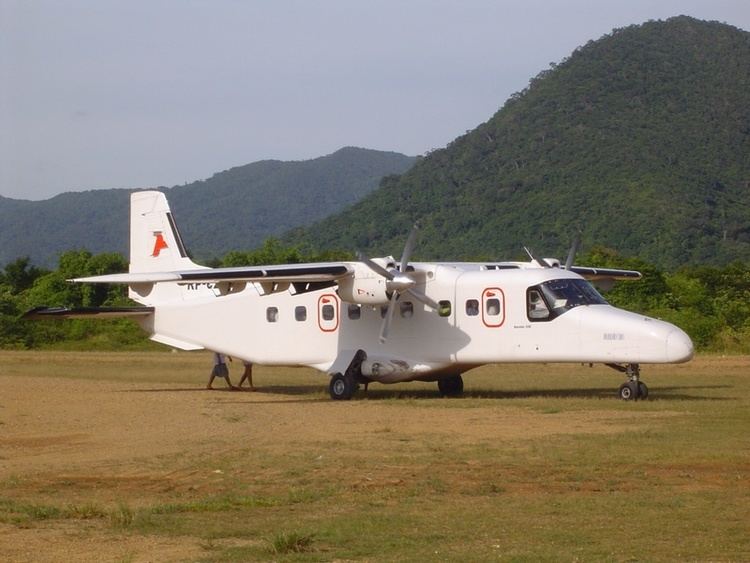 In the late 1970s, Dornier GmbH developed a new kind of wing, the TNT (Tragflügel neuer Technologie - Aerofoil new technology), subsidized by the German Government. Dornier tested it on a modified Do 28D-2 Skyservant and with Pratt & Whitney Canada PT6A-110 turboprop engines. Finally, Dornier changed the engine and tested the new aircraft, which was named Do 128 with two Garrett AiResearch TPE-331-5 engines. The company developed a new fuselage for the TNT and TPE 331–5 in two variants (15- and 19-passenger) and named both project-aircraft E-1 (later Do 228-100) and E-2 (later Do 228-200). At the ILA Berlin Air Show in 1980, Dornier presented the new aircraft to the public. Both of the prototypes were flown on 28 March 1981 and 9 May 1981 for the first time.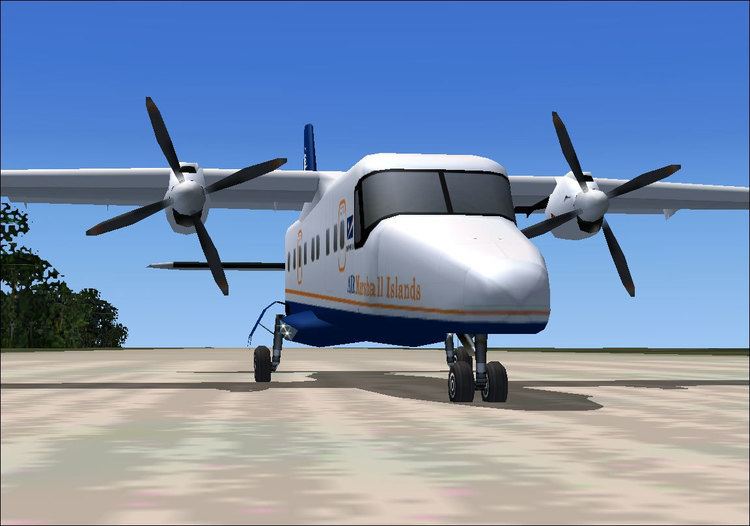 After German certification was granted on 18 December 1981, the first Do 228-100 entered service in the fleet of Norving in July 1982. The first operator of the larger Do 228-200 entered service with Jet Charters in late 1982. Certification from both British and American aviation authorities followed on 17 April and 11 May 1984 respectively. By 1983, the production rate of the Do 228 had risen to three aircraft per month; at this point, Dornier had targeted that 300 Do 228s would be produced by the end of the 1980s. In November 1983, a major license-production and phased technology-transfer agreement was signed between Dornier and Hindustan Aeronautics Limited (HAL) was signed; a separate production line was established and produced its first aircraft in 1985. By 2014, a total of 125 Do 228s had been produced in India.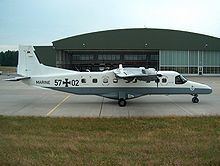 Over the years, Dornier offered the 228 in upgraded variants and fitted with optional equipment for performing various special missions. In 1996, it was announced that all manufacturing operations would be transferred to India. In 1998, activity on the German production line was halted, in part to concentrate on the production of the larger Fairchild-Dornier 328 and in response to Dornier's wider financial difficulties.
Do 228NG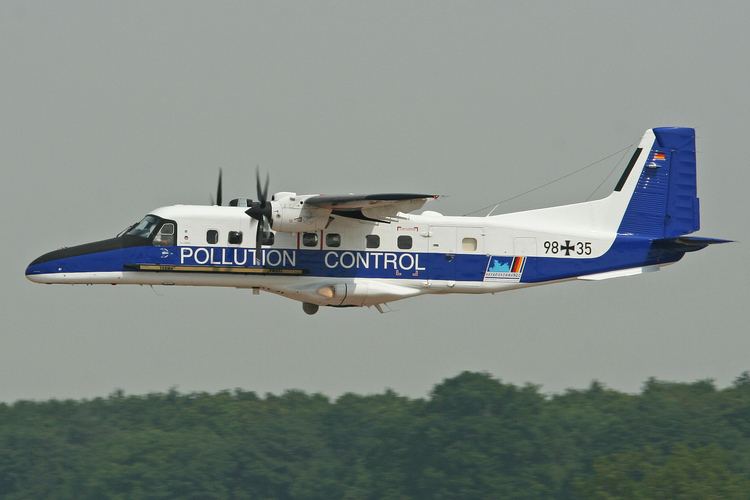 In December 2007, RUAG Aviation, who had acquired the type certificate for the Do 228 in 2003, announced their intention to launch a modernized version of the aircraft, designated as the Do 228 Next Generation, or Do 228 NG. On 18 August 2010, the Do 228NG received its airworthiness certification from the European Aviation Safety Agency (EASA). The majority of manufacturing activity for the type is located in Germany; however, most airframe subassemblies, such as the wings, tail and fuselage, are produced by HAL in India. The main changes from the previous Dornier 228-212 model were a new five-blade propeller made of composite material, more powerful engines and an advanced glass cockpit featuring electronic instrument displays and other avionics improvements.
The first delivery, to the Japanese operator New Central Aviation, took place in September 2010. RUAG decided to suspend production of the Do 228 NG after the completion of an initial batch of eight aircraft in 2013. In 2014, RUAG and Tata Group signed an agreement for the latter to become a key supplier of the program. Production was restarted in 2015, with deliveries of four per year planned from 2016. In February 2016, RUAG announced that they were set to begin serial production of the Do 228 NG at its German production line in mid-2016; the assembly line is reportedly capable of producing a maximum of 12 aircraft per year.
In October 2014, HAL announced that it has received an Indian Navy order for 12 Do-228 aircraft maritime surveillance and patrol aircraft worth about Rupees 1600 crores, and a few months later in February 2015, announced that it had received an Indian Air Force order for 14 Do-228 aircraft worth about Rupees 1090 crores including six engines and a simulator.
Design
The Dornier 228 is a twin-engine general purpose aircraft, capable of transporting up to 19 passengers or various cargos. It is powered by a pair of Garrett TPE331 turboprop engines. The Do 228 is commonly classified as a Short Takeoff and Landing (STOL)-capable aircraft, being capable of operating from rough runways and in hot climates, this capability has been largely attributed to the type's supercritical wing which generates large amounts of lift at slow speeds. The Do 228 is typically promoted for its versatility, low operational costs, and a high level of reliability - possessing a dispatch reliability of 99%. RUAG Aviation have claimed that no other aircraft in the same class may carry as much cargo or as many passengers over a comparable distance as fast as the Do 228 NG.
The rectangular shape of the Do 228's fuselage section and large side-loading doors make it particularly suitable for utility operators, which is a market that Dornier had targeted with the type from the onset. According to Flight International, one of the more distinguishing features of the Do 228 is the supercritical wing used. The structure of the wing is atypical, consisting of a box formed from four integrally-milled alloy panels, while kevlar is used for the ribs, stringers, trailing edge and fowler flaps, the wing's leading edge is conventional alloy sheet metal. Benefits of this wing over conventional methodology reportedly include a 15% reduction in weight, the elimination of the 12,000 rivets over, and lowering the per aircraft manufacturing workload by roughly 340 man hours. Both the fuselage and tail are of a conventional design, but made use of chemical milling in order to save weight.
More than 350 design changes are present between the Do 228 and the re-launched Do 228 NG. Amongst the principal changes is the adoption of Universal's UNS-1 glass cockpit, which means that standard aircraft are equipped to be flown under single-pilot instrument flight rules (IFR) in addition to visual flight rules (VFR); according to RUAG Aviation, the Do 228 NG is the first aircraft in its class to be certified with equivalent electronics. A total of four large displays are used in the cockpit, two primary flight displays and two multifunction displays, to present all key flight data. The navigation system includes VHF omnidirectional range (VOR), distance measuring equipment (DME), automatic direction finder (ADF), radar altimeter, Global Positioning System (GPS), air data computer, and a flight management system. A three-axis autopilot can be optionally incorporated, as can a weather radar and high frequency (HF) radio. While designed for two-pilot operation, the Dornier 228 can be flown by only one crewmember.
Additional changes include the Garrett TPE331-10 engines, which have been optimized to work with the redesigned five-bladed fibre-composite propellers now used by the type, which are more efficient, quick to start, and produces substantially less vibration and noise than the original metal four-bladed predecessor. Through its engines, the Do 228 NG has the longest time between overhaul (TBO) of any 19-seat aircraft, reportedly up to 7,000 hours. An engine-indicating and crew-alerting system (EICAS) is also present for safety purposes; additional optional safety equipment akin to much larger passenger aircraft, including airborne collision avoidance system (ACAS) and terrain awareness and warning system (TWAS), can be incorporated as well.
The Do 228 has been promoted in various capacities, including as a commuter aircraft, a military transporter, cargo hauler, or as a special missions aircraft. Special missions include maritime surveillance, border patrol, medevac, search and rescue, paradrop and environmental research missions, in which capacity the type has proven useful due to a ten-hour flight endurance, a wide operating range, low operational cost, and varied equipment range. Special equipment available to be installed include a 360-degree surveillance radar, side-looking airborne radar, forward-looking infrared (FLIR) sensor, search light, operator station, real-time datalink, enlarged fuel tanks, satellite uplink, stretches, air-openable roller door, and infrared/ultraviolet sensors. In addition to a 19-seat commuter configuration for airlines, a VIP cabin configuration is also offered; the cabin can also be customized as per each client's specifications. The Do 228 is the only aircraft of its class to be fitted with air conditioning as standard.
Civilian operators
As of October 2014 83 aircraft are known to be in commercial service. Operators include:
Aerocardal (2)
Aero VIP (Portugal) (2)
Agni Air (2) leased to Simrick Airlines
Air Marshall Islands (1)
Air West Coast (2)
Alkan Air (1)
APSA Colombia (1)
Arcus Air (4)
Aurigny (3)
Bighorn Airways (3)
Daily Air (4)
Divi Divi Air (2)
Dornier Aviation Nigeria (9)
GAM Aviation (3)
German Aerospace Center (2)
Gorkha Airlines (2)
Inter Island Airways (1)
Island Aviation (3)
Jagson Airlines (2)
Lufttransport (2)
National Cartographic Center of Iran (3)
New Central Airlines (4)
Simrick Airlines (2) owned by Agni Air
Sita Air (3)
Star Air Aviation (1)
Susi Air (1)
Summit Air (8)
Tara Air (3)
Vision Airlines (1)
MAYAir (2)
Dornier 228-200NG Users
Lufttransport (1)
Venezuelan Air Force (10) On Order
New Central Airlines (1)
Bangladesh Navy (2)
German Air Force (1) On order
Susi Air (3) On order
Aurigny (1)
Police, law enforcement, para-military operations
India
Indian Coast Guard - 38 Do 228-101 maritime surveillance aircraft
Netherlands
Netherlands Coastguard
Oman
Royal Oman Police Air Wing
United Kingdom
Marine Fisheries Agency
Mauritius
Mauritius Coast Guard
Military operators
Angola
National Air Force of Angola
Bangladesh
Bangladesh Navy operates 2 Dornier Do-228NG MPA delivered on 3 June 2013.
Bhutan
Royal Bhutan Army (Bhutan Army Air Wing)
Cape Verde
Coast Guard of Cape Verde
Finland
Finnish Border Guard
Germany
German Navy - operates two Do 228s with one Do 228NG on order
India
Indian Air Force - operates 40 Do 228-201 with a further 14 on order.
Indian Navy - operates 25 Do 228-201 and 1 Do 228-101 with a further 6 on order. In November 2016, Indian Navy placed an order for additional 12 Do 228-201 aircraft.
DRDO 1 Dornier DO-228 "Nabhratna" used as a flying test bed by LRDE
Iran
Islamic Republic of Iran Navy (Navy Aviation)
Italy
Italian Army - operates three Do 228s.
Malawi
Military of Malawi - Operates one Do 228.
Netherlands
Royal Netherlands Air Force
Niger
Niger Armed Forces
Nigeria
Nigerian Air Force
Oman
Royal Air Force of Oman
Seychelles
Seychelles Air Force - operates one Do 228. A second to be delivered in 2014. Both aircraft donated by India.
Thailand
Royal Thai Navy - operates 7 Do 228s.
Venezuela
Venezuelan Air Force - eight Do 228NG and two second-hand Do 228-212s ordered 2013. Delivery expected from 2014.
Former military operators
Germany
German Air Force
Accidents and incidents
On 24 February 1985, the Polar 3, a Dornier 228 of the Alfred Wegener Institute, was shot down by guerrillas of the Polisario Front over West Sahara. All three crew members died. Polar 3, together with unharmed Polar 2, was on its way back from Antarctica and had taken off from Dakar, Senegal, to reach Arrecife, Canary Islands.
On April 18, 1991, a Dornier Do 228 of Air Tahiti crashed in the ocean while approaching the airport of Nuku Hiva(Marquesas Islands) killing all 18 on board.
On 2 January 1993, an Indian Coast Guard Do 228 crashed in sea approx 20 nm off Odisha coast. One pilot and one maintenance crew survived. Four maintenance crew were killed.
On 31 July 1993, an Everest Air Dornier Do 228 crashed in the Himalayas, killing all 19 people on board.
On 10 August 1997, Formosa Airlines Flight 7601, crashed while attempting to land at Matsu Beigan Airport. All 16 passengers and crew on board perished in the accident.
On 6 September 1997, Royal Brunei Airlines Flight 238 crashed at Lambir Hills National Park on approach to Miri Airport. The crash killed all ten passengers and crew on board.
On 30 July 1998, Indian Airlines Flight IC 503 crashed while taking off at Cochin airport in Kerala killing all six persons on board and three others who were working inside a naval workshop building onto which it nose-dived and burst into flames.
On 7 August 1999, TACV Flight 5002 crashed into the side of a mountain on Santo Antão Island, Cape Verde in rain and fog. The accident killed all 18 passengers and crew on the Dornier Do 228.
On 4 December 2003, a Dornier 228 of Kato Air operating Flight 603 was struck by lightning, causing a fracture to the control rod that operated the elevator. The aircraft landed heavily just short of the runway at Bodø. Both crew members sustained serious injuries while both passengers sustained slight injuries. The aircraft, registered LN-HTA, was written off.
31 August 2004, a Dornier 228 of Landsflug belly-landed at Siglufjordur Airport. The aircraft was written off and stored at Reykjavik Airport before being moved to the Flugsafn (Air Museum) in Akureyri in 2010.
In January 2005, Polar 4 was severely damaged during a rough landing at the British over-wintering station Rothera on the Antarctic Peninsula. As it was impossible to repair the plane, the aircraft had to be decommissioned. Since then, scientific and logistical tasks of polar flights have been performed by Polar 2.
On 17 September 2006, an 18-seater Dornier 228 Nigerian Air Force transport plane, carrying 15 senior army officers and three crew members crashed into a hillside, leaving only three surviving passengers and two crew members that sustained serious injuries. The plane with registration number NAF 033 crashed near a remote village in Benue State at about 10:30 a.m. The military officers were members of a committee set up by the government to reposition the Nigerian Army. The plane departed Abuja in the early morning hours of September 17, on its way to Obudu Cattle Ranch in Cross River State where the officers were to hold a retreat and crashed about 18 nautical miles from its destination.
On 13 December 2008, a Dornier 228 C-FYEV with 14 people on board operated by Summit Air Charters, was on approach at Cambridge Bay (YCB) after a flight from Resolute Bay (YRB) when the aircraft collided with terrain about 2,5 km short of the runway. One flight crew member and one passenger received minor injuries.
On 24 August 2010, Agni Air Flight 101 crashed outside of Kathmandu in heavy rain, killing all 14 people on board.
On 23 June 2011, Tara Air Do 228 9N-AGQ was substantially damaged in a heavy landing and runway excursion at Simikot Airport, Nepal. The aircraft was operating a cargo flight from Nepalgunj Airport.
On 14 May 2012, an Agni Air Dornier 228 crashed while attempting to land at Jomsom Airport, killing 15 of 21 people on board.
On 28 Sept 2012, a Sita Air Flight 601 crashed just one minute after it took off for Lukla Airport from Kathmandu, killing all 19 (16 passengers and three crew members) on board. Although the plane successfully crash-landed near the Manohara river, 50 meters away from the runway of Tribhuvan International Airport, it was destroyed by fire on the ground. Some witnesses stated that the aircraft had been on fire before landing [1]. Later in a press release by TIA, it was confirmed that a bird struck the aircraft, leading to an unusual maneuver which was informed right away to ATC by the captain of the aircraft.
On 9 September 2013, A Corpflite Dornier 228, registration CC-CNW crashed into power lines whilst attempting to land in fog at Viña del Mar Airport, resulting in the loss of both crew members on board.
On 25 March 2015, the Indian Navy has started a full scale search and rescue operation to look for its two officers flying the Dornier 228 who have gone missing after it went off the Goa coast believed to have developed some technical problems after which it plunged into the sea.
On 8 June 2015 at 9:23PM, a Dornier 228 with 3 crew on board, operated by the Indian Coast Guard went missing over sea during a surveillance mission. On 13 June Survey Ship Sanadhayak picked up a beacon signal, most likely from missing Dornier. On 8 July 2015 a naval submarine confirmed the presence of a beacon. MV Olympic Canyon located the wreckage and recovered FDR, VDR, wreckage and human remains.
On 29 August 2015 Nigerian Air Force Dornier 228.212 registered NAF030 crashed just after take off into a house at the Ribadu Cantonment in Kaduna, Nigeria. A fire erupted, destroying the house and the aircraft and killing its 7 occupants.
Specifications (Do 228-212)
Data from Brassey's World Aircraft & Systems Directory 1999/2000, Flight International
General characteristics
Crew: two pilots
Capacity: 19 passengers
Payload: 2,340 kg freight (5,158 lb)
Length: 16.56 m (54 ft 4 in)
Wingspan: 16.97 m (55 ft 8 in)
Height: 4.86 m (15 ft 11 in)
Wing area: 32.0 m² (344 sq ft)
Airfoil: A-5
Empty weight: 3,739 kg (8,243 lb)
Max. takeoff weight: 6,400 kg (-212) 6,200 kg (-202K) 6,100 kg (-202) 5,700 (-101) (14,550 lb)
Powerplant: 2 × Garrett AiResearch TPE-331-5-252D or -10 variation (GP and GT) turboprop, 578 kW (776 shp flat rated for -5A and -10 powerplants at 30 °C sea level / 715 shp flat rated for -5 variations) each
Propellers: Hartzell Propellers model- HC-B4TN-5ML/LT10574
Propeller diameter: 2.67 m (105 in)
Performance
Never exceed speed: 280 kt (-212) (519 km/h)
Maximum speed: 223 kt (-212) / 200 kt (-200) (413 / 370 km/h)
Cruise speed: 190 kt (352 km/h) at approx 15 °C with 85% torque
Stall speed: 75 kt (139 km/h) flaps down
Range: 1,111 km (715 nmi, 823 mi) with full payload
Service ceiling: 8,500 m (28,000 ft)
Rate of climb: 7.5 m/s (1,870 ft/min)
References
Dornier Do 228 Wikipedia
(Text) CC BY-SA