Country

Vietnam




University

Dong Thap University of Education




Area

3,238 km2


Region

Mekong Delta




Capital

Cao Lanh




Population

1.676 million (Jul 1, 2012)



Dong Thap is a province in the Mekong Delta region of southern Vietnam. Dong Thap is 165 km away from Ho Chi Minh City, bordered by Pray Veng Province (Cambodia) in the north with a length of more than 48 km; Vinh Long and Can Tho in the south; An Giang in the west; and Long An and Tien Giang in the east.
Contents
Map of Dong Thap Province
History
Dong Thap is a newly cultivated area in about 17th and 18th century, under the Nguyen lords. Foundation of this area adhered to powerful struggling history against nature, dangerous animals and aggressors.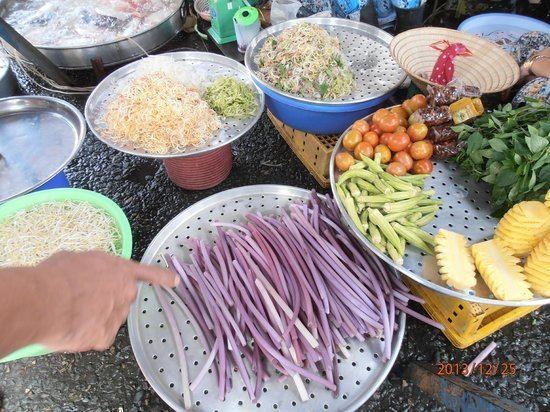 The south of Dong Thap province whose center is Sa Dec plays a very significant role. Many researches have shown that overseas Vietnamese got to come to Sa Dec area for reclaiming and setting up hamlets at least at the end of 17th century or at the beginning of 18th century. Sa Dec is a Khmer word meaning "iron market". Does this market sell agricultural tools made of iron or was the frame of this market made of iron? There has not had any reasonable explanations for these concerns however Sa Dec is probably considered the newest area on the way to develop the country in 1757 led by Nguyen Cu Trinh, a mandarin who was known for his achievement in reassuring people in Quang Ngai.
After the civil war between Nguyen Anh and Tay Son siblings, Gia Long was on the throne to help stabilize Sa Dec and made it become a part of Vinh An district. Sa Dec then with a favorable geographical location, did become the most crowded trading center of Mekong delta at that time, only smaller than Saigon, Cholon.
Cao Lanh located in the north of Tien river also has a glorious history. It is recorded in historical books that at the end of 17th century, or early of 18th century, some overseas Vietnamese at Ba Canh hamlet (currently belonging to Dap Da commune, Dap Da town, Binh Dinh province) came to cultivate, settled down near Cai Sao Thuong rivulet, forming Ba Canh commune. Nguyen Tu was accredited with having gathered people, cultivated and set up hamlets. He was elevated to the status of Tien Hien - an anciently righteous person - of the village. Nowadays, that stele has been found near Dinh Trung bridge, ward 2, Cao Lanh city.
Cao Lanh used to be the stopover of many patriots such as Tran Chanh Chieu, Nguyen Sinh Sac...People in Cao Lanh consistently struggled, tremendously contributing to the absolute victory of South of Vietnam in historical campaign Ho Chi Minh, united the whole country, and Cao Lanh, since April 30, 1975, was merged with Sa Dec to become Dong Thap nowadays.
Geography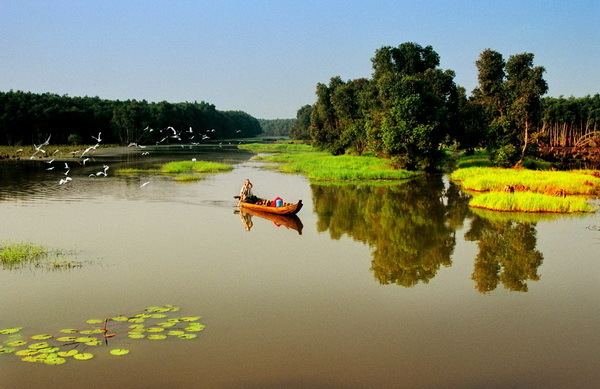 The topography of the province is quite flat with a sloping tendency from north to south and west to east; separating into 2 large regions: one in the north of Tien River (having an area of 250,731ha, in Dong Thap Muoi area) and one in the south of Tien River (having an area of 73,074ha, lying between Tien River and Hau River). Dong Thap benefits from a large river, channel and spring system, frequently silt-aggraded soil, and permanently fresh and non-saline water source.
Economy
Enjoying a temperate climate, wide irrigation system, permanent fresh-water source supplied by Tien River and Hau River, and rich river deposit, the agriculture of Dong Thap keeps growing well. At present, Dong Thap is the 3rd largest rice paddy in Vietnam with a planted area of 462,042ha and paddy output of more than 2.8 million tons. Apart from rice, the province also has more than 38,000ha of area for secondary and annual industrial crops. Some farm produce zones across Tien River and Hau River have been built up as specializing areas which supply agricultural products to serve the need of processing and export.
Culture
Dong Thap has, since December 22, 2008, the largest Buddha statue of the Mekong Delta, built in Quan Am Pagoda, abbot Venerable Thich Giac An. "The sculpture, 32 meters long and weighing 100 tons, is that of Buddha lying on his side on a lotus petal, his right arm supporting his head and his left arm lying along his body. Buddhist scriptures say the Buddha assumed this position when he attained Nirvana, the release from the cycle of death and rebirth of an enlightened person. Thich Giac An of Quan Am Pagoda, which from today will be home to the statue, said many Buddhists and locals contributed the 2,000 sacks of cement, five tons of iron and many other necessary materials worth VND1.6 billion (US$94,000) needed to build the statue. Quan Am Pagoda, founded 200 years ago by a mandarin named Tran Quy Tanh, receives many devotees from across the country for major Buddhist festivals."
References
Dong Thap Province Wikipedia
(Text) CC BY-SA
(,)http://static.thanhniennews.com/Uploaded/thuyhang/2014_07_08/bo-me_PCVD.jpg%3Fwidth%3D840(,)http://media-cdn.tripadvisor.com/media/photo-s/05/38/07/f5/sa-dec-market.jpg(,)http://archeosciences.revues.org/docannexe/image/2072/img-5-small580.jpg(,)http://www.vietnam-evisa.org/files/upload/image/TRAVELNEWS/DongThap/3.Revolutionary-Base-Xeo-Quyt.jpg(,)http://eng.longan.gov.vn/Style%2520Library/LacViet/CMS2013/Images/newsdefault.jpg(,)http://indocycling.com/userfiles/image/tour/bihavior/destination/mekong_delta_2/dong_thap.jpg(,)http://talkvietnam.com/uploads/2014/01/27-binh-hoa-buddha-statue-oc-eo-culture-historical-museum-in-ho-chi-minh-city-28-sa-dec-buddha-statue-oc-eo-culture-historical-museum-in-ho-chi-minh-city-29-statue-of-visnu-oc-eo-culture-1352489-20140.jpg(,)http://indocycling.com/userfiles/image/tour/bihavior/destination/mekong_delta_2/dong_thap%2520(3).jpg
(,)http://vovworld.vn/Uploaded/maiphuong/2013_01_24/mekong%25202_copy.jpg(,)http://i1239.photobucket.com/albums/ff514/nguyentuan_s/58200621p1040099_zps15b8cda7.jpg(,)http://www.bookingyourtravel.com/imagesvnt/images/landscapes/tramchim.jpg(,)http://vovworld.vn/Uploaded/maiphuong/2013_01_24/rung%2520cham_copy.jpg(,)http://huynhdiemphuong.url.ph/upload/picture/Dong-Thap_1412219619.jpg(,)http://friendlybooking.com/wp-content/uploads/2014/09/TRAM-CHIM-1.jpg(,)http://www.vietnam-evisa.org/files/upload/image/TRAVELNEWS/DongThap/2.Revolutionary-Base-Xeo-Quyt.jpg(,)http://vovworld.vn/Uploaded/truonggiang/2014_02_27/hinh%2520thu%2520hoach%2520lua.jpg(,)http://www.vietnam-evisa.org/files/upload/image/TRAVELNEWS/DongThap/1.Revolutionary-Base-Xeo-Quyt.jpg
(,)http://www.vietnamesefood.com.vn/kcfinder/upload/images/dong%2520thap%2520(6).jpg(,)http://www.vietnamesefood.com.vn/kcfinder/upload/images/dong%2520thap%2520(5).jpg(,)http://mekong-delta.org/wp-content/uploads/2013/04/Stir-fried-gecko-Mekong-Delta.jpg(,)http://www.vietnamesefood.com.vn/kcfinder/upload/images/dong%2520thap%2520(4).jpg(,)http://investinvietnam.vn/data/image/Dong%2520Thap(1).jpg(,)http://thumbs.dreamstime.com/z/mudskippers-sold-tam-nong-market-dong-thap-province-vietnam-famous-fish-hot-pot-braised-highly-cooked-50140463.jpg(,)http://static.tuoitre.vn/i/s500/2014/11/SGmv5vXv.jpg
(,)http://du-lich.chudu24.com/f/d/090216/image003-7.jpg(,)http://static.vietmaz.com/files/2013/01/dong-thap-muoi-is-a-famous-and-largest-lotus-growing-areas-in-vietnam-38162-9-1tndp04baoanh9120139522987.jpg(,)http://friendlybooking.com/wp-content/uploads/2014/09/TAN-QUY-DONG1.jpg
(,)http://static.talkvietnam.com/files/2015/02/poster-of-bao-thys-performance-at-cao-lanh-stadium-in-the-southern-province-of-dong-thap-on-february-7-2015-photo-dong-thap-fc-dong-thap-fc-jumped-from-12-th-to-9-th-1632430-y7nwsnym.jpg(,)http://vietnameasyridertours.com/UserFiles/vneasyridertours/place/Cao%2520Lanh%2520-%2520Dong%2520Thap.1.jpg(,)http://chat.baovietnhantho.com.vn/images_upload/assets/BaoViet_Tintuc/Van-nghe-vi-nguoi-ngheo.jpg(,)http://vietnamarchitecture.org/wp-content/uploads/2012/06/Communal-House.jpg(,)http://static.vietmaz.com/files/2009/07/73363-cao-lanh-city-the-administrative-hub-of-dong-thap-province-73363-dong-thap-1.jpg
(,)http://static.new.tuoitre.vn/tto/i/s626//2015/02/14/lQgVCtaA.jpg(,)https://canthocityguide.files.wordpress.com/2013/04/langhoa.jpg(,)http://mekong-tourism.com/wp-content/uploads/2011/05/DongThapCanTho.jpg(,)http://www.asiatravelroutes.com/images/vietnam/mekong-delta/canals/nine-dragon-river-3.jpg(,)http://2.bp.blogspot.com/U_Ig_N7jNc/UvxvfDL1DyI/AAAAAAAABGk/BsvN-geouWg/s1600/gao-giong-dong-thap-0.jpg(,)http://2.bp.blogspot.com/-RJ5kqN0vT5U/VHBW1U2oDlI/AAAAAAAABkg/M7KlIHvZpvw/s1600/du-lich-dong-thap2.jpg(,)http://www.volotour.com/media/images/tours/bihavior/destination/mekong_delta_2/dong_thap%2520(3).jpg(,)http://www.vietnamesefood.com.vn/kcfinder/upload/images/dong%2520thap%2520(3).jpg