Birth name

Dominic John Joly




Spouse

Stacey MacDougall




Role

Comedian




Name

Dom Joly




Years active

1999–present







Born

15 November 1967 (age 48) Beirut, Lebanon (

1967-11-15

)


Genres

Character comedy, Improvisational comedy, Physical comedy




Medium

Television, Stand-up comedy




Nominations

British Comedy Award for Best Comedy Newcomer




Notable works and roles

Trigger Happy TV, Fool Britannia




Books

The Dark Tourist: Sightseei, Here Comes The Clown: A, Letters to My Golf Club, Scary Monsters and Supe, Look at Me - Look at Me!




TV shows

Trigger Happy TV, Fool Britannia, World Shut Your Mouth, This Is Dom Joly, The Complainers




Profiles




Twitter

Facebook
Dom joly from trigger happy tv comedian funny video waterstone s delight
Dominic John Romulus Joly (; born 15 November 1967), known as Dom Joly, is an English television comedian and journalist, best known as the star of Trigger Happy TV, a hidden camera show that was sold to over seventy countries worldwide.
Contents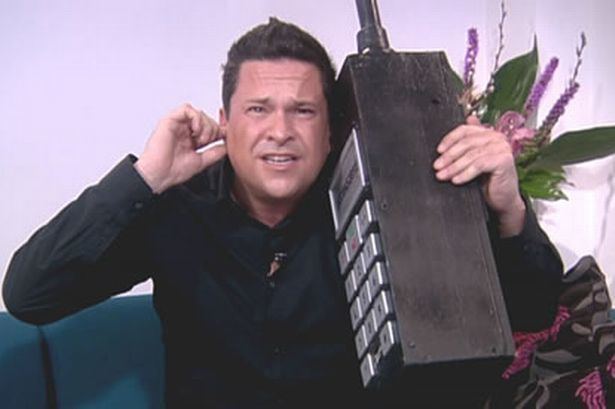 Eamon holmes interview this is dom joly bbc comedy
Early life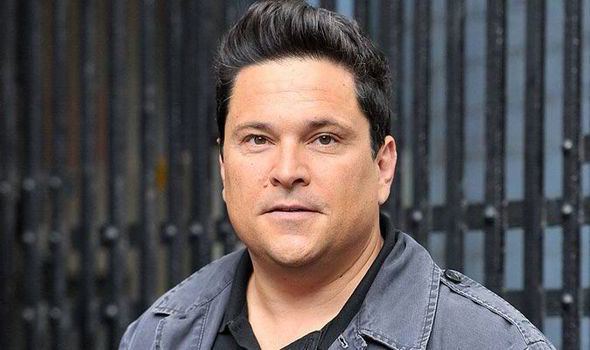 Joly was born in Beirut, Lebanon to British parents and speaks French in addition to English. Joly was educated in the UK at two independent schools: The Dragon School in Oxford and Haileybury College in Hertfordshire, followed by the School of Oriental and African Studies at the University of London.
Joly claimed on British comedy panel show Would I Lie to You? that when he was in Lebanon, he attended the same school as Osama bin Laden (Brummana High School).
Television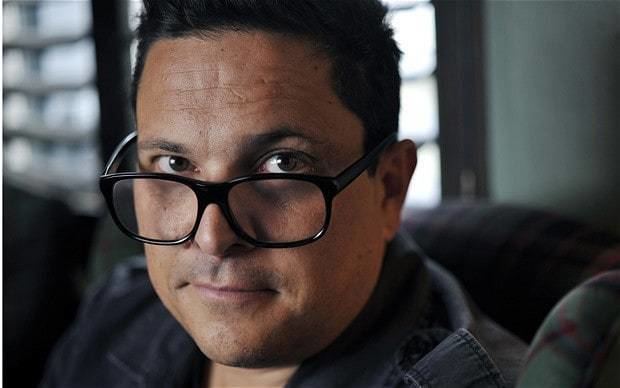 After being recruited to work as a producer on ITN's House to House, a political discussion programme on Channel 4, Joly went on to work for The Mark Thomas Comedy Product because of his political knowledge. He then created his own show for the Paramount Comedy Channel called War of the Flea. Discovering that working in comedy was both easier and more fun than his previous employment, Joly began to develop Trigger Happy TV which had a similar structure to War of the Flea.
Trigger Happy TV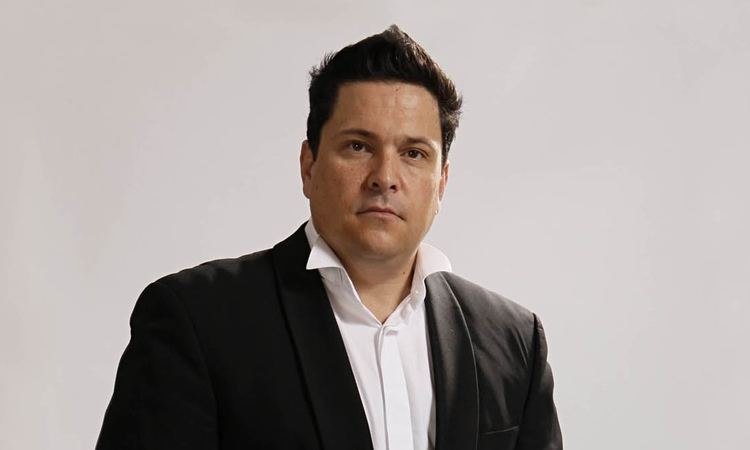 Joly's anarchic surreal sketches first started appearing as interstitials during advert breaks on the British Paramount Comedy Channel. In 1999, following a successful fifteen-minute pilot on the Comedy Lab, Channel 4 commissioned Joly to make a TV series. Trigger Happy TV was born; a hidden camera show that went on to be sold to over 70 countries worldwide. Joly made two series and two Christmas specials before announcing that he wanted to do other things. Joly was nominated for three British Comedy Awards for the show, won the Silver Rose of Montreux, the BBC Two Award for Best Comedy and the Loaded/Goodfella Comedy Newcomer of the Year.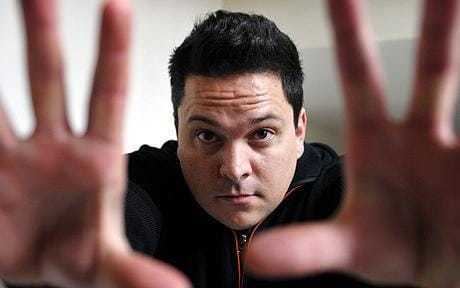 The three DVDs for the shows were best-sellers, as were the soundtrack albums that Joly had personally selected and mixed himself.
A spoof documentary about Joly followed, called Being Dom Joly which was produced and written by Joly himself. This was broadcast prior to screenings of Trigger Happy TV in the USA and earned critical acclaim, with one reviewer, Bob Croft of the Los Angeles Times, calling Joly "the funniest man in Britain".
In 2003, a new series of Trigger Happy TV was made for an American audience with an altered format that featured a band of different comedians who performed skits without Joly. Though Joly did cameo sporadically on the show, he was very unhappy with the programme and called it "Trigger Happy by numbers - take joke, put it in slo-mo, add fluffy animals and random indie soundtrack - it was made by uncaring idiots". He had a producer credit on the show, but disassociated himself with the project.
2003 BBC contract
Following the success of Trigger Happy TV on Channel 4, Joly was secured by the BBC for a rumoured £5 million. However, his first show for the BBC, This Is Dom Joly, a spoof chatshow in which Joly played a media character that some people found hard to understand whilst others understood fully, who had the same name as him, thereby confusing some of the audience as to what was real and what wasn't, did not achieve the same success as Trigger Happy TV, leading to the hidden camera format being revamped on BBC1 as World Shut Your Mouth. It featured all new material and an increased budget relative to Trigger Happy, allowing for pranks to be performed in different countries. It was later released on DVD.
Dom Joly's Excellent Adventure
In 2005, Joly starred in a one-off documentary as part of a series on Sky One. Dom Joly's Excellent Adventure involved him travelling back to Beirut for the first time since he left in the late 1980s and embarking on a road trip through the Syrian Desert to find a cave he had scrawled his name in as a child, and which he re-discovered after much searching.
Dom Joly's Happy Hour
Joly's next project for Sky1 was a critically acclaimed spoof travel series supposedly investigating attitudes to alcohol around the world, entitled Dom Joly's Happy Hour, in which Joly teamed up with his friend, Canadian digital artist Peter Wilkins. Together, they explored drinking habits around the world, travelling to the Southern United States, Russia, Australia, Europe and India. During the first documentary, the pair explored Miami drinking styles, met up with some hillbillies in the Appalachians tasting moonshine, and visited a gay cowboy bar in Atlanta before taking on the Christian right in Alabama's dry counties.
They went on to visit Russia, trying 80% alcohol (by volume) homemade vodka known as Samogon. Joly explained, "(y)ou have an hour where you feel you can take on the world, then you black out. But because it's almost pure alcohol, no hangover - sadly because I can't remember it, I don't know if it's worth doing". The pair then visited Australia, Mexico and Europe before ending the tour in India. It was described in The Guardian as "a brilliantly surreal take on the tired format that is the TV travel show."
The programme included a lot more than just attempting to discover foreign drinking habits, for instance, in Russia Joly received a haircut from a nude woman and both he and Wilkins performed their own version of a morris dance before a bemused dance academy. Another instance found them catching crocodiles in Australia.
"The premise of investigating alcohol is ridiculous," Joly admitted during an interview. "I wanted an excuse to travel the world, but they (Sky TV) wanted a focal point. So I said as a joke: 'Well, I quite like drinking.' And they went, 'Fantastic, that's brilliant!'"
The Complainers
Joly has appeared in The Complainers for Channel 5 in the UK. The show, in Joly's words- "intends to try and get a little revenge for the ordinary Brit on the morons, bureaucrats, health and safety officers, traffic wardens, timewasters that make all our lives a daily hell."
Made In Britain
In 2009, Joly fronted a show titled Made in Britain, shown on the Blighty channel in the UK. In the show Joly goes on a road-trip around the UK looking at what is still made there after his house is emptied of everything not made in Britain.
Fool Britannia
In 2012, Joly began appearing in the ITV hidden camera show Fool Britannia. After two series Joly quit saying - "it's not panning out the way I wanted - once you add canned laughter, a little piece of me dies...".
Other work
In 2010, Joly took part in the tenth series of I'm a Celebrity...Get Me Out of Here! where he came in fourth place.
Joly starred in the ITV2 reality programme Deadline with Janet Street-Porter where he had to become a paparazzo.
In early 2013, Joly took part in the ITV diving show Splash!, however he did not make it to the final.
Joly appears in advertisements for ferry company Stena Line.
Writing
Joly writes for various publications. He was alleged to be the writer of a spoof column in The Independent and then "i" called "Cooper Brown: He's out there." The column is published as the work of an American character named Cooper Brown and revolves around his putative adventures as "a garrulous American showbiz type".
His real-life eclectic weekly column for the Independent on Sunday covers subjects as varied as Middle East politics and fifty-foot chickens. Joly also wrote a weekly column on the "Weird World of Sport" for The Independent Sports supplement on Mondays, but this ceased in 2010. He is also a regular travel writer for The Sunday Times. At the end of 2006, readers were asked to vote on where Joly would go every week. He travelled the globe performing various adrenaline sports while making a weekly podcast from South Africa, Spain, the Arctic Circle, Paris and Fort William. He has also written for Esquire Magazine, GQ, the Mail on Sunday, the London Evening Standard, FHM, The Observer, "i" and The Spectator.
In September 2008, Joly won a Canada Media Award for "Best Travel Piece" for a piece written for the Mail on Sunday about a trip to Muskoka, Ontario, Canada.
Joly wrote a spoof autobiography called Look At Me, Look At Me!, published by Bloomsbury in 2004. Joly's second book, Letters To My Golf Club, a book of humorous letters and correspondences sent to golf clubs around the world was published by Transworld Publishing on 8 October 2007.
In 2010, Joly published a travel book called The Dark Tourist: Sightseeing in the World's Most Unlikely Holiday Destinations, investigating dark tourism. In the book Joly travels to places that witnessed great tragedy and death, including Chernobyl, which he visited on 4 May 2009; his childhood home of Lebanon; North Korea; various locations in the United States visiting places of famous assassinations; the Killing Fields of Cambodia and Iran for a skiing holiday. It was commissioned by Simon and Schuster and published on 2 September 2010 in the UK. Joly published his second travel book - Scary Monsters and Super Creeps - in 2012. In the book, he travels the world in search of mythical monsters such as Bigfoot and the Yeti.
Joly was a special correspondent for the Independent at the Beijing Olympics. He says: "it's always been an ambition to be a foreign correspondent and this is as close as I'll ever get." While in Beijing, he also appeared daily on the "Drive" programme on Five Live with Peter Allen.
In 2012, Joly won "Funniest Tweeter of the year" at the Loaded Lafta Awards.
Political career
In the 1997 UK general election, Joly formed the Teddy Bear Alliance ("Mr Blair, where do you stand on fleas?") and changed his name to "Edward 'Teddy' Bear". He stood in Kensington and Chelsea against Alan Clark. Hiring out hundreds of teddy bear costumes, he staged mock protests at Westminster and came fifth out of nine candidates, receiving 218 votes (0.6%). The Alliance was not registered as a political party under the Political Parties, Elections and Referendums Act 2000.
Music
In the early 1990s, Joly was the singer in an Indie band called Hang David. He was a goth and said that he looked more like Robert Smith than Robert Smith. Joly personally selects all the soundtracks for his TV shows. All three soundtrack albums for Trigger Happy TV were commercial hits. He has also directed a couple of music videos:
Ian Brown – Golden Gaze, in which Joly made the whole video in one take, making Brown run through the streets of London being chased by gorillas, frog-men and ninjas before he took refuge in the Prince Charles Cinema.
WigWam, the duo consisting of Betty Boo and Alex James from Blur asked Joly to direct their first single. Joly decided to pay a weird homage to the Beatles concert on a roof and filmed the band performing in cat costumes on the roof of a building opposite the Groucho Club in Soho.
Radio
In June 2008, Joly and humorist Danny Wallace co-hosted the Cobra Pubcast, a podcast from British beer company Cobra Beer.
Joly also frequently sat in with Gabby Logan on her Sunday Five Live show. Joly was also a roving reporter for Five Live at both the Beijing Olympics and Wimbledon 2009.
Personal life
Joly is married to a Canadian graphic designer. Having lived in Notting Hill before their children were born, Joly and his wife bought a property in the Cotswolds. They sold his flat to Salman Rushdie and the family now live near Cirencester.
References
Dom Joly Wikipedia
(Text) CC BY-SA