Doing Time on Maple Drive is a 1992 drama television film. Written by James Duff and directed by Ken Olin, the film stars James Sikking, Bibi Besch, William McNamara, Jayne Brook, David Byron, Lori Loughlin and Jim Carrey. The tagline promoting the film was "They are living a lie called the Perfect American Family". It was shot entirely in Los Angeles.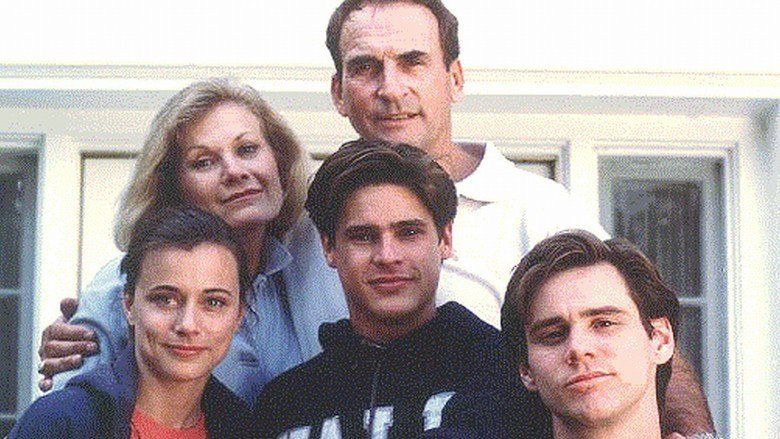 Doing Time on Maple Drive centers on the Carter family. Phil (Sikking), the patriarch, is a successful local restaurateur, married for many years to Lisa (Besch). They have three grown children, Karen (Brook), Tim (Carrey) and Matt (McNamara). Karen is married to Tom (Byron), Tim works in his father's restaurant and Matt is a college student. Matt returns from college and introduces the family to his fiancée, Allison (Loughlin).
Matt is injured after crashing his car; he returns home to recuperate. As he recovers, the family is revealed to be almost completely dysfunctional. Tim is an alcoholic. Matt's car crash was a suicide attempt brought on by the pressure of being gay and closeted from his conservative parents and lying about Allison's breaking their engagement because of it. Lisa is in deep denial about all of the problems family members are facing.
Karen's husband Tom learns that Karen is pregnant and that she is so terrified of bringing a child into a family situation like hers that she's considering having an abortion without telling him. Tom angrily confronts his father-in-law Phil, declaring that while Phil may be destroying his own family he won't allow Phil to destroy his. Tom implores Karen not to have the abortion and moves away with her for the baby's sake to get them away from Phil's problems. Matt confronts his parents, including telling his mother that he knows she already knows he is gay after having walked in on him and another boy. Lisa continues to struggle with denial, but Phil begins to take tentative steps toward understanding and building bridges with his family.
James Sikking as Phil Carter
Bibi Besch as Lisa Carter
William McNamara as Matt Carter
Jayne Brook as Karen Carter
Lori Loughlin as Allison
Jim Carrey as Tim Carter
Janice Lynde as Judy
Bodhi Elfman as Joe
David Byron as Tom
Philip Linton as Andy (This actor died one month before this film was released.)
Bennett Cale as Kyle
Richard Israel as Student Actor
Mark Chaet as Nick
George Roth as Dr. Norman
Parker Whitman as Gene
Danielle Michonne as Cindy
Toni Sawyer as Millie
Mike Marikian as Kevin
Courtenay McWhinney as Clara
Awards and nominations
Primetime Emmy Awards 1992
Nominated
Primetime Emmy Outstanding Individual Achievement in Writing in a Miniseries or a Special : James Duff (writer)
Outstanding Made for Television Movie : Paul Lussier (executive producer)
Outstanding Supporting Actress in a Miniseries or a Special : Bibi Besch
Online Film & Television Association 2013
Won
OFTA TV Hall of Fame : Television Programs
Rotten Tomatoes gives the film an audience score of 67%.
Doing Time on Maple Drive was released on Region 1 DVD on September 7, 2004.