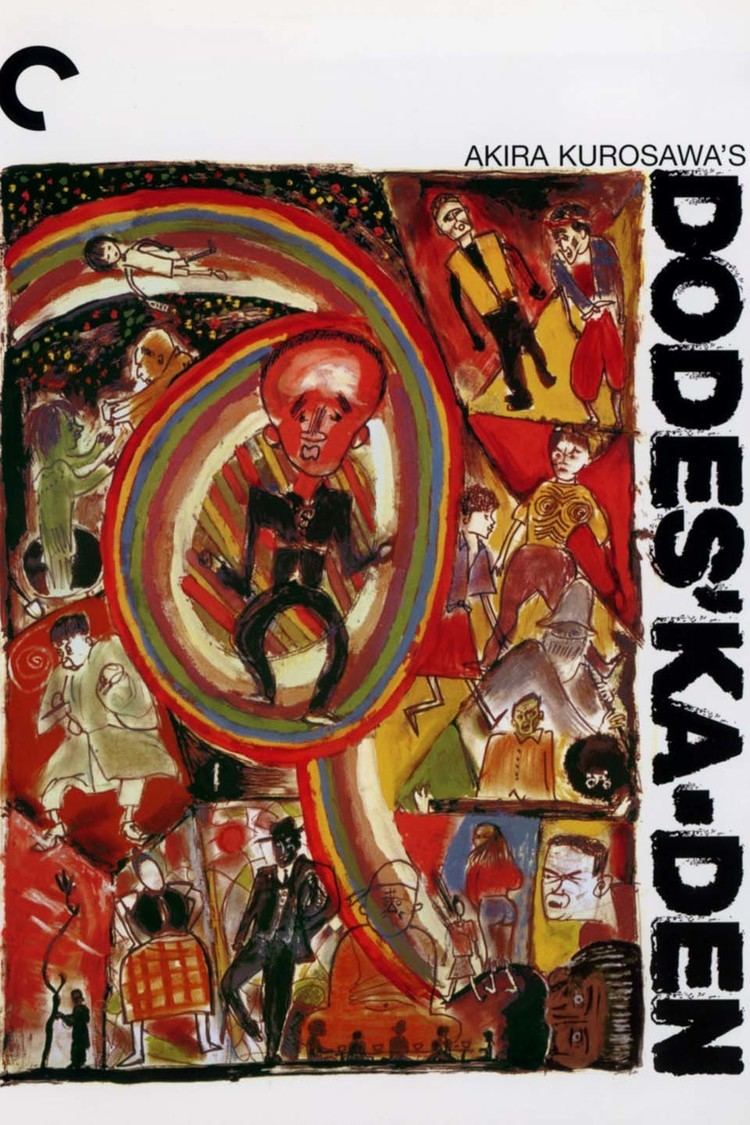 The film title "Dodeska-den" are the playacting "words" uttered by the boy character to mimick the sound of his imaginary tram (trolley car) in motion. It is not a real onomatopoeic word in the Japanese vocabulary, but was invented by author Shūgorō Yamamoto in Kisetsu no nai machi ("A Town Without Seasons"), the original story on which the film was based.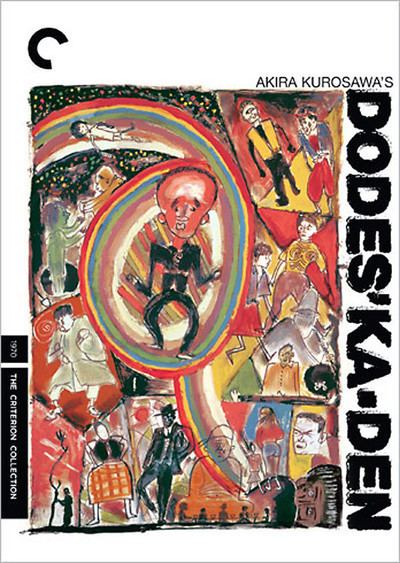 In standard Japanese language, this sound would be described as gatan goton, equivalent to "clickity-clack" in English.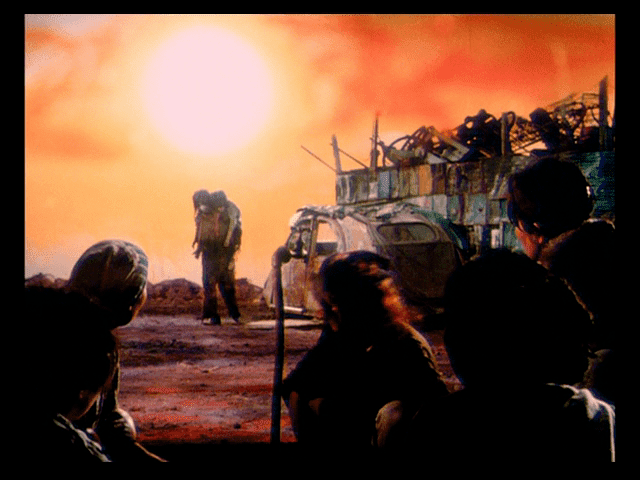 The film is an anthology of overlapping vignettes exploring the lives of a variety of characters who happen to live in a suburbial shantytown atop a rubbish dump. The first to be introduced is the boy Roku-chan, who lives in a fantasy world in which he is a tram (trolley) conductor. In his fantasy world, he is both the tram and the tram driver and follows a set route and schedule through the dump, reciting the refrain "Dodeska-den", "clickety-clack", mimicking the sound of his vehicle. His dedication to the fantasy is fanatical. Roku-chan is called "trolley fool" (densha baka) by locals and by children who are outsiders. His mother is shown as being concerned that Roku-chan is genuinely mentally-challenged. (Roku-chan has earned the label in several cinematographic writings.)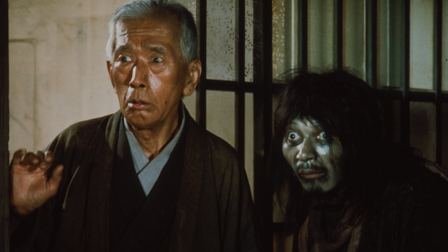 Ryotaro, a hairbrush maker by trade, is saddled with supporting many children whom his unfaithful wife Misao has conceived in different adulterous affairs, but is wholeheartedly devoted to them. There also appear a pair of drunken day laborers (Masuda and Kawaguchi) who engage in wife-swapping, only to return to their own wives the next day as though nothing has happened. A stoic, bleak man named Hei is frequented by Ochō who appears to be his ex-wife, and he watches emotionless as she takes care of his domestic chores. At the opposite end of the spectrum is Shima-san. Shima, the man with the tic, is always defending his outwardly unpleasant and bullying wife, and flies into a rage when friends criticize her. A beggar and his son live in a derelict car, a Citroen 2CV. While the father is preoccupied with daydreams of owning a magnificent home, the boy dies tragically of food poisoning. A girl (Katsuko) is raped by her alcoholic uncle and becomes pregnant, and in a fit of irrationality stabs a boy at the liquor shop who has tender feelings for her not having any other way to vent her emotional turmoil. When her uncle is confronted as a suspect for this abusive act, he decides to gather his meager belongings and flee from the town barely one step ahead of the investigation. Tamba-san the chasework silversmith is a sage figure, who disarms a youth swinging the katana sword, and allows burglars to rob him of his money.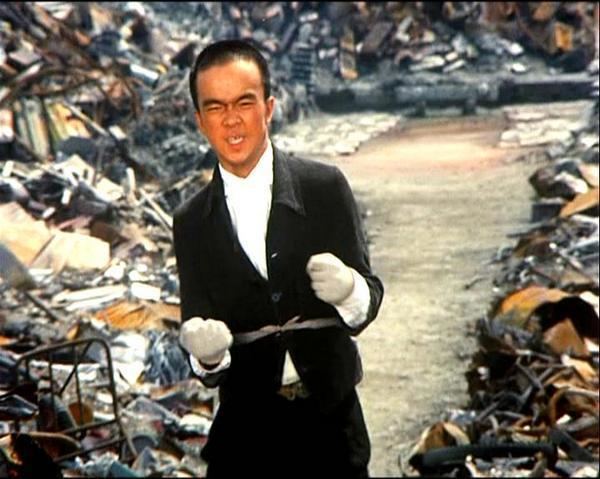 After exploring the set-backs and anguish which surrounds many of the families in this indigent community, along with the dreams of escape which many of them support to maintain at least a superficial level of calm, the film comes full circle returning to Roku-chan. As the film ends Roku-chan is again seen preparing to board his imaginary train tram and serve his community of passengers as best he can.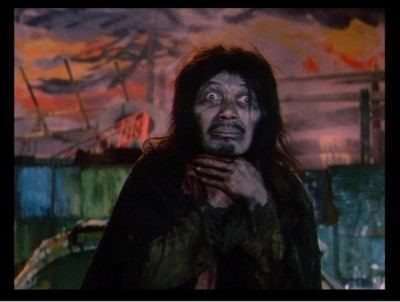 Yoshitaka Zushi as Roku-chan
Kin Sugai as Okuni
Toshiyuki Tonomura as Taro Sawagami
Shinsuke Minami as Ryotaro Sawagami
Yuko Kusunoki as Misao Sawagami
Junzaburô Ban as Yukichi Shima
Kiyoko Tange as Mrs. Shima
Michio Hino as Mr. Ikawa
Keiji Furuyama as Mr. Matsui
Tappei Shimokawa as Mr. Nomoto
Kunie Tanaka as Hatsutaro Kawaguchi
Jitsuko Yoshimura as Yoshie Kawaguchi
Hisashi Igawa as Masuo Masuda
Hideko Okiyama as Tatsu Masuda
Hiroshi Akutagawa as Hei
Kamatari Fujiwara as Suicidal Old Man
After the success of Red Beard, it took Kurosawa five years before Dodes'ka-den was released. The film was only made by the cooperation and co-producing of three other Japanese directors, Keisuke Kinoshita, Masaki Kobayashi, and Kon Ichikawa. Dodes'ka-den marks a stylistic departure from Kurosawa's previous works. It was the director's first color film, and very few of the actors from Kurosawa's stock company of previous decades were in it. Most cast members were relatively unknown.
Dodes'ka-den was Kurosawa's first film in color. Domestically, it was both a commercial and critical failure upon its initial release. Abroad, however, the film gained an Academy Award nomination for Best Foreign Film in the 44th Academy Awards. Its Japanese reception, among other things, sent Kurosawa into a deep depression, and in 1971 he attempted suicide. Despite having slashed himself over 30 times with a razor, Kurosawa survived his suicide attempt.
Despite continuing to draw mixed responses, Dodes'ka-den received votes from two artists – Sion Sono and the Dardenne brothers – in the British Film Institute's 2012 Sight & Sound polls of the world's greatest films.
The film won the Grand Prix of the Belgian Film Critics Association.
A significant short 36-minute documentary was made by Toho Mastrworks concerning this film by Kurosawa:
Akira Kurosawa: It Is Wonderful to Create (Toho Masterworks, 2002)