Divaca is a large nucleated village in the Littoral region of Slovenia, near the Italian border. It is the seat of the Municipality of Divaca.
Divaca was attested in written sources in 1499 as Diwatsch. The origin of the name is uncertain, but may derive from *Divata (v?s?) (literally, Divat?s village) based on the hypocorism Divat? or Divata.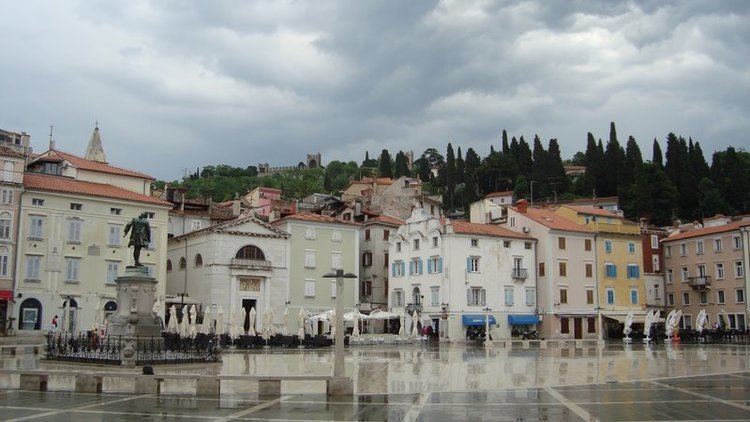 A tree of heaven plantation stands near the railroad station; it was used to cultivate eri silkworms in the 19th century. A water main was installed for the railroad in 1857, but the town was not connected to the water supply until 1948. Extensive afforestation of abandoned agricultural land took place in the 1890s and before the Second World War. The character of the town changed greatly after the Second World War, with the construction of new apartment buildings, a gym, a public library, stores, and other facilities.
Divaca Wikipedia
(,)https://littlemissadventuress.files.wordpress.com/2010/06/piran-7.jpg(,)http://r-ec.bstatic.com/images/city/600x200/511/51160.jpg(,)http://www.old-print.com/mas_assets/full/D3741911114.jpg(,)http://www.pokrajinskimuzejkoper.si/data/albums/zbirke_albums/b/1_114e70d16aef378c874125d0537dc25a.jpg(,)http://raildata.info/zeug/sloda1252.jpg(,)http://raildata.info/zeug/sloda1240.jpg(,)http://3.bp.blogspot.com/-ERQXQ2CU-AA/VBW3Y1rnnwI/AAAAAAAA-AM/kVCqVSKS-KM/s1600/65142751_nesreca-letala-v-divaci.jpg(,)http://www.bikeways.eu/media/catalog/product/cache/2/thumbnail/1280x/17f82f742ffe127f42dca9de82fb58b1/_/k/_kocjan.jpg(,)http://www.pokrajinskimuzejkoper.si/data/albums/zbirke_albums/b/1_73bd17c8683cbfdf85dd3efbcfaaf42a.jpg
(,)http://media-cdn.tripadvisor.com/media/photo-s/02/8f/27/15/picerija-etna.jpg(,)http://media-cdn.tripadvisor.com/media/photo-s/02/d8/80/fe/grotte-di-san-canziano.jpg(,)http://images.neverendingvoyage.com/wp-content/uploads/2013/10/spinach-pasta-rolls-malovec.jpg(,)http://media-cdn.tripadvisor.com/media/photo-s/05/66/2b/4a/gostilna-na-ravni.jpg(,)https://fbexternal-a.akamaihd.net/safe_image.php%3Fd%3DAQARPxCWhKnhM3GA%26w%3D720%26h%3D869%26url%3Dhttp%253A%252F%252Fupload.wikimedia.org%252Fwikipedia%252Fcommons%252Fthumb%252Fa%252Fa6%252F3344divacaMainStreetAndChurch.jpg%252F720px-3344divacaMainStreetAndChurch.jpg(,)http://media-cdn.tripadvisor.com/media/photo-s/06/4e/32/5c/orient-express.jpg(,)http://kraji.eu/PICTURES/obalno_notranjska/divaca_hrpelje_kozina_z_okolico/divaca/DSC_0168_divaca_picerija_restavracija_etna_big.jpg(,)http://media-cdn.tripadvisor.com/media/photo-s/07/c1/d5/82/skocjan-caves.jpg(,)http://media-cdn.tripadvisor.com/media/photo-s/07/d0/f8/97/filetto-con-i-bruscandoli.jpg(,)http://media-cdn.tripadvisor.com/media/photo-s/02/78/75/33/filename-p1040736-jpg.jpg(,)http://media-cdn.tripadvisor.com/media/photo-s/01/c7/f5/43/slovenia.jpg(,)http://aff.bstatic.com/images/hotel/840x460/291/2914750.jpg(,)https://fbexternal-a.akamaihd.net/safe_image.php%3Fd%3DAQBn4M3YmqQArOJx%26w%3D682%26h%3D415%26url%3Dhttp%253A%252F%252Fupload.wikimedia.org%252Fwikipedia%252Fcommons%252Fa%252Fa5%252FLokev%25252CSlovenija.jpg(,)http://wnhs-experience.org/img/skocjan-caves/large/large-skocjan-caves-park-restaurant.jpg