The program has become an integral component of the New Year's Eve schedule of several German television stations. Versions of the sketch are also shown by Swedish channels. Danish television has been broadcasting the sketch on New Year's Eve since 1980. It is a December 23 staple on Norwegian national television, and a cult television classic in Finland, Estonia, Latvia, Lithuania, the Faroe Islands and Austria; on New Year's Eve 2003 alone, the sketch was broadcast 19 times (on various channels). As of 2005, the sketch had been repeated more than 230 times. It is known in other countries as well, including Switzerland, Luxembourg and South Africa. It has been broadcast on New Year's Eve in Australia on the Special Broadcasting Service (SBS) station nationally since 1989.
In 2003, the Danish TV producer Paul Anthony Sørensen directed and produced a documentary about the sketch that includes interviews with relatives of Freddie Frinton and May Warden. It was nominated for the Rose d'Or 2004.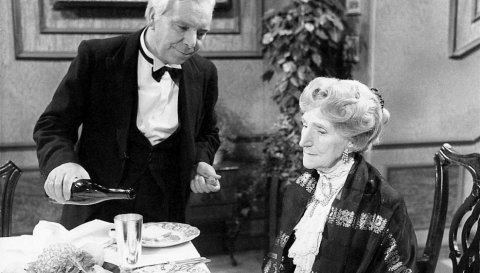 The sketch presents the 90th birthday of upper-class Englishwoman Miss Sophie, who hosts a celebration dinner every year for her friends Mr Pomeroy, Mr Winterbottom, Sir Toby and Admiral von Schneider. The problem is that due to Miss Sophie's considerable age, she has outlived all of her friends, and so her equally aged manservant James makes his way around the table, impersonating each of the guests in turn. Miss Sophie decides on appropriate drinks to accompany the menu: Mulligatawny soup (Miss Sophie orders dry sherry), North Sea haddock (with white wine), chicken (with champagne), and fruit for dessert (with port) served by James, who finds himself raising (and emptying) his glass four times per course. That takes its toll, increasingly noticeable in James's growing difficulty in pouring the drinks, telling wine glasses from vases of flowers, and refraining from bursting into song. Even before the alcohol begins to exert its influence, he keeps tripping up on the head of a tiger skin lying on the floor on his way from the dinner table to the buffet, although on one occasion he surprises himself by avoiding it – only to trip on it on his return from the buffet instead. A bit later, he stops in front of the head, then performs an exaggerated jump across it.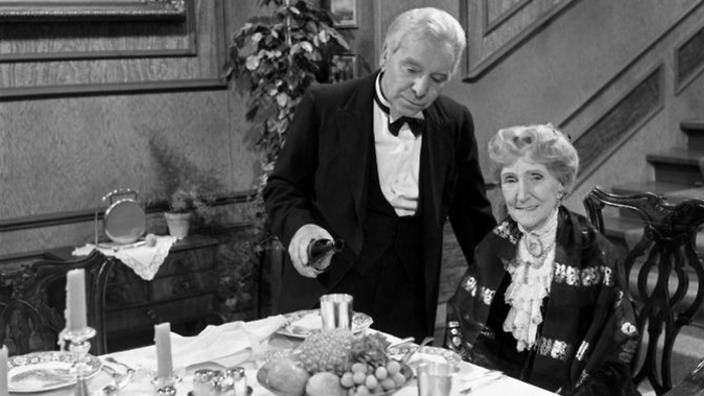 The crucial exchange during every course is: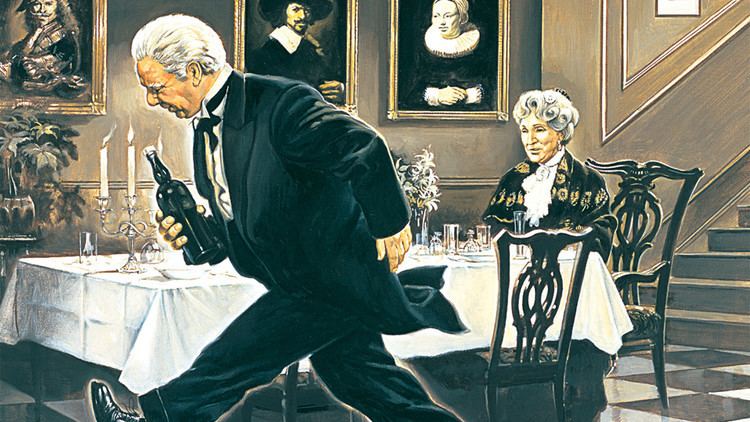 James: The same procedure as last year, Miss Sophie? Miss Sophie: The same procedure as every year, James!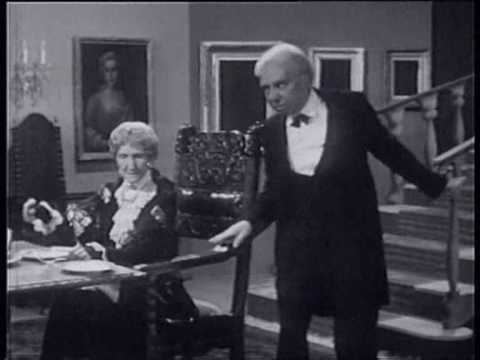 By the end of the dinner, James has consumed 16 glasses of wine and is severely inebriated. Miss Sophie, who has herself had four rounds of wine, still appears sober; she tells the very drunk James that she wishes to retire to bed. Hand in hand, they head to the staircase, at which point the closing lines of dialogue are uttered: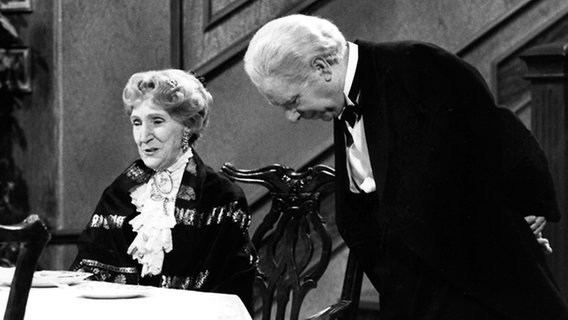 James: By the way, the same procedure as last year, Miss Sophie? Miss Sophie (
delightedly
): The same procedure as every year, James! James (
slyly
): Well, I'll do my very best!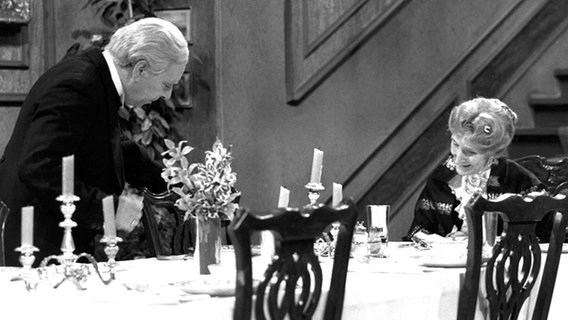 Wylie is said to have written the sketch in the 1920s. Some sources indicate that Frinton performed Dinner for One on stage with Warden on Britain's seaside piers as early as 1945, paying royalties to Wylie until 1951, at which point Wylie died and Frinton acquired ownership. The sketch was also staged elsewhere, for example in 1953 in John Murray Anderson's Almanac (the show that also featured Harry Belafonte in the early days of his career) at the Imperial Theatre with Hermione Gingold playing Miss Sophie, Billy DeWolfe as the butler, and apparently featuring four dead friends.
In 1962, German entertainer Peter Frankenfeld and director Heinz Dunkhase discovered Dinner for One in Blackpool. The sketch was staged in Frankenfeld's live show shortly thereafter, and recorded on 8 July 1963 at the Theater am Besenbinderhof, Hamburg, in front of a live audience. The introductory theme was composed by Lew Pollack and recorded by the Mantovani orchestra. According to the NDR, Frinton and Warden were paid DM 4,150. The show was re-run occasionally until it gained its fixed spot on New Year's Eve in 1972.
The sketch has become a tradition in Germany, where up to half the population may watch it every year on New Year's Eve, but it is almost completely unknown in the United Kingdom and has never been broadcast on television in Canada. In the United States, HBO broadcast it as a short when they first went on air in the 1970s, but it has not been shown since the 1980s. It is also shown on New Year's Eve in many other mainland European countries, particularly Nordic countries, and has also screened on the Special Broadcasting Service (SBS) station in Australia. In Norway, however, it is shown every year on the evening of 23 December. In South Africa it is also broadcast on New Year's Eve. In Sweden, the show was put on hold for a period of six years, deemed unsuitable because of James' heavy drinking. However, the TV network finally capitulated to popular demand and brought it back. In 1985, the Danish television network, DR, decided not to broadcast the sketch. However, the network received so many complaints that they had to show it the next New Year's Eve. With this single exception, Dinner for One has been shown on DR every 31 December since 1980.
Although the sketch is most popular in non-English-speaking countries, it is typically shown in the original English without dubbing or subtitles. It is easy to understand with even a basic knowledge of English due to the general physical nature of the comedy. The performance remains practically unknown to the English-speaking world, and British people are surprised when encountering fans' ability to quote dialogue. Via Facebook's posted and shared links and the sketch's availability on YouTube, the English version in black and white has become increasingly popular in the United States.
The NDR television channel recorded several versions in 1963. Best known is the 18-minute version of the sketch traditionally shown in Germany. It has an introduction in German by narrator Heinz Piper and an audience laughing in the background. Every year, there are normally about 15 rebroadcasts of the show in Germany on all of ARD's public regional stations such as MDR, WDR, NDR and BR, and other so-called Third Channels.
Danish TV shows a recording made by NDR on the same stage in which no audience is heard.
A third, 11-minute version was recorded by Schweizer Fernsehen (Swiss Television). This version with less alcohol is also the version shown in Sweden, where the sketch was banned from state broadcaster SVT for a number of years.
Both the 18-minute and 11-minute versions have been released on DVD in Germany.
In 1977 the Dutch public broadcasting system created a Dutch version starring Joop Doderer but the sketch never achieved the fame the sketch has in German speaking and Nordic countries.
In 1986 a Punk version was made by Blitz at the Bootleg stage in Oslo, Norway.
In 1999, the NDR released a colorized version.
In Denmark, a parody of the sketch was filmed with the subtitle "The 80th Birthday" in which Miss Sophie's friends are still at the table (though the NDR version mentions that the last of Miss Sophie's friends actually died 25 years ago). Other versions had been produced in different German dialects, including one in Low German, various re-enactments or parodies by different comedians, and a version featuring the German glove puppet character Bernd das Brot ("Bernd the Bread").
In August 2010, there was a stage production at the Hill Street theatre, Edinburgh, as part of the Edinburgh Festival. Directed by David Lavender, it starred Chris Cresswell as James, and Miriam King as Miss Sophie.
On 24 December 2011 a digitally edited satirical version entitled "The 90th Euro rescue summit, or, Euros for No One", produced by Udo Eling and German state broadcaster ARD, was uploaded to YouTube. It features German chancellor Angela Merkel as Miss Sophie and French president Nicolas Sarkozy as her servant and has new German (and some French) dialogue about the Eurozone debt crisis.
In 2016, Netflix made a version in which the guests are replaced with characters from Netflix shows, specifically Saul Goodman from Breaking Bad and Better Call Saul, Frank Underwood from House of Cards, Pablo Escobar from Narcos, and Crazy Eyes from Orange is the New Black.
The line "Same procedure as every year" (in the original English) has become a very popular catchphrase in Germany. The phrase has entered everyday vocabulary, and is used in newspaper headlines and advertisements.
German narrator Heinz Piper originally made a grammatical mistake in his introduction to the 18 minute version: He misquoted Warden's line "Same procedure as every year" as "Same procedure than every year". While the mistake appears to have gone unnoticed initially, it later prompted annual protest letters to the NDR, most notably from German teachers of English. The NDR eventually responded by editing the recording slightly, substituting a small bit of its audio track with audio which had been recorded during one of the rehearsals. Thus, in 1988, the error had been edited out and Piper could be heard to say "Same procedure as every year". This in turn annoyed some purists who would rather respect the original.