8

/

10

1

Votes

Alchetron

Rate This





Crime, Drama




France Italy






Luis Bunuel





French






4 March 1964 (1964-03-04) (France) 16 September 1964 (1964-09-16) (Italy)




Octave Mirbeau (based on the novel by), Luis Bunuel (adaptation), Jean-Claude Carriere (adaptation)




The Diary of a Chambermaid




Luis Bunuel, Jean-Claude Carriere




Jeanne Moreau

(Céléstine),

Georges Géret

(Joseph),

Daniel Ivernel

(Captain Mauger),

Françoise Lugagne

(Madame Monteil),

Muni

(Marianne),

Jean Ozenne

(Monsieur Rabour)


Irreversible

,

Act of Vengeance

,

Mad Max: Fury Road

,

Bloody Moon

,

I Spit on Your Grave III: Vengeance is Mine

,

Salt



Celestine (Jeanne Moreau) has a new job as a chambermaid for the quirky M. Monteil (Michel Piccoli), his wife and her father. When the father dies, Celestine decides to quit her job and leave, but when a young girl is raped and murdered, Celestine believes that the Monteils groundskeeper, Joseph (Georges Geret), is guilty, and stays on in order to prove it. She uses her sexuality and the promise of marriage to get Joseph to confess but things do not go as planned.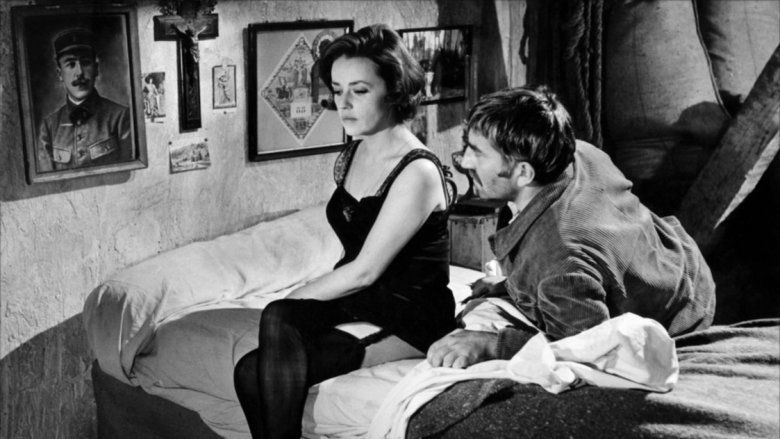 Diary of a Chambermaid (French: , Italian: ) is a 1964 drama film. It is one of several French films made by Spanish-born filmmaker Luis Bunuel but lacks the surrealist imagery and plot twists of his other films. It stars Jeanne Moreau as a chambermaid who uses her feminine charms to control and advance her situation, in a social setting of corruption, violence, sexual obsession and perversion.
This was the first screenwriting collaboration between Bunuel and Jean-Claude Carriere, which would later produce his well known Belle de Jour (1967), The Discreet Charm of the Bourgeoisie (1972) and That Obscure Object of Desire (1977). The two extensively reworked the 1900 novel of the same name by Octave Mirbeau, that had been given a more literal treatment in its second film adaptation, made in Hollywood in 1946, directed by Jean Renoir.
A stylish, very attractive young woman arrives from Paris to become chambermaid for an odd family at their country chateau.
A stylish, attractive young woman, Celestine (Jeanne Moreau), arrives from Paris to become chambermaid for an odd family at their country chateau. The period is mid-1930s, and the populace is astir with extremist politics, right and left. The Monteils household consists of a childless couple, the frigid wifes elderly, genteel father, and several servants, including Joseph the groom (Georges Geret) whos a rightist, nationalist, anti-Semitic, violent man. The wife (Francoise Lugagne) runs a rigidly tidy house; she would like to please her virile husband physically, but cannot, due to pelvic "pain." M. Monteil (Michel Piccoli) amuses himself by hunting small game and pursuing all the females within range – the previous chambermaid seems to have left pregnant and had to be "bought off."
The wifes father amuses himself with his collection of racy postcards and novels, and a closet full of womens shoes and boots, that he likes his chambermaids to model. Their next-door neighbor (Daniel Ivernel) is a burly, retired Army officer, with a chubby maid/mistress (Gilberte Geniat), and a violent streak of his own – he likes to throw refuse and stones over the fence, to the great annoyance of M. Monteil. Celestine almost immediately finds her role in the house completely defined by the sexual proclivities of the other characters, and she proceeds to use her own considerable sexual assets to accomplish her goals.
The elderly father, M. Rabour (Jean Ozenne), is found dead in bed, dissheveled, clutching some boots that Celestine had worn earlier that evening; and Celestine decides to leave the job the next day. Previously, however, she had become motherly and protective of a sweet pre-pubescent girl named Claire (Dominique Sauvage) who visited the house; after the girls raped and mutilated body is found in a nearby wood, Celestine decides to stay on at the job, in order to get revenge on the murderer. She quickly finds reason to suspect the groom Joseph. She seduces and promises to marry him and join him to run a cafe in Cherbourg, so he will confess the crime to her, which he does not. She then contrives and plants evidence to implicate him in the girls murder. He is arrested, but eventually released for lack of solid evidence, although there is a suggestion that the real reason is his nativist political activism. Meanwhile Celestine agrees to marry the elderly ex-Army-officer neighbor, and after the marriage, we see him serving her breakfast in bed and obeying her commands. The final scene shows a crowd of nationalistic men marching past the Cherbourg cafe run by Joseph, who has another woman now and is shouting rightist slogans.
Diary of a Chambermaid (1964 film) Wikipedia
Diary of a Chambermaid (1964 film) IMDb
Diary of a Chambermaid (1964 film) Rotten Tomatoes
Diary of a Chambermaid (1964 film) themoviedb.org