Parents

John Brady




Name

Diamond Brady




Years active

61




Body discovered

Shelburne Hotel







Full Name

James Buchanan Brady




Born

August 12, 1856 (

1856-08-12

)

New York City, New York




Resting place

Holy Cross Cemetery 40°38′49″N 73°56′17″W / 40.64694°N 73.93806°W / 40.64694; -73.93806 (James "Diamond Jim" Brady burial site)




Other names

"Diamond Jim" "Diamond Jim Brady"




Occupation

American businessman Financier Philanthropist Railroad business magnate




Died

April 13, 1917, Atlantic City, New Jersey, United States




Cause of death

Myocardial infarction



Captains of industry diamond jim brady
James Buchanan Brady (August 12, 1856 – April 13, 1917), also known as Diamond Jim Brady, was an American businessman, financier and philanthropist of the Gilded Age.
Contents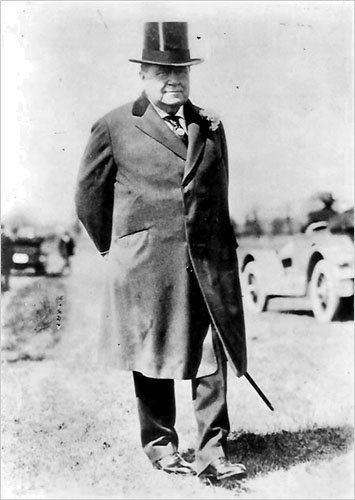 Early life and family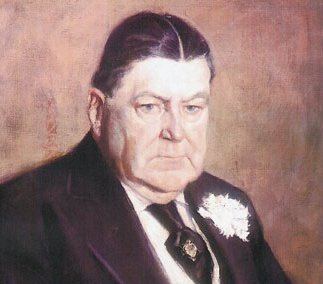 Brady was born in New York City to an Irish immigrant family.
Career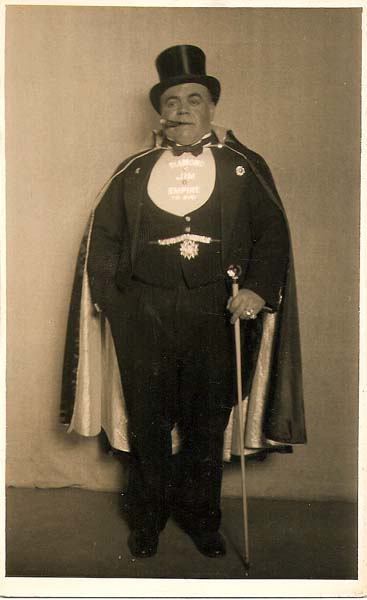 Brady worked his way up from bellhop and courier. After gaining employment in the New York Central Railroad system, he became the chief assistant to the general manager by the age of 21. At 23, Brady parlayed his knowledge of the rail transport industry and its officials to become a highly successful salesman for Manning, Maxwell and Moore, a railroad supply company. In 1899 he became Sales Agent for the Pressed Steel Car Company.
Lifestyle
Known for his penchant for jewels, especially diamonds, he collected precious stones and jewelry in excess of US$2 million (equivalent to approximately $57,576,000 in 2016 dollars).
Brady's enormous appetite was as legendary as his wealth, though modern experts believe it was greatly exaggerated. It was not unusual, according to the legend, for Brady to eat enough food for ten people at a sitting. George Rector, owner of a favorite restaurant, described Brady as "the best 25 customers I ever had". For breakfast, he would eat "vast quantities of hominy, eggs, cornbread, muffins, flapjacks, chops, fried potatoes, beefsteak, washing it all down with a gallon of fresh orange juice". A mid-morning snack would consist of "two or three dozen clams or Lynnhaven oysters". Luncheon would consist of "shellfish...two or three deviled crabs, a brace of boiled lobsters, a joint of beef, and an enormous salad". He would also include a dessert of "several pieces of homemade pie" and more orange juice. Brady would take afternoon tea, which consisted of "another platter of seafood, accompanied by two or three bottles of lemon soda". Dinner was the main meal of the day, taken at Rector's Restaurant. It usually comprised "two or three dozens oysters, six crabs, and two bowls of green turtle soup. Then in sumptuous procession came six or seven lobsters, two canvasback ducks, a double portion of terrapin, sirloin steak, vegetables, and for dessert a platter of French pastries." Brady would even include two pounds of chocolate candy to finish off the meal.
A gregarious man, Brady was a mainstay of Broadway nightlife. He often dined with popular society. After further investments in the stock market, Brady accumulated wealth estimated at $12 million, though not always by ethical means. According to biographer Harry Paul Jeffers, "On election night (1896), Brady won about $180,000 (equivalent to approximately $5,181,840 in 2016 dollars) by making crooked bets on the William McKinley–William Jennings Bryan presidential election." He also enriched himself to the tune of $1.25 million (equivalent to approximately $35,985,000 in 2016 dollars) through a shady stock deal involving the Reading Railroad.
He was known for being the first person in New York City to own an automobile (in 1895).
Personal life
"Diamond Jim" is known for his longtime relationship with actress and singer Lillian Russell. It is said that her eating habits were a perfect match for his own.
Brady donated a significant sum in 1912 to Johns Hopkins Hospital in Baltimore, Maryland, where he had once been treated. The hospital created the James Buchanan Brady Urological Institute in his honor.
Brady had never married, and after his death his estate was distributed to many institutions, most notably New York Hospital. Now known as NewYork–Presbyterian Hospital, the Department of Urology still maintains the James Buchanan Brady Foundation.
Death
Brady died in his sleep on April 13, 1917, of a heart attack.
When his body was examined, doctors discovered that his stomach was six times the size of that of an average person.
Legacy
Brady was the inspiration for a 1935 film written by Preston Sturges entitled Diamond Jim and might have inspired a character called "Big Jim" in the Bob Dylan song, "Lily, Rosemary and the Jack of Hearts".
Brady was the protagonist of the fictional film Bonjour, Diamond Jim that was featured in the film Tim and Eric's Billion Dollar Movie (2012).
A story about Brady is told in Kurt Vonnegut's novel Jailbird in which Brady, on a bet while dining at the Hotel Arapahoe, eats four dozen oysters, four lobsters, four chickens, four squabs, four T-bone steaks, four pork chops, and four lamb chops.
The Season 5 episode "Lillian Russell" / "The Lagoon" of Fantasy Island involves a woman becoming Lillian Russell and being caught between the affections of Brady and another man.
Brady inspired Monty Python's Flying Circus to create the fictional character Mr Creosote who appears in the troupe's sketch comedy film The Meaning of Life (1983).
References
Diamond Jim Brady Wikipedia
(Text) CC BY-SA