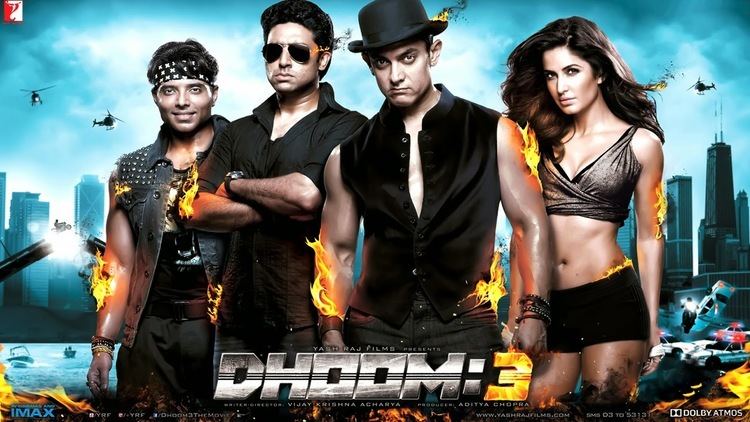 ACP Jai Dixit (Abhishek Bachchan), is called on a case of thieves on motorcycles. He seeks the help of a scatterbrained, clownish downtown racer named Ali (Uday Chopra) and devises a trap to catch the thieves, but fails. Kabir, (John Abraham) the leader of the gang, eventually taunts Dixit by saying that he won't be able to catch Kabir even if he were right in front of him. He is proved correct and the failure of Dixit seemingly leads to the end of his partnership with Ali.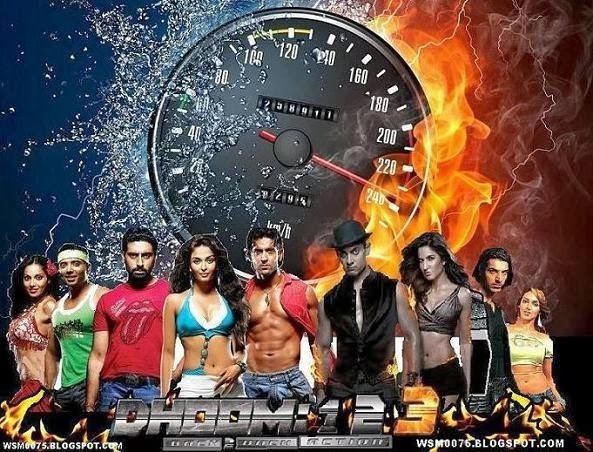 Kabir then lures Ali into his gang to replace Rohit who was killed by Jai. Jai is married to Sweety (Rimi Sen). Ali also falls in love with Sheena (Esha Deol), one of the gang members. The gang later goes to Goa to perform one last big heist before disbanding forever. Kabir now sets his eyes on the biggest casino in India. Kabir and his gang swiftly rob the casino on New Year's Eve, but soon, they realise that Jai has lured them right into a trap. Ali was working for Jai the whole time and a fight stages.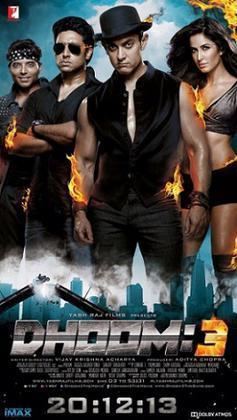 Kabir manages to escape from Jai, and goes back to the gang's truck where Ali tied up Sheena. Kabir then viciously beats up Ali for his betrayal. Kabir holds Ali at gunpoint, and is about to shoot him when Kabir is shot in the hand. The gang minus Sheena then boards the truck, while Jai and Ali follow. A fight ensues between Kabir and Jai on top of the truck, while Ali fights the other gang members Rahul and Tony inside. Ali fights his way into the driver's seat. Kabir tries to escape on his bike. He is then cornered by Jai and Ali. Kabir decides to commit suicide instead of going to jail and rides his bike over the edge and into the water. The movie ends with Jai and Ali bickering.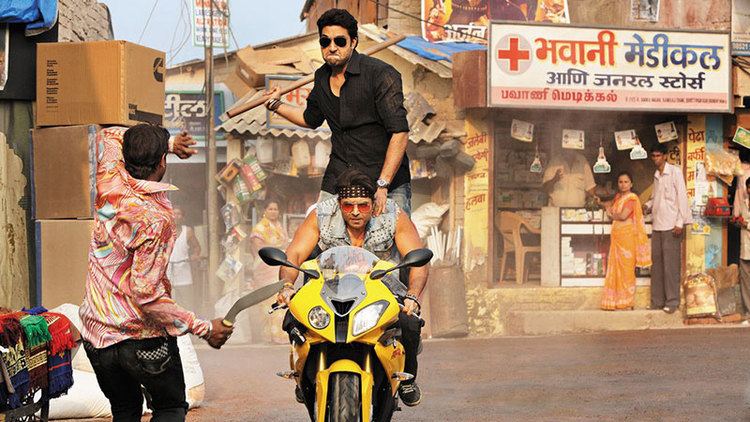 The police are astonished by a master thief known only as Mr. "A" (Hrithik Roshan) because he leaves an 'A' symbol after each robbery. Mr. "A" steals a priceless English crown by sky diving onto a train across the Namibian desert, disguising himself as queen Elizabeth II of the United Kingdom, and escaping on a sand-board.
He is pursued by ACP Jai Dixit (Abhishek Bachchan), his former classmate ACP Shonali Bose (Bipasha Basu), and Sub Inspector Ali Akbar (Uday Chopra), the comic relief. They try to catch him in the act as he robs a Mumbai museum, but fail after a long chase with Mr. "A" on rollerblades.
Mr. "A", in the meantime, is caught by the wiles of Sunehri (Aishwarya Rai Bachchan), who claims to be his number-one fan. Mr. "A" agrees to take Sunehri into partnership, not knowing that she is actually working for Jai.
Mr. "A" and Sunehri fly to Copacabana, where Mr. "A" plans another big heist. Jai and Ali follow. While in Brazil, they stay with Shonali's twin sister Monali and uncover that Mr. "A"'s real name is Aryan. Aryan, who has trusted Sunehri with his life, finds out that she is working against him and accuses her of treachery. She then realises that she loves him and joins him in earnest. Their heist is a success; their escape, not so much. In the end Sunehri shoots Aryan who falls off a cliff, though Sunehri claims she did it out of love. However, it is implied that even this was a last-resort faked death, planned out by Aryan and Sunehri, as in the end they are seen working at a restaurant in Fiji. Jai drops in unexpectedly but leaves them alone once Aryan hands over the details of where he has stashed the loot from all his robberies. Jai then talks to Ali over the phone and tells him to return to India, since they have a new case.
The film starts in the year 1990 in Chicago when Iqbal Haroon Khan (Jackie Shroff) runs The Great Indian Circus, which has fallen on bad times. Anderson's (Andrew Bicknell) bank - Western Bank of Chicago - which has lent money to Iqbal Khan, decides to close down the circus when he is unable to repay the loan. Young Sahir (Siddharth Nigam), the little son of Iqbal Khan, pleads with Anderson not to shut down his father's circus, but his pleas don't help. Iqbal Khan commits suicide in front of the heartless Anderson, leaving Sahir devastated.
Years later, Sahir (Aamir Khan) has still not forgotten the high-handedness of the bank and swears revenge. He robs various branches of Western Bank of Chicago, leaving behind a message in Hindi and a clown mask. He uses his acrobatic circus skills to escape. As Chicago Police Officer Victoria (Tabrett Bethell) failed to catch him, she calls ACP Jai Dixit (Abhishek Bachchan) and his partner, Ali (Uday Chopra), for help in solving the case.
Jai baits Sahir into robbing again by making it known he's on the case and he believes the thief is an amateur. During the pursuit after Sahir's next heist, Jai manages to shoot him in the shoulder before he disappears again. Sahir has the big premiere of The Great Indian Circus with his female lead acrobat, Aaliya (Katrina Kaif), involving a trick with him disappearing in one place and showing up in another. After the show the police surround him, knowing he's the thief, but when Sahir is examined, there is no evidence of a gunshot wound. It is later revealed that Sahir has an autistic twin brother, Samar, who helps him pull off his trick and rob the banks, and it was Samar who sustained the gunshot wound.
Jai eventually finds out about Samar, and manages to befriend him as part of his plan to trap them both, but Sahir finds out and thwarts Jai's plan. Sahir and Samar pull off their final bank heist and escape. However, the following day, Jai manages to corner them as they're making their way out of town. Samar is hesitant to run, when Aaliya shows up, as he loves her. Sahir surrenders to Jai, asking him to spare Samar and let him take the blame. Jai agrees, but Sahir jumps off the bridge. Samar grabs Sahir's hand, refusing to let him go. Eventually, the two of them jump off the bridge together. Finally Western Bank of Chicago is shut down as a result of the heists, while Aaliya takes over the Great Indian Circus.
The movie had a significant cultural impact among urban Indian youth. It was blamed for an increase in incidents of street racing, bike-borne theft and stunting on public roads. Besides, there was a new impetus to the bike-modifying scene with youth going in for modifications to their bikes ranging from free flow exhaust systems to addition of NOS kits.
In Malappuram district of Kerala, four members of a group of criminals had cracked the floor of South Malabar Gramin Bank in the early hours on 30 December 2007 and looted ₹ 2.5 million and 80 kilogrammes of gold, a total worth of Rs. 80 million, considered to be one of the biggest thefts in Kerala's crime records. The Kerala Police have arrested four people in connection with this and the leader admitted that he was inspired by Dhoom. The media in India drew parallels to Dhoom 2.
A graphic novel named Dhoom: Redux 893, has been published in 2012 by Yomics.