India




Hindi


3,034 km2


Rajasthan




Dhaval Dev in 11th century



Dholpur is a city in eastern-most parts of the Rajasthan state of India. It is the administrative headquarters of Dholpur District and was formerly seat of the Dholpur princely state, before Independence.
Dhaulpur became a separate district in 1982 comprising four tehsils of Bharatpur: Dholpur, Rajakhera, Bari and Baseri. It is bordered by Bharatpur district of Rajasthan and Uttar Pradesh to the north, Madhya Pradesh to the south, Karauli district to the west and Uttar Pradesh and Madhya Pradesh to the east.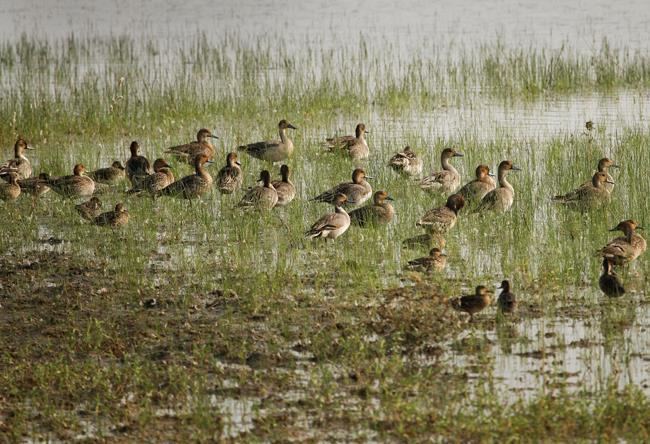 The geographical coordinates for Dholpur (Dhaulpur) are 26° 42 0" North, 77° 54 0" East. Total area of Dholpur district is 3,034 sq. kilometers.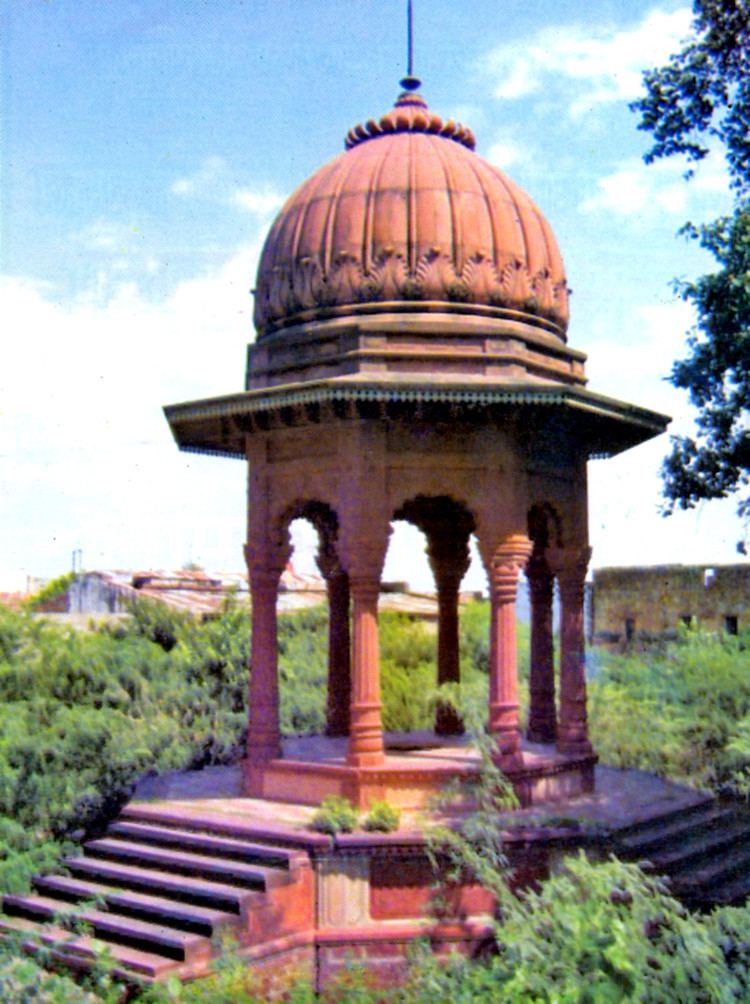 During Buddha's time there were sixteen Mahajanapadas in Bharatvarsh. Dholpur at that time was included in Matsya Janpad. During the Mauryan rule it was included in the Mauryan Empire. From Gupta period to the arrival of Chinese traveler Huansuang Bharatpur, Karauli and Dholpur were a part of Mathura Janpad. Around the 8th to 10th centuries, Chauhans ruled over it. In the year 1194 it remained under Mohammed Gauri.
The prime tourist attractions in Dholpur are:
Nihal tower: Rana Ram Singh of Dholpur was the Jat ruler of the princely state Dholpur (1901–1911) in Rajasthan, India. He was from Bamraulia gotra of Jats. He was born on 26 May 1883 and succeeded Rana Nihal Singh in 1901 after his death. Rana Nihal singh was not of age when ascended to the throne. He got full rights in March 1905. Nihal Singh constructed Nihal tower. His successor was Rana Udaybhanu Singh.
The Machkund Temple: Muchchhkund is about 4 km from the town of Dholpur. It is an ancient sacred place. It commands a picturesque view. The place is named after Raja Muchchhukand, the 24th of the Suryavanshi Dynasty (the solar race) who is said to have reigned nineteen generations before Lord Ram. According to legend, Raja Muchchhkund was sleeping here when demon Kaal Yaman (while pursuing lord Krishna) accidentally woke him up. The demon Kaal Yaman was burnt to ashes because of a divine blessing to Raja Muchchhkund. It is now a sacred place for pilgrims.
Chopra Shiv Temple: This temple was built in the 18th century. It is the oldest Shiv Temple in Dholpur. In the month of march on the occasion of Mahashiv Ratri this temple is full of pilgrims and devotees of lord Shiv. On Mondays much crowd come here to pay their offerings and prayers because Monday is considered as a day of lord Shiv according to the Hindu mythology. It is just 1/2 km from Dholpur new Bus stand so is at just a stone's throw distance from bus stand and you can also hire a rickshaw to reach the temple. This ancient temple boasts of great architectural beauty.
Sant Nagar: Sant Nagar, a Buddha temple is 2 km from Bari.
Sher Shikar Gurudwara: a Sikh pilgrimage site in Machkund, Dholpur, associated with the history of sixth Sikh Guru Hargobind Sahib ji.
Shergarh Fort: It is an old fort of historic importance, located toward the south of Dholpur tower. This monument was built by Sher Shah Suri on the site of an earlier Hindu fortress.
The economy of Dhaulpur is primarily agricultural. Dholpur sandstone is mined in the area, which is simply called "Dholpur", and was used in the construction of Rashtrapati Bhavan and Secretariat Building, New Delhi in the 1920s. A gas-based thermal power plant of 330 Megawatt capacity has started working in Dholpur.
Dholpur Wikipedia
(,)http://upload.wikimedia.org/wikipedia/commons/8/8d/Chhatri_Udaybhan_Singh.jpg(,)http://www.team-bhp.com/forum/attachments/pre-war/45122d1220433601-classic-rolls-royces-india-sg-102fw-1920-cabriolet-ed-maythorn-lokinder-dholpur.jpg(,)https://dholpurpalace.files.wordpress.com/2014/03/image_01_large.jpg(,)http://www.hotelgaurav.in/dhaulpur_map.gif(,)http://1.bp.blogspot.com/-YTjQNVZQCqM/TsuCD4plgDI/AAAAAAAAAhg/i9vd1sWpK_w/s1600/dholpur%2Bhistorical%2Bplaces.jpg(,)http://www.rajasthanvisit.com/images/mach-kund-dholpur1.jpg
(,)https://dholpurpalace.files.wordpress.com/2014/03/pochard-and-pintails-duck1.jpg(,)http://farm3.staticflickr.com/2838/12215999564_19835b5b04_b.jpg(,)https://dholpurpalace.files.wordpress.com/2014/04/228381_1979155591890_1033145246_32360215_3475943_n.jpg(,)https://rajasthantourismbuzz.files.wordpress.com/2012/11/321203_259602550754271_189583571089503_754736_1493151713_n.jpg%3Fw%3D648%26h%3D363%26crop%3D1(,)https://dholpurpalace.files.wordpress.com/2014/03/path.jpg(,)http://farm3.static.flickr.com/2045/2186187575_0c4a29f128.jpg(,)https://rajasthanforyou.files.wordpress.com/2014/01/img_4795-1.jpg(,)https://rajasthanforyou.files.wordpress.com/2013/11/marsh-crocodile.jpg%3Fw%3D495
(,)http://www.heritagehotelsofindia.com/pictures/hotels/hotel_278_a.jpeg(,)http://media-cdn.tripadvisor.com/media/photo-s/03/7b/da/0d/jagan-hotel-restaurant.jpg(,)http://www.padharorajasthan.co.in/images/destination_images/large/0036_201336.jpg(,)http://www.rajasthandirect.com/wp-content/uploads/2013/01/Rajasthan-Haveli.jpg(,)http://cloud9hotelmarketing.com/hotelsandresorts/wp-content/uploads/2014/08/Raj-Niwas-Palace.jpg(,)http://www.nivalink.com/watermark.ashx%3FImageUrl%3Dhotelimages/uploads/121220141406090517322.jpg(,)http://mytravelpie.com/wp-content/uploads/2013/12/Raj-Niwas-Exterior-2.jpg(,)http://mysticindia.co.uk/images/listings/medium/square/Iy1DPFUKYAo.jpg(,)https://stylecityblog.files.wordpress.com/2015/01/dsc08021-2.jpg(,)https://easemyhome.files.wordpress.com/2015/02/dholpur-palace-2.jpg%3Fw%3D500(,)http://www.coxandkings.co.uk/images/tm/IN/Dhol/Hotel/7128_b.jpg
(,)http://img1.holidayiq.com/photos/dh/Dholpur-7510-0-jpg-uploadimages-travel-619x240-1334927531-cropped.jpg(,)http://www.holidayiq.com/images/attractions/1345566765_11873.jpg(,)http://media-cdn.tripadvisor.com/media/photo-s/03/bc/ef/c5/khanpur-mahal.jpg(,)http://media-cdn.tripadvisor.com/media/photo-s/03/81/ff/21/machkund-temple.jpg(,)http://www.tourismguildagra.com/innerbanner/dholpur.jpg(,)http://www.travelindia-guide.com/tour-guides/rajasthan/rajasthan-travel-images/mach-kund-dholpur.jpg(,)http://www.holidayiq.com/destreviewimages/Dholpur-4938_10.jpg