4.9

/

10

Alchetron

6.4

Rate This




Music director

Master Sonik




Genre

Action, Comedy, Crime




Cast

Jayshree T

(Cabaret Dancer #4)





Similar

Pratigya (1975 film), Khoon Aur Paani, Patanga
Dharma is a 1973 Bollywood action film directed by Chand. The film stars Pran in the title role. The rest of the cast includes Ajit and the pair Navin Nischol and Rekha. The film became a "Superhit" at the box office. It was remade into the Telugu film "Na Pere Bhagavan" (1976). 'Dharma' film is also known for its music composed by the duo of Sonik-Omi and is especially famous for the qawwali sung by Mohammad Rafi on selquence between Pran and Bindu. A couple of other songs were also nicely tuned au
Contents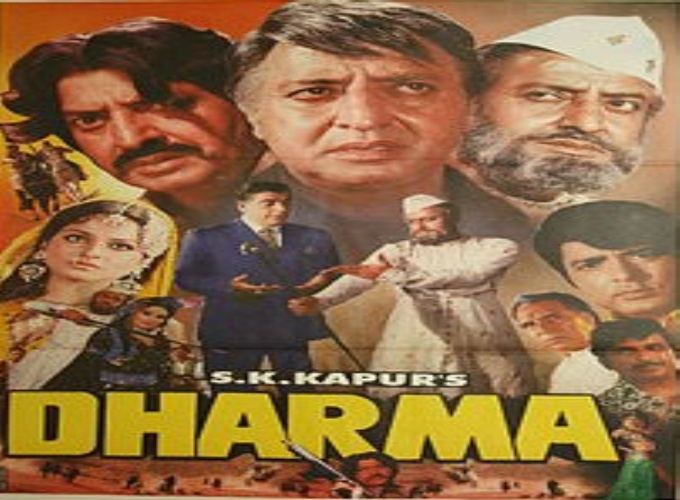 harmand presented.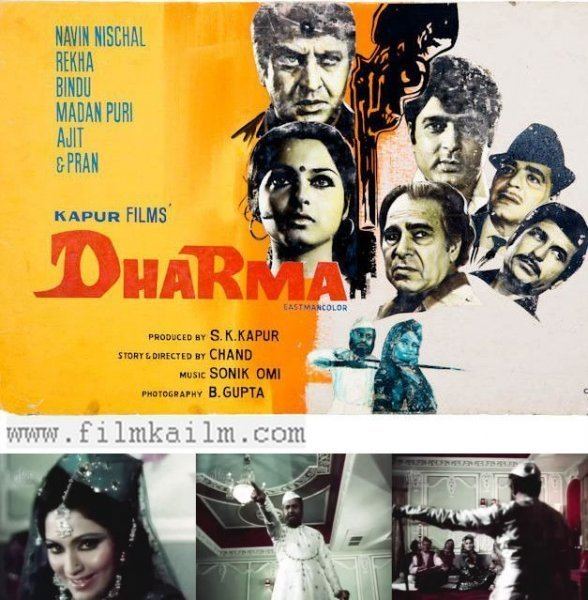 Pran s cool den in dharma 1973
Cast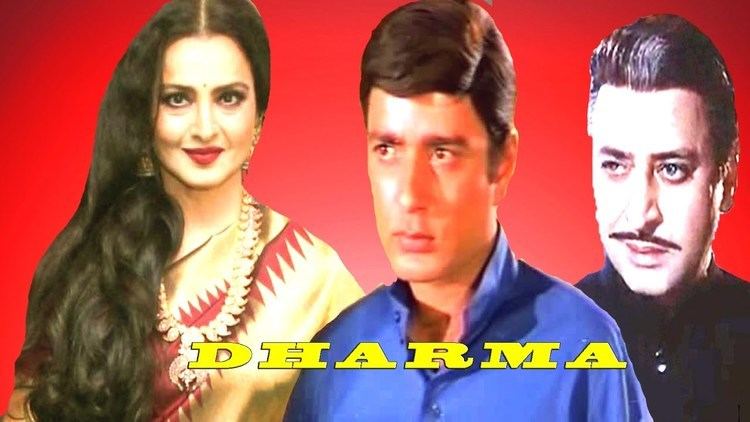 Navin Nischol ... Raju (as Navin Nishchol)
Rekha ... Mrs. Asha Singh
Pran ... Sevak Singh 'Dharma'
Ajit ... Inspector
Madan Puri ... Mangal Singh
Ramesh Deo ... Chaman Singh
Mohan Choti ... Car Mechanic
Asit Sen ... Seth Garib Das
Sonia Sahni ... Cabaret Dancer #3 (as Sonia Sahani)
Jayshree T. ... Cabaret Dancer #4 (as Jayshri T.)
Faryal ... Cabaret Dancer #2
Anjali Kadam ... Mrs. Parvati Singh
Chandrashekhar (as Chandra Shekhar)
Rajan Haksar ... Bhairon Singh
Murad ... Seth
Soundtrack
"Raaz Ki Baat" - Asha Bhosle, Mohd Rafi
"Main Teri Gunahgar Hoon" - Asha Bhosle, Mohd Rafi
"Aur Saqi Jo Kal Ko Hai Bachi" - Omi, Asha Bhosle
"Na Satrah Se Upar" - Mohd Rafi
Plot
Chandan Singh is a dacoit living with in isolation with his followers Bhairav Singh, Mangal Singh and his wife Parvati amongst others. The police, led by Inspector Ajit Singh are fast on the track of Chandan Singh, and soon catch up with him. Chandan Singh is betrayed by his follower Bhairav Singh, who is killed by Chandan Singh, after he attempts molest Parvati. Mangal Singh shields and protects the son of Bhairav, Chaman, and both swear vengeance against Chandan Singh. Meanwhile, while escaping from the police in a boat, Ajit Singh shoots at Chandan Singh and the shot hits Parvati, who falls into the water, and her son, Suraj plunges in after her. Chandan Singh too dives in after them, but is unable to find them. Chandan Singh takes revenge on Ajit Singh's family and abducts his daughter, Radha, and Ajit's wife, Asha is killed accidentally. Years later Chandan Singh emerges as Dharma as well as Nawab Sikander, while Ajit Singh is now the Insepctor General of Police. Nawab Sikander goes to the prostitutions area and there finds Radha, who he recognizes and buys from the Madame, and brings her home, and asks Ajit Singh to be her father, to which he readily agrees as she looks just like his wife, Asha. Rajoo is a small-time crook who works with Dharma, but has a change of heart when he falls in love with Radha, and swears to be a good person and through the guiding hands of his to-be father-in-law becomes a police inspector, and vows to arrest Chandan Singh. In the meantime, Mangal Singh, Chaman, and Chaman's girlfriend come upon Parvati, who lives in a temple. Chaman decides to impersonate himself as her son Suraj, and after successfully doing this he also manages to fool Dharma into believing that he is indeed their long lost son, vouched for by Mangal Singh. Will Dharma ever be apprehended by the authorities? Will Parvati ever meet her real son? What are the plans of Chaman and Mangal Singh?
References
Dharma (1973 film) Wikipedia
(Text) CC BY-SA
Dharma (1973 film) IMDb