Billed height

6 ft 4 in (1.93 m)




Role

Professional wrestler




Billed weight

284 lb (129 kg)




Height

1.93 m





Debut

July 2001




Weight

129 kg




Name

Devon Nicholson




Career start

July 2001






Born

October 16, 1982 (age 33) Ottawa, Ontario, Canada (

1982-10-16

)


Website

http://thehannibaltv.com/,


Ring name(s)

Hannibal Hannibal Le Predateur Adam Lust Kid Nichols




Trained by

Bruce Hart, Jacques Rougeau
Devon nicholson wwe try out 2014
Devon Nicholson (born October 16, 1982) is a Canadian professional wrestler, who wrestles primarily under the name Hannibal. He was also known as Kid Nichols or Adam Lust. He has worked for various companies, including World Wrestling Entertainment (WWE), Total Nonstop Action Wrestling (TNA), Great North Wrestling, the International Wrestling Association (Puerto Rico) (IWA), the World Wrestling Council(WWC, Puerto Rico) and Stampede Wrestling as well as All Star Wrestling in the UK. He is the lead interviewer on "The HANNIBAL TV" Youtube channel.
Contents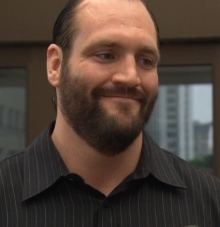 As an amateur wrestler Nicholson is a former National Champion in freestlyle wrestling and Canadian Olympic Qualification Trial Silver medalist in Greco-Roman Wrestling. He has won the Canadian Open and Ontario Championships in grappling (submission wrestling).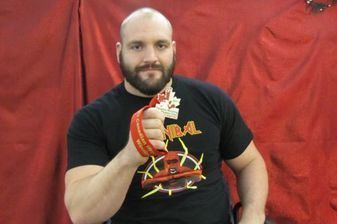 Nicholson is also an actor and has played such roles as a character named Sid in a Canadian feature film, Kenneyville, released by Robanzo Pictures in 2010. He also was the feature performer in the Canadian documentary This is Hannibal, produced by Maximilian Moskal. The film appeared in multiple film festivals and won 3 awards at the 2013 Los Angeles Movie Awards. In 2014, he had a role on the Science Fiction series "Haphead," about a futuristic video game subculture.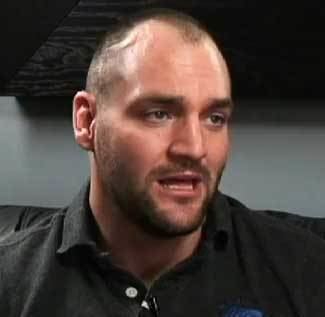 Devon nicholson this is hannibal the complete documentary
Amateur wrestling career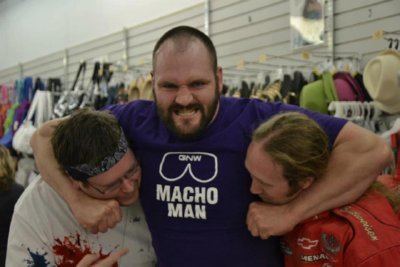 Devon Nicholson enjoyed a lot of success in amateur wrestling before turning professional. He carried off a gold medal at the 2001 Junior National Championships in London, Ontario. A month later, he gained a spot on the Canadian Junior National Team after winning the National Team trials in Vancouver, British Columbia. Nicholson won the OFSAA wrestling high school championships in 2000 and also in 2001 without a single point scored against him. He has also held numerous City of Ottawa and Provincial titles in freestyle wrestling. He was named Amateur Wrestler of the Year by the City of Ottawa in 2001.
On December 18, 2011, Nicholson won a silver medal in the Canadian Greco-Roman Wrestling Olympic trials in Winnipeg, Manitoba, making him the alternate Olympian in the heavyweight division for the London 2012 Olympics.
In grappling (submission wrestling) Nicholson won the Joslin's Canadian Open in Hamilton in 2008 and the Ontario Grappling Championships in Ottawa in 2010.
Professional wrestling career
Nicholson started his career wrestling for Ted Hart and Eric Bischoff's Matrats promotion. After a stint with Jacques Rougeau, Jr.'s Lutte Internationale 2000 promotion in Montreal, he began training with Bruce Hart in Calgary's Dungeon. He spent most of his early career in Calgary, Alberta's Stampede Wrestling performing as Kid Nichols, regularly training with and wrestling against Teddy Hart, Harry Smith and TJ Wilson.
After leaving Calgary, for several years Nicholson wrestled in Puerto Rico and other areas of the Caribbean, where he was given the ring name Hannibal by IWA office member Bushwhacker Luke. He has also participated in World Wrestling Entertainment's Deep South Wrestling and appeared on their TV show. He has wrestled for many independent companies across Canada. In June 2005 he took on Heidenreich at Rexall Place in Edmonton in a match that aired on WWE Smackdown. In Puerto Rico he defeated Ricky Banderas for the IWA Intercontinental title in 2005. He also feuded with Thunder and Lightning and with his tag team partner Mr. Big. At the end of his IWA run Hannibal became a babyface before switching to the WWC. In his first tour with the WWC in December 2005 he wrestled James Storm. He participated and a WWE try-out in Buffalo, New York in late December 2005. He faced Gavin Spears in his try-out match.
Hannibal returned to WWC in 2006 as a heel. With Black Pain he formed a team known as Terror Inc and held the WWC World Tag Team titles in 2006 and 2007. As a singles wrestler in WWC he often wrestled Eddie Colon and Orlando Colon. In May 2006 he wrestled against Eugene at the Thomas and Mac Center in Las Vegas in a match that aired on WWE Heat. Later that month he had a match at the New Japan Dojo in Los Angeles.
After helping Bruce and Ross Hart promote some rural Stampede Wrestling events in Alberta in 2006, Nicholson began promoting for himself in 2007 under the company name Great North Wrestling. The Bad News Allen Tribute Show in May 2007 was his first event. Hannibal defeated Abdullah The Butcher in the main event of that show. He also promoted the Ottawa Super EX When Legends Collide show in August 2007.
Nicholson continued to promote events in Alberta and Ontario after that and promoted Total Nonstop Action Wrestling's December 2007 Canadian tour.
In May 2009 Nicholson attended a WWE try-out camp in Tampa, Florida. The same year Nicholson was offered a World Wrestling Entertainment contract, but the offer was rescinded when a medical examination revealed that he had contracted hepatitis C, which he later blamed on his matches with Abdullah the Butcher. He also did a try-out with TNA Wrestling in October 2010 in Saginaw, Michigan, but although he impressed the TNA management, they could not hire him because of his Hepatitis C.
On September 30, 2011, Nicholson announced his retirement from professional wrestling, with his final match scheduled for October 8. In this retirement match, which took place in Renfrew, Ontario Hannibal defeated Darko. On January 30, 2014, Nicholson stated on a live episode of False Finish Wrestling Radio podcast that on May 14, 2014, he will return to wrestling again. On May 10, 2014 Hannibal won the Great North Wrestling Canadian Heavyweight Championship from Jeremy Prophet in Smiths Falls ON.
The Ottawa Citizen and other media have reported that Nicholson will be getting another WWE try out in July 2014.
The Hawkesbury Tribune Express reported that Hannibal is wrestling in a 2 out of 3 falls title match against New Japan Pro Wrestling IWGP World Champion "The Phenomenal" AJ Styles August 30, 2014 at the Robert Hartley Arena in Hawkesbury ON.
Net News Ledger reported on November 26, 2014 that Hannibal will be defending his Canadian Heavyweight pro wrestling title against former UFC Champion Dan Severn on February 28, 2015 at the Robert Hartley Arena in Hawkesbury Ontario Canada.
Hannibal pinned Dan "The Beast" Severn on Feb. 28th 2015 in Hawkesbury Ontario to retain the Great North Wrestling Canadian Championship.
In March 2015, Nicholson described an incident from 2006 that Bill DeMott was involved with while he was head trainer for the WWE's Deep South Wrestling developmental territory. Nicholson described an incident where Drew Hankinson was completely naked in the ring for a long period of time and gave naked stinkfaces to Zack Ryder and Melissa Coates while DeMott held jelly donuts over their faces. The wrestlers agreed to do this (with the other talent encouraging them) to get out of regular training for that day. DeMott refuted the notion that it was his idea, stating that the other trainees came up with because they wanted to skip the session. In May 2015 it was reported that Nicholson's application was being considered for WWE's "Tough Enough" show on the USA Network. Nicholson appeared on the "Contenders from Around The Globe" playlist on the WWE's official YouTube channel as video number 6.
On May 21, 2015 a clip from Nicholson's WWE Tough Enough audition video aired on WWE's Smackdown TV show. The clip was also put in a Tough Enough montage on WWE's official YouTube channel.
On May 30, 2015 Nicholson retained the Canadian Championship against Soa Amin and "Piledrove" guest referee Senator Patrick Brazeau through a table onto the arena floor at a Great North Wrestling event at The Earl Armstrong Arena in Ottawa.
On November 27, 2015 Nicholson lost the Canadian Championship to Jeremy Prophet in a 3 way tables, ladders and chairs match in Rockland ON that also involved the Giant Darko. Nicholson lost after Senator Patrick Brazeau interfered in the match, throwing a powdery substance in Nicholson's face and pushing him off the ladder, allowing for Prophet to climb the ladder, retrieve the Championship belt and score the victory. After the match Nicholson attacked Brockville City Councillor Leigh Bursey in a backstage interview and promised revenge.
Hannibal won back the Great North Wrestling Canadian Championship on Feb. 28th 2016 before a crowd of over 650 fans at the Robert Hartley Arena in Hawkesbury ON>
Personal life
On October 15, 2012 Nicholson began his second Hepatitis C treatment which includes the new Hepatitis C medication Incivec (Telaprivir). He is the first Genotype 2 patient in Canada to undergo the medication regime, which is still in the experimental phase. Devon has been testing negative for the Virus since November 2012. If the treatment is successful he will have a sustained viral response and be declared cured of Hepatitis C. He completed the treatment on June 24, 2013. On September 23, 2013, Nicholson received news that his Hepatitis C Virus blood tests came back negative. He will find out if he has a Sustained Viral Response (SVR) after his next test will be on December 9, 2013. On November 9, 2013 it was reported that Nicholson won a motion to have Abdullah the Butcher's defense stricken from the record in his Hepatitis C transmission lawsuit. The trial for damages is moving forward. On December 20, 2013, Devon Nicholson announced via YouTube that he was cured of Hepatitis C. On June 3, 2014, Nicholson won a $2.3 million lawsuit against Larry Shreve in the Ontario Superior Court of Justice in relation to his contraction of Hepatitis C due to Shreve's negligent unsanitary blade assault.
Other media
In the summer of 2009 Nicholson played a character named Sid in the Canadian movie Kenneyville, which was released by Robanzo Pictures.
In March 2011 a documentary called Don't Bleed on Me was released. The documentary centered around Nicholson's claim that he contracted Hepatitis C from Abdullah the Butcher cutting him with a razor blade that Abdullah had used on himself earlier in the match. Nicholson's claims are supported in this video by many WWE legends including "Superstar" Billy Graham and The Honky Tonk Man. Hepatitis C is a blood-to-blood disease spread mainly from the sharing of needles and razor blades. In July 2011, Nicholson filed a $6.5 million lawsuit against Larry "Abdullah the Butcher" Shreve over the Hepatitis C incident, claiming it had caused WWE to rescind his contract.
On August 26, 2011, Nicholson filed another $6 million lawsuit against WWE for rescinding his contract offer, claiming they were discriminating against his human rights because of his Hepatitis C, even though the promotion currently has a "No Blood" policy. In September 2011, McLean's Magazine, a Canadian nationally-distributed news magazine, ran a detailed article that profiled Nicholson and his situation with Abdullah the Butcher entitled "Blood, Sweat, Fears." On November 26, 2011, Canada's Global TV network aired a half-hour documentary on Nicholson as part of their 16:9 weekly news magazine show. The documentary reviewed Nicholson's career and went in depth into his lawsuits against Abdullah The Butcher and WWE. WWE refused to comment in the documentary, though Abdullah The Butcher was interviewed. Abdullah demonstrated how he used blades but denied having Hepatitis C and cutting Nicholson despite the screening of video evidence of him doing so. The documentary also detailed the hardships suffered by Devon as a result of his Hepatitis C. The documentary re-ran Canada wide on April 7, 2012. According to the 2013 version of This is Hannibal the WWE lawsuit has been resolved and the Shreve lawsuit is ongoing. It has since been reported in the media that Larry "Abdullah The Butcher" Shreve is Hepatitis C positive.
On December 19, 2011 CTV News Ottawa did a feature on his becoming Canada's Heavyweight Alternate in Greco-Roman Wrestling for the London Olympics. They had presented an extended story on his training for the Olympic trials the week before. The Atlantic Magazine, the oldest magazine in the US, carried a story about Nicholson's lawsuit against Abdullah The Butcher in their July/August 2012 issue. Nicholson's story was also covered in an Atlantic article about blood in WWE's Wrestlemania on March 29, 2012.
Later in 2012 the Ottawa Film Festival and the Montreal Young Cuts Film Festival will feature a movie about Devon Nicholson titled This is Hannibal. Produced by Maximilian Moskal, the new film chronicles the history of the wrestler's career and his struggle with hepatitis C.
In on March 3, 2013 an updated and re-edited version of This is Hannibal made its theatrical debut at the historic Mayfair Theater located in Nicholson's hometown of Ottawa Ontario Canada. The new version won 3 awards at the 2013 LA Movie Awards.
On January 14, 2014 the Canadian Broadcast Corporation ran a news story on Nicholson being cured of Hepatitis C.
On April 27, 2014 Nicholson tried out for the Ottawa RedBlacks Canadian Football League expansion team.
On June 3, 2014, Nicholson won a $2.3 million lawsuit against Larry Shreve.
On September 5, 2014 The Wrestling Observer reported that Devon Nicholson has a role on the Science Fiction series "Haphead," about a futuristic videogame subculture. Six episodes of the show have been ordered.
On December 20, 2014 it was reported that Nicholson played a kidnapper in an episode in season 2 of the Canadian series "Hero's of The North" that will be released in 2015.
Nicholson had a second try out with The Ottawa RedBlacks of The Canadian Football League the weekend of April 19 in Princeton New Jersey.
On February 21st 2016 it was reported that Devon Nicholson entered a contest to fight boxing legend Roy Jones JR on the UR Fight Pay Per View March 20th in Phoenix AZ.
In May 2016 it was reported that Nicholson was uninvited to a WWE tryout at the WWE Performance Centre.
In December 2016 it was reported by the Ottawa Citizen and National Post in Canada that Nicholson had won an arbitration case over the City of Ottawa in relation to being wrongfully terminated from his recreation job in 2013 while he was on sick leave while undergoing a chemotherapy-like Hepatitis C treatment called Incivek "Triple Therapy."
In wrestling
Finishing moves
Gutwrench one shoulder powerbomb
Clawhold
Tilt-a-whirl side-slam
Signature moves
Chokeslam
Fallaway slam
Lariat
Military press drop
Overhead belly to belly
Pumphandle slam
Managers
Dan Severn
Rico Suave
Entrance themes
"Iron Man" by Black Sabbath
"How Soon Is Now" by The Smiths
Amateur
Canadian Amateur Wrestling Association
National Hwt. Champion 2001 (1 time)
Olympic Trial Silver Medalist 2011 (1 time)
Joslin's Canadian Open
Canadian Hwt. Grappling Champion 2008 (1 time)
Ontario Secondary Schools Athletic Association
Provincial Hwt. Champion 2000, 2001 (2 times)
Ontario Grappling Association
Ontario Grappling Hwt. and Absolute Champion 2010 (1 time)
Professional
Great North Wrestling
GNW Canadian Heavyweight Champion (2 times)
International Wrestling Association
IWA Intercontinental Championship (1 time)
World Wrestling Council
WWC World Tag Team Championship (2 times) - with Black Pain
Canadian Revolution Wrestling
Quebec Champion (1 time)
References
Devon Nicholson Wikipedia
(Text) CC BY-SA