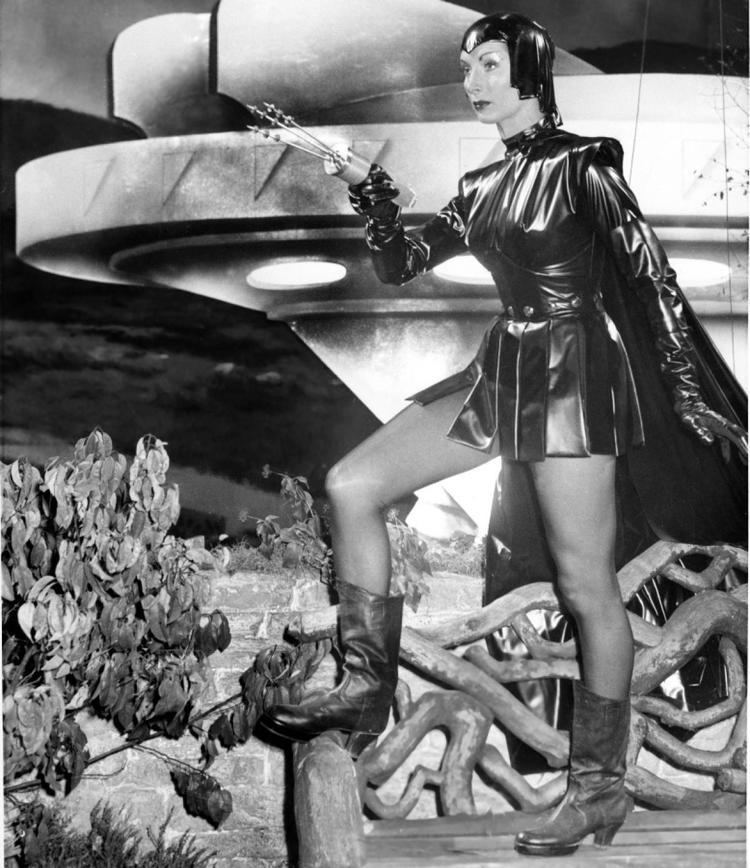 Nyah, a female alien commander from Mars, dressed in shiny black vinyl, heads for London in her flying saucer. She is part of the advanced alien team that is looking for Earth men to replace the dying male population on her world. Because of damage to her saucer, caused by entering Earth's atmosphere and then colliding with an aircraft, she is forced to land her damaged flying saucer in the remote Scottish moors, near a local village. She is armed with a raygun that can paralyze or kill, and she also has a tall, menacing robot named Chani.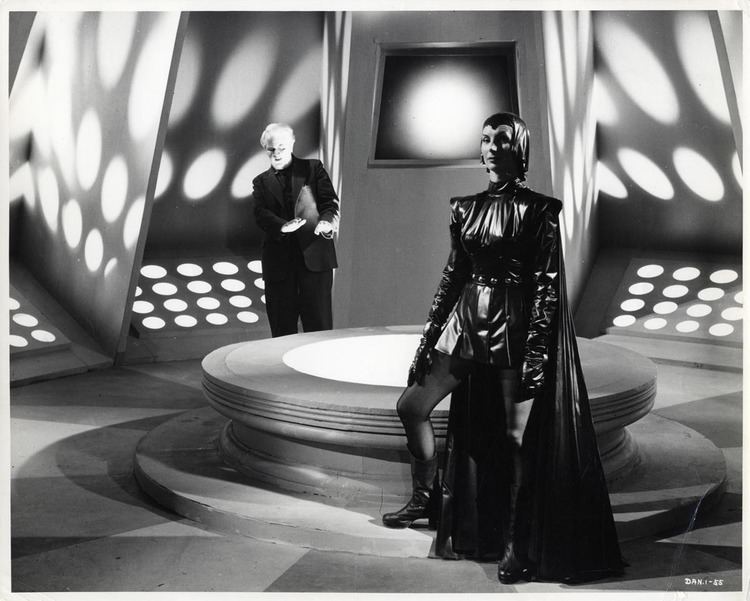 On Nyah's world, the emancipation of the women eventually led to open warfare between the sexes. The females won, usurping the political power of the men. This eventually lead to the sexual impotence of the planet's entire male population; a rapid decline in the birthrate soon followed.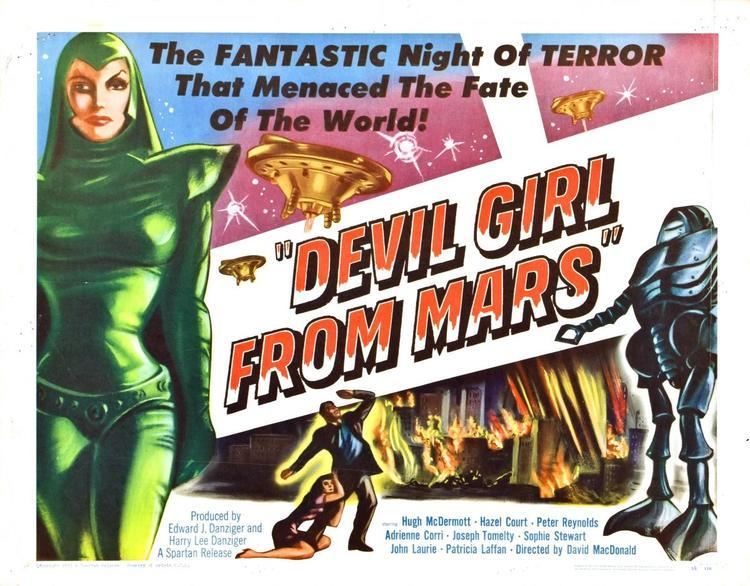 The Martians possess an organic, self-regenerating technology, which was used to construct Nyah's spacecraft. Against this technology, human weaponry proves ineffectual, as demonstrated when Nyah comes away unscathed by gunshots from a pistol. The alien technology is unreliable, however, and Nyah's people have not been able to use it to artificially produce new offspring.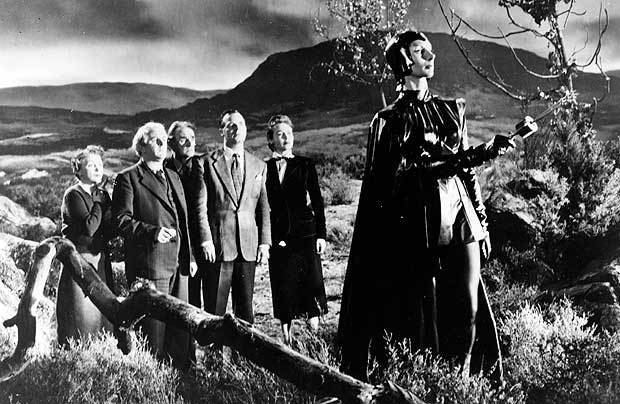 Much of the film unfolds in the bar of The Bonnie Charlie, a Scottish country inn somewhere in Inverness-shire. N'yah occasionally enters, makes threats, then leaves so the residents can contemplate her words. It becomes clear that the local Scotsmen aren't the least bit interested in going with her to Mars, and the local women aren't about to give them up without a fight.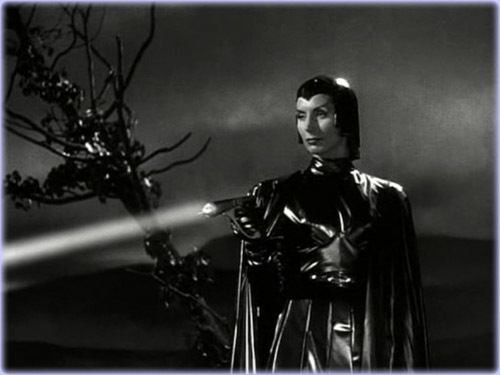 A pair of Earthly romantic sub-plots play out at the country inn: A fashion model, Miss Prestwick (Court), fled to The Bonnie Prince Charlie in order to escape a married man with whom she had an affair. She quickly forms a connection with Michael Carter (McDermott), a newspaper reporter. Meanwhile, a convict, Robert Justin, alias Albert Simpson (Reynolds), who accidentally killed his wife, has managed to escape from a prison in Stirlingshire and has come to the inn, hoping to meet with the barmaid, Doris (Corri) whom he truly loves.
Nyah finally responds with a little show of force. First, she entices Professor Hennessy aboard her spaceship to view the technological marvels of Martian civilization, and with her raygun, she incinerates the Jamiesons' hunchbacked handyman. She then adopts the two-pronged strategy of also kidnapping their young nephew, Tommy, and then turning her robot loose to vaporize much of the manor's grounds.
Realizing that the only road to victory over Nyah means employing guile and treachery, Hennessy suggests that one of the men at the inn volunteer to go to Mars in exchange for the safe return of Tommy. This selfless volunteer, after a bit of coaching from Hennessy, will then fatally sabotage the Devil Girl's spacecraft after takeoff. Hennessy at first volunteers, but Carter convinces him that he is much too old to appeal to Nyah and has no chance of being accepted. Carter means to go instead, but at the last minute, Justin outmaneuvers him, thereby atoning for the inadvertent slaying of his wife. After take-off, he successfully sabotages Nyah's flying saucer, sacrificing himself to save Earthmen from the Devil Girl from Mars.
Devil Girl from Mars was adapted from a stage play and made on a very low budget, with no retakes except in cases where the actual film stock became damaged; it was shot over a period of three weeks, often filming well into the night. Actress Hazel Court later said, "I remember great fun on the set. It was like a repertory company acting that film".
The robot, named Chani, was constructed by Jack Whitehead and was fully automated, although it suffered breakdowns during the filming.
The alien Klaatu, posing as "Mr. Carpenter" in The Day the Earth Stood Still (1951), was intended by screenwriter Edmund H. North to evoke Jesus Christ, so too are there indications that the Martian woman Nyah was intended to evoke an anti-Virgin Mary.
Rolling Stone columnist Doug Pratt called Devil Girl from Mars a "delightfully bad movie". The "acting is really bad and the whole thing is so much fun you want to run to your local community theatre group and have them put it on next, instead of Brigadoon. American film reviewer Leonard Maltin said the film is a "hilariously solemn, high camp British imitation of U. S. cheapies". The reviewer for the British Monthly Film Bulletin (1954) wrote that the "settings, dialogue, characterisation and special effects are of a low order, but even their modest unreality has its charm. There is really no fault in this film that one would like to see eliminated. Everything, in its way, is quite perfect".
In the book Going to Mars the authors described the film as "an undeniably awful but oddly interesting" film. They noted that the plot was "more a reflection of the 1950s view of politics and the era's inequality of the sexes than a thoughtful projection of present or future possibilities".
Eric S. Rabkin likens the character Nyah to a dominatrix and even a neo-nazi. He said of the film that, "a host of charged images and subconscious fears" are handled with a broad camp irony. Otherwise, "without some underlying psychological engagement, how could anyone sit through a movie so badly made"? The film inspired Hugo and Nebula award-winning author Octavia Butler to begin writing science fiction. After watching the motion picture at age 12, she declared that she could write something better. Likewise, the Los Angeles avant-garde artist Gronk lists this film as the crucial factor that guided him in his career choice.