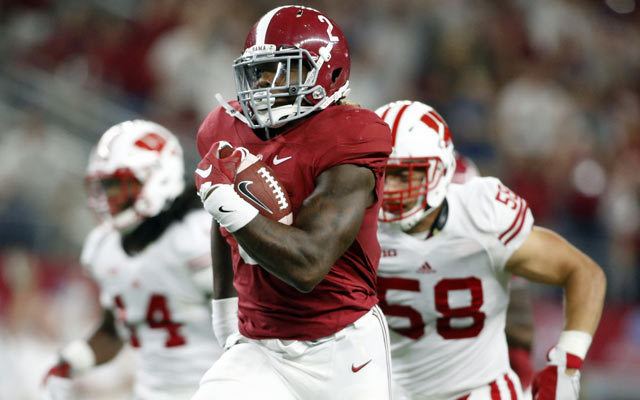 Henry attended Yulee High School in Yulee, Florida, where he was a three-sport star in football, basketball and track. He played as a running back for the Yulee Hornets football team. He ran for 2,465 yards and 26 touchdowns as a freshman in 2009. He was named a first-team All-Coast at running back in 2010 after rushing for 2,788 yards and 38 touchdowns while averaging 8.9 yards per attempt. He rushed for 2,610 yards and 34 scores as a junior in 2011 to earn first-team All-Coast honors from the Florida Times-Union. He set the Florida high school record with a 510-yard performance against Jacksonville Jackson and averaged 9.2 yards per carry and 327.8 yards per game as a senior, finishing the season with a state-record 4,261 yards and 55 touchdowns. He finished his high school football career with 12,124 career rushing yards, which broke Ken Hall's career record. He also rushed for 153 career touchdowns. He played for the East squad in the 2013 U.S. Army All-American Bowl, where he rushed for 53 yards with a touchdown and a two-point conversion.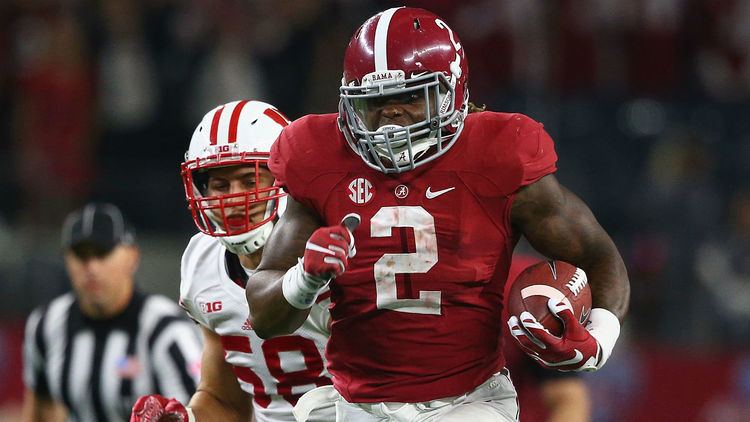 As a track & field athlete, Henry competed as a sprinter at Yulee from 2010 to 2011. He posted a personal-best time of 11.11 seconds in the 100-meter dash at the 2011 FHSAA 2A District 3 Championships, where he placed seventh. He was also a member of the 4×100 and 4×400 squads.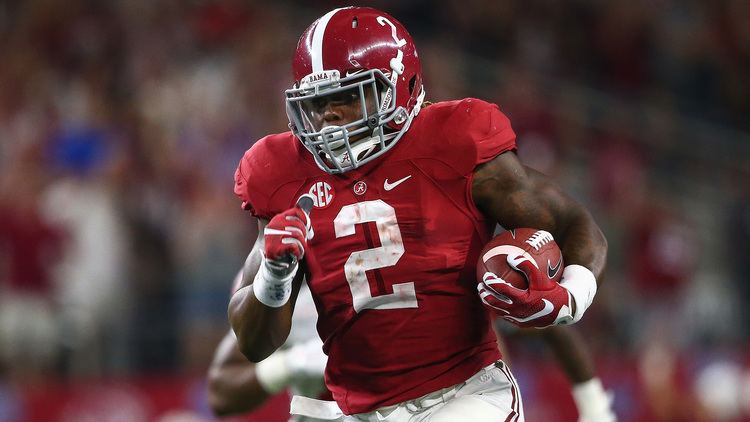 Considered a five-star recruit by ESPN.com, Henry was listed as the No. 1 athlete (player with no designated position) in the nation in 2013. After originally committing to the University of Georgia, Henry committed to the University of Alabama in September 2012.
As a true freshman in 2013, Henry rushed for 382 yards on 36 carries with three touchdowns. During the 2014 Sugar Bowl, he rushed for 100 yards and a touchdown on eight carries and had a 61-yard touchdown reception. Sharing time with T. J. Yeldon his sophomore year in 2014, Henry rushed for 990 yards on 172 carries with 11 touchdowns.
After Yeldon left for the NFL, Henry took over as the starting running back as a junior in 2015. Playing in all 15 games, he rushed for SEC records 2,219 yards and 28 touchdowns on 395 carries. Henry won the Heisman Trophy, beating out finalists Christian McCaffrey and Deshaun Watson. He won numerous other awards including the Doak Walker Award, Walter Camp Award, and Maxwell Award. During Alabama's victory over Clemson in the 2016 College Football Playoff National Championship, he rushed for 158 yards on 36 carries with three touchdowns. During the game, he also broke Shaun Alexander's record for most career rushing yards in Alabama history.
College statistics
Coming out of Alabama, Henry was projected by the majority of analysts to be either drafted in the late first or second round. He was the overall consensus second best running back available behind Ohio State's Ezekiel Elliott. Scouts regarded his main assets his large frame, violent running, ability to break tackles with ease, speed, long strides, superior conditioning, and consistent play. The main concerns were about the wear and tear his body took as a workhorse at Alabama, his slow acceleration, average foot quickness, below-average catching ability with his hands, narrow based running style, sluggish cutbacks, and his problem with running tall.
Henry was drafted by the Tennessee Titans in the second round (45th overall) of the 2016 NFL Draft. He was reunited with his former fullback at Alabama Jalston Fowler.
On May 9, 2016, the Tennessee Titans signed Henry to a four-year, $5.40 million contract with $3.30 million guaranteed and a signing bonus of $2.13 million.
Henry began his rookie season as the backup running back to veteran DeMarco Murray. He wore #2 throughout training camp and preseason and donned #22 once running back Dexter McCluster was cut on September 2, 2016. He made his professional regular season debut and earned his first career start in the Titan's season opening loss to the Minnesota Vikings. Henry finished the game with five carries for 3 rushing yards and two receptions for 41 receiving yards.
On October 27, 2016, Derrick Henry scored his first career touchdown on a 6-yard run in a 36-22 victory over the Jacksonville Jaguars. He finished the game with 16 carries for 69 rushing yards and a rushing touchdown and four catches for 37 receiving yards. On December 18, 2016, he had nine rushing attempts for 58 rushing yards and a season-high two rushing touchdowns in a 19-17 victory over the Kansas City Chiefs. During a Week 17 Matchup against the Houston Texans, he ran for a season-high 65-yards on 15 carries and scored a touchdown in a 24-17 victory. Henry finished his rookie season with 110 carries for 490 rushing yards and five touchdowns in 15 games and two starts. He also caught 13 passes for 137 receiving yards.