Name

Deirdre Cartwright








Role

Composer · deirdrecartwright.com




People also search for

Alison Rayner, Laka Daisical
Deirdre cartwright kathy dyson four on six
Deirdre Cartwright (born 26 July 1958) is a British guitarist and composer, and became well known as the guitar presenter of the groundbreaking BBC Television series Rockschool (1983). The second series of Rockschool attracted audiences of two million viewers every week in the UK and was subsequently shown worldwide.
Contents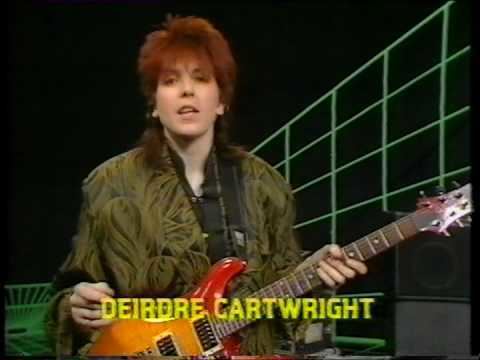 In 1991 she formed her own band - The Deirdre Cartwright Group.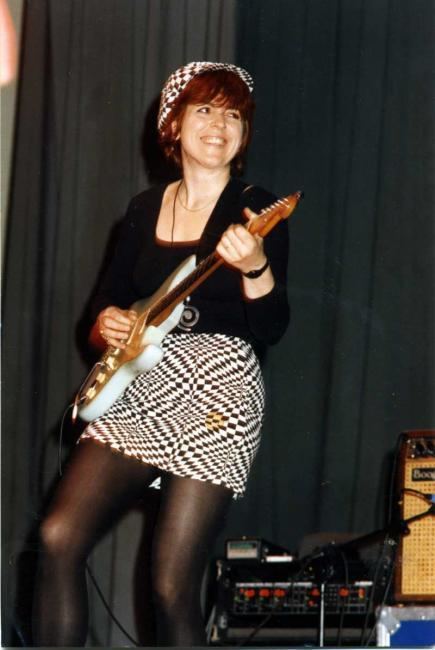 As a solo artist she has played with the American guitarist Tal Farlow, toured with Jamaican composer Marjorie Whylie, played throughout Europe, has seen the weekly jazz club she co-runs, 'Blow The Fuse', become one of the most popular in London, and has been a regular presenter for BBC Radio 3.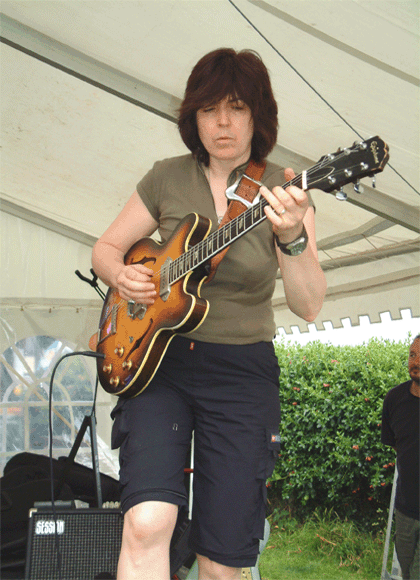 Before becoming a presenter and a jazz guitarist, Cartwright was a founding member of an all-female band Painted Lady, which is now Girlschool, from 1975 to 1977 when she left to form another band Tour De Forceand later pursued different professional opportunities in the music business.
Deirdre cartwright trio london jazz festival 2009
Rockschool
After finishing the series she contributed several tunes to the Rockschool grade books that are for sale and go from Debut grade to Grade 8. These are split into three levels: level 1 - Grades 1-3; level 2 - Grades 4-5; and level 3 - Grade 6-8. There are two types of exam, performance and normal. The tunes were co-written with Hussein Boon.
Rockschool songs for Guitar
The following is a complete list of songs from the Rockschool Guitar 2006-2012 syllabus, to which Deirdre Cartwright generally contributed one song per grade.
Grade Debut
Bean Scent
What's Your Game?
Paisley On My Mind
Detroit Spinner
Buddy
Ruby
Grade 1
Gone But Not Forgotten
Head On
Gotta Lotta Rosa
Jazz Trip
Grade 2
Fake Tortoise
Jet Black Camel
Martha's Park
Night Bus
Blue Phones
Glitter Ballz
Grade 3
Hazi Taxi
Been There
Download
Pipeline
Little Shady
Trenchtown
Grade 4
Enough Said
Glide On Down
Hold On I'm Going
Rage Against Everything
Secret Place
There and Beck
Grade 5
Alka Setzer
Sidewinder
All Funked Up
D&A
Bust Up
X Blues III
Grade 6
Big Big Big
PMA
Mud Pie
Musement Park
One by One
September Chill
Grade 7
Duality
Déjà Vu
Third Degree
Funkie Junkie
George's Best
Giant Homer Head
Grade 8
667
Bonzo
Fusion
Sampa Samba
Some You Win
Whatever Happened To Jazz
Discography
Tune Up Turn On Stretch Out (2008)
Dr Quantum Leaps (2005)
The Guest Stars - compilation (2006)
Precious Things (2002)
Play (1996)
Debut (1994)
Live in Berlin (1987)
Out at Night (1985)
The Guest Stars (1984)
References
Deirdre Cartwright Wikipedia
(Text) CC BY-SA