Covid-19
Kim Engle




Debra Bermingham




Artist






September 18, 1953

Northampton, Massachusetts
Debra Bermingham is an American artist known for her haunting interior scenes and still lifes.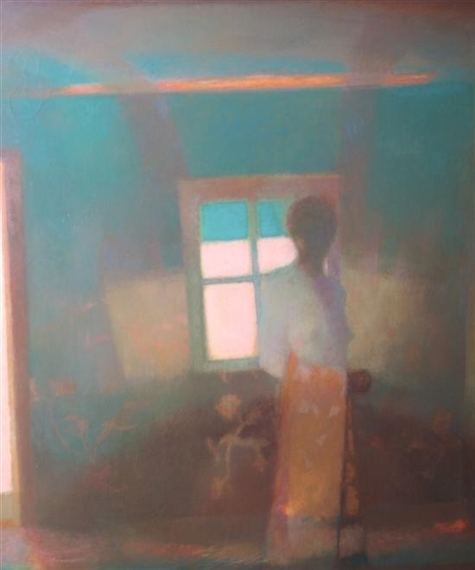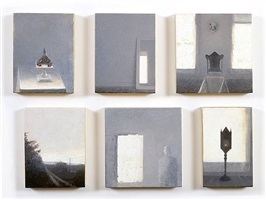 Debra Bermingham was born in Northampton, Massachusetts on September 18, 1953. She was educated at the University of Washington, Seattle, and Cornell University in Ithaca, New York.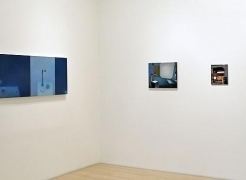 She currently resides with her husband, Kim Engle, in the Finger Lake Region of New York. They are the founders of Bloomer Creek Vineyard.
She has held teaching positions at the University of Washington, Hobart College, Cornell University, and Ithaca College.
Bermingham paints realistic interiors. Everyday objects are rendered strange and lyrical by her odd compositions and fuzzy lighting. The results are enigmatic little scenes not clarified by their equally puzzling titles. She describes the rational for her subject matter thus: "Finding the edge between the compelling atmosphere of an image from memory and an image from dream is the crux of my painting."
Many of her works are still lifes with diminutive objects dwarfed by the surrounding spaces. Like Giorgio Morandi (who is often mentioned in discussion of her work), Bermingham uses a limited collection of objects that she arranges in various combinations and settings; toys, marionettes, chairs, birdcages, and butterflies are among her favorite subjects. Her figures gaze intently at the viewer. A harlequin or clown appears in several paintings; describing one such figure in an exhibition review, Gerrit Henry asks, "Is man essentially a puppet of the gods, or of the artist?"
Bermingham favors limited palettes, working in transparent layers to create subtle color. Her process is meticulous and time-consuming; she is not a prolific artist.
The most distinctive characteristic of her painting might be her portrayal of transfused light. Reagan Upshaw describes it as "chilly luminescence" and connects her work to Luminism (American art style).
She also paints landscapes. They were named in the New Yorker as entirely different: "breezy and amicable,", but another reviewer described the same works as "evocatively grim," with "jaundiced" color.
Bermingham is represented by DC Moore Gallery in New York City. In addition to inclusion in many group shows, she has had several solo exhibitions at galleries and museums. Her works are held in public collections such as the Art Institute of Chicago, Kalamazoo Institute of Art, the Brooklyn Museum of Art, and Smith College Museum of Art.
2013 "Nearby," DC Moore Gallery, New York, NY
2010 "Paintbox Leaves: Autumnal Inspiration," Hudson River Museum, Yorkers, NY
2010 "Oblique/Acute," Brattleboro Museum and Art Center, Brattleboro, VT
2007–2009 "Object Project," Evansville Museum of Arts and Sciences, Evansville; *Greenville Museum, Greenville, SC; Philbrook Museum, Philbrook, OK; Hunter Museum of Art, Chattanooga, TN; Museum of Outdoor Art, Englewood, CO
2007 "Debra Bermingham: Swamp Drawing, Argazzi Art, Lakeville, CT
2006 "Saltonstall: The First 10 Years," Herbert F. Johnson Museum of Art, Cornell University, Ithaca, NY
2006 "Visions of The Susquehana," Lancaster Museum of Art, Lancaster, PA; Susquehanna Art Museum, Harrisburg, PA; Governor's Residence, Harrisburg, PA; Washington County Museum of Art, Hagerstown, MD
2006 "The Artist in Rural Ireland: American Artists at the Ballinglen Arts Foundation," Concord Art Association, Concord, MA
2005 "Dreamscape," John Michael Kohler Arts Center, Sheboygan, WI
2003 "The Way They See It," DC Moore Gallery, New York, NY
2001 "Re-Presenting Representation," organized by The Arnot Art Museum, The Corning Gallery, New York, NY
2001 "New Images from North Mayo," The Ballinglen Arts Foundation Gallery, Ballycastle, Ireland
1999 "Contemporary American Realist Drawing - The Jalane and Richard Davidson Collection at The Art Institute of Chicago," Art Institute of Chicago, Chicago, IL
1998 "Debra Bermingham," DC Moore Gallery, New York, NY
1995 "Nothing Overlooked: Women Painting Still Life," Contemporary Realist Gallery, San Francisco, CA
1994 "Invitational Exhibition of Painting and Sculpture," American Academy of Arts and Letters, New York, NY
1993 "Debra Bermingham: Across the Blue Room," Midtown Payson Galleries, New York, NY
1990/92 "Illumination and Radiance: Epiphanies in Contemporary Painting," Sherry French Gallery, New York, NY; Kalamazoo Institute of Arts, Kalamazoo, MI; Riverside Art Museum, Riverside, CA; Museum of the Southwest, Midland, TX; Rahr-West Art Museum, Manitowoc, WI
1988 "Realism Today," National Academy of Design, New York, NY; Arkansas Art Center, Little Rock, AR; Smith College Museum of Art, Northampton, MA
1984 Victoria Munroe Gallery, New York, NY
1980 Impressions Gallery, Boston, MA
Visiting Artist, Hunter Museum of Art, Chattanooga, TN (2008
The Ballinglen Arts Foundation, Fellowship, Ballycastle, County Mayo, Republic of Ireland (2000)
The Constance Saltonstall Foundation for the Arts Grant (1997)
Louise Nevelson Award in Art, American Academy of Arts and Letters (1996)
American Scandinavian Foundation, Artists Travel Grant (1991)
National Endowment for the Arts, Visual Artists Fellowship Grant for Painting (1987)
National Endowment for the Arts, Visual Artists Fellowship Grant for Painting (1985)
University of Rochester, Memorial Art Gallery, Louis D'Amanda Memorial Award (1985)
Millay Colony for the Arts, Austerlitz, New York, Painting Fellowship (1980)
Dartmouth College, Elinor Janeway Fellowship Award (1979)
Elinor Janeway Fellowship Award, Londonderry, VT (1979)
Ford Foundation Special Projects Grants, University of Washington (1978)
Cornell University, Charles Goodwin Sands Memorial Medal (1976)
Cornell University, Edith and Walter King Stone Memorial Prize (1975)
Debra Bermingham Wikipedia