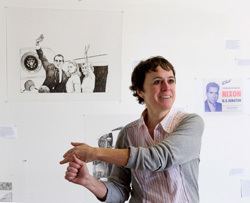 Aschheim graduated with a B.A. in Anthropology with Honors and Studio Art from Brown University in 1986, and a MFA in Sculpture from the University of Washington in 1990.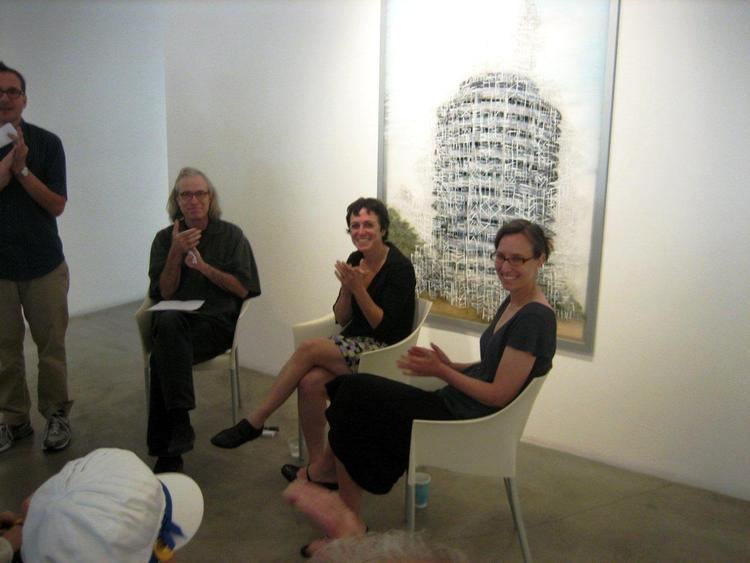 Aschheim's Involuntary Memories is a unique installation that utilizes several different art forms including drawings, sculptures, artifacts, and interviews completed in 2011-2012 at the Orange County Great Park (formerly known as the Marine Corps Air Station El Toro). The piece focuses on the relationships that people who lived during the Richard Nixon/ Vietnam War era now have with the period nearly 40 years later.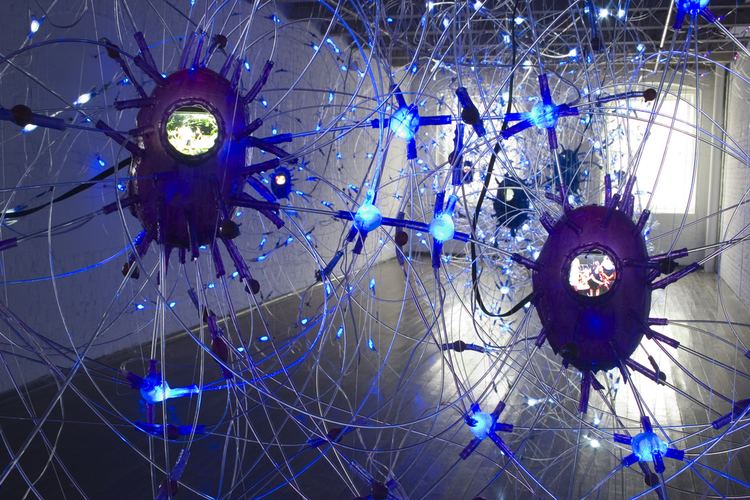 For this piece, Aschheim chose to create original works of art in the form of sculptures and drawings gaining inspiration mainly from UC Irvine's Archives and Special Collections. She then used these creations and added the text from the interviews she conducted in her open studio. The interviews showed both sides of the anti- and pro-war arguments during this era.
There was also a video played by Penny Lane and Brian Frye that showcased a few excerpts from The Silent Majority: Super 8 Home Movies from the Nixon White House. Penny Lane and Brian Frye also produced a video titled "Our Nixon" which used archival footage of home movies by Nixon staffers. Meg Linton also wrote an intro for the exhibition. Indre Viskonta also wrote an essay regarding the piece. Involuntary Memories was an installation piece in Great Park Art Gallery, Orange County Great Park, Irvine, California 2013.
Threshold is Aschheim's take on creating a city from her mind. She has been inspired by how cities have a way of constantly changing and while a person may have one memory of a building, city, place, etc., they may not be pictured exactly in their mind to match reality. To do this, she created a mix of a collage and sculpture to create a unique experience for the viewer to try and identify which building or city the installation is meant to represent. Aschheim utilizes metaphor to portray her thought process in creating this piece by utilizing a neural cloud above one of the pieces. This represents the random directions her thought process would lead her in while creating the piece. Threshold was an installation piece in Suyama Space, in Seattle, Washington, U.S.A. 2013.
My life in airports was an exhibition of over two hundred ink drawings displayed in the Los Angeles International Airport from 2012 to 2013. The exhibit was revealed as part of the A Look at COLA Individual Artist Fellowships exhibition, a group exhibit curated by Scott Canty. In her exhibition, Aschheim combined images of iconic Los Angeles buildings with sketches based on her monotonous, strangely intimate airport experiences, all of which were made in a six-month period. These drawings formed what Aschheim refers to as a visual travel diary, the goal of which was an attempt to reclaim her lost time at airports.
Nostalgia for the Future was a solo exhibition at the Armory Center for the Arts in 2009 that displayed both drawings as well as installations created from plastic, LEDs, and video. Aschheim describes her inspiration as a nostalgia for what the future once was, represented in her works by the futuristic Los Angeles buildings left to ruin. The installation also included music by Lisa Mezzacappa piped throughout the works.
Aschheim's Earworms are a series of electrified plastic sculptures that produce light and music to mimick the appearance and function of the brain's synaptic network. The name of the series comes from the German word "ohrwurm," which means a part of a song that involuntarily replays over and over again in a person's head. Aschheim's inspiration for the series came from her research at San Francisco's Memory and Aging Clinic, where she observed patients suffering from aphasia, a brain condition that causes people to become unable to communicate with words. However, despite "losing their words," some aphasia patients retain their ability to sing. Aschheim learned that this is because music is encoded into the brain in a different way than language. This notion inspired her to come up with 25 words that she could "back up" in her memory through music. She worked with Liza Mezzacappa and over a dozen other musicians to create a song for each of her 25 words to help encode them in her memory. For the Earworms series, these songs are projected from luminous plastic structures that resemble neurons.
Lining of Forgetting: Internal and External Memory in Art was a collaborative artist exhibition hosted by the Weatherspoon Art Museum in Greensboro, North Carolina. Deborah Aschheim's contribution to the exhibition was her June 10 series. The series consisted of three hanging sculptures consisting of green LEDs sheathed in plastic tubes radiating outward from small video screens. Each monitor played clips from the artist's home videos of her childhood birthday parties. Accompanying the sculptures were drawings labeling the "friends, family members, objects, places, and historical events" she associated with the memories of these parties.
Reconsider was a solo exhibition of selected works by Deborah Aschheim. It was hosted by Laumeier Sculpture Park near St. Louis, Missouri from February 9 to May 11, 2008. The wide variety of works included were all created between 2001 and 2008 and ranged from "multi-sensory sculptural installations," drawings and photo scans, to a collection of "artifacts from art, science, and music experiments." Among Aschheim's sources of inspiration for the pieces were her fear of bodily invasion, such as by disease, biological architecture, modern technology, and brain processes, specifically memory and the loss of it. For a full list of the included works, see the Reconsider Catalog.
The Forgetting Curve was an exhibition at the University of Southern Maine in 2007 that dealt with the decay of memories over time. Aschheim again used LED lit nodes and acrylic fibers to create her signature network of neurons in this installation. She focused on tracking her own memories, how they distort over time, and how her relationship with the original experience changes over time.
On Memory was an installation of a map and model of autobiographical memory located in a second floor gallery of a Mattress Factory Art Museum in Pittsburgh from 2006 to 2007. It is a physical representation of Aschheim's memories in the form of what looks like a network of neurons. She used LED lit nodes and acrylic fibers to remap her mental pathways into the physical space where they occurred.
"The network was built around fragments of old home movies: my grandfather's recorded memories, and my dad's films of my early childhood."
Similar to On Memory, in Episodic Aschheim builds a 3-D installation of a network of neurons to represent her memories. The exhibition was on display in The Soap Factory in Minneapolis during 2006. In this installation, however, she incorporates old and new memories of her own and also incorporates memories of others about different places. She mapped her encounters with Minneapolis stories onto the walls of the installation space.
Memoryspace (2012-2014)
Periscope (2012)
Taxonomy (2010)
Building as Body (2007)
Nerve Center (2007)
Neural Architecture (2003-2006)
Aroborization (2003)
City of Los Angeles Artist-in-Residence Grant, Los Angeles, CA (2009, 2012)
Artists' Resources for Completion Grant, Center for Cultural Innovation, Los Angeles, CA (2011)
Mid-Career Artist Fellowship, California (2011)
Community Foundation, Los Angeles (2011)
Artist in Residence, Orange County Great Park, Irvine, CA (2011)
Hixon-Lied Visiting Lecturer, Department of Art & Art History, University of Nebraska, Lincoln (2011)
Hellman Visiting Artist Fellowship, Memory and Aging Center, Department of Neurology, University of San Francisco, CA (2009-2011)
Visiting Artist, Columbus State University, Columbus, GA (2010)
Visiting Artist, Illinois State University, Normal, IL (2008)
Individual Artist Grant, Pasadena Arts and Culture Commission, Pasadena, CA (2004, 2008)
Artist-in-Residence, Fundacion Valparaiso, Mojacar, Spain (2007)
Artist-in-Residence, McColl Center for Visual Art, Charlotte, NC (2007)
Artist-in-Residence, UCSF Memory and Aging Clinic, San Francisco, CA (2007)
Artists' Resources for Completion Grant, The Durfee Foundation, L.A., CA (2004, 2007)
Artist-in-Residence, Headlands Center for the Arts, Sausalito, CA (2006)
City of Los Angeles (C.O.L.A.) Individual Artist Fellowship, L.A., CA (2002-2003)
HARP Residency, Hallwalls Contemporary Arts Center, Buffalo, NY (2001)
Individual Artist Fellowship, New Jersey State Council on the Arts (2001)
Residency Fellowship, Bemis Center for Contemporary Arts, Omaha, NE (1994)
Artist-in-Residence Grant, Roswell Museum and Art Center, Roswell, NM (1993-1994)