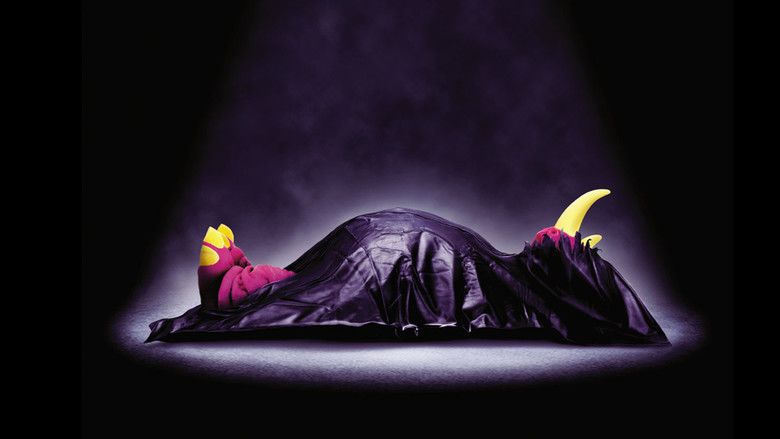 Randolph Smiley is the host of "The Rainbow Randolph Show", a popular children's TV show. Despite his friendly appearance on-stage, off-stage he is an arrogant and corrupt businessman who accepts bribes from parents who want to put their kids on his show. After an FBI sting exposes him, Randolph is fired and his show is cancelled. He is replaced with the "squeaky clean" Sheldon Mopes and his character, Smoochy the Rhino. Mopes is uniquely sincere and thoroughly interested in providing quality children's entertainment, and despite doubts from his hardened producer Nora Wells, his show quickly becomes tremendously popular. Meanwhile, Randolph turns to his former associate Marion Stokes and pleads to help him get his job back, but Stokes refuses. After several failed attempts to get Mopes fired, Randolph turns to his former partner Angelo Pike and asks if he can stay at his apartment, to which Angelo reluctantly agrees.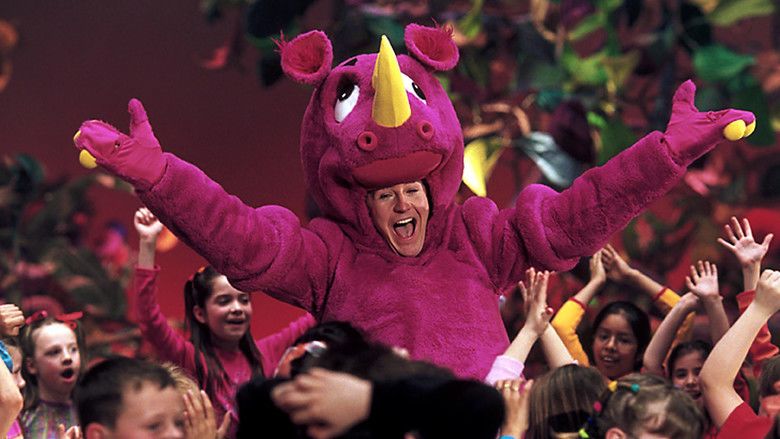 Mopes quickly finds himself losing creative control over his show to Nora and with the help of his new agent Burke Bennett, Mopes renegotiates his contract and is named executive producer. Irish mob boss Tommy Cotter approaches Mopes and asks him to create a spot on his show for her cousin Spinner Dunn, a former boxer whose numerous head injuries have left him with brain damage. Mopes reluctantly adds Spinner to the show, first as a cowbell-wielding game warden, and later on as Smoochy's cousin Moochy.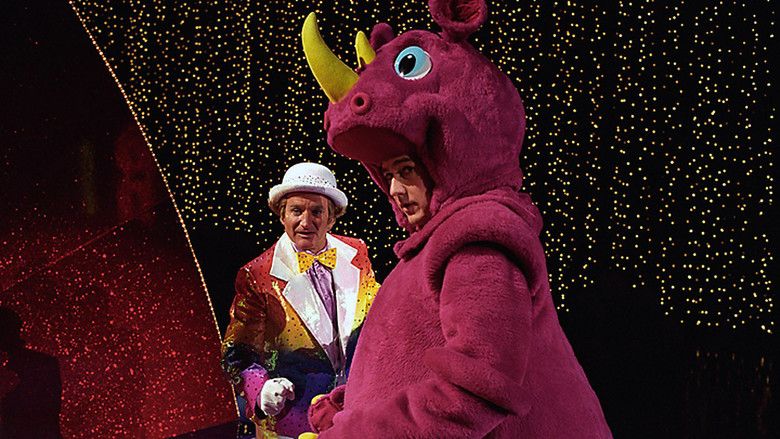 Mopes is horrified to learn that Burke has signed him up to star in a Smoochy ice show, as he fears that the event will exploit children. Burke and Merv Green, the head of the corrupt charity running the ice show, warn Mopes not to back out of the event but he does so anyway. Soon afterward, a disguised Randolph tricks Mopes into performing a Smoochy act at a neo-Nazi rally. Mopes is branded a racist and loses his job and show, and Nora refuses to help him. However, when Randolph barges into Nora's apartment and tries to convince her to help him get his job back, he accidentally reveals that he set Mopes up. Tommy and her crew then barge into Angelo's apartment and force Randolph to confess that he tricked Mopes. As a result, Mopes' show is restored and Randolph is dubbed the most hated man in America by the media. To make matters worse, a fed up Angelo kicks Randolph out of his house. After telling him that his show is back on the air, Nora kisses Mopes and has sex with him.
Mopes then decides to perform in an ice show, but without the corrupt charities. Burke and Green retaliate by plotting to kill Mopes and hire a new host who will cooperate with their profit skimming. Their plan backfires when, during a rehearsal, Green's men mistake Spinner in his Moochy costume for Mopes and murder him. When Tommy gets word of this, she retaliates by killing Green and his men. Meanwhile, Randolph corners Mopes and Nora in their penthouse and reveals to Mopes that Nora has had affairs with numerous children's show hosts, including Randolph himself. Mopes is hurt by this, but Nora insists that she has genuine feelings for him. They manage to calm Randolph down and discover that he genuinely misses entertaining children. Mopes offers to let him stay in the penthouse until he recovers.
Burke and Stokes decide to partner up after hearing of Green's death. They hire Buggy Ding Dong, another former kid show host, to assassinate Mopes during his ice show. Buggy steals a backstage pass to get inside, but before he can shoot Mopes he is confronted by Randolph. They struggle for the rifle until Buggy falls to his death in the ice rink. After Mopes realizes that Burke and Stokes set him up, he pulls a gun and threatens to kill Burke. Tommy and her men arrive and persuade him not to forfeit his high ideals. Tommy decides to take care of Burke and Stokes in her own way, Mopes and Nora share a kiss in Times Square, and Smoochy and Randolph launch a new show together.
Robin Williams as "Rainbow" Randolph Smiley
Edward Norton as Sheldon Mopes/Smoochy the Rhino
Danny DeVito as Burke Bennett
Catherine Keener as Nora Wells
Jon Stewart as Marion Frank Stokes
Pam Ferris as Tommy Cotter
Michael Rispoli as Spinner Dunn
Harvey Fierstein as Merv Green
Vincent Schiavelli as Buggy Ding Dong
Danny Woodburn as Angelo Pike
Robert Prosky as the chairman of Kidnet
The film currently holds a rating of 42% ("rotten") on review aggregator Rotten Tomatoes based on 119 critics who contributed reviews thereto as well as a 66% audience rating; as the site's critical consensus has it, "The talent involved can't save a script that has nowhere to go with its promising premise." On Metacritic, its weighted average score is 38 from 30 critics, which the site considers "generally unfavorable". Roger Ebert wrote an extremely negative review in the Chicago Sun-Times (giving it one-half of a star out of four), saying "Only enormously talented people could have made Death to Smoochy. Those with lesser gifts would have lacked the nerve to make a film so bad, so miscalculated, so lacking any connection with any possible audience. To make a film this awful, you have to have enormous ambition and confidence, and dream big dreams."
J. Hoberman of The Village Voice, however, praised the film: "Death to Smoochy is often very funny, but what's even more remarkable is the integrity of DeVito's misanthropic vision."
Though it received a wide release, playing in some 2,164 theaters its opening weekend in the United States, the film was a box office bomb, grossing $4,266,463 its opening weekend, and a mere $8,382,691 overall, with negligible box-office receipts outside the U.S./Canada market.
Robin Williams received a Razzie Award nomination for Worst Supporting Actor for his performance as Randolph in this film, but 'lost' to Hayden Christensen for his performance in Star Wars: Episode II – Attack of the Clones.