Oury Jalloh (born 1968 in Kabala, Sierra Leone; died 7 January 2005 in Dessau, Germany) was a Sierra Leonean asylum seeker who died in a fire in a police cell in Dessau, Germany. The hands and feet of Jalloh, who was alone in the cell, were tied to a mattress. A fire alarm went off, but was initially turned off without further action by an officer. The case caused national and international outrage.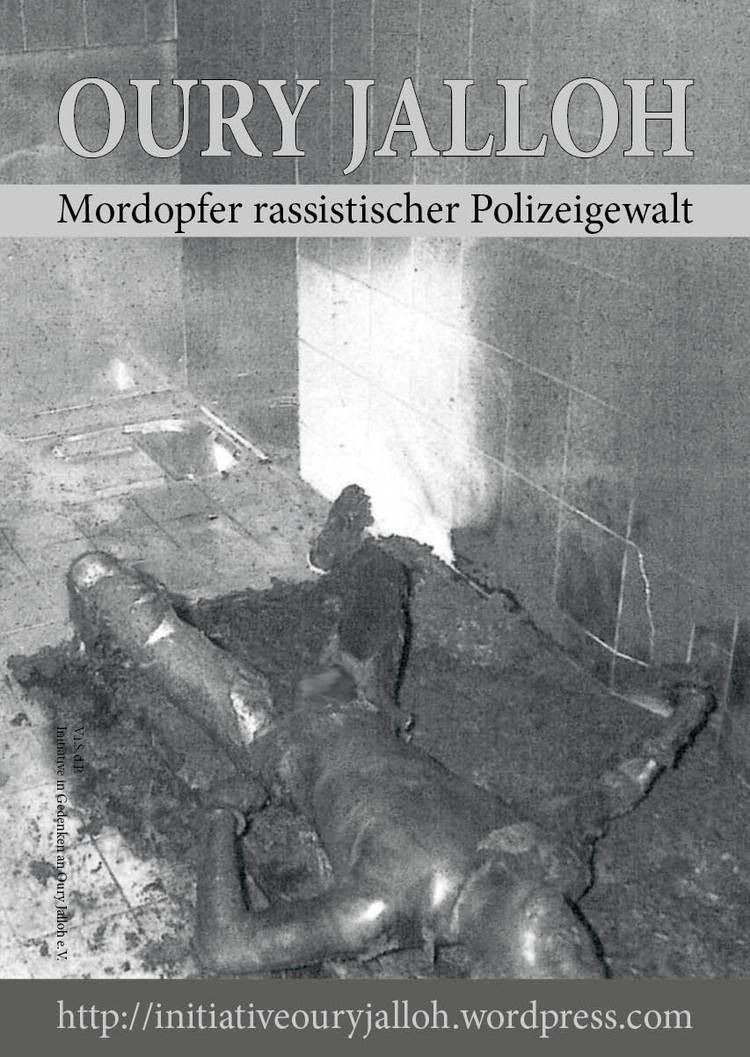 In 2007, two officers were charged with causing bodily harm with fatal consequences and with involuntary manslaughter, respectively, but were acquitted in December 2008 for lack of evidence. According to the presiding judge, contradictory testimony had prevented clarification of the circumstances and had obstructed due process. The Federal Court of Justice annulled one of the acquittals, and since January 2011, a different Landgericht than before is concerned with the case.
According to his tombstone in Sierra Leone, Oury Jalloh was born in 1968. In 2000, he fled from the Sierra Leone Civil War to Guinea, where his parents were already living, and then further to Germany, where he applied for political asylum. Although his application was declined, he remained in the country. His child with a German citizen was put up for adoption by the mother shortly after birth. Several weeks before his death, Jalloh was convicted to a prison sentence of three and a half years for commercial drug trafficking.
According to the investigators, the fire broke out in the cell around midday. The fire alarm went off on two occasions. Noises and cries for help coming from the acoustically controlled cell were registered but ignored. Supposedly, the supervising police officer turned off the sound of the acoustic system shortly before twelve because he could not understand a telephone conversation. Only when the air-control alarm went off did he go down into the basement where the cell was located. But by that time Jalloh was found lying on a burning mattress, his body severely burned and his hands bound to the bed frame. The remains of a lighter were only found in later investigations.
Chief prosecutor Folker Bittmann for the Oury Jalloh case is also responsible for the Yangjie Li case, a 25-year-old Chinese architecture student murdered near her student accommodation in Dessau. During the course of the police investigation, the suspect's police parents fell into general suspicion of having covered up the evidences. Bittmann's spread of the version of the suspects' testimony that the victim had "consensual sex" with them at a press conference also caused outrage among the victim's parents, Chinese students in Dessau and throughout the country.