Birth name

Dean Cyril Reed




Role

Actor




Name

Dean Reed




Instruments

Vocals, guitar




Origin

Denver, Colorado, US






Also known as

Mr. Simpatia, Red Elvis


Genres

Pop, country, rock'n'roll


Occupation(s)

Singer, musician, actor, writer, director




Died

June 13, 1986, Zeuthen, Germany


Spouse

Renate Blume (m. 1981–1986), Wiebke Reed (m. 1973–1978)


Children

Alexander Reed, Ramona Reed, Natasha Reed




Albums

Seine Amiga Erfolge, Dean Reed: Selected Recordings, Teen Idol 1959-1961


Movies

Adios - Sabata, God Made Them I Kill Them, Death Knocks Twice, Buckaroo: The Winchest




Similar People

Renate Blume, Gojko Mitic, Gianfranco Parolini, Sergio Garrone, Frank Beyer
Dean Reed: the Red Elvis' Graceland in Berlin
Dean Reed-Red Elvis Revue-October 2011
Dean Cyril Reed (September 22, 1938 – June 13, 1986) was an American actor, singer and songwriter, director, and social activist who lived a great part of his adult life in South America and then in East Germany.
Contents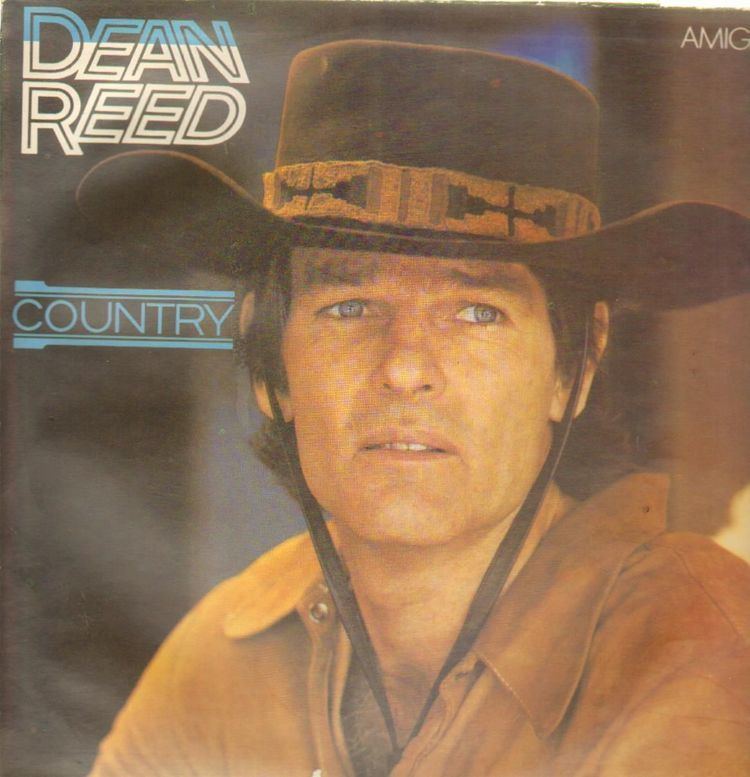 Life and career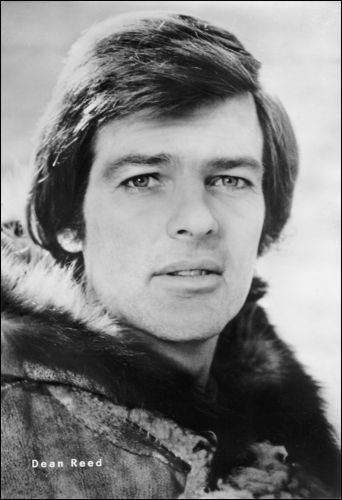 Dean Reed was born in Denver, Colorado, and moved with his family many times, living in various cities in California and Utah, and later returning to Colorado. He graduated from Wheat Ridge High School in 1956, where he was a star athlete on the track team. After a couple of years at the University of Colorado, Reed moved to California after realizing he had some talent as a musician, and recorded "Once Again" for Imperial Records as a one-off single to see if reaction to it would justify a full contract. No contract was offered by Imperial, but Reed subsequently signed a long-term recording contract with Capitol Records in 1958. Capitol groomed him to be a teen idol and he produced some modestly popular singles, including Annabelle, The Search, No Wonder, A Pair of Scissors, I Kissed a Queen, and Our Summer Romance. He also made guest appearances on family television programs such as Bachelor Father.
International fame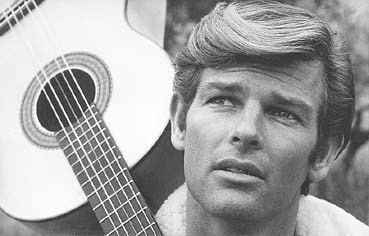 While Reed never achieved musical success in the U.S., as The Search became his only Billboard entry at #96, Our Summer Romance proved to be so popular in South America that he stayed on in Argentina following a South American tour. His fame, and record sales there (as well as in Chile and Peru, where he also appeared on the major TV network) were noteworthy.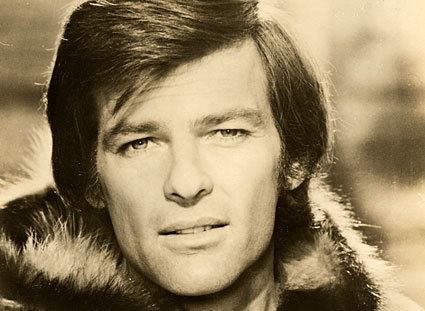 While living in South America, Reed made numerous albums, movies, toured extensively, and even appeared on his own television programs in Buenos Aires; such as Sabados Continuados, with the appearance of Antonio Carrizo. Dean Reed resided in Argentina for approximately four years. During that period, he offered several live concerts. During these performances, Dean Reed was accompanied by the group "Los Dominantes." Los Dominantes was a rock-band from Lanus, formed by Juan Luis Bhe "Ricky" (keyboard), Carlos Reale "Charly" (Bass), Dardo Rivero (1st. Guitar), Juan Chiarello (2nd. Guitar), Jacinto Atencio (Drums).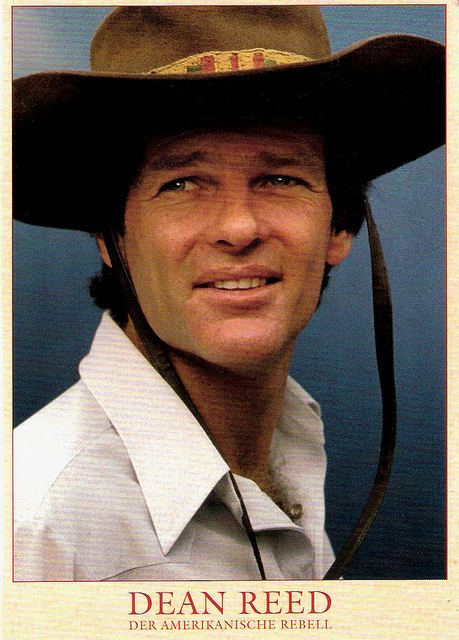 In Chile, he developed a left-wing political philosophy, and began to speak out against oppression and poverty. He protested against nuclear weapons and US foreign policy, and performed shows free in poor neighborhoods and in prisons. Back in Buenos Aires, his politics eventually ran afoul of Argentine government policies after the 1966 military coup and he was deported.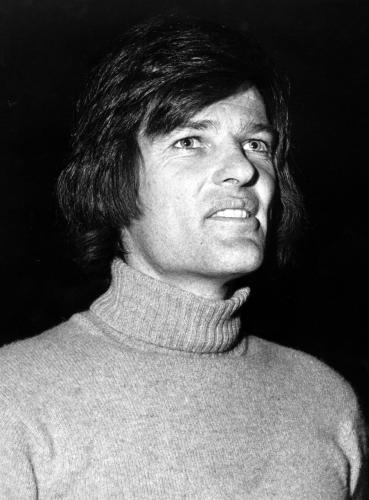 In 1971 Reed wrote an "open letter" to Alexander Solzhenitsyn, criticizing him for having slandered the USSR.
He lived in Rome for a time, acting in TV commercials and spaghetti western movies such as Adiós, Sabata, and touring Central and Eastern Europe, including the Soviet Union, where he was immensely popular.
Life in the Soviet bloc
In 1973, Reed chose to settle permanently in East Germany, where he continued to write, direct, and perform in films. Over the years he played in 20 films, produced 13 records, and gave concerts in 32 countries. The majority of his songs during this period were uncertified covers of successful hits of Chuck Berry, Elvis Presley, The Beatles and others. In 1978 he directed and starred in El Cantor (The Singer), a biopic about his friend Víctor Jara, the popular Chilean singer-songwriter murdered by the military after the 1973 coup d'état against President Salvador Allende.
While committed to the politics of his adopted communist home, he did not join the ruling Socialist Unity Party (SED). Despite his opposition to many US government and economic policies, he professed his love of America until the end of his life, and his songs often reflected his fondness for his homeland. He never renounced his US citizenship and continued to file tax returns for the Internal Revenue Service.
However, in a 1986 television interview on CBS's 60 Minutes, he defended the Soviet intervention in Afghanistan and the building of the Berlin Wall (saying it was for "self-defense"), and compared Reagan to Stalin, which angered many in the U.S., including Reed's family and friends. Following the interview, Reed received hate mail from the U.S. accusing him of being a traitor.
Death
Six weeks after his appearance on 60 Minutes, Reed was found dead in Zeuthener Lake near his home in East Berlin. Though it was officially ruled an accidental drowning, his friends in Germany suspected his death was a suicide and his family in the U.S. claimed he had been murdered.
Reed's suicide note was later found on the back of a screenplay in his car. In it, Reed expressed his regret about his crumbling relationship with his third wife. He apologised to Erich Honecker, General Secretary of the SED, personally for his actions which could have resulted in a bad image for the GDR. The note was put into state files as classified information, which did not resurface until after German reunification. Said Eberhard Fensch, who was addressed in the note: "The reason was to spare his wife's feelings. There was no other reason. The letter even contained a greeting to Erich Honecker. Why would we cover that up?"
In 2004, Russia's Rossiya television channel aired a documentary on Dean Reed, Кто Вы, Мистер Рид? ("Who Are You, Mister Reed?"), speculating on the possibilities of him having been a CIA, KGB or Stasi agent, but failing to present any concrete evidence to support any such theories. It is known, however, that between 1976 and 1978, he did work for the Stasi's international department.
Personal life
Reed married three times. His first marriage was circa 1964 to an American woman, Patricia Hobbs, with whom he had a daughter, Ramona, born 1968. Patricia left him in 1971, returned to the United States with their daughter, and divorced him. Reed married an East German woman, Wiebke Dorndeck (née Schmidt), in 1973, with whom he had a second daughter, Natasha, born 1975. The couple divorced in 1978. In 1981 he married his third wife, East German actress Renate Blume, with whom he stayed until his death despite tensions and allegations that she was informing on him for the Stasi.
Legacy
The University of Colorado sponsors the Dean Reed Peace Prize, an annual essay contest held in Reed's memory.
Media depictions
A musical entitled "Comrade Rockstar", with music by Richard John and libretto by Julian Woolford is currently in development, using none of Reed's songs. One hour's material from the show was presented in workshop by students from London's Arts Educational School in November 2007, and further workshops have taken place at Central School of Speech and Drama and Royal Scottish Academy of Speech and Drama. A full-reading took place in February 2012 with a cast including West End stars Ben Goddard, Rosie Ashe, Issy Van Randwyck, Katie Secombe, Kajsa Hummerlund and Gemma Sutton.
Reed's life story influenced Grammy Award-winning writer and comedian Lewis Black and composer Rusty Magee to create the musical "The Czar of Rock and Roll". This chronicled a Reed-like character Eugene Reeves' rise from a Nebraska musician to a Soviet superstar. The book was penned by Black with music and lyrics by Magee. It was first produced in New York City at the West Bank Café Downstairs Theater Bar in 1989 and then at the Alley Theater in Houston in 1990. A concert version of the musical, directed by Evan Cabnet, was produced at Joe's Pub in New York City in April 2009. The song 'Salome for Dean Reed' features on the 2001 'Blossom Freak' album by English singer/songwriter Steve Bush.
Tom Hanks optioned a biography by Reggie Nadelson, titled Comrade Rockstar (1991), finally published in the U.S. by Walker & Company in 2006. Nadelson had been inspired to write her book after seeing the 60 Minutes broadcast. Hanks planned to produce a movie on Reed's life, which is also the subject of the documentaries American Rebel: The Dean Reed Story (1985), Dean Reed – Glamour und Protest (1993), Der Rote Elvis (The Red Elvis) (2007). and Gringo Rojo (2016)
References
Dean Reed Wikipedia
(Text) CC BY-SA