Criminal status

in prison







Born

August 31, 1959 (age 61) (

1959-08-31

)

Conviction(s)

first-degree assaultunauthorized practice of profession
The Pretender: Dean Faiello
Dean Faiello (born August 31, 1959) is an American criminal currently imprisoned at Attica Correctional Facility after being found responsible for the April 2003 death of Maria Cruz, to whom he had represented himself as a dermatologist. Faiello held neither a medical degree nor a license to practice medicine.
Contents
Early life and education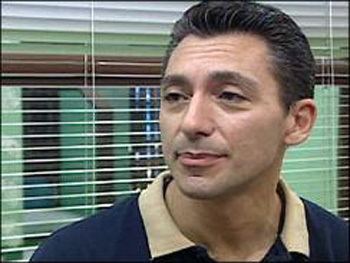 Faiello was raised in Madison, New Jersey, where he graduated from Madison High School in 1977 (and was voted "most likely to succeed" by his classmates). He enrolled in Rensselaer Polytechnic Institute in 1977, but left without graduating.
Career
Faiello had worked in construction before getting a job at a day spa, where he became skilled at hair removal. In 1996, he began his own practice, SkinOvations, from an office on Park Avenue. (He later moved to an office on 133 East 73rd Street, then to an office at 117 East 18th Street in Gramercy Park.) The medical spa offered blood vessel removal, electrolysis, laser hair removal, laser skin treatments, tattoo removal, and facials.
In 1998, Faiello was charged with possession of a controlled substance, forgery and possession of a forged instrument. He pleaded guilty to a misdemeanor count of possession of a forged instrument and was sentenced to three years' probation. Faiello claimed on his professional website to hold a Master of Science degree from RPI and the credential of Certified Professional Electrologist, despite it lapsing in 1998 after he failed to earn continuing education units required to maintain certification.
On October 6, 2002, the New York Post published an investigation into Faiello titled "He'll Make Your Skin Crawl". He was arrested two days later on three counts of practicing medicine without a license, but was released on bail with the condition that he not continue to treat patients. Faiello subsequently began to see patients out of an apartment at 115 West 16th Street.
Cruz death
On April 13, 2003, Filipino-American investment banker Maria Cruz had an appointment with Mr. Faiello for laser treatment of black hairy tongue. She went into convulsions after he injected lidocaine into her tongue; Faiello contacted an acquaintance who was a physician and was told to rush Cruz an emergency room. Instead of seeking immediate medical aid, Faiello took Cruz's body in a large suitcase to his home (which formerly belonged to the internationally known opera singer Maria Jeritza) in the Forest Hill neighborhood of Newark, New Jersey and buried her under the garage. Her body was found on February 18, 2004.
Faiello fled the country in September 2003, entering Costa Rica on a three-month visa. He was arrested on February 26, 2004 at a resort in northwestern Costa Rica. He was imprisoned in Costa Rica and fought extradition, but was ultimately returned to the United States in May 2005 and charged with second-degree murder in the death of Ms. Cruz. He entered a plea agreement by pleading guilty to first degree assault in exchange for a 20-year prison sentence.
References
Dean Faiello Wikipedia
(Text) CC BY-SA