Similar People



Amar es eso. De Tomás Guardia Bencomo por David Sant
David Sant is a Spanish English director, writer, actor and voice actor. He was born in Catalonia, Spain. He is best known for the role of Cartoon Head from series two of the British television show Ideal and is also known for playing the title role and the other male characters in the season 5–6 revival of Pingu, replacing Carlo Bonomi. He has directed many television series including Jonathan Creek, Benidorm and Stella.
Contents
He has also appeared the theatrical roles, including Mindbender, presented by the theater company Peepolykus, and All in the Timing by David Ives, also presented by Peepolykus.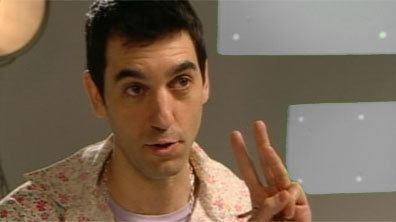 Ya es hora (Poema) | David Sant
Filmography
Fast Forward (episode #3.19, 1991) writer of additional material
My Spy Family (episode "The Trophy Affair") Director
My Family (episode "Canary Cage" 2003) played "Restaurant Waiter"
Pingu (Series 5–6; 2003–2006) played "Pingu, Dad," various other characters (voice)
Not Waving (TV 2005) (alternalte title: Not Waving But Drowning (UK: TV title))
Doctor Who (episode "Rose" 2005) played "Auton"
Ideal (30 episodes, 2005–2011) played "Cartoon Head" and Enrique
Time Trumpet (episode #1.3, 2006) played "Himself"
Columbus: The Lost Voyage (TV, 2007) played Bartolome Columbus
The Golf War (TV series 2007) Director
Living with Two People You Like Individually... But Not as a Couple (TV series 2007) Director
Comedy Cuts (TV series 2007) Director of some episodes
Comic Relief 2007: The Big One (2007) played "Himself"
Coming of Age (directed 7 episodes, 2007–2008): "Pussy Boy" (2008); "Up the Botty" (2008); "We Have Been Naughty Haven't We?" (2008); "I Suck Coppers"; "Dick and Fanny" (2008)
The Gym (TV series 2008) Director
Scallywagga (TV series 2010) Director
References
David Sant Wikipedia
(Text) CC BY-SA