David Nathan Weiss is an American writer, lecturer and labor leader. He is a screenwriter of films, including All Dogs go to Heaven, The Rugrats Movie, Shrek 2, Clockstoppers, Jimmy Neutron: Boy Genius, Rugrats in Paris: The Movie, The Smurfs and Ferdinand and has also written for television shows such as Mission Hill, all of which were co-written with his writing partner, J. David Stem.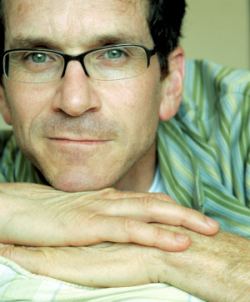 David Nathan Weiss was born circa 1960 and grew up in Ventura, California. He graduated from the Buena High School in Ventura. An honors business grad of Pepperdine University, Malibu, CA (B.S. Business Admin, Magna Cum Laude), Mr. Weiss received his master's degree from the USC School of Cinematic Arts (MFA Production).
Weiss wrote and directed several award-winning shorts and penned the screenplay for the MGM Classic, All Dogs Go To Heaven. With his writing partner, J. David Stem, Weiss served as a head writer for Rugrats and penned the holiday special Rugrats Chanukah. Other TV credits include the hit CBS series, Cybill (exec. story editor) The CW's Mission Hill (co-producer) and Nickelodeon's Roundhouse. Weiss also co-wrote the hit family comedy, Are We There Yet, starring Ice Cube, Paramount Pictures' adventure film, Clockstoppers and served as co-executive producer/show-runner on Focus on the Family's popular StoryKeepers video series.
Weiss was nominated for a prime time Emmy Award for his work on the Rugrats Mother's Day special and two of his films were nominated for Academy Awards (Shrek 2 & Jimmy Neutron: Boy Genius – "Best Animated Feature"). The Smurfs spent a record-breaking 7 weeks at #1, worldwide. His combined box office now exceeds $2.3 billion, worldwide.
In 2005, Weiss was elected vice-president of the Writers Guild of America, West. In 2009, after serving two terms as vice-president, Weiss was elected secretary-treasurer of the Writers Guild of America, West.
Weiss has also written three books for children, including Kay Thompson's bestseller, Eloise in Hollywood (with Stem, for Simon & Schuster). He is a patron of the Insight Film Festival. He has taught at the Ma'aleh School of Television, Film & the Arts in Jerusalem, Israel.
Weiss is married with two children.
Weiss was raised as a Reform Jew and converted to Christianity as a teenager. After living in Los Angeles, he returned to Judaism as an observant Jew.