David malpass talks brexit s impact
David R. Malpass (born March 8, 1956) is an American economist who currently serves as Under Secretary of the Treasury for International Affairs. He previously served as Deputy Assistant Treasury Secretary under President Ronald Reagan, Deputy Assistant Secretary of State under President George H. W. Bush, and Chief Economist at Bear Stearns for the six years preceding its collapse. During the 2016 U.S. presidential election, Malpass served as an economic advisor to Donald Trump. In March 2017, Trump announced that Malpass would be his nominee for undersecretary for international affairs in the United States Department of the Treasury. Malpass was confirmed for the position by the United States Senate on August 3, 2017.
Contents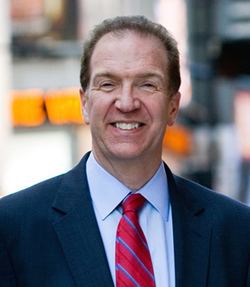 Could David Malpass be the Next World Bank Chief?
Education and career
Malpass holds a B.A. in physics from Colorado College and an MBA from the University of Denver. He studied international economics at Georgetown University's School of Foreign Service. He speaks Spanish, Russian, and French.
During the presidencies of Ronald Reagan and George H. W. Bush, Malpass worked on an array of economic, budget, and foreign policy issues including small business promotion throughout Latin America, and the 1986 tax cut. Malpass served as the Republican staff director of Congress's Joint Economic Committee from 1989 to 1990, and as a member of Congress's blue-ribbon panel on budget scoring from 2002 to 2003.
Malpass worked at Bear Stearns for 15 years in the firm's research department, with six of those years as the firm's chief economist. As a result of the global financial crisis and under the prodding of the Federal Reserve and U.S. Treasury Department, Bear Sterns was sold to JP Morgan Chase in March 2008 for 6% of its value twelve months prior. Malpass founded Encima Global shortly thereafter, in June 2008. Encima is a New York City firm providing daily analysis of global economic and political trends relevant to institutional investors.
Malpass writes a column for Forbes magazine and is a contributor to the op-ed section of The Wall Street Journal. He is also a frequent television commentator. From 1977 to 1983, Malpass worked in Portland, Oregon for Esco Corporation and Arthur Andersen's systems consulting group, where he became a licensed CPA. In 2012, he wrote a chapter entitled 'Sound Money, Sound Policy' in The 4% Solution: Unleashing the Economic Growth America Needs, published by the George W. Bush Presidential Center.
Malpass sits on the boards of UBS Funds, the New Mountain Financial Corporation, the Manhattan Institute, and the Gary Klinsky Children's Center. He is also a former director of the National Committee on United States–China Relations, the Council of the Americas, and the Economic Club of New York.
In 2010, Malpass ran for the Republican nomination for United States Senate in that year's special election in New York. He placed second in the three-way primary with 38% of the vote.
Economic forecasts
Malpass has been noted for his forecasts before the financial crisis of 2007–2008 and in the time period following the Great Recession. In 2007, before the housing market collapse, Malpass wrote for the Wall Street Journal that "Housing and debt markets are not that big a part of the U.S. economy, or of job creation...the housing- and debt-market corrections will probably add to the length of the U.S. economic expansion." He also called for the raising of interest rates in 2011 at a time when others believed this would be harmful to the economy. Bruce Bartlett cited Malpass's 2008 forecast of economic growth and his 2012 forecast of recession as specific examples of partisan bias in economic forecasts.
Trump advisor
Malpass joined the Trump presidential campaign in May 2016 as Senior Economic Advisor. He appeared frequently on television and radio to support Trump's message of faster growth through policy reforms. Four of his pre-election Forbes columns discussed the need for political upheaval to upend the status quo. On August 5, the campaign announced an economic round-table including Malpass. His September 1, 2016, New York Times editorial described fast growth through a policy upheaval covering taxes, trade, regulations and energy ("Why Our Economy Needs Trump"). Throughout the election time period, Malpass was heading the transition team's work on economic agencies including Treasury, Commerce, the Federal Reserve, USTR and independent regulatory agencies as Trump prepared to become president.
Personal life
Malpass and his wife, Adele, daughter of Herman Obermayer and granddaughter of Neville Levy, live in New York City. Adele Malpass is the Chairwoman of the Manhattan Republican Party. Malpass is a native of northern Michigan.
References
David Malpass Wikipedia
(Text) CC BY-SA