Nominations

Daytime Emmy Award for Outstanding Supporting Actor in a Drama Series

TV shows




Similar People

Agnes Nixon, William J Bell, Irna Phillips, Paul Rauch, John William Corrington
David Forsyth (born September 18, 1947 in Long Beach, California) is an American soap opera actor.
Contents
All My Children Emergency Recast In Middle Of Scene! - AMC (1997) | Roscoe Born To David Forsyth
David Forsyth was given several soap opera roles to play in rapid succession: T.J. Canfield on Texas (1981–1982), Hogan McCleary on Search for Tomorrow (1983–1986) and John Hudson on Another World (1987–1997). He succeeded Roscoe Born in the role of Jim Thomasen on All My Children in 1997, a role he played until 1998.
He also had a cameo in one episode of Sex and the City as Miranda's boss.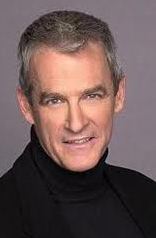 Filmography
Actor
2010
Law & Order: Criminal Intent (TV Series)
as
Piaggi
- Loyalty: Part 2 (2010) - Piaggi
2009
One Life to Live (TV Series)
as
Priest
- I Deux (2009) - Priest
- Tea for Two (2009) - Priest
- Wedding Bo Blues (2009) - Priest
- Renouncing Satan- Or Not (2009) - Priest
2008
30 Rock (TV Series)
as
Congressman #1
- Cooter (2008) - Congressman #1
2006
Law & Order (TV Series)
as
Congressman Jonathan Prescott
- Kingmaker (2006) - Congressman Jonathan Prescott
2005
Franklin Charter (TV Movie)
2005
The Awakening (Short)
as
Man / Therapist / Doctor
2004
Law & Order: Special Victims Unit (TV Series)
as
Dr. Stanley Norton
- Birthright (2004) - Dr. Stanley Norton
2002
The End of the Bar
as
Mr. Duncan
2001
Days of Our Lives (TV Series)
as
John
- Episode #1.8989 (2001) - John
2000
Deadline (TV Series)
as
Carl Cavender
- Daniel in the Lion's Den (2000) - Carl Cavender
1998
All My Children (TV Series)
as
Jim Thomasen / Bob Thomasen
- Episode dated 24 August 1998 (1998) - Jim Thomasen / Bob Thomasen
- Episode dated 20 August 1998 (1998) - Jim Thomasen / Bob Thomasen
- Episode dated 6 April 1998 (1998) - Jim Thomasen / Bob Thomasen
- Episode dated 3 April 1998 (1998) - Jim Thomasen / Bob Thomasen
- Episode dated 20 February 1998 (1998) - Jim Thomasen / Bob Thomasen
- Episode dated 19 February 1998 (1998) - Jim Thomasen / Bob Thomasen
- Episode dated 7 January 1998 (1998) - Jim Thomasen / Bob Thomasen
- Episode dated 6 January 1998 (1998) - Jim Thomasen / Bob Thomasen
1998
Sex and the City (TV Series)
as
Senior Partner 'Chip'
- Bay of Married Pigs (1998) - Senior Partner 'Chip'
1987
Another World (TV Series)
as
Dr. John Hudson / John Hudson
1983
Search for Tomorrow (TV Series)
as
Hogan McCleary
1983
As the World Turns (TV Series)
as
Burke Donovan
- Episode dated 27 October 1983 (1983) - Burke Donovan
- Episode #1.7008 (1983) - Burke Donovan
1981
Texas (TV Series)
as
T.J. Canfield
Director
2002
General Hospital (TV Series) (11 episodes)
Miscellaneous
1993
Mad Dog and Glory (adr loop group)
Self
2003
SoapTalk (TV Series)
as
Self
- Episode dated 27 June 2003 (2003) - Self
2000
Soap Center (TV Series)
as
Self / Host (2000-2001)
1998
The Rosie O'Donnell Show (TV Series)
as
Self
- Episode dated 5 January 1998 (1998) - Self
1990
6th Annual Soap Opera Awards (TV Special)
as
Self
1987
Macy's Thanksgiving Day Parade (TV Special)
as
Self
1984
Match Game/Hollywood Squares Hour (TV Series)
as
Self - Panelist
- Episode dated 11 May 1984 (1984) - Self - Panelist
- Episode dated 10 May 1984 (1984) - Self - Panelist
- Episode dated 9 May 1984 (1984) - Self - Panelist
- Episode dated 8 May 1984 (1984) - Self - Panelist
- Episode dated 7 May 1984 (1984) - Self - Panelist
Archive Footage
2003
The Another World Reunion (TV Special)
as
John Hudson
2000
The 16th Annual Soap Opera Awards (TV Special)
as
John Hudson
References
David Forsyth (actor) Wikipedia
(Text) CC BY-SA