Name

David Dephy





Role

Poet





David dephy at the channel pik
David Dephy Gogibedashvili (Georgian: დავით დეფი გოგიბედაშვილი Tbilisi June 21, 1968), also known as David Dephy, is a Georgian poet, novelist, essayist, performer, multimedia artist and painter, and the founder of the first Georgian poetic order Samkauly. He is the author of ten novels and 12 collections of verse. His short story "Before The End" was chosen for inclusion in the anthology Best European Fiction 2012, edited by Aleksandar Hemon and prefaced by Nicole Krauss, and published in the U.S. by Dalkey Archive Press.
Contents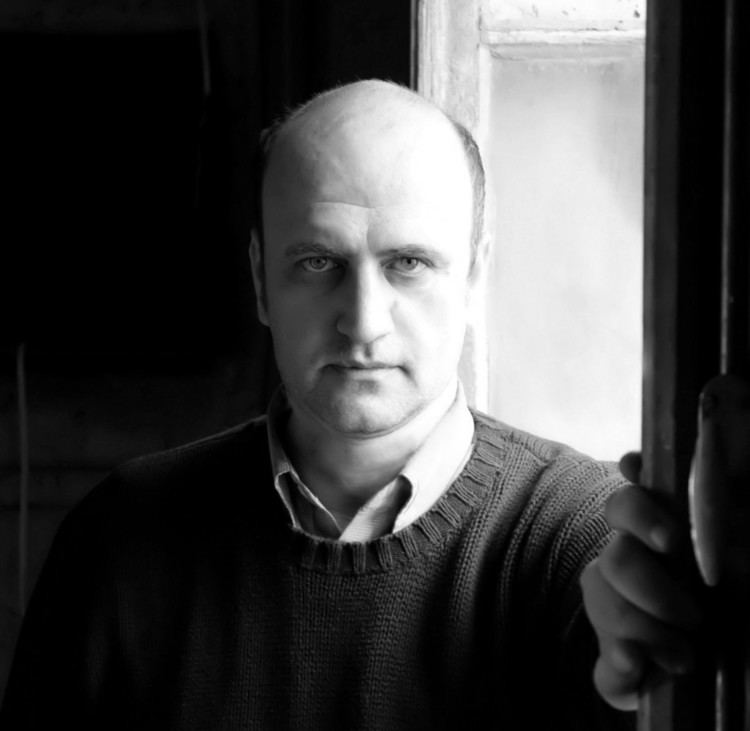 Dephy's first book-length work in English, the 2014 novel All the World's Mysteries, is forthcoming in Spring 2018 from Mad Hat Books with a translation from the Georgian by Adam Smart.
David dephy the gospel poetry
Biography
David Dephy earned his undergraduate degree in 1992 from the Faculty of Architecture at the Tbilisi State Academy of Fine Arts. He began his career working in print media, radio, and television, where he created the program მზეRA (Mze-Ra) for the Georgian television station Meore Archi. From 1995 to 2000 he worked in cinema, collaborating with internationally famous film directors Otar Ioseliani and Nana Jorjadze, among others.
During the Russian invasion of Georgia in 2008, Dephy joined the army of volunteers and set up a headquarters of civil solidarity under his famous slogan "Stop Russia."
In 2010-2011 Dephy was an artist-in-residence at the writers' society Ledig House in Ghent, New York. In 2011 his short story "Before the End" was selected for inclusion in Dalkey Archive Press's Best European Fiction series, as well as in Dalkey's anthology Contemporary Georgian Fiction, edited and translated by Elizabeth Heighway. That same year Dephy was invited to participate in the PEN World Voices Festival in New York City, where he presented a live poetry event entitled "The Second Skin" with Laurie Anderson, Yusef Komunyakaa and Salman Rushdie at the Unterberg Poetry Center, 92nd St Y.
Dephy's work has been anthologized in many collections of poetry and prose and has been published in the U.S., Mexico, Germany, Brazil and Georgia. From 2015-2017 he served as the Creative Consultant for Poetry & Prose at the University of Georgia. In 2017 he was chosen as an Ambassador of Poetry by Julius Meinl, and his live performance of The Poet King – The Easter Verses at the Peace Cathedral of Georgia and the Evangelical-Baptist Church of Georgia led to his poetry officially being included in the Divine Liturgies. Dephy is currently collaborating with Georgian rock band The Sanda on a bilingual English/Georgian multimedia project.
Major Publications
2018: All the World's Mysteries, a novel; English-language translation by Adam Smart
2016: Crowned, a novel
2016: The Poet King, a poem
2015: Absolute New York, poems
2015: The Easter Verses, poems
2014: God Is Among You, poems
2014: The Society of the End and the Beginning, a novel
2014: All the World's Mysteries, a novel
2012: We All Will Get Out From Here Alive, poems
2012: Demna, a novel
2012: "Before the End", Contemporary Georgian Fiction and Best European Fiction 2012; English-language translation by Elizabeth Heighway
2011: Sevdya, poems
2010:The Gardens and the Pandemonium, a novel
2010: DNA Symphony, poems
2010: Da Iq Tsa, poems
2009: Shinings, poems
2008: Demna Gedevanischvili, a novel
2007: Samkauly, poems
2004: The Ravage Trilogy: And, There, and Heaven, poems
2003: Let My Twin Find Me, a novel
2003: Words Words Words, dialogues
2003: Emerald and Sapphire, poems
2003: Expecting Miracles At Dawn, a novel
2003: The December Talisman, a novel
1996: Stories and Conceptions, stories & essays
1995: The Grotesque, stories
1994: Dead Time, essays
Filmography
2004: Delirium | Director: Tornike Bziava
2002: Drongo | Director: Zinovi Roizman
2000: 27 Missing Kisses | Director: Nana Jorjadze
1996: Brigands, Chapitre VII | Director Otar Ioseliani Winner of the Grand Prix at the Venice Film Festival
References
David Dephy Wikipedia
(Text) CC BY-SA