Residence

France, USA




Name

David Bradley




Alma mater

USC




Nationality

American







Born

January 20, 1961 San Antonio, USA (

1961-01-20

)


Institutions

MIT Caltech University of Chicago




Known for

MT physiology Fourier transform Motion analysis algorithms




Education

University of Southern California




Fields

Physiology, Psychology, Neuroscience




Doctoral advisor

Richard Bergmann



David C. Bradley Top #8 Facts
David C Bradley (born 1961) is a former professor of psychology and neuroscientist at the University of Chicago. He is the lead author on a series of papers elucidating the representation of motion in the middle temporal area and medial superior temporal area, published in Nature and Science in the late 1990s.
Contents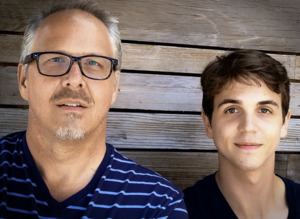 Career path
Bradley attended University of California, Davis, graduating with his Bachelor of Science in Chemistry in 1984. He subsequently went to medical school in Montpellier, France completing his first cycle of medical studies in 1986.
After Montpellier he attended University of Southern California for graduate school, where he studied diabetes and metabolism and produced six first-author papers. After receiving his Ph.D. in 1991, he went into neuroscience, starting a postdoc in the lab of Richard A. Andersen at Massachusetts Institute of Technology.
Bradley completed his first paper eight months after his arrival at MIT, which was published in Nature. A year later, his second paper was published in Science. Two years later, his third paper was published in Nature. The same year, his fourth paper was published in the Journal of Neuroscience.
In 1998 he accepted a faculty position at the University of Chicago. He was awarded two National Institute of Health research grants in three years. He and his colleagues completed cognitive electrophysiological experiments. While at Chicago, Bradley published a series of papers on neural prosthetics, the size of neural decision pools, the structure and function of area MT, and the decoding of population activity in MST.
Bradley was also involved in visual prosthesis research in area Primary visual cortex (V1), which was carried out in collaboration with other investigators, notably Philip Troyk at the Illinois Institute of Technology. In 2005 this group implanted a stimulating array into primate V1 cortex, and Bradley's lab created a paradigm for transmitting spatial cues to the brain and measuring the rate of information transfer. This was the first machine-to-brain communication on a substantial scale.
Bradley was tenured by the University of Chicago in 2006. At this time he was being solicited to write reviews for Nature Reviews and the Annual Review of Neuroscience, as well as commentaries for Nature Neuroscience, Science, and Current Biology.
Bradley left academia in 2008 and went to San Diego to work with Daniel Goldin at KnuEdge (formerly Intellisis). Bradley's role is to design pattern recognition algorithms using mathematics and algorithms that are characteristic of neural systems but not common in engineering designs. His work so far has led to a number of patents.
News and Interviews
Chronicle of Higher Education 2000
Nature, News and Views, 1995
Science, News 1996
References
David C. Bradley Wikipedia
(Text) CC BY-SA