Name

David Arnott




Awards

David W. Taylor Medal




TV shows

Pig Sty


Parents

Peter R. Arnott




Role

Actor





Occupation

Actor, writer, composer




Movies

CrissCross, Last Action Hero, The Last Man, The Adventures of Ford F, Three Fugitives


Similar People

Shane Black, Austin O'Brien, Chris Menges, Daniel Waters, John McTiernan


Born

1963 (age 58 years), California, United States
David Arnott is an American actor, screenwriter and musical composer living in Southern California. Among his credits, Arnott co-wrote The Last Action Hero, and starred in The Last Man with Jeri Ryan. David is a member of the legendary "Pad O' Guys" screenwriting group, including Shane Black and Fred Dekker, and is the son of banjo player Peter R. Arnott. He also provided additional voices in Happy Feet Two and Finding Dory.
Contents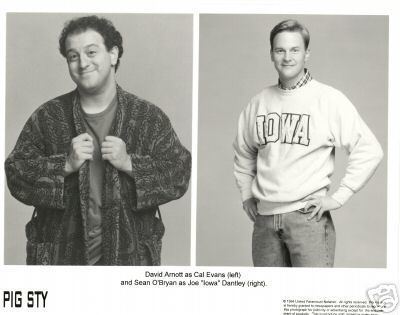 PIG STY 90s sitcom opening credits
Arnott also appeared as "Cal Evans" in the 1995 UPN sitcom Pig Sty. He also appeared in a 1992 television remake of the classic film, "Christmas in Connecticut" directed by Arnold Schwarzenegger. This gives Arnott the probably unique distinction of both having written for, and having been directed by Schwarzenegger.
David is also a board game enthusiast, and can be seen on GameNight!, a YouTube web series in which he and 2-4 other participants play different designer board games.
Filmography
Actor
2021
Wish Dragon
as
Additional Voices (voice)
2019
Rabbids Invasion (TV Series)
as
Hunter Rabbid
- Rabbid Cupid/Little Red Rabbid Hood/Teddy-Rabbid (2019) - Hunter Rabbid (voice)
2017
Lucha Underground (TV Series)
as
Benjamin Cook
- Last Man or Machine Standing (2018) - Benjamin Cook
- The Cueto Cup (2017) - Benjamin Cook
- Fade to Black (2017) - Benjamin Cook
2016
Sing
as
Additional Voices (voice)
2016
Finding Dory
as
Additional Voices (voice)
2012
The Day of the Crows
as
Father Courge (English version, voice)
2010
Good Luck Charlie (TV Series)
as
Mitch
- Catch Me If You Can (2012) - Mitch
- The Break Up (2011) - Mitch
- Kwikki Chick (2010) - Mitch
2011
Happy Feet Two
as
Additional Voices (voice)
2006
ER (TV Series)
as
Clivus
- Graduation Day (2006) - Clivus
2002
Imagine That (TV Series)
as
Dr. Testosterone
- The Macho Therapist (2002) - Dr. Testosterone
2001
Final Fantasy X (Video Game)
as
Additional Voices (English version, voice)
2001
Final Fantasy: The Spirits Within
as
Additional Voices (voice)
2000
Hollywood Off-Ramp (TV Series)
- The Flying Wahoo (2000)
2000
Code Name Phoenix (TV Movie)
as
Sasha
1997
The Spooktacular New Adventures of Casper (TV Series short)
- Hat Sick/Cancion De Olor/The Boo-Muda Triangle (1997) - (voice)
1995
Murphy Brown (TV Series)
as
Secretary #78
- The Ten Percent Solution (1995) - Secretary #78
1995
Pig Sty (TV Series)
as
Cal Evans
- Leap Into an Open Grave (1995) - Cal Evans
- Tess Makes the Man (1995) - Cal Evans
- The Maltese Falcone (1995) - Cal Evans
- Nightmare in 15C (1995) - Cal Evans
- Erin Go Barf (1995) - Cal Evans
- Party!!! (1995) - Cal Evans
- The Ghost and Mr. Evans (1995) - Cal Evans
- Five Cards, No Studs (1995) - Cal Evans
- Mr. Nice Guy (1995) - Cal Evans
- Iowa vs. New York (1995) - Cal Evans
- Beauty & the Beasts (1995) - Cal Evans
- -And This Little Piggy Moved Out (1995) - Cal Evans
1994
Little Big League
as
Little League Manager
1993
The Second Half (TV Series)
as
Ed
- Same Bet Next Year (1993) - Ed
1993
The Young Indiana Jones Chronicles (TV Series)
as
Clifford
- Young Indiana Jones and the Mystery of the Blues (1993) - Clifford
1992
Mad About You (TV Series)
as
Lester
- Met Someone (1992) - Lester
1992
Christmas in Connecticut (TV Movie)
as
Crazed Director
1991
Career Opportunities
as
Voiceover (voice)
1990
Doctor Doctor (TV Series)
as
Ken the Usher
- Who's Afraid of Leona Linowitz? (1990) - Ken the Usher
1990
The Adventures of Ford Fairlane
as
Club Guy
1990
Shannon's Deal (TV Series)
as
Bushman
- Hitting Home (1990) - Bushman
1989
CBS Summer Playhouse (TV Series)
as
Kevin Nesbite
- B-Men (1989) - Kevin Nesbite
1989
Freddy's Nightmares (TV Series)
as
Michael Bowman
- The Light at the End of the Tunnel (1989) - Michael Bowman
1989
Day by Day (TV Series)
as
Fantasy David Gannon
- The Reunion (1989) - Fantasy David Gannon
1989
Three Fugitives
as
Bank Teller
1988
Portrait of a White Marriage
as
Staffer #1
1987
The Facts of Life (TV Series)
as
Nick Drexler
- Rumor Has It (1987) - Nick Drexler
1987
House II: The Second Story
as
Banana
1986
You Again? (TV Series)
as
Dirk
- Sports Fantasy (1986) - Dirk
1986
Amazing Stories (TV Series)
as
Umpire
- Magic Saturday (1986) - Umpire
Miscellaneous
2018
Ready Player One (loop group)
2017
The Lego Ninjago Movie (loop group)
2017
The Lego Batman Movie (loop group)
2016
Why Him? (voice actor - as Dave Arnott)
2015
Spy (additional voices)
2015
The SpongeBob Movie: Sponge Out of Water (adr loop group)
2014
Hercules (voice-over actor)
2014
The Lego Movie (loop group)
2013
Pacific Rim (loop group)
2013
The Great Gatsby (loop group)
2012
Part of Me (Documentary) (adr loop group)
2012
Good Deeds (adr cast)
2011
We Bought a Zoo (additional adr voice)
2011
Madea's Big Happy Family (adr cast)
2011
Red Riding Hood (loop group)
2009
The Marine 2 (Video) (additional voices)
2009
The Other Woman (background voice)
2009
Love Happens (additional voices)
2009
Road Trip: Beer Pong (Video) (adr performer)
2009
Night at the Museum: Battle of the Smithsonian (voice actor)
2009
My Bloody Valentine (adr cast)
2008
Baby Mama (adr voice)
2008
Jumper (loop group: voice)
2007
Why Did I Get Married? (adr cast)
2007
Rendition (adr loop group)
2007
The Mist (adr loop group)
2006
Farce of the Penguins (looping group)
2005
The Perfect Man (additional voices)
2005
Happy Endings (adr actor)
2004
Club Dread (additional voice)
2003
The Hebrew Hammer (loop group)
2002
Undercover Brother (adr group)
2001
Jimmy Neutron: Boy Genius (looping voice talent)
2001
One Night at McCool's (adr)
Writer
2020
Jack Slater V (Short) (characters)
1993
Last Action Hero (screenplay)
1990
The Adventures of Ford Fairlane (screenplay) / (story)
Sound Department
2019
We Are the Wave (TV Series) (english dubbing - 1 episode)
- It's the Only Way (2019) - (english dubbing: Tobias van Dieken)
Composer
1998
The Spooktacular New Adventures of Casper (TV Series short) (1 episode)
- Horrid Copy/I'm Nothing Without My Hat/Caspeer Pressure (1998)
Self
1995
UPN Movie Trailer (TV Series)
as
Self - Co-Host (1995)
References
David Arnott Wikipedia
(Text) CC BY-SA